by Guest Author David Grandey, All About Trends
True to form with thrills (IBM, AAPL, VMW) and spills (RVBD, FTNT) earnings season is here in all its glory. So how do you go about buying a stock in the volatile climate? 
Let's take a look at a couple of examples from the watch list in our newsletter to our paying subscribers — starting with an example of what not to buy, then an example of what we did buy and a stock that is setting up to be another good buy should conditions hold up.
What not to buy: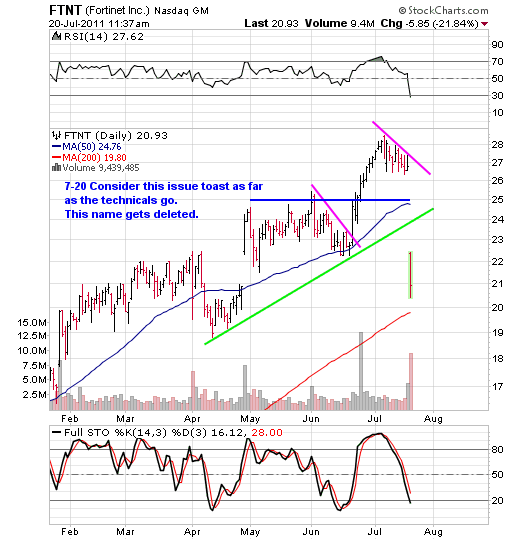 Here we have FTNT that was setting up nicely before earnings. It was pulling back off of its highs in an orderly manner and was above support and the 50-day. What we wanted to see after earnings was the stock finding support at the 50-day or the blue or green lines. If that occurred, we would have stepped up to the plate to buy it. However, as you can see, the stock crashed through multiple areas of support and therefore is no longer a buy candidate and no longer on our paid subscriber watch list.

Now let's take a look at what to buy: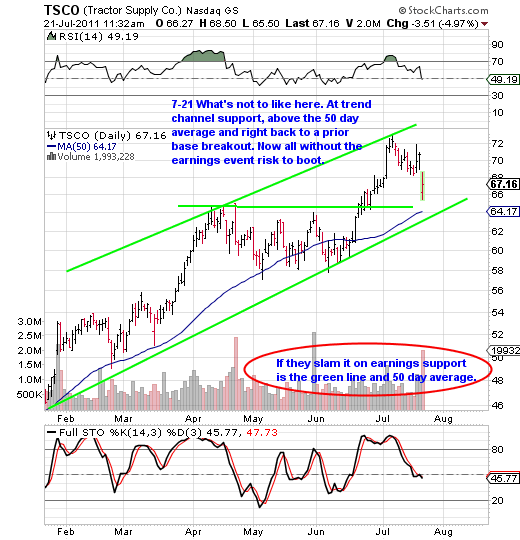 Yesterday TSCO announced earnings and the stock went from 70.67 to the 65-66 range. We issued a Trade Trigger email alert to our paying subscribers this morning. Why are we buying it on weakness? Because its uptrend is still intact as defined by the upward sloping green trendline. That's what we wanted to see happen with FTNT.

Now let's take a look at a stock that is setting up nicely: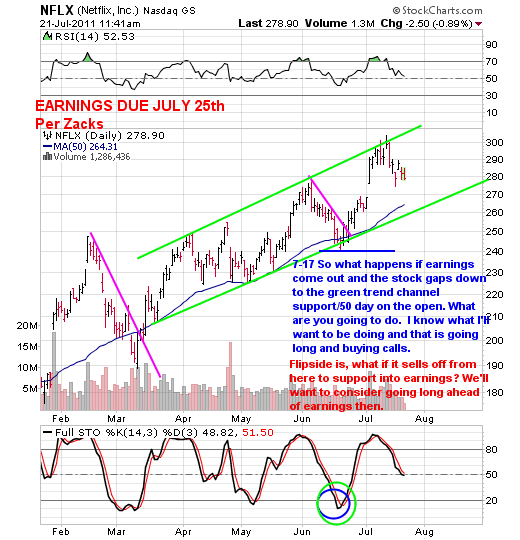 We want to see NFLX tag the 50-day after earnings. If so, we'll initiate a long side trade.

Note from the author: "To learn more, sign up for our free newsletter at www.allabouttrends.net and receive our free report — "How To Outperform 90% Of Wall Street With Just $500 A Week."