by Lee Adler, Wall Street Examiner
Ben Bernanke and his teenaged Wall Street media groupies like to claim that he saved the world with QE. But if QE was such a cureall why has the "recovery" in Japan and Europe been so weak? The ECB printed money out the wazoo for a while and the BoJ is giving Japan, the US, and everybody else an all out BoJob. Yet only the US is rising.
The Fed and friends all pump cash into the same banks all around the world. When the Fed prints, the cash goes straight to 22 Primary Dealers, 15 of which are European, Canadian, and Japanese banks. Only 7 are US banks. The Fed is money printer to the world. But so is the BoJ, and so is the ECB. They buy securities from, or lend funds to, the same big fish playing in the same worldwide big fish pond. And those fish like to swim where the waters are warmest. Apparently that's the US. Its markets and economy are rising faster than anywhere else in the developed world.
So did Bernanke really save the US economy, as the Keynesians and assorted mainstream media windbags claim, or was it something else? Please indulge and allow my to illustrate my thought on the matter.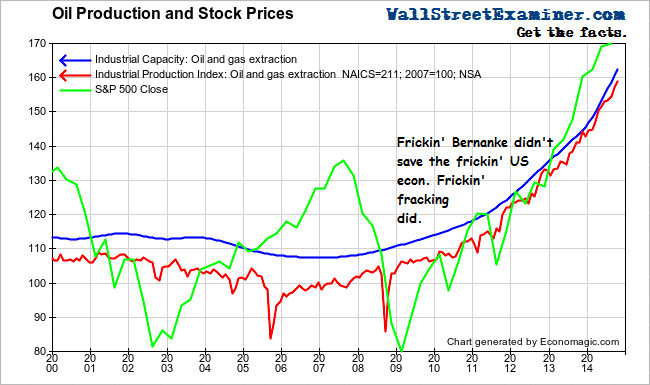 Frickin Fracking – Click to enlarge
I wrote at length on this, back in August.