by Stephen Petranek, Daily Reckoning
As it turns out, while oil companies are investing billions in exploring for new underground lakes of petroleum, and half the states in the U.S. are being fracked in a mad dash for natural gas, we have already discovered about as much oil and gas as governments are likely going to allow us to burn.
In order to avoid cataclysmic climate change and rising seas that overwhelm every U.S. coastal city, which happens to be where the majority of Americans live, we're going to have to reduce the carbon we put into the air by a drastic amount. Barring a breakthrough in nuclear fusion power, that can be accomplished only by turning to solar, wind, hydro, nuclear and geothermal sources.
There are 65 nuclear power plants operating in 31 states, and they produce about 20% of our electricity. But no one wants a nuclear power plant in his backyard, and nuclear has become incredibly expensive to build.
The grid will shrink, not get bigger.
Furthermore, we still have no place to put spent fuel rods, dangerous leftovers that are piling up in individual swimming pools at each power plant.
More nuclear? Not a likely option, despite the fact that innovative concepts have surfaced in recent years for smaller, less-polluting nuclear power. Increasing hydro is also unlikely because the environmental impact of dams is now known to be devastating.
What's left is wind, solar and geothermal. Because wind generators tend to be far more efficient as huge "farms" on mountains and in the open seas, they are essentially utilities, and not a growth play with a high return.
Geothermal is great too, and it can be used almost anywhere. I had a geothermal setup on my farm in Virginia that cut my electric bills in half. And I didn't live near a volcano or a hot spring. My plant was built by Carrier. It consisted of about 400 feet of tubing filled with antifreeze and placed about 6 feet below ground in a trench in my back yard. The temperature of the Earth below the frost level in any given area is a fairly constant 54 degrees. Antifreeze running through the tubes circulates into a heat pump, and via technology similar that in an air conditioner, heat is extracted to heat the house. The only energy consumed is the pump. It works great, but it costs about five times as much to install as a gas furnace, so the payoff comes after many years.
And… there's no good pure play for this technology despite its growth.
That leaves us with solar, the sweet spot in the new world of sustainable, low-carbon energy production.
---
What is the Income Play Rich Investors Love? (Hint: It's Tax-Free)
---
That statement may seem a little off, given the wrenching ups and downs of solar over the last five years – mostly down.
That's all because of a cost squeeze put on by the Chinese, who heavily subsidize their solar producers and have driven the production costs and total costs of solar into the basement. "China is now the greatest investor in renewable energy," said the World Bank's Rachel Kyte.
Along the way, a lot of good solar companies could not match the competition and went under or were gobbled up by larger conglomerates. A panel of prominent solar producers at the World Future Energy Summit agreed that the price shakeout is mostly over. But even if it isn't, a number of companies have gotten tougher and smarter, and the result has been sharply increased efficiencies in output and sharply lower costs of production and installation. Many of the survivors are poised to grab onto a huge potential market.
The deeply disruptive phenomenon that will drive solar's remarkable growth is electricity generation that's headed for a flip-flop from where it has recently been.
Instead of centralized mega power plants that distribute energy to millions of individual households and buildings, we're flipping into a world where each house and building will produce most, if not all, of its own power through solar and wind technologies.
The grid will shrink, not get bigger.
This decentralization of power extends to all aspects of our lives, from our automobiles to efficient and powerful mini solar cells that can recharge your phone while you're walking to work.
The survivors are stronger, their technologies are better and, to some extent, they are wisely dividing the market and finding segments that maximize their capacities.
For investing in this tidal wave of solar, it's important to understand that the breakthrough is not the technology itself, though it is impressively different than it was just a few years ago. The breakthrough here is the coming mass adoption of the technology and the fact that we are completely changing how people get power, from high-capacity centralized plants to individual power stations.
I've said it before, after my visit to the World Future Energy Summit, and I'll say it again: We are cashing in on change itself, change that will come faster than the Internet came upon us and faster than cellphones snagged us. It is difficult to overstate how dramatic the change will be for every person's lifestyle.
To make that point just a little clearer, the near future includes airplanes, cars and buildings that all run on solar cells. It will even include replacing centralized power plants that burn coal, oil or gas with large power plants that run on solar cells or reflected and intensified sunlight, known as concentrated solar.
More than 10 years ago, when I had been editor-in-chief of Discover magazine for only a couple of years, I became fascinated by Paul MacCready, the founder of AeroVironment (NASDAQ:AVAV) who designed the human-powered aircraft that won the Kremer Prize.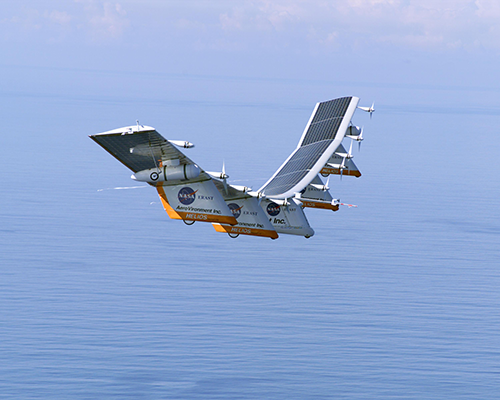 NASA Helios, an early all-electric aircraft for NASA by AeroVironment was designed to take atmospheric measurements at altitudes nearly 20 miles up and to stay aloft for months at a time.
His innovative company designed and built an aircraft called Helios that was essentially a flying wing 250 feet across with 10 electric motors spinning props.
It was designed for NASA to be an unmanned aircraft able to sample air quality at high altitudes (it reached 96,000 feet) and to remain aloft for days or months.
When I saw it, I asked MacCready where he got the solar panels that covered the wing. "A company you never heard of," he said. "They have the best panels around."
You can find these panels on PlanetSolar, the world's largest solar-powered ship, and on Solar Impulse, the only airplane that can carry humans and fly day and night without fuel. Next year, Solar Impulse will fly around the world.
The companies involved are connected to other experiments such as the Solar Decathlon competition for electric vehicles built by university engineering teams.
Solar-power vehicles moved closer to mainstream transportation when Ford Motor Co. showed off the C-Max Solar Energi automobile at the Consumer Electronics Show in Las Vegas, which hosted a record number of automotive exhibitors.
The hybrid plug-in electric vehicle uses panels on its roof in combination with a clever Fresnel lensing system that focuses sunlight into the panels. It can go at least 21 miles using only electric power.
Electric cars are here, and they will sweep the industry in the next decade. They will be rechargeable from just a few solar panels mounted in your yard or on your roof. The synergy between solar and electric autos cannot be overemphasized – they complement each other, and consumers are catching on fast.
A Salt Lake City homeowner who installed solar cells from SunPower Corp. in 2011 bought a Chevy Volt soon afterward and drives it almost exclusively on power from the photovoltaics. "I like to say I'm driving and living on sunshine," he says.
If you buy a Tesla automobile today, you can get free solar-produced power for it as long as you own the car. You merely drive up to the growing number of Tesla supercharger stations and plug in a for a half hour and a nearby array of solar cells will put a charge into the car that will carry you for about 250 miles.
Think for a moment of the ridiculous system we have now for getting power into your automobile…
To get the gasoline you burn, crude oil has to be pumped from a field in the Mideast, then pumped through a pipeline to a dock and then pumped into a ship.
The ship has to travel thousands of miles to a refinery, where a pump sends it to a storage tank. From the tank, it is pumped into a distillation tower, where it is heated and condensed into gasoline.
The gasoline is pumped into another storage tank, then pumped hundreds of miles through a pipeline to a distributor's storage tank. The distributor then pumps it into a tractor-trailer that drives up to 200 miles to pump it into a gasoline station storage tank.
Finally, you arrive at the station and pump it into your car tank, which pumps it to your engine on demand. Then 90% of the energy from all this transportation and refining and pumping turns into waste heat, instead of propelling you forward.
With an electric car, you can make the electricity at home, and you don't lose any power in transmission lines. There are no middlemen, and even if you choose to complicate the system a bit by storing excess power in some of the new battery systems coming online, everything is simpler, cleaner and far more efficient. Oh, and don't forget that you can usually sell your excess electricity back to the local power company.
Don't get me wrong. One of my cars is a low-mileage restored 1987 BMW convertible with the sweetest-running six-cylinder engine ever made, mated to a butter-slick five-speed manual transmission. I love driving that car. But with every passing year, I'm going to pay a higher price to the rest of the people living on this planet for screwing up their air.
And don't ever drive a Tesla unless you're prepared to buy one, because it will ruin your attitude toward internal combustion powered vehicles.