by Josh Grasmich, Daily Reckoning
The last time we talked about the future of energy our tech maven Stephen Patranek said:

"We are cashing in on change itself.  Change that will come faster than the Internet came upon us and faster than cellphones snagged us."
Stephen had been reflecting on his time at the World Future Energy Summit in Abu Dhabi, back in January.
The place was filled with top-brass executives from the oil industry, among others. "You could feel the tension" in the room, said Stephen.
Finally, judging from what's been happening in the utilities sector, it's no wonder the "old energy" guys are nervous.
Technology is tearing up the grid. Utilities, once considered a safe haven in the market, are on the ropes.
Natural gas is one culprit. Two others may surprise you… unless you've been reading our predictions. Stephen nailed it, when he said months ago…
"Simple economics will rule.

Even though the real costs of energy are not equalized, with coal, oil and gas burned without being charged for the harm they do to the environment and people's health…

Sustainable sources of energy are rapidly achieving what is called 'grid parity.'"
What does that mean?
"That means solar and wind sources of energy are actually about to cross the threshold of being cheaper than anything else."
Yes, wind power – believe it or not. And yes, solar – finally, right?
Mr. Market Hails Solar
As I mentioned, solar is on the brink of becoming a serious competitor to the stodgy, regulated utility group.
This is quite a change, to say the least, from the early years of the post-financial crisis bull. Back then, solar stocks were a complete joke.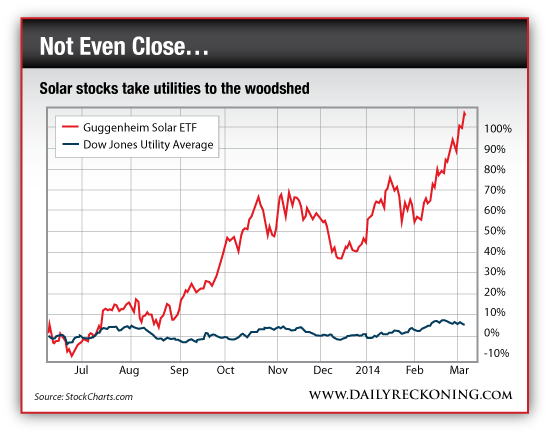 "Utilities seem indispensable. Yet suddenly there is talk on Wall Street of a looming 'death spiral' for the business, with solar power being the culprit," reports The Wall Street Journal.
"Subsidies and falling technology costs are making distributed solar power – panels on roofs, essentially – cost competitive with retail electricity prices in places like the southwestern U.S. As more people switch to solar, utilities sell less electricity to those customers, especially as they often have the right to sell surplus power from their panels back to the utility."
It was back in the fall that the performance gap between solars and utilities began to widen. Now solar stocks present a great opportunity to invest, even after the huge run-up we've witnessed.
Consider the example of First Solar Inc. (NASDAQ:FSLR), which Stephen wrote about last month. It's the worst bull market performer in the entire S&P 500, according to Bespoke Investment Group. Since the market bottomed five years ago, its stock dropped more than 47%.
That leaves plenty of room to run. And with many analysts expecting wind and solar power output to double within the next five years, the fundamental backdrop for these solar stocks should continue to improve.
Still Skeptical? Let's Run the Numbers on Solar
The science behind these technologies is proven. But only now, after dozens of failed government-subsidized disasters, Mr. Market agrees.
Why? Because the new trend is shifting away from centralized, mega-power plants. It's moving towards decentralized power through individuals.
---
What is the Income Play Rich Investors Love? (Hint: It's Tax-Free)
---
Stephen breaks it down for us:
"A quick look at the cost of installing solar power on a residential rooftop helps explain why the movement to decentralized power is suddenly gaining speed. The market rules! About five years ago, the cost of an installed rooftop solar system was $7 per watt of capacity."

"Today, it is almost down to $1 a watt. Those efficiencies are the grist of a demand for solar rooftop installations that is growing so quickly it's tough to project. But in the second half of 2013, the rate of installations was increasing by nearly 50% over 2012.

In 2012, rooftop installations were double the number in 2010. There are now 400,000 homes in the U.S. that have gone solar. That number is projected to more than double again within two years. The CEO of SolarCity, a prominent installer of rooftop systems, predicts that by 2018, the company will have installed solar cells on more than 1 million houses."
So where is this happening? In the U.S., it's not entirely predictable. But Stephen offers us a few leads:
"The top five states for residential solar installations in 2013 are California, Hawaii, Arizona, New Jersey, and New York. The top 10 states for all forms of solar in 2013 are California, Arizona, New Jersey, Nevada, North Carolina, Massachusetts, Hawaii, Maryland, Texas and New York.

"Half of all the solar projects ever built in the United States, including utility-scale arrays, residential rooftops and business photovoltaics, were installed in the last 2½ years.
And it's not just individuals, and states… now enterprise is following suit.
"Businesses are moving toward adopting solar at a stunning rate. Google has announced a plan to produce all its power needs from renewables, and plans to support the electrical needs of its new megaserver farm in North Carolina with solar cells (10% of all the electricity used in the United States now goes to operate electronics).

"Wal-Mart has 215 solar-powered installations in the United States alone. Costco has 78 installations. Walgreens now has more than 150 solar installations, and 89% of the Ikea stores in America are solar powered. Verizon recently announced an initiative to invest $100 million by the end of this year to install solar and fuel-cell power for 19 facilities across the country.

"Another key factor in the growth of solar is the increasing number of jobs it produces. Last year, the industry employed more than 140,000 people directly, up nearly 20% from 2012, about 10 times faster growth than employment overall in the country. More than 22,000 additional solar jobs will be added this year."
Over 100 Years in the Making
It's amazing to think how long it's taken for the world to adopt solar power.
I was talking to my sweet little grandmother a few weeks ago about it.
Believe it or not, when she was young, she would climb onto the flat roof of her Florida home to play with her sisters, and they would see these gray panels peppered on top.
It turns out her grandfather (this is back in the 1940s) – a self-taught engineer without a high school degree – had made and installed some of the first solar panels so they could have hot water to take a shower.
If someone back then could do it, aren't we only better equipped nowadays?
If we're truly living in a time when these alternative energies are beginning to make sense on a financial level (which the market is showing) and the change only has a positive impact on the environment and peoples' health…
Then what's the excuse for not switching from "old energy" to alternatives?
The idea of solar is timeless, even if the market has taken this long to begin to seriously adopt it. It is, essentially, indirect fusion. Our nuclear facilities mimic the sun, but a single hour of sunlight falling on the Earth can provide enough power to meet the world's energy demand for a year.
Even oil, it could be argued, is sunlight… trapped in plant life that rotted and compressed over many years.
We're finally crossing the line into grid parity, and the market is catching on because people can't afford to rely on centralized sources. It pays to take responsibility for your own energy needs.
That's all for now… We'll continue our discussion on the future of energy another day.