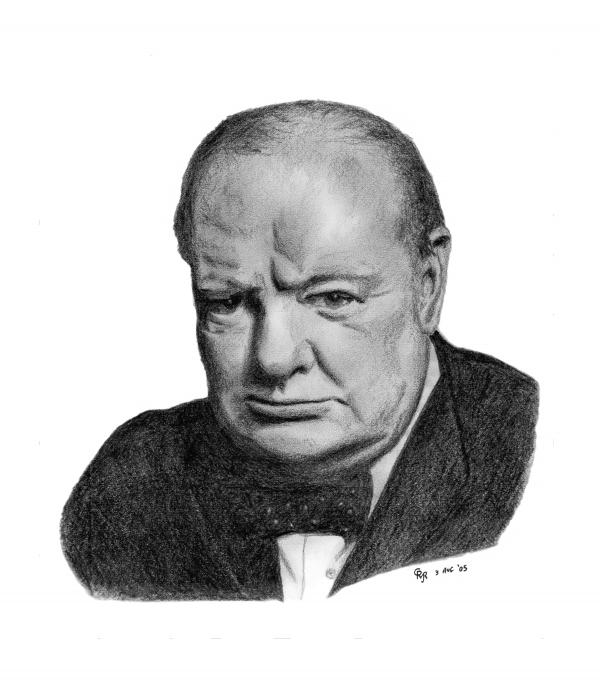 by Frank Li
Winston Churchill was not only one of the greatest leaders in history, but also one of the most quotable figures. Many of his quotes could have real meanings to America today. Below are 10 examples with my modernized interpretations for your joyful reading, assuming you are patriotic and you have a good sense of humor, be it British, American, or even Chinese.
Democracy is the worst form of government except all the others that have been tried.
He meant: When you see China catch up with America with a new form of government, study it and adapt!
To build may have to be the slow and laborious task of years. To destroy can be the thoughtless act of a single day.
He meant: President Bush (W), it was reckless for you to launch the Iraq War! It will eventually prove to be the beginning of the end of democracy, as we know it. Or more bluntly, it will eventually be marked as the beginning of the end of America, as we know it.
Never, never, never believe any war will be smooth and easy, or that anyone who embarks on the strange voyage can measure the tides and hurricanes he will encounter. The statesman who yields to war fever must realize that once the signal is given, he is no longer the master of policy but the slave of unforeseeable and uncontrollable events.
He meant: The Iraq War, obviously! Any questions?
One day President Roosevelt told me that he was asking publicly for suggestions about what the war should be called. I said at once 'The Unnecessary War'.
He meant: President Obama, end the war in Afghanistan, now – It's no longer necessary, nor worthwhile.
The price of greatness is responsibility.
He meant: President Obama, stop blaming others – Take responsibility for the disastrous status of the American economy today and have it fixed!
It's not enough that we do our best; sometimes we have to do what's required.
He meant: President Obama, if you are incapable of fixing the economy, let someone who is capable do it.
A love of tradition has never weakened a nation, indeed it has strengthened nations in their hour of peril; but the new view must come, the world must roll forward.
He meant: Read Frank Li's writings on American politics!
The British nation is unique in this respect. They are the only people who like to be told how bad things are, who like to be told the worst.
He meant: America, Frank Li has most accurately identified the root cause of many American ills and provided the best solution.
If you are not a Liberal at 20, you have no heart. If you are not a Conservative at 40, you have no brain.
He meant: In addition to raising the minimum age of the American Presidency to 55, raise the voting age, to a minimum of 21 so that voting is as important as drinking at least, or perhaps even to 40 when you are wise enough to do so.
It is a good thing for an uneducated man to read books of quotations.
He meant: You must be bloody thrilled to be able to read Dr. Frank Li when he writes like this!
Related Articles
---
About the Author
Frank Li is the Founder & President of W.E.I. (West-East International), a Chicago-based import & export company. Frank received his B.E. from Zhejiang University (China) in 1982, M.E. from the University of Tokyo in 1985, and Ph.D. from Vanderbilt University in 1988, all in Electrical Engineering. He worked for several companies until 2004, when he founded his own company W.E.I. Today, W.E.I. is a leader in the weighing industry not only in products & services, but also in thought and action. Dr. Li writes extensively and uniquely on politics, for which he has been called "a modern-day Thomas Jefferson" (see page 31).
---