by Lakshman Achuthan, Co-Founder and Chief Operations Officer of ECRI
The negative Q1 2015 GDP print is widely blamed on a seasonal adjustment problem that's really a non-issue for a year-over-year (yoy) comparison, which shows U.S. real GDP growth to be just 2.7% (blue line) – even when flattered by comparison to a much weaker Q1 2014.
And if the Atlanta Fed's "nowcast" is correct, yoy GDP growth will fall well under 2% in Q2 2015, keeping GDP essentially flat for the first half of this year.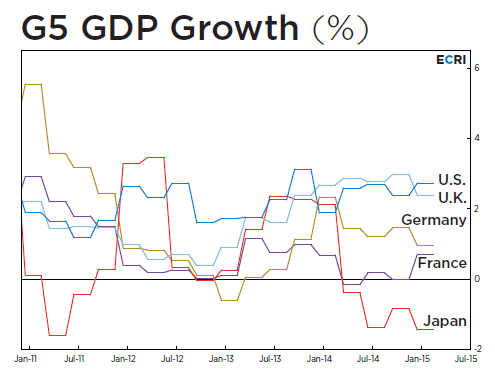 In the U.K., yoy real GDP growth is similar to the U.S., at 2.4% (light blue line). In Germany (gold line) and France (purple line), it's fallen below 1%. And in Japan (red line) – over two years after Abenomics was launched – it's dropped to a nearly-four-year low of -1½%. So why can't growth get going?
In the U.S., practically everyone agrees we've had a "subpar" recovery from the Great Recession. As Fed Chairman Bernanke put it at his farewell press conference in 2013, "we have been disappointed in the pace of growth, and we don't fully understand why." Regardless, partisans – including economists – have jumped into the fray with ready explanations, finger-pointing and quick fixes, ranging from lower taxes or regulations to greater monetary or fiscal stimulus.
Meanwhile, frustrated policymakers, misunderstanding what a "normal" recovery looks like, have kept acting on the premise that the economy can achieve "escape velocity," given the right policies. Yet, the historical evidence shows that the widely-derided pace of U.S. growth since the Great Recession actually lines up fairly well with historical recovery patterns. In other words, given past evidence, nothing more by way of growth is owed to us today by the business cycle.
Global phenomena require global explanations. So, while the demographics may be worse in Japan and the Eurozone, it's not just those economies, but also the U.S. and the U.K., that have been unable to generate any meaningful productivity growth in recent years.
The combination of unfavorable demographics and productivity growth staying "way, way down," as Fed Vice Chairman Stanley Fischer put it, naturally results in low real GDP growth. Yet, policymakers desperately in denial of this reality have been trying for years to pull demand forward to the present from the future, which is thereby left depleted of demand, while "escape velocity" remains a mirage.