by Lakshman Achuthan, Co-Founder and Chief Operations Officer of ECRI
Eleven trillion dollars: that's how much of so-called Quantitative Easing the world's central banks have done since the 2008 crisis. To put that in perspective, with eleven trillion dollars you could pay off pretty much all U.S. household debt – all mortgages, all car and student loans, credit cards – you name it.
So what did the global economy get for $11,000,000,000,000 in QE?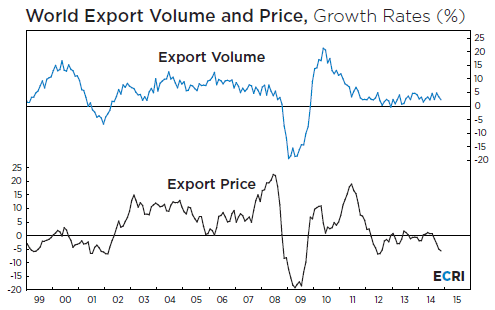 Following a post-recession pop, we got collapsing world trade growth, and that's even with prices falling over the past three to four years.
Why is this happening?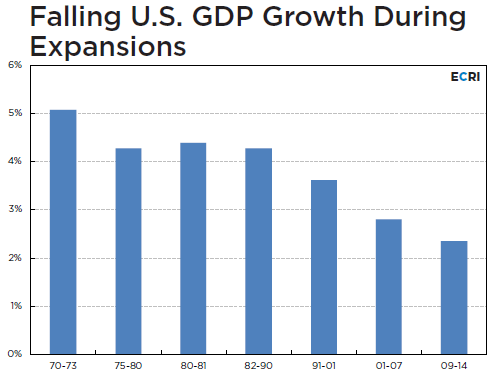 It's not because this time around things are different. To the contrary, the song remains the same.
For a long time, nearly four decades, growth has been getting progressively weaker during each recovery from recession. Of course, the U.S. is a major contributor to world trade and QE, but its trend of weaker growth is present in all major developed economies.
There are two key drivers behind this declining trend: demographics and lower productivity growth. Yes, it's true that we've seen pretty good U.S. jobs growth recently, but that comes with productivity growth slamming down to zero.
Japan, with its "lost decades," is at the leading edge of this long-term trend. But make no mistake, Europe, and as we see, even the U.S., are not far behind. Knowing this, will a trillion or so of more QE from the ECB make the trends in these charts turn and go the other way?