Written by Sig Silber
This potential El Nino appears to be weakening going into January becoming a "near El Nino" but it will still have impacts especially because the water off the Pacific Coast is warmer than usual creating what is called a positive PDO pattern. It looks like the weather pattern is changing into a winter pattern which will make forecasting easier for NOAA. A new Seasonal Outlook will be issued on Thursday and it will be interesting to see if the reduced strength of the forecasted El Nino is reflected in the new Seasonal Outlook.
Short-term Outlook

Let us take a look at the 8 – 14 day Outlook that was issued today December 15, 2014. It will auto-update every day so it will be changing day by day (and thus be up to date whenever you elect to read this report) but my comments may become out of sync with the map since my comments do not auto-update. The 8 -14 Day Outlooks issued by NOAA have become more stable i.e. not varying much from one day to the next which suggests to me that we have transitioned into a more stable winter pattern. That changed today with an outlook that is substantially different from the computer generated outlook on Sunday. But it makes sense.

I am only showing the "second week" namely the day 8 -14 Outlook.  8 – 14 days covers most of the 6 – 14 day period but this week however there is a substantial difference between this "second week" and what NOAA calls the "first week" for the Temperature Outlook. The first week can be found in Part II of my report.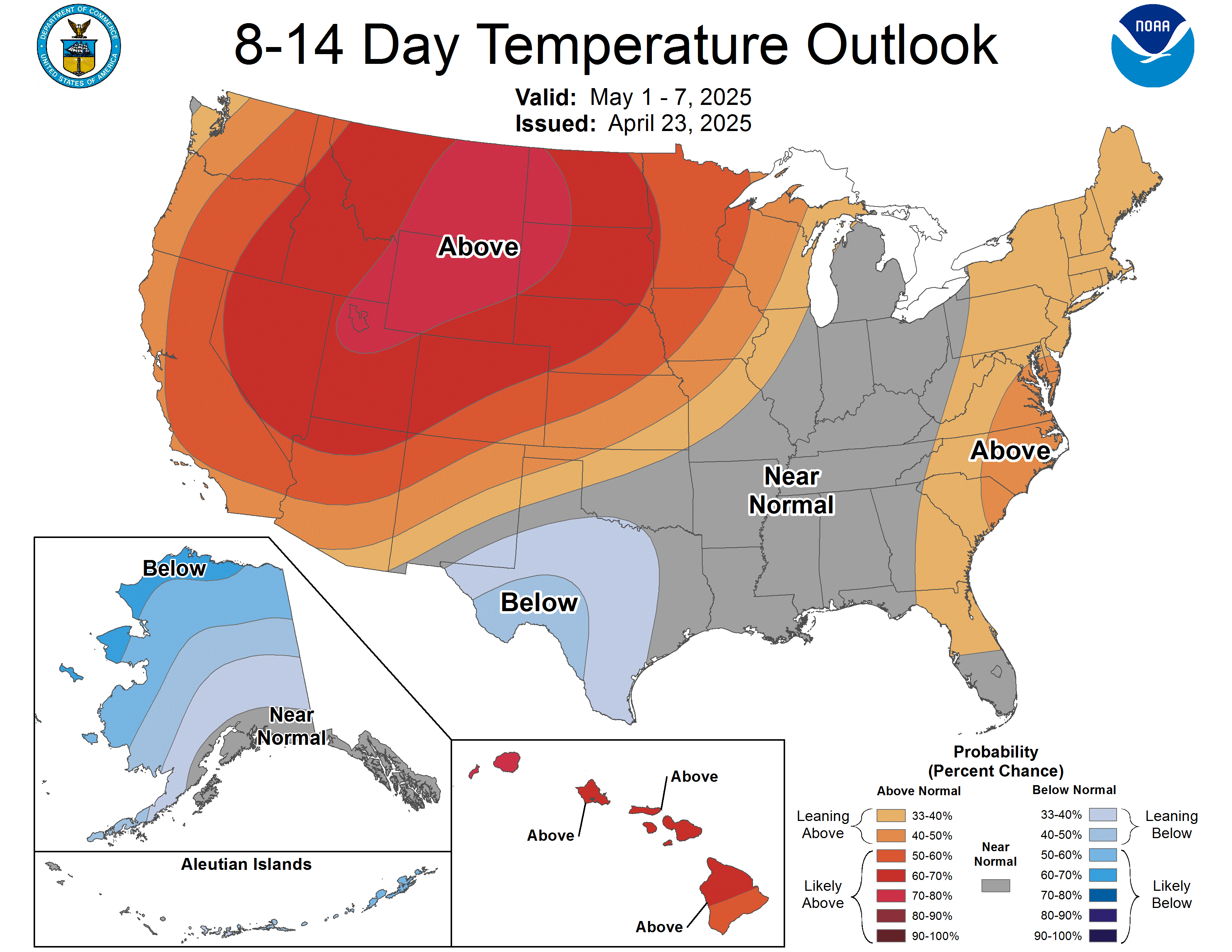 And here is the Updated December Temperature Outlook released November 30.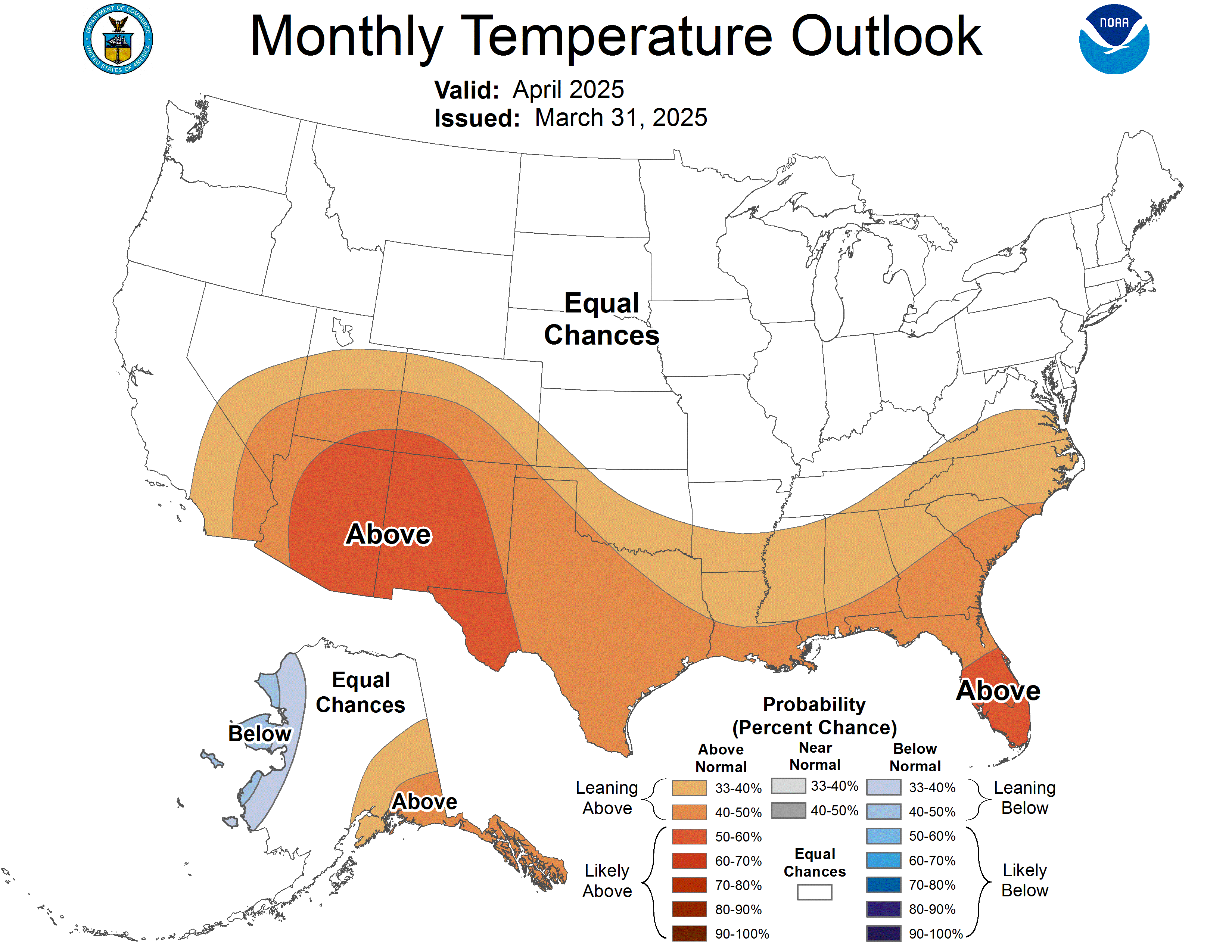 As the month has progressed, the 6 – 14 Day Temperature Outlooks which have been warmer than the Monthly Outlook are changing to be less warmer than the Monthly Outlook issued on November 30. Perhaps the average of the 6 – 14 Day Temperature Outlooks would be about what the Monthly Outlook was forecasting. I do not save the daily 6 – 14 Day Outlooks so it is not easy for me to verify that this is the case.

And here is the 8 – 14 Day Precipitation Outlook issued today (but it will also auto-update and change every day so my comments may become out of sync with the map).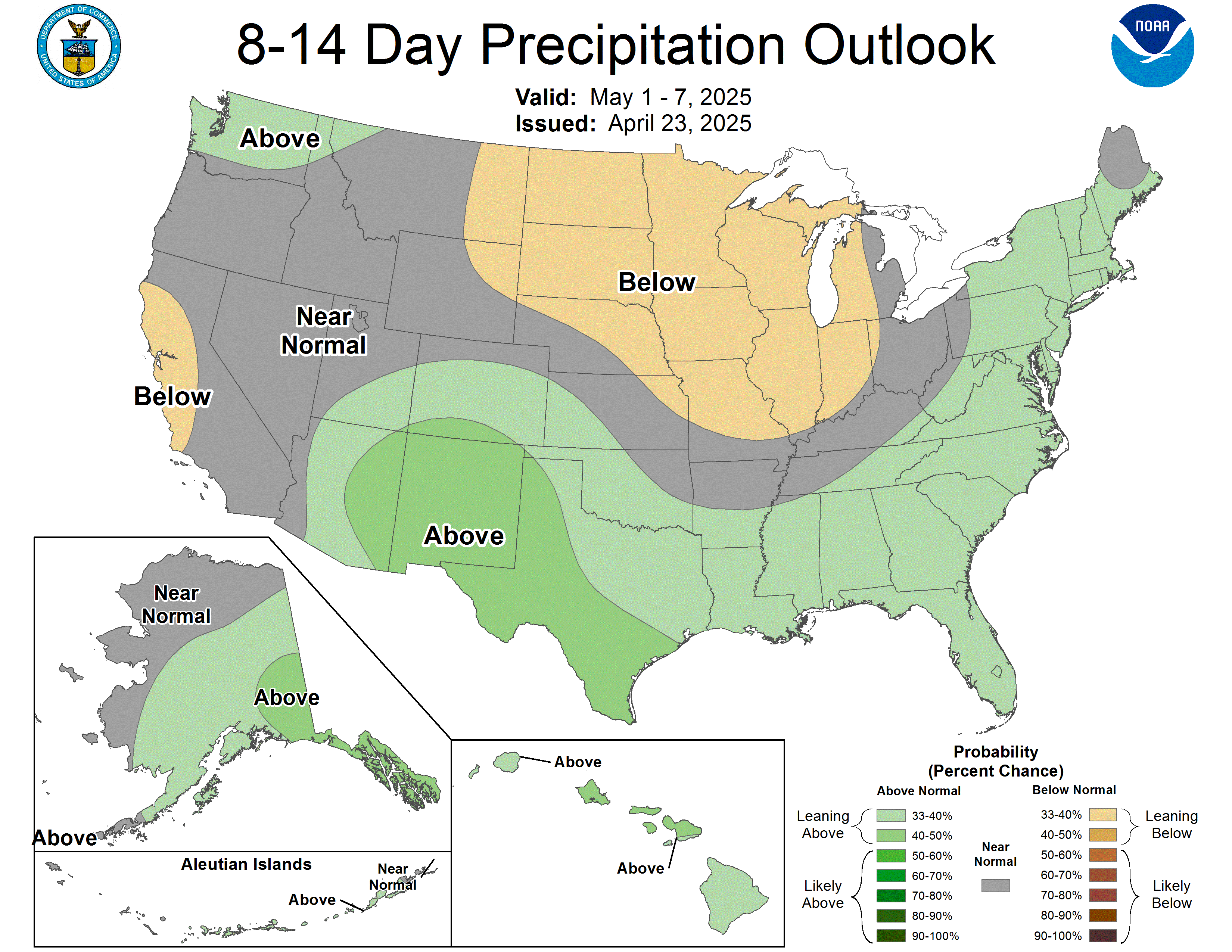 And here is the updated December Precipitation Outlook released November 30.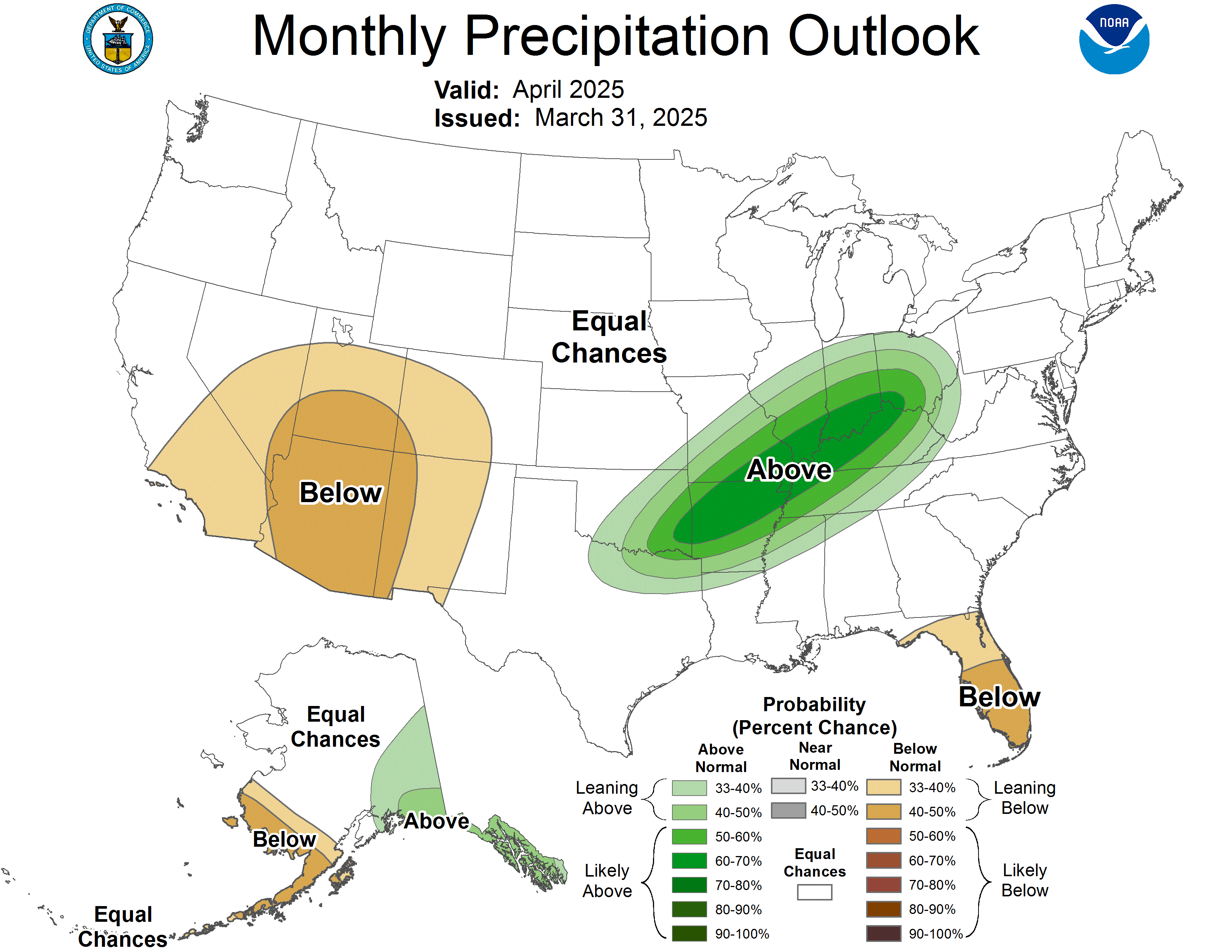 The second half of December is looking wetter than the Monthly Outlook issued on November 30 but in very different places. This is a big change from the Outlook two and one days ago. There has been a rapid change.

And now excerpts from the NOAA discussion covering the December 15  6 – 14 Day Outlook.
"6-10 DAY OUTLOOK FOR DEC 21 – 25 2014


TODAY'S MODEL SOLUTIONS ARE IN GOOD AGREEMENT ON A FAIRLY HIGH-AMPLITUDE 500-HPA PATTERN FORECAST FOR THE 6-10 DAY PERIOD. ALL MODELS ARE FORECASTING A BROAD TROUGH OVER THE NORTHERN PACIFIC WITH AN ASSOCIATED STRONG PACIFIC JET AND A RIDGE OFF THE WEST COAST OF NORTH AMERICA. Editors Note: This is not consistent with El Nino conditions and may interfere with storms coming on land from the south. A DOWNSTREAM TROUGH IS PREDICTED OVER THE WESTERN AND CENTRAL CONUS. POSITIVE 500-HPA HEIGHT ANOMALIES ARE FORECAST OVER OF THE WESTERN AND NORTHEASTERN CONUS, EXCEPT FOR THE MID-ATLANTIC COAST. THE ENSEMBLE SPAGHETTI DIAGRAMS INDICATE MODERATE SPREAD ACROSS THE FORECAST DOMAIN.


ALL FORECAST TOOLS ARE IN REASONABLY GOOD

AGREEMENT ON THE FORECAST TEMPERATURE PATTERN ACROSS THE CONUS. ABOVE-NORMAL TEMPERATURES ARE FAVORED FOR THE WESTERN AND NORTHERN CONUS NEAR THE FORECAST RIDGE AND AHEAD OF THE TROUGH, SEPARATELY. WITH SST ANOMALIES BELOW-NORMAL IN THE EAST GULF COAST, BELOW-NORMAL TEMPERATURES ARE FAVORED FOR FLORIDA. ABOVE-NORMAL TEMPERATURE PROBABILITIES ARE ENHANCED FOR ALASKA IN ASSOCIATION WITH THE NEAR SURFACE SOUTHEASTERLY FLOW, EAST OF THE LOW PRESSURE SYSTEM OVER THE GULF OF ALASKA.


WITH A STRONG PACIFIC JET NEAR THE NORTHWEST COAST, ABOVE-MEDIAN PRECIPITATION IS FAVORED FROM THE PACIFIC NORTHWEST TO THE NORTHERN ROCKIES AND NORTHERN GREAT PLAINS. ABOVE-MEDIAN PRECIPITATION IS PREDICTED OVER THE EASTERN CONUS IN ASSOCIATION WITH THE ACTIVE LOWER-LEVEL JET AHEAD OF THE TROUGH. BELOW-MEDIAN PRECIPITATION CHANCES ARE ENHANCED FOR THE SOUTHWESTERN CONUS, UPSTREAM FROM A FORECAST TROUGH AND UNDER THE INFLUENCE OF THE RIDGE NEAR THE WEST COAST. ABOVE-MEDIAN PRECIPITATION CHANCES ARE ENHANCED FOR WESTERN ALASKA, ALEUTIANS, HE SOUTH COAST OF ALASKA, AND THE PANHANDLE, NEAR AND AHEAD OF THE PREDICTED TROUGH OVER THE NORTH PACIFIC.

FORECAST CONFIDENCE FOR THE 6-10 DAY PERIOD: ABOVE AVERAGE, 4 OUT OF 5, DUE TO GOOD AGREEMENT AMONG VARIOUS DYNAMICAL AND STATISTICAL TOOLS.


8-14 DAY OUTLOOK FOR DEC 23 – 29 2014


THE ENSEMBLE MEAN PREDICTIONS OF THE 500-HPA HEIGHT PATTERN FOR THE WEEK-2 PERIOD ARE IN FAIR AGREEMENT OVER NORTH AMERICA. A RIDGE IS PREDICTED OVER THE GULF OF ALASKA, ASSOCIATED WITH POSITIVE 500-HPA HEIGHT ANOMALIES OVER THE WESTERN CONUS. A TROUGH IS ANTICIPATED THE CENTRAL CONUS, WITH NEGATIVE 500-HPA HEIGHT ANOMALIES OVER THE REST CONUS.


THERE ARE ENHANCED PROBABILITIES FOR NEAR- TO ABOVE-NORMAL TEMPERATURES FOR THE SOUTHWESTERN CONUS, WITH EXPECTED POSITIVE 500-HPA HEIGHT ANOMALIES. BELOW-NORMAL TEMPERATURES ARE FAVORED FOR MUCH THE NORTHERN AND CENTRAL ROCKIES, BEHIND THE PREDICTED TROUGH. BELOW NORMAL TEMPERATURES ARE ALSO FAVORED FOR THE SOUTHEAST COAST, CONSISTENT WITH NAEFS GUIDANCE. THERE ARE ENHANCED PROBABILITIES FOR NEAR- TO ABOVE-NORMAL TEMPERATURES FOR ALASKA RELATED TO THE SOUTHEASTERLY WINDS, EAST OF THE SURFACE LOW PRESSURE OVER THE BERING SEA.


BELOW-MEDIAN PRECIPITATION IS FAVORED FOR THE SOUTHWEST COAST AND CALIFORNIA IN ASSOCIATION WITH THE FORECAST RIDGE OFF THE WEST COAST. NEAR- TO ABOVE-MEDIAN PRECIPITATION IS FAVORED FOR THE NORTHWESTERN CONUS AND THE NORTHERN GREAT PLAINS IN CONSISTENT WITH THE BIAS CORRECTED PRECIPITATION FROM THE ECMWF ENSEMBLES AND GFS ENSEMBLES. ABOVE-MEDIAN PRECIPITATION IS ALSO FAVORED FOR THE EASTERN CONUS AHEAD OF THE TROUGH. THERE ARE ENHANCED PROBABILITIES OF NEAR- TO ABOVE-MEDIAN PRECIPITATION FOR THE WESTERN ALASKA, THE ALEUTIANS, SOUTH COAST AND PANHANDLE.


FORECAST CONFIDENCE FOR THE 8-14 DAY PERIOD IS: ABOUT AVERAGE, 3 OUT OF 5, DUE TO FAIR MODEL AGREEMENT WITH SOME DISAGREEMENT BETWEEN TOOLS FROM THE ECMWF AND GEFS ENSEMBLES. "

Analogs to Current Conditions
Now let us take a more detailed look at the "Analogs" which NOAA provides related to the 5 day period centered on 3 days ago and the 7 day period centered on 4 days ago. "Analog" means that the weather pattern then resembles the recent weather pattern and was used in some way to predict the 6 – 14 day Outlook.
What are they telling us today?
Analog

Centered

Day

ENSO

Phase

PDO
AMO
Other Comments
1979 December 28
Neutral
+
N
1979 December 29
Neutral
+
N
1991 December 28
El Nino
+
–
Modoki Type I
1991 December 29
El Nino
+
–
Modoli Type I
1993 December 13
Neutral
+
–
1993 December 14
Neutral
+
–
2003 December 6
Neutral
+
+
2003 December 24
Neutral
+
+
2003 December 25
Neutral
+
+
The analogs are far less indicative of El Nino conditions than last week but instead suggest ENSO Neutral but with Ocean conditions that are favorable for precipitation. One can understand that better by looking at the McCabe et al maps on Page II of my Report.  Of most interest is that today they are not showing the 1982 El Nino which arrived late and weak but evolved into a very strong El Nino.
For the past three years we have in the winter had the RRR (Ridiculously Resilient Ridge) in the Pacific which was the cause of or a manifestation of the California Drought. Let's hope this Ridge is short lived. Some of dates of the analogs suggest cold weather is coming.

Sometimes it is useful to take a look at the location of the Jet Stream or Jet Streams.
And sometimes the forecast is revealing. Below is the forecast out five days.

To see it in animation, click here. At the time this article was published, the animation shows a tendency for there to be a Southern Branch of the Polar Jet Stream in addition to the usual Northern Branch. It can bring storms further south than usual.This is consistent with El Nino conditions.

This longer animation shows how the jet stream is crossing the Pacific and when it reaches the U.S. West Coast is going every which way. One can imagine that attempting to forecast this 6 – 14 days out is quite challenging.

El Nino Discussion

Now let us look at the latest NOAA Hovmollers.
First Sea Surface Temperatures
Over to the left side of the graphic at 160E at the bottom you can see where there has been for a long time some warm surface water. Also you see more pockets of warmer water further east. Overall it looks about the same as last week but is still sufficiently warm in the Central Pacific where the ONI Index is measured to indicate El Nino "conditions". I suspect that might change within two months. See discussion of the Kelvin Waves later in this report.

Of most interest to NOAA is 120 W to 170 W as that is where the ONI Index is measured. More information can be found here. If you look at the color coding in the above Hovmoller they are looking for shades where the redder the better re conditions being El Nino but so far it is just showing shades of tan and brown i.e. marginal especially when averaged over the entire area of interest. But that explains why we have a situation where some of the factors are in place for an El Nino but so far it is marginal at best.
And now the low-level wind anomalies.
If anything, this looks more like ENSO Neutral conditions than El Nino conditions. The bottom shows the most recent readings as this type of graphic is read from top to bottom. The "reddish" area is much reduced and there is this week "blue" in the Central Pacific although shades of tan have returned over towards Ecuador. This past week the incipient El Nino continues to be wounded.

The Southern Oscillation Index (SOI) is better than last week but still not cooperating in terms of either indicating an El Nino or supporting the development of an El Nino.  You can find the daily and 30 and 90 day averages here. It seems that the SOI is fluctuating on a weekly basis from strongly negative to barely negative. This week it has been negative but on average below the El Nino threshold. You can see this in the above Hovmoller. With the SOI there is always a cause and effect issue. Is the SOI a cause of or a result of warm water being to the east? The SOI is an imperfect index as the two reference points are not on the Equator. The 30 day average is now not even marginal for El Nino conditions and is not suggestive of El Nino conditions being in place.  Today's reading is  -4.5. For the week overall there was a continuation of the tendency to disassemble this potential El Nino by allowing the normal Easterlies to blow the warm water back to the Pacific Warm Pool. That tendency was not nearly as strong as the prior week but this is mid December and by now the SOI should be clearly signifying an El Nino and it is not.

9 Dec 2014 -7.11

10 Dec 2013 -6.96

11 Dec 2014 -2.80

12 Dec 2014 -10.22

13 Dec 2014 -7-94

14 Dec 2014 – 4.10

15 Dec 2014  -4.5
You can not deduce anything from one day but it reminds us that situations can change rapidly. Given that -8.0 is often considered the threshold for El Nino conditions you can see that August and October were actually more favorable for the development of an El Nino than November which was just barely marginal and December has started out to be very unfavorable for an El Nino. The 30 (important) and 90 day averages of the SOI are now not even marginal for what is associated with an El Nino.

And then the third part of the equation (there are more than three but I focus on three): Kelvin Waves.
You can see a lot in this week's Hovmoller. If you look carefully you can see that the extension eastward has been halted which you can tell by the vertical edge of the wave at its east-most extension. Remember this graphic is read from the bottom up with the latest readings along the bottom. Also you can see that the width in longitude of the wave (and thus the warming impact) is less this week than last week. Also you can see to the far left the possible next Kelvin Wave forming.
I believe that this Kelvin Wave is the only reason for continued optimism that we will have an El Nino this year but it will be late arriving if it arrives at all. Notice that the upwelling phase is still warmer than normal so clearly we have a warm event but most likely not warm enough to qualify as an El Nino. That is why I believe this winter will most likely have a "near El Nino) or an El Nino which will arrive weak, possibly then get weaker (just extrapolating from this Hovmoller as to where the warm water will be in a month), but could later be reinforced by another Kelvin Wave (which we now see possibly developing) and last longer than currently forecast. The "later" increasingly appears to be this summer (possibly late Spring) and next winter.

And one more:
I presented this graphic the last two weeks. It is a modified version of the graphic that appears on Page II of this Report. It is modified by NOAA to be consistent with the maps on the right which can be found here. As you can see the ONI was above 0.5 in December but is projected to be below 0.5 in January, 2015. It is just a projection but the analysis of the Hovmollers I have presented would also lead to the same conclusion.

So this continues to look to me like a very weak version of the 1982/1983 El Nino and may last longer than NOAA thinks but have different impacts than they think also. We shall see. I am still thinking the Japanese (and the Australians) sized this up from the start and that this is really more like a Modoki than a traditional El Nino and that weather patterns will be shifted some number of degrees further west than would be the case for a traditional El Nino. This may not happen right away as so far this looks like a traditional El Nino or "near" El Nino but it may turn out to be a two-year event.
This from Japan which I should have reported a couple of weeks ago. It provides a good assessment of what Japan believes the impacts of this El Nino or near El Nino will be for different parts of the World. NOAA has so far not at all addressed the issue of a possible El Nino Modoki next winter.

"November 24, 2014

ENSO forecast: The SINTEX-F model prediction shows that the present weak El Niño will continue until the early next year and then turn into El Niño Modoki with the SST anomalies peaking in the central tropical Pacific. In consideration of the actual societal impacts, our tentative definition of ENSO (Modoki) is based on the overall tropical structure and its influences, and is not based only on the single criterion of the Niño 3.4 index scalar variable. We believe that this new approach must be elaborated more in a quantitative way.

Indian Ocean forecast: Basin-wide warming will develop in the Indian Ocean, in response to the Pacific El Niño (Modoki). This is expected to continue until the next boreal summer.

Regional forecast: In this boreal winter, as a seasonally averaged view, most parts of Europe, Africa, Middle East, central Russia, India, Southeast Asia, South American Continent, Canada, and the Far East including Japan will experience a warmer-than-normal condition. On the other hand, U.K., southern and northeastern Russia, and central-eastern U.S. in particular will be in a colder-than-normal condition.

The seasonally averaged rainfall in this boreal winter shows that most parts of Southeast Asia, northern Australia, southern Africa, and eastern Brazil will experience a drier-than-normal condition. This may be partly related to the present weak El Niño. A wetter-than-normal condition will be expected in U.S., in particular the western U.S., partly due to the warmer-than-normal SST associated with persistence of the newly identified regional phenomenon "California Niño". Editor's note: We discussed the California Nino a couple of weeks ago and that discussion is now in Part II of this Report.
I still do not see a traditional El Nino of any significant strength likely to happen this winter, especially in the early part of winter, although a weak El Nino appears to be making its presence known. It appears to be a very complicated situation. There are many possibilities on the table in my opinion:
A short weak traditional El Nino which arrives late. (The NOAA projection)

A short weak traditional El Nino which arrives late and then weakens is not recorded as having been an El Nino but simply a short period of El Nino conditions

A weak traditional El Nino arriving late but being reinforced and turning into a long lasting stronger traditional El Nino. (Not forecast by NOAA but not inconsistent either) This would be somewhat like the 1982/1983 Super El Nino but not likely to be strong this year.


A weak traditional El Nino or near El Nino that turns into a Modoki next year (The Japanese Forecast)

Other variations of the above all related to warmer water further east than usual in the ENSO cycle but not necessarily translating into the usual El Nino that would normally be here now if it fit the usual mold.
Climate Change Impacts
From a recent report on the causes of the three year California Drought by Richard Seager et al.
"CAUSES AND PREDICTABILITY OF THE 2011-14 CALIFORNIA DROUGHT

The causes and predictability of the California drought during the three consecutive rainy seasons (November-April) 2011/12 to 2013/14 are analyzed using observations and ensembles of simulations conducted with seven atmosphere models forced by observed sea surface temperatures (SSTs). Historically, dry California winters have most commonly been associated with a ridge off the west coast, part of a mid-latitudewave train having no obvious SST forcing. Wet winters have most commonly been associated with a trough off the west coast and an El Niño event. These attributes of dry and wet winters are captured by many of the models used in the current assessment. According to the models, up to a third of California winter precipitation variance can be explained in terms of SST forcing, with the majority explained by internal atmospheric variability. Nonetheless. SST-forcing was key to sustaining a ridge of high pressure over the west coast during each of the last three winters, and may have explained nearly one-third the CA precipitation deficits during the recent drought. In 2011/12 the forced component was a response to a La Niña event whereas in 2012/13 and 2013/14 it was related to a warm tropical west Pacific SST anomaly. All models contain a mode of climate variability that links west Pacific SST anomalies to a northeastward propagating wave train with a ridge off the North American west coast as part of its SST sensitivity during at least the last 35 years. This mode explains less variance than ENSO and Pacific decadal variability and its importance in 2012/13 and 2013/14 was unusual. The CMIP5 models project that rising greenhouse gases should increase California winter precipitation but that changes to date are small compared to the recent drought anomalies. As such, the recent drought was dominated by natural variability, a conclusion framed by a discussion of the differences between observed and modeled tropical SST trends over the past decades"
It was not due to Global Warming. The full report can be found here.
This report also included a very interesting graphic.
This is not a surprising graphic as the general understanding is that 30 degrees latitude is the desert belt and that above 40 to 45 degrees latitude (north or south) Global Warming would produce wetter conditions. But it is nice to have a graphic that is very detailed. I was suprised a bit by the increase in precipitation along the Equator so that is interesting. The graphic on the right is the most useful as it shows precipitation minus evaporation (P – E ) as warmer temperatures will cause more evaporation. The graphic on the left just shows the change in precipitation but also the change in surface atmospheric pressure. I do not believe this graphic adequately takes into account the impact of the longer (low frequency) ocean cycles and for the Southwest in the U.S., the impact of Global Warming on the Southwest Monsoon. That impact is not yet clear although the IPCC, AR5, WGI reports it as likely to be later and weaker. That is in contrast to their assessment of other Monsoons around the World so I consider that finding still subject to a better understanding of how a warmer ocean and an even warmer land area will impact this Monsoon.
Since this graphic represents the mean of the results of all the models using RCP 8.5 which is the most extreme emissions scenario, the graphic is a good way of assessing where things will be wetter or drier between now and 2040. Adding in an adjustment for the three major ocean cycles would make this graphic even more useful.
Click Here for the Econointersect Weather and Climate Page II where you will find:
NOAA and other agency graphics (including international agencies) that auto update. So this includes both short term- and seasonal "updates". It will ALWAYS be up to date even if my commentary on the graphics is not. I update my commentary when it seems necessary and certainly every Monday but some of these graphics auto update every six hours. This section of the report has been reorganized to make it easier to follow.


Economic and other Impacts of major weather events. Not sure there is any other place to obtain this information consistently other than very specialized subscription services.

Information on Climate Cycles both those which are fairly short term i.e. less than a decade in duration and multi-decadal cycles.

Economic and other Impacts of those Climate Cycles which are referred to by the IPCC as Internal Variability as opposed to secular Climate Change which is always in the same direction. Again I am not sure if there is another source for this information where it is pulled together in one place as I have.

Information on Anthropogenic Global Warming science i.e. the secular change in our climate that overlays both short term weather and historical climate cycles as well as black swan events like volcanic eruptions. I prefer to call this Global Warming as it is the warming that triggers the other changes.

Economic and other Impacts of Global Warming. The IPCC AR5 WG2 attempts to describe and quantify these and I have some excerpts from their report. Over time I will go beyond their report.
For now this is all in one article which may be a little difficult to navigate but that will soon change and the information will be accessed easily by topic. I have included a Table of Contents but so far have not implemented hyperlinks to move quickly to topics of most interest. For now you have to scroll down.