Written by Sig Silber
El Nino is predicted but the current weather looks more like a La Nina pattern. The Pacific is warm but the Lower 48, for the most part, will be cold. The "analogs" suggest that the conditions during the next two weeks are consistent with Fall arriving earlier or later than usual.
This week's 6 – 10 day outlook is consistent with last week's 8 – 14 day outlook suggesting that the two-week forecasting skill level is good right now. But the monthly and seasonal outlooks (which will be updated on Thursday) suffer from the commitment to El Nino arriving on time and possibly also an assumption that it will behave as a traditional El Nino.
Now let us take a look at the 8 – 14 day outlook that was issued today November 17, 2014.
I am only showing the "second week" maps namely the day 8 -14 outlook. The first week maps can be found in Part II of my report but 8 – 14 days covers most of the 6 – 14 day period and does not vary much from the first part of the outlook issued today.
Here is the previously released updated Temperature Outlook for November:
And here is the 8 – 14 Day Temperature Outlook released today: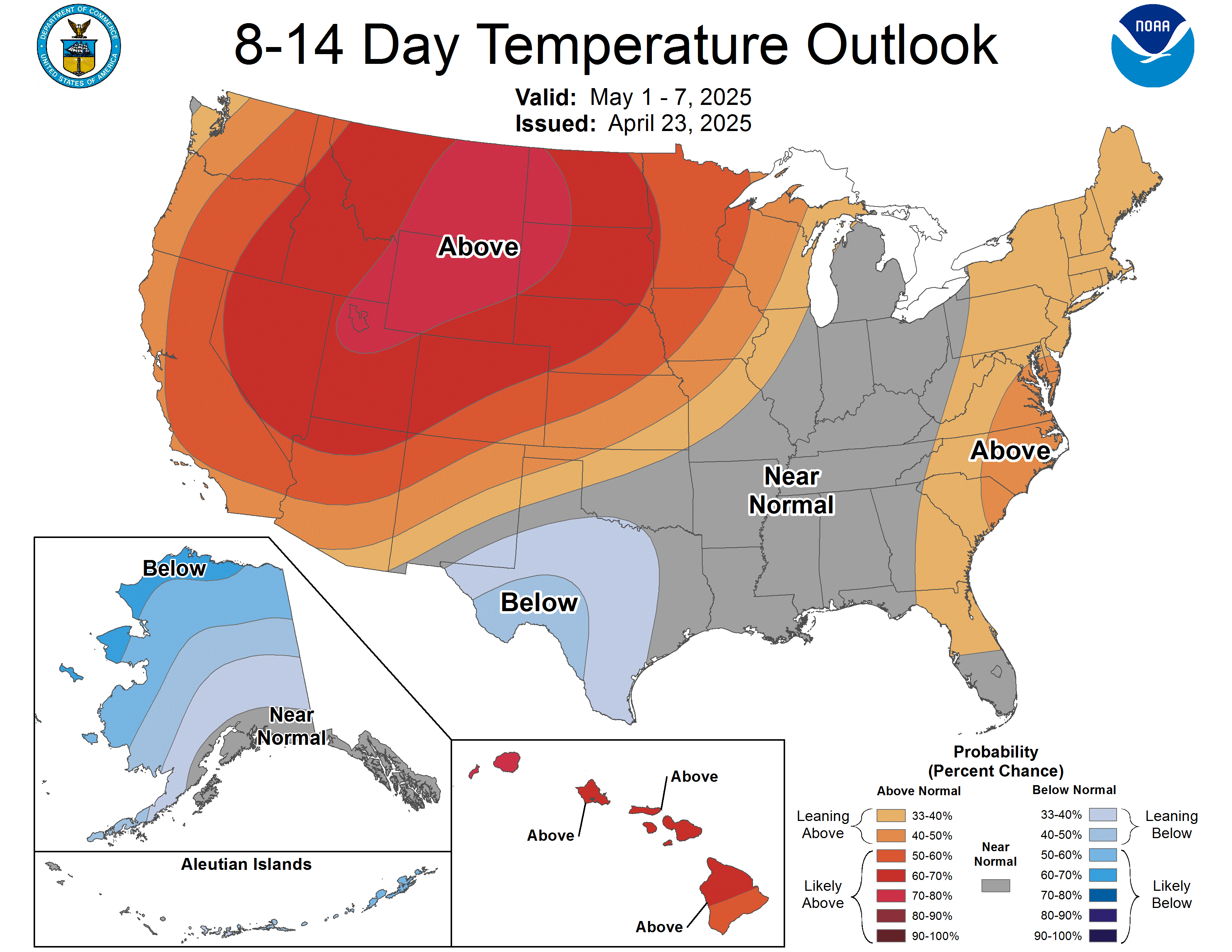 There is not a lot of similarity.
And here is the monthly Precipitation Outlook for November.
And here is the 8 – 14 Day Precipitation Outlook issued today.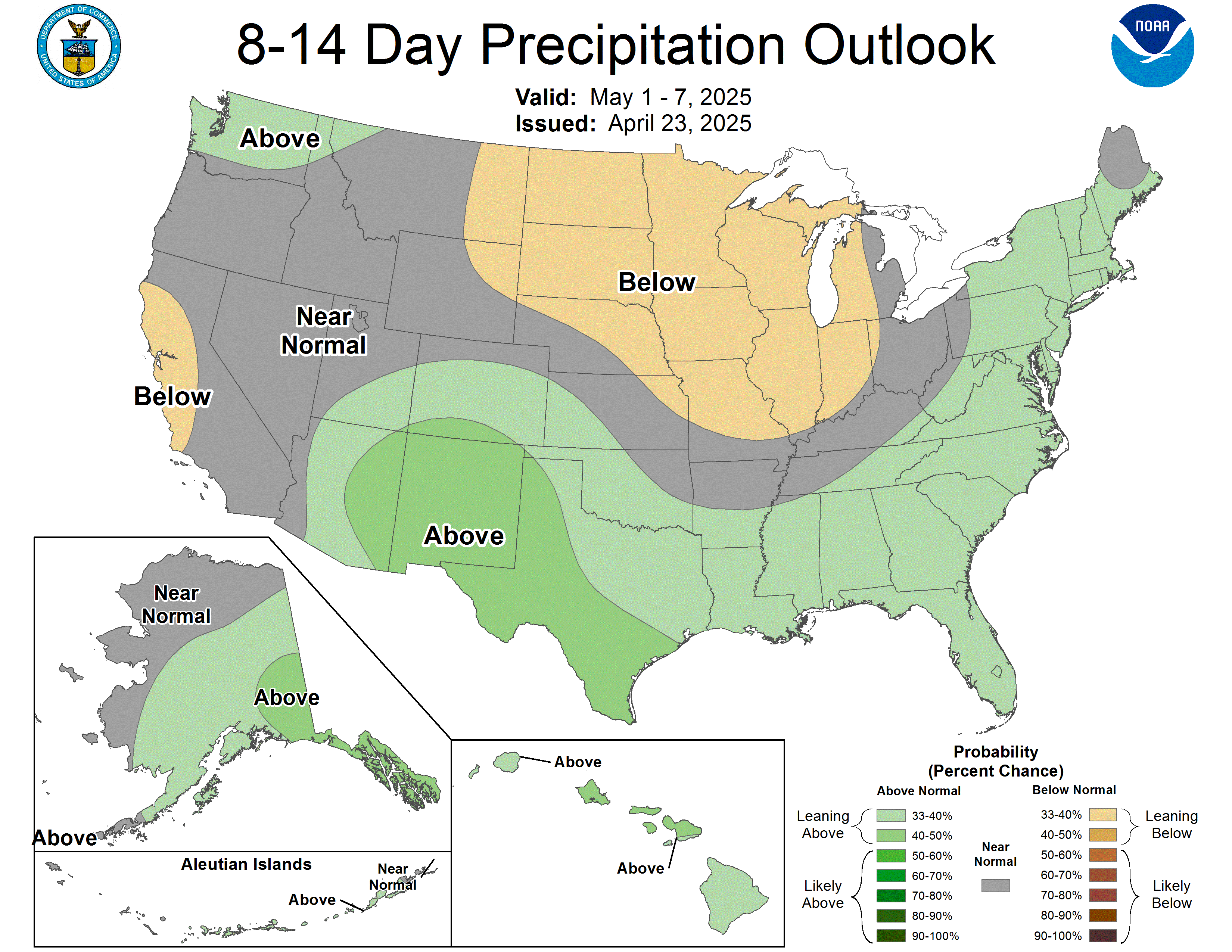 Other than the Northwest, this seems to be the inverse of the monthly outlook.

Excerpts from the NOAA discussion.
6-10 DAY OUTLOOK FOR NOV 23 – 27 2014

TODAY'S MODELS ARE IN GOOD AGREEMENT ON THE 500-HPA CIRCULATION PATTERN OVER  NORTH AMERICA. ALL OF TODAY'S MODELS PREDICT A DEEP TROUGH CENTERED OVER THE  EASTERN TWO THIRDS OF THE CONUS, ANOMALOUS RIDGING IN THE EASTERN PACIFIC AND  WESTERN CONUS, AND SOME ANOMALOUS RIDGING NEAR THE EAST COAST.


ANOMALOUS SOUTHERLY FLOW OVER ALASKA INCREASES THE CHANCES FOR ABOVE NORMAL TEMPERATURES THROUGHOUT THE STATE. ANOMALOUS RIDGING INCREASES THE LIKELIHOOD OF ABOVE NORMAL TEMPERATURES IN THE WESTERN CONUS, ESPECIALLY OVER COASTAL CA  WHERE OFFSHORE, DOWNSLOPING WINDS HIGHLY FAVOR ABOVE NORMAL TEMPERATURES.  DESPITE SOME INCONSISTENCIES AMONG THE TOOLS IN THE TEMPERATURE PROBABILITY  FORECAST OVER THE CENTRAL U.S., BELOW NORMAL TEMPERATURES ARE FAVORED DUE TO  ANOMALOUS NORTHERLY FLOW AND ANOMALOUSLY HIGH SNOW COVER. ANOMALOUS SOUTHERLY FLOW AND SOME ANOMALOUS RIDGING INCREASES THE CHANCES FOR ABOVE NORMAL  TEMPERATURES IN THE EASTERN U.S.

OVER NORTHWESTERN ALASKA, ANOMALOUS OFFSHORE FLOW FAVORS BELOW MEDIAN PRECIPITATION, WHILE ANOMALOUS SOUTHERLY FLOW INCREASES THE CHANCES FOR ABOVE MEDIAN PRECIPITATION OVER SOUTHEASTERN ALASKA AND THE ALASKAN PANHANDLE.  ANOMALOUS ONSHORE FLOW AND AN ACTIVE FORECAST STORM TRACK FAVORS ABOVE MEDIAN PRECIPITATION FROM THE PACIFIC NORTHWEST INTO THE NORTHERN PLAINS. AHEAD OF A  STRONG 500-HPA TROUGH, FORECAST STORM SYSTEM ACTIVITY STRONGLY FAVORS ABOVE  MEDIAN PRECIPITATION IN THE EASTERN U.S.

FORECAST CONFIDENCE FOR THE 6-10 DAY PERIOD: ABOVE AVERAGE, 4 OUT OF 5, DUE TO GOOD MODEL AGREEMENT, A FAIRLY AMPLIFIED PATTERN, AND FAIRLY GOOD AGREEMENT  AMONG THE TOOLS.

8-14 DAY OUTLOOK FOR NOV 25 – DEC 01, 2014

BY THE WEEK-2 PERIOD, THE 500-HPA PATTERN IS EXPECTED TO BE SHIFTED SLIGHTLY EASTWARD, WITH ANOMALOUS RIDGING IN THE WESTERN CONUS AND ANOMALOUS TROUGHING IN THE EASTERN CONUS. AS SUCH, THE FORECAST TEMPERATURE PROBABILITIES ARE  SHIFTED EASTWARD AS WELL. AS ANOMALOUS SOUTHERLY WINDS ARE FORECAST TO DECREASE  OVER PARTS OF ALASKA, THE PROBABILITY FOR ABOVE NORMAL TEMPERATURES IS LIMITED  TO SOUTHERN ALASKA BY THE WEEK-2 PERIOD. BELOW NORMAL TEMPERATURES ARE NOW  FAVORED INTO THE GREAT LAKES AND THE SOUTHEAST BY THE WEEK-2 PERIOD, WHILE  PREDICTED ABOVE NORMAL TEMPERATURES ARE NOW LIMITED TO THE NORTHEAST.

DURING THE WEEK-2 PERIOD, ANOMALOUS OFFSHORE FLOW FAVORS BELOW MEDIAN PRECIPITATION IN PARTS OF NORTHWEST ALASKA. AS THE TROUGH OVER THE EASTERN  CONUS IS FORECAST TO MOVE EASTWARD, BELOW MEDIAN PRECIPITATION IS FORECAST FOR  MUCH OF THE SOUTH CENTRAL U.S. IN THE WAKE OF THE TROUGH, AND ANY STORM SYSTEM  ACTIVITY IN THE EASTERN U.S. IS EXPECTED TO SHIFT EASTWARD.

FORECAST CONFIDENCE FOR THE 8-14 DAY PERIOD IS: AVERAGE, 3 OUT OF 5, DUE TO FAIRLY GOOD AGREEMENT AMONG MOST OF THE MODELS, COUNTERED BY A MUCH MORE  PROGRESSIVE PATTERN, RESULTING IN MORE OF A ZONAL FLOW ON AVERAGE."
Analogs to Current Conditions
Now let us take a more detailed look at the "Analogs" which NOAA provides related to the 5 day period centered on 3 days ago and the 7 day period centered on 4 days ago. "Analog" means that the weather pattern then resembles the recent weather pattern and was used in some way to predict the 6 – 14 day Outlook.
What are they telling us today?
Analog

Centered

Day

ENSO

Phase

PDO
AMO
Other Comments
1951 November 2
El Nino
–
+
1976 November 28
El Nino
–
–
1983 November 29
La Nina
+
–
Right after an El Nino
1983 November 30
la Nina
+
–
Right after an El Nino
1995 October 30
La Nina
+
Neutral
Right after an El Nino
2002 October 29
El Nino
Neutral
+
Modoki Type 1 during a brief change in the sign of the PDO
2002 December 1
El Nino
Neutral
+
Modoki Type 1 during a brief change in the sign of the PDO
Ten analogs are presented with each NOAA National Weather Service Climate Prediction Center weekday 6 – 14 Day Outlook. Today there were three duplicates (not a problem) and all seven were associated with extremes of the ENSO Cycle with four being dates within an El Nino and three being dates within a La Nina.  Two of the El Nino analogs were associated with El Nino Modoki Type 1. The combinations of the ocean phases during the four El Nino analogs were in general combinations that are associated with weak El Ninos. Actually none of the El Ninos or La Ninas associated with these analogs were especially strong events. The wide spread of the dates of the analogs suggests that the current outlook is either a pattern that is earlier than usual or later than usual.
There are two possible explanations for what I have described above:
Nature can not make up its mind.


NOAA is not able to decipher the data.
I lean towards the second explanation.
El Nino Discussion

Now let us look at the latest NOAA Hovmollers.
First Sea Surface Temperatures
Over to the left side of the graphic at 160E at the bottom you can see where there has been some warming surface water. It  does appear to be moving to the east. Also you see more pockets of warmer water further east. But they appear to be playing out and may not even show up next week. I am still not very impressed.

And now the low-level wind anomalies.
We had a westerly anomaly a few weeks ago that could do something and apparently it did. Is that enough to actually have an El Nino with enough strength to have an impact? We now see some minor westerly anomalies in the eastern tropics (supportive of an El Nino) and some easterly anomalies (negative for an El Nino) further west at about the Date Line. I am still not impressed.

The Southern Oscillation Index (SOI) is fickle and this past week has not been cooperating and you can find the daily and 30 and 90 day averages here. With the SOI there is always a cause and effect issue. Is the SOI a cause of or a result of warm water being to the east? The SOI is an imperfect index as the two reference points are not on the Equator but again I will not go into that in detail today. The 30 day average, currently -10.5) remains suggestive of El Nino conditions. Today's (Monday) reading is 3.37 which is a positive not a negative number. A 30 day average of negative 8 is considered El Nino conditions so definitely the SOI was not cooperating this past week.  You can not deduce anything from one day but it reminds us that situations can change rapidly. The SOI appears to me to be at this point more impacted by storms near the Equator than impacting the development of this potential El Nino. But that is just my sense of the situation and is not based on a scientific analysis. 

And then the third part of the equation (there are more than three but I focus on three): Kelvin Waves.
And here we do have a signal of warm water moving east but it does not have the intensity of the the Kelvin Wave earlier this year. Notice looking up at earlier dates that some Kelvin Waves fizzle out. It is important to always remember that warm water at the surface is more prone to evaporate thus transferring heat from the ocean into the atmosphere and thus dissipating the warm water anomaly at the sea surface. That is one reason why the El Nino phase of ENSO is generally short lived.
I believe that this Kelvin Wave is the only reason for continued optimism that we will have an El Nino this year but it will be late arriving if it arrives at all. I do not find this Kelvin wave particularly impressive so although where it is right now is in a location that would trigger ONI readings in Nino3.4 that were of El Nino magnitude but that does mean very much. I always observe the profile of the most easterly portion of the Kelvin wave. Given the way a Hovmoller is constructed, that profile should be more or less aligned with the dashed line on the chart. When that profile is more vertical than extending further east each week, it suggests the possibility that the Kelvin wave is possibly dissipating.

So to me this looks more like a weak version of the 1982/1983 El Nino and may last longer than NOAA thinks but have different impacts than they think also. We shall see. I am still thinking the Japanese (and the Australians) sized this up from the start and that this is really more like a Modoki than a traditional El Nino and that weather patterns will be shifted some number of degrees further west than would be the case for a traditional El Nino. We shall see.

At this point in time, I still do not see a traditional El Nino of any significant strength likely to happen this winter, especially the first half of the winter. It appears to be a very complicated situation. There are many possibilities on the table in my opinion:
A short weak traditional El Nino which arrives late. (The NOAA projection)

A weak traditional El Nino arriving late but being reinforced and turning into a long lasting stronger traditional El Nino. (Not forecast by NOAA but not inconsistent either) This would be somewhat like the 1982/1983 Super El Nino. This alternative appears to be increasingly unlikely.


A weak traditional El Nino that turns into a Modoki next year (The Japanese Forecast)

Nothing much at all at least until next summer. This seemed to be where the Australia model was headed but their last model run was more optimistic and forecast a "near" El Nino this winter. They will be issuing an updated statement tomorrow but I am writing this report tonight so I do not have the benefit of their assessment. I will post it tomorrow on Page 2 of this report so you will be able to find it there. Remember many of the graphics on Page 2 auto-update and I attempt to keep the discussion in sync with these graphics but I am not able to perform that function on a daily basis but I do attempt to do so when something significant happens.




Other variations of the above all related to warmer water further east than usual in the ENSO cycle but not necessarily translating into the usual El Nino that would normally be here now if it fit the usual mold.
Oceans.
California Niño/Niña. It seems that Baja California has its own cycle of changes in the upwelling of cold water and that this may be somewhat independent of the ENSO process but be instead specific to Baja California and Southern California. More information on this can be found here.
The map to the left shows the geographic area we are talking about and the chart on the right shows: (a) Lead-lag correlation coefficients between the July-September California Niño/Niña indices and the 3-month-running mean California Niño/Niña (CA, grey filled bar), along-shore surface wind (ASW, dark open bar) and upwelling (UWI, blue line) indices from 1982-2011. The ASW is positive equatorward, and UWI positive upward.
This is a difficult graphic to interpret but basically it is showing that July to September conditions in the summer impacts wind and upwelling into the following winter and this may not be connected to the ENSO Cycle but is a separate (intrinsic) phenomenon.
A couple of thoughts about this research:
A. It is interesting how the Japanese found this pattern rather than some professor at a California University. Does this tell us anything about the lack of focus by the U.S. on U.S. climate other than projects funded under the rubric of Climate Change?
B. There more than likely are other similar micro climates like this. Micro is relative as this pattern may impact a fairly large area.
Click Here for the Econointersect Weather and Climate Page where you will find:
NOAA and other agency graphics (including international agencies) that auto update. So this includes both short term- and seasonal "updates". It will ALWAYS be up to date even if my commentary on the graphics is not. I update my commentary when it seems necessary and certainly every Monday but some of these graphics auto update every six hours. This section of the report has been reorganized to make it easier to follow.


Economic and other Impacts of major weather events. Not sure there is any other place to obtain this information consistently other than very specialized subscription services.

Information on Climate Cycles both those which are fairly short term i.e. less than a decade in duration and multi-decadal cycles.

Economic and other Impacts of those Climate Cycles which are referred to by the IPCC as Internal Variability as opposed to secular Climate Change which is always in the same direction. Again I am not sure if there is another source for this information where it is pulled together in one place as I have.

Information on Anthropogenic Global Warming science i.e. the secular change in our climate that overlays both short term weather and historical climate cycles as well as black swan events like volcanic eruptions. I prefer to call this Global Warming as it is the warming that triggers the other changes.

Economic and other Impacts of Global Warming. The IPCC AR5 WG2 attempts to describe and quantify these and I have some excerpts from their report. Over time I will go beyond their report.
For now this is all in one article which may be a little difficult to navigate but that will soon change and the information will be accessed easily by topic. I have included a Table of Contents but so far have not implemented hyperlinks to move quickly to topics of most interest. For now you have to scroll down.