Econintersect: Every day our editors collect the most interesting things they find from around the internet and present a summary "reading list" which will include very brief summaries (and sometimes longer ones) of why each item has gotten our attention. Suggestions from readers for "reading list" items are gratefully reviewed, although sometimes space limits the number included.
First-time homebuyers hit lowest level in nearly 30 years (Diana Olick, CNBC) The last time the level of first-time home purchases were at this level a 30-year fixed-rate mortgage carried about 14% interest. Now it's a little above 4%. Yet only 33% of home sales are to first time buyers in 2014, compared to the long-term average of 40%. See next article.
Click for larger image at Mortgage-X.com.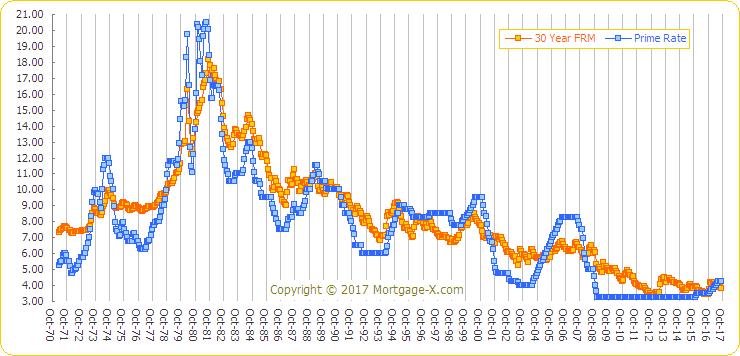 Weekend Brings Record Snow to the Appalachians, New England (Michael Doll, Accuweather.com) Early season snowfall from Maine to Tennessee breaking all-time records for the date. In Bangor, ME a 12 inch snowfall broke the existing 02 November record of 0.5 inch (1951). Other records were set as Aroostock County recorded depths up to 21 inches and Mt. LeConte, TN received 22 inches. Higher elevations in the Smoky Mountains generally received more than a foot of snow. Other notables were snow across much of upstate South Carolina, with up to 4.5 inches in the Columbia area. Sugar Mountain Ski Resort, Banner Elk, NC opening Sunday with two trails skiable on a 10-32 inch machine-made base and 8 inches of new natural snow. Also low temperature records were set across much of Florida. Vero Beach had an overnight low Sunday morning of 41 degrees breaking the 1993 record by 6 degrees. Tampa had a high temperature Sunday of 67 degrees, breaking a 119 year-old record of 68. For a weekly update of weather pattern and climate news follow GEI News weekly global weather and climate review by weather economist Sig Silber every Monday evening.
With just one week to go until the midterm elections, a new poll indicates that billionaires are likely to retain control of the United States government.

The poll, conducted by the University of Minnesota's Opinion Research Institute, shows that the proxy candidates of billionaires are likely to win ninety-eight per cent of next Tuesday's races, with the remaining two per cent leaning billionaire.

Although the poll indicates that some races are still "too close to call," the fact that billionaires funded candidates on both sides puts the races safely in their column.
Articles about conflicts and disease around the world
Ebola
Nurse: No option but to fight Ebola quarantine (Associated Press, MSN News)
Ebola Cure Delayed by Drug Industry's Drive for Profit, W.H.O. Leader Says (The New York Times)
Health Experts Say Ebola Might Be Loosening Grip on Liberia (Voice of America)
Nigeria
Suicide bombing targets Shia festival in Nigeria: Suspected Boko Haram attack in northeast Nigeria kills 15 people and injures 50 others (Al Jazeera)
Burkina Faso
Burkina Faso: where democracy has always run on protests and coups (The Conversation)
Libya
Fighting rages in Libya's Benghazi (Al Jazeera)
Turkey
'Bodies Everywhere': Migrant Boat Sinks Off Turkey (NBC News)
Russia's borders: Turkey treading carefully over the wars in Syria and Ukraine (The Conversation)
Boat with suspected migrants sinks off Turkey; 24 dead, 7 rescued: Boat carrying suspected migrants from Afghanistan and Syria sinks off Istanbul; authorities search for survivors (Al Jazeera)
Syria
Al-Qaida Fighters Push Offensive in Northern Syria (abc News)
Iraq
ISIL brings more than just brutality to the battlefield (Al Jazeera)
Ukraine
Cows Vote as Putin Tightens Grip on East Ukraine (Bloomberg)
U.S. Slams 'Sham' Ukraine Vote With Warning to Russia (NBC News)
Ukraine Says Rebel Votes Undercut Truce as Tension Mount (Bloomberg)
Russia
APNewsBreak: Russia Boycotts Nuclear Meeting (abc News)
Russian warplanes send 'great power' message: NATO (AFP, Yahoo! News)
Mexico
Mexican soldiers charged in civilian court: Seven soldiers allegedly were involved in deaths of gang members at a rural warehouse in June (Al Jazeera)
---
There are 10 articles discussed today 'behind the wall'. The last six discuss the negative impact of fiscal policy on GDP.

Do not miss "Other Economics and Business Items of Note", the final section every day.

Please support all that we do at Global Economic Intersection with a subscription to our premium content 'behind the wall'.
There are between 75 and 100 articles reviewed most weeks. That is in addition to the 140-160 articles of free content we provide.

You get a full year for only $25.
---
The rest of the post is for our premium content subscribers – Click here to continue reading. If you have forgotten your login or password – send an email to info at econintersect.com.