by Lakshman Achuthan, Co-Founder and Chief Operations Officer of ECRI
In July 2014, ECRI's International Cyclical Outlook reported "signs of spreading weakness in overall economic growth." The early warning was based on our Long Leading Index of Global Growth (LLIGG), which was already "hovering near its worst levels since 2011" (top line). The LLIGG subsumes ECRI's individual long leading indexes for 20 economies that are designed to be mutually comparable across countries, making it appropriate to combine them into a global index.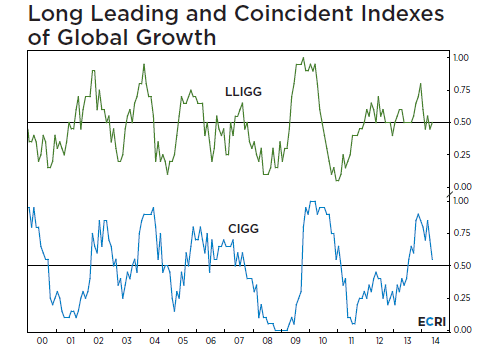 At the time, we observed that, with our analogous Coincident Index of Global Growth (CIGG) "having rolled over" (bottom line) and the LLIGG "in a cyclical downturn, reports of easing growth are likely to become more widespread internationally." This is indeed what transpired in the weeks and months that followed.
Moreover, in July we noted that "the long leading index growth rates for some of the most important economies – ranging from China to … Japan and Germany – are now exhibiting greater weakness." The downturns in those economies have since become more evident to the consensus.
We concluded that, "[w]ith trend growth continuing to slow in major developed economies, and their long leading indexes showing more widespread weakness, the global economy's vulnerability to shocks – including myriad potential geopolitical ones – is growing." Since that is the essence of the worries roiling the markets, the LLIGG and CIGG bear watching for early clues to the evolution of the global growth outlook.