Econintersect Climate and Weather Update 06 October 2014
Written by Sig Silber
The early update for October was updated on September 30.
Does it shed any new light on the outlook for this Fall? Notice in the NOAA discussion they do not mention El Nino re October.
And here are the early looks at the first month of the three month Outlooks shown above i.e. October.
Temperature
And here is the update.
And here is the early look re October Precipitation
And here is the Update.

Extracting from the NOAA discussion
"30-DAY OUTLOOK DISCUSSION FOR OCTOBER 2014


THE UPDATED OUTLOOK IS LARGELY UNCHANGED FROM THE HALF MONTH LEAD FORECAST, ALTHOUGH THERE ARE SOME DIFFERENCES, AND THIS IS ALSO NOT TO SAY THAT DIFFICULT QUESTIONS DON'T REMAIN.

FOR THE TEMPERATURE OUTLOOK, THE BIGGEST CHANGES IS REMOVAL (INCLUSION) OF FAVORED BELOW NORMAL TEMPERATURES IN THE SOUTHWEST (UPPER MIDWEST). GUIDANCE SUGGESTS RIDGING ACROSS THE WESTERN CONUS DURING THE FIRST HALF OF OCTOBER, SO AN OVERALL WARMER AND DRIER THAN AVERAGE SCENARIO IS MORE LIKELY ACROSS THE SOUTHWEST THAN ANTICIPATED AT HALF MONTH LEAD. HEAVY RAINFALL DURING AUGUST IN PARTS OF THE SOUTHWEST, CONSIDERED FOR THE FORECAST OF BELOW NORMAL TEMPERATURES IN THE MID SEPTEMBER OUTLOOK, HAS NOT BEEN AND LIKELY WON'T BE A FACTOR IN OCTOBER TEMPERATURES. EXTENDED RANGE MODEL GUIDANCE FAVORS A COOLER THAN AVERAGE FIRST HALF OF THE MONTH AND SO ELEVATED PROBABILITIES ARE NOW INDICATED ACROSS THE UPPER MIDWEST, ALTHOUGH PROBABILITIES ARE MODEST. CFS COMPLETE MONTH FORECASTS DO NOT CONTRADICT THIS AREA AT THE CURRENT TIME.

OTHER CHANGES TO THE TEMPERATURE OUTLOOK FROM THE MID-MONTH FORECAST INCLUDE AN INCREASE IN PROBABILITIES AND COVERAGE ACROSS THE WESTERN QUARTER OF THE WHERE SHORT, MEDIUM AND EXTENDED RANGE GUIDANCE, AS WELL AS THE CFS, CONTINUES TO FAVOR ABOVE NORMAL MONTHLY MEAN TEMPERATURES. SOME MODEL GUIDANCE ALSO SHOWS COOLER CONDITIONS FOR PORTIONS OF INTERIOR EASTERN ALASKA DURING THE FIRST HALF OF OCTOBER SO EQUAL CHANCES IS NOW SHOWN IN THIS REGION TO ACCOUNT FOR SOME OF THIS UNCERTAINTY FOR THE MONTH AS A WHOLE.

THE CHALLENGE FOR PRECIPITATION IN THE UPDATE IS ACROSS THE SOUTHWEST CONUS, WHERE IN THE ORIGINAL OUTLOOK, ABOVE MEDIAN PRECIPITATION WAS FAVORED FOR MUCH OF THE FOUR CORNERS REGION FOR A FEW REASONS, INCLUDING POTENTIAL CONTINUATION OF FREQUENT MOISTURE SURGES FROM AN ACTIVE EAST PACIFIC TROPICAL CYCLONE SEASON. HOWEVER, MODEL GUIDANCE FOR THE FIRST HALF OF OCTOBER SHOWS A LIKELY BELOW MEDIAN PRECIPITATION SCENARIO AS A STRONG COLD FRONT WILL CROSS THE SOUTHWEST AND USHER IN DRIER CONDITIONS THE FIRST WEEK OF OCTOBER, WHILE FORECASTS FOR WEEK-2 CONTINUE TO INDICATE BELOW MEDIAN PRECIPITATION. CONSEQUENTLY, THE REGION OF ABOVE MEDIAN PRECIPITATION IS REDUCED IN COVERAGE ALONG WITH SOMEWHAT LOWER PROBABILITIES TO THE FAR SOUTHWEST CONUS. POSITIVE SSTS, REMAINING POTENTIAL FOR MOISTURE SURGES FROM ONGOING EAST PACIFIC TROPICAL CYCLONES AND ELEVATED PROBABILITIES FOR ABOVE MEDIAN PRECIPITATION IN THE ENSEMBLE GFS WEEK-2 FORECASTS AND THE CFS.

OTHER CHANGES INCLUDE REDUCING COVERAGE OF ABOVE MEDIAN PRECIPITATION ACROSS SOUTHERN ALASKA TO FOCUS PRIMARILY ON THE ALASKA PANHANDLE WHERE MODEL GUIDANCE OVER THE NEXT TWO WEEKS INDICATES THE STRONGEST SIGNAL. ALSO, THERE IS INCREASED COVERAGE FOR BELOW MEDIAN PRECIPITATION FOR THE PACIFIC NORTHWEST AND CALIFORNIA AS SHORT, MEDIUM AND EXTENDED RANGE GUIDANCE FAVOR BELOW MEDIAN PRECIPITATION. THE ABOVE-MEDIAN PRECIPITATION ACROSS THE UPPER MIDWEST AND GREAT LAKES REMAINS WITH AN INCREASE IN COVERAGE AS EXTENDED RANGE GUIDANCE AND THE CFS CONTINUE TO SUPPORT THIS HIGHLIGHTED REGION.

THE MJO REMAINS LARGELY UNORGANIZED AND IS NOT A SUBSTANTIAL FACTOR IN THE UPDATED OUTLOOK."
Let's step back from the intermediate term and take a close look at the 6 – 14 day outlook issued today, October 6, for the U.S.
I am only showing the "second week" namely the day 8 -14 outlook. The first week can be found in Part II of my report but 8 – 14 days covers most of the 6 – 14 day period.

8 – 14 Day Outlook
Temperature Forecast: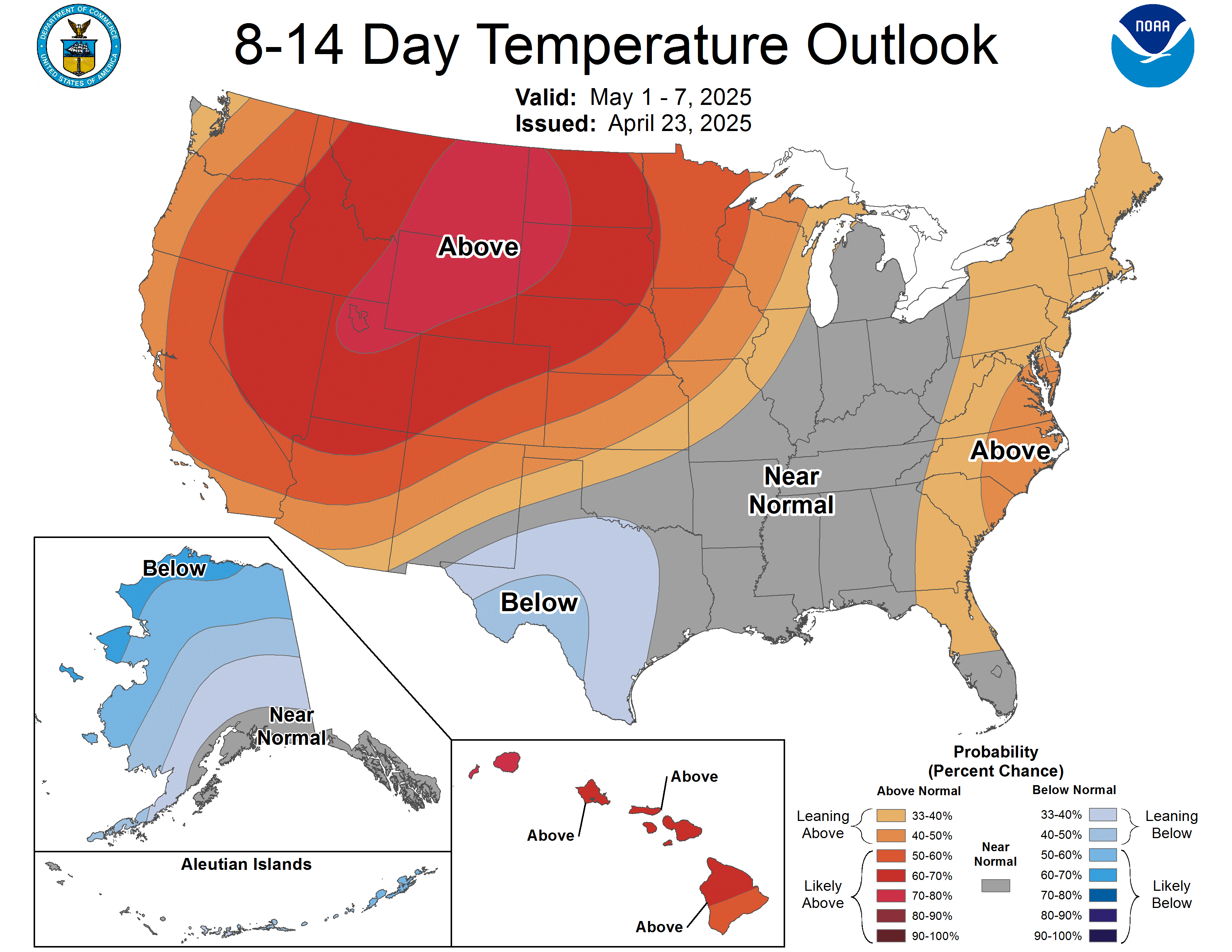 Precipitation Forecast: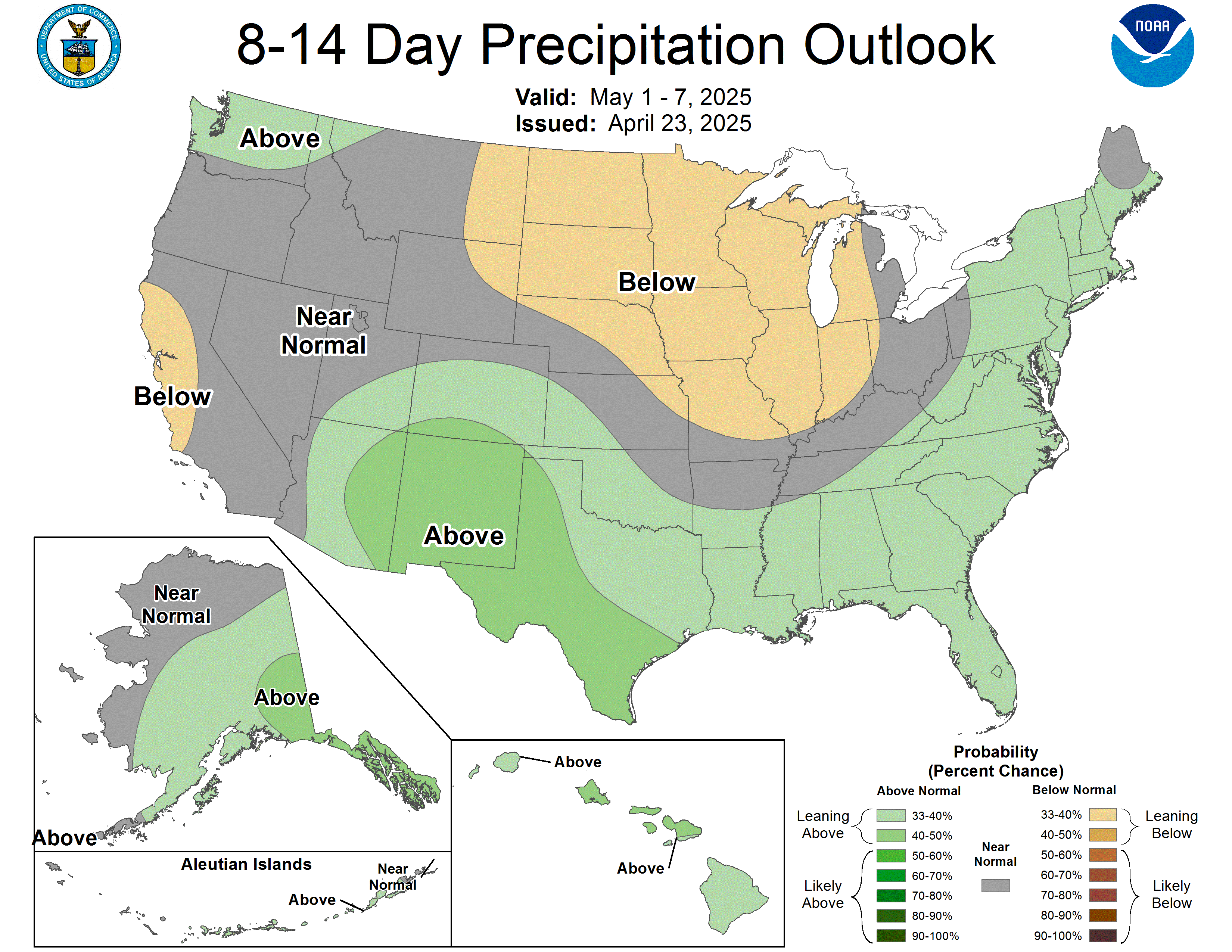 And the discussion:
"TODAY'S MODELS ARE FORECASTING A SIGNIFICANTLY DIFFERENT PATTERN THAN YESTERDAY'S MODELS FOR SOME PARTS OF THE U.S. ALL MODELS SWITCHED FROM FORECASTING A TROUGH SOUTH OF THE ALEUTIANS AND STRONG RIDGING IN THE PACIFIC NORTHWEST AND ALONG THE WESTERN CANADIAN COAST, TO A STRONG TROUGH OVER THE GULF OF ALASKA, BRINGING BELOW NORMAL HEIGHTS INTO THE NORTHWEST. WHILE THIS FORECAST IS VERY DIFFERENT FROM YESTERDAY, ALL MODELS MADE THIS CHANGE, INCLUDING ALL THE RECENT DETERMINISTIC MODEL RUNS, SO THERE IS A FAIR AMOUNT OF CONFIDENCE IN THIS TREND."
Notice that with respect to temperature, the warmer than climatology area has expanded to cover most of the Lower 48 other than the Northern Tier west of the Great Lakes to the Pacific Coast. The precipitation outlook in the October 14 – October 20 period is very different from the recently issued full month outlook with a dry Southwest and wet Northern Tier and East Coast.

Now let us take a more detailed look at the "Analogs" which NOAA provides related to the 5 day period centered on 3 days ago and the 7 day period centered on 4 days ago. "Analog" means that the weather pattern then resembles the recent weather pattern and was used in some way to predict the 6 – 14 day Outlook.
What are they telling us today?
Analog

Centered

Day

ENSO

Phase

PDO
AMO
Other Comments
1951 Sept 15
El Nino
–
+
Traditional El Nino
1952 Sept 17
El Nino
–
+
Traditional El Nino Right After the Prior El Nino
1978 Oct 3
Neutral
–
–
Right before the PDO went Positive
1978 Oct 4
Neutral
–
–
Right before the PDO went Positive
1991 Sept 5
El Nino
+
–
Modoki Type II
1996 Sept 26
Neutral
+
N
2003 Sept 23
Neutral
+
+
2003 Sept 25
Neutral
+
+
The analogs are providing a mixed picture. Certainly, there has been a big change in the characteristics of the analogs over the past couple of weeks. And unlike recent weeks the analogs now suggest a later than usual Fall rather than an earlier than usual Fall.

El Nino Update.
Let us look at the latest NOAA Hovmollers.
First Sea Surface Temperatures
Over at 160E right at the bottom you can see where the hint last week that there might be some warming surface water is now more easily visibly this week. It is still not very impressive because it is not yet moving east but it could become important down the road. See the later reference to the analysis by Bob Tisdale who probably tracks El Nino as carefully as anyone.

And now the low-level wind anomalies.
I noticed the westerly anomaly last week and it has intensified but to the right of it I also notice an easterly anomaly which has also intensified.  So that is the dynamic right now. Which will prevail? The Southern Osciallation Index (SOI) is still not cooperating or consistent with an El Nino. 

And then the third part of the equation (there are more than three but I focus on three): Kelvin Waves.
And here we do have a signal of warm water moving east but it does not have the intensity of the Kelvin Wave earlier this year.  Notice looking up at earlier dates that some Kelvin Waves fizzle out but this one does not seem to be fizzling out but continues to progress east.
I believe that this Kelvin Wave is the only reason for continued optimism that we will have an El Nino this year but it will be late arriving. At some point (probably fairly soon) we would expect to see the upwelling phase showing on this graphic which indicates the reversal of the surface warming and probably the termination of this El Nino or its transformation into a Modoki i.e. a Central Pacific El Nino which behaves very differently in terms of weather impacts than a traditional/canonical El Nino.
But this from Bob Tisdale is quite interesting. His full analysis can be found here. The bold type is my emphasis.

"According to the animation of subsurface temperature anomalies along the equatorial Pacific, which is available from the NOAA Climate Prediction Center Equatorial Pacific Temperature Depth Anomaly Animation webpage, another downwelling (warm) Kelvin wave may be forming in the western tropical Pacific…without an offsetting upwelling (cool) Kelvin wave between this one and the last."
So we could have a repeat of the 1982/1983 El Nino which arrived late but then was reinforced.

So basically we have one factor signaling an El Nino, the Kelvin wave (with a second one perhaps waiting in the wings), but other factors working in opposition to this El Nino fully developing.  So that is why the issue is in doubt. All bets are on!
Click here for the Econintersect Weather and Climate Page Where You will Find:
NOAA and other agency graphics (including international agencies) that auto update. So this includes both short term- and seasonal "updates". It will ALWAYS be up to date even if my commentary on the graphics is not. I update my commentary when it seems necessary and certainly every Monday but some of these graphics auto update every six hours. This section of the report has been reorganized to make it easier to follow.


Economic and other Impacts of major weather events. Not sure there is any other place to obtain this information consistently other than very specialized subscription services.

Information on Climate Cycles both those which are fairly short term i.e. less than a decade in duration and multi-decadal cycles.

Economic and other Impacts of those Climate Cycles which are referred to by the IPCC as Internal Variability as opposed to secular Climate Change which is always in the same direction. Again I am not sure if there is another source for this information where it is pulled together in one place as I have.

Information on Anthropogenic Global Warming science i.e. the secular change in our climate that overlays both short term weather and historical climate cycles as well as

black

swan

events like volcanic eruptions. I prefer to call this Global Warming as it is the warming that triggers the other changes.

Economic and other Impacts of Global Warming. The IPCC AR5 WG2 attempts to describe and quantify these and I have some excerpts from their report. Over time I will go beyond their report.
For now this is all in one article which may be a little difficult to navigate but that will soon change and the information will be accessed easily by topic.