by Lakshman Achuthan, Co-Founder and Chief Operations Officer of ECRI
For years the Fed has used the jobless rate and inflation as the key metrics for guiding Fed policy. But with the unemployment rate falling faster than Fed forecasts year after year – partly due to slower-than-expected labor force growth – other criteria have entered the picture.
Erstwhile Fed Chairman Alan Greenspan was well-known for his deliberately opaque utterances, and is reported to have once said, "I know you think you understand what you thought I said but I'm not sure you realize that what you heard is not what I meant." His successor, Ben Bernanke, committed to transparency, appointed his eventual successor, Janet Yellen, to head up the Fed's communications committee. The growing confusion about the Fed's rate hike criteria under Ms. Yellen's watch is ironic in that context.
A year and a half ago, Ms. Yellen introduced a labor market "dashboard" incorporating four indicators in addition to the jobless rate. Three more indicators were subsequently added to the dashboard. Then, in her Jackson Hole speech in August, she mentioned a 19-component index developed by Fed economists, as well as an even broader 24-component Labor Market Conditions Index (LMCI) developed by the Kansas City Fed.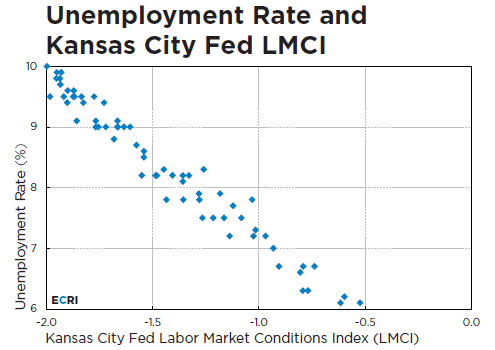 Without examining successive iterations of her dashboard, let us examine whether the broadest measure – the LMCI – provides different insights into labor conditions. In fact, as the chart shows, since 2009 the LMCI (horizontal scale) has had a linear relationship with the jobless rate (vertical scale).
Indeed, the LMCI has a -98.3% correlation with the unemployment rate – practically a perfect negative correlation. In essence, the 24-component LMCI contains no material information that cannot be gleaned from the jobless rate alone.
The reason for this result is the use of Principal Component Analysis (PCA) to calculate the index. Though popular among economists, the problem with PCA is that it heavily weights components that agree with one another, virtually disregarding those that do not. Perhaps this is an unintentional reflection of the groupthink popular among mainstream economists that often causes them to ignore variant views and disconfirming facts.
Of course, last July Ms. Yellen also mentioned real Average Hourly Earnings (AHE) growth as a key metric to watch, observing that it was "nonexistent" and contending that, as a result, "[t]here is some room … for real wage gains before we need to worry that that's creating overall inflationary pressure for the economy." Yet, because inflation swings are the main determinants of swings in real AHE growth, such real wage gains usually accompany inflation cycledownturns. Indeed, the Fed has scarcely ever raised rates with real AHE growth well above zero.
So if she means it when she says that clearly higher real wage growth is a precondition for inflation concerns that would justify rate hikes, Ms. Yellen would have to break with well-developed Fed precedent and start raising rates when inflation is falling. Alternatively, she would have to cast aside that criterion too, and turn to other indicators to justify the start of a rate hike cycle.
Meanwhile, we know that the LMCI – the broadest measure she has mentioned – is tantamount to an inverse of the jobless rate. So, despite all the lip service to a variety of indicators, Ms. Yellen intends to start hiking rates whenever she wishes, with the growing confusion and ambiguity serving as a convenient smokescreen.