Econintersect Climate and Weather Update, 22 September 2014

Written by Sig Silber
The new seasonal forecasts are out. What are they telling us?
It looks like I was incorrect. I thought the confusion would have been reduced with this new set of seasonal forecasts but the "iffy" nature of this possible El Nino has basically made the forecast a blend of with and without and that of course equates to "we really do not know – but here is our best guess".
Let's take a look at the new Seasonal Forecasts.
Here is the prior Temperature Outlook.
Here is the new one issued September 18
Here is the prior Precipitation Outlook
Here is the new one issued September 18
Remember when looking at this graphic that September has dropped out and December has been added.
And here are the early looks at the first month of the three month Outlooks shown above i.e. October.
Temperature
Precipitation
And here is the discussion relative to October. I have put what I consider to be very important points in bold type:
"A COMBINATION OF EL NINO CONSIDERATIONS, POTENTIAL ANTECEDENT WETNESS FROM ABOVE AVERAGE SEPTEMBER RAINFALL AND FAVORED ABOVE-MEDIAN PRECIPITATION DURING OCTOBER ARE THE BASIS FOR ELEVATED ODDS OF BELOW NORMAL TEMPERATURES FOR PORTIONS OF THE SOUTHWEST, CENTRAL ROCKIES AND CENTRAL HIGH PLAINS. DYNAMICAL MODEL GUIDANCE OF THE NMME AND IMME AND PARTICIPANT MEMBERS FAVOR ELEVATED PROBABILITIES FOR ABOVE NORMAL TEMPERATURES FOR AREAS IN THE GREAT BASIN AND FOR AN AREA FROM EAST TEXAS NORTH AND EAST TO INCLUDE THE MID-ATLANTIC AND NORTHEAST.

THE MONTHLY OUTLOOK FOR OCTOBER 2014 INDICATES A GREATER THAN NORMAL LIKELIHOOD OF ABOVE-MEDIAN PRECIPITATION FOR MUCH OF THE SOUTHWEST AND CENTRAL ROCKIES, SOUTHERN ALASKA (INCLUDING THE PANHANDLE) AND FOR THE UPPER MIDWEST AND WESTERN GREAT LAKES REGION. BELOW MEDIAN MONTHLY PRECIPITATION AMOUNTS ARE MOST LIKELY FOR PARTS OF THE PACIFIC NORTHWEST.

IN THE SOUTHWEST CONUS, MODEL FORECASTS CONTINUE TO INDICATE A CONTINUATION OF THE PATTERN THAT HAS OCCURRED OFTEN THIS SUMMER TO DATE, NAMELY AN ENHANCED ITCZ, ACTIVE TROPICAL CYCLONE SEASON AND FREQUENT MOISTURE SURGES INTO THE SOUTHWEST CONUS. IT IS DIFFICULT TO ARGUE AGAINST THIS CONTINUING INTO OCTOBER GIVEN REMAINING ABOVE NORMAL SSTS IN THE REGION AND CONTINUED FREQUENT TROPICAL CYCLONE DEVELOPMENT. TWO OTHER HIGHLIGHTED AREAS, ABOVE-MEDIAN (BELOW-MEDIAN) MONTHLY PRECIPITATION TOTALS FOR SOUTHERN ALASKA (PACIFIC NORTHWEST) ARE SHOWN IN A CONSENSUS OF THE MODEL GUIDANCE CONSISTENT WITH A MEAN TROUGH-RIDGE PATTERN ACROSS THE NORTH PACIFIC – WESTERN NORTH AMERICA REGION AS WELL AS COMPOSITES BASED ON EL NINO CONDITIONS FOR OCTOBER. FAVORED ABOVE MEDIAN PRECIPITATION IN THE UPPER MIDWEST REGION IS BASED LARGELY ON MODEL GUIDANCE WHICH SHOWS A TREND TOWARD TROUGHING AND ENHANCED PRECIPITATION IN THIS AREA. IF THE MJO REMAINS ACTIVE, WHICH IS UNCERTAIN, IT WOULD TEND TO ALSO FAVOR ABOVE MEDIAN PRECIPITATION IN THIS AREA LATER IN OCTOBER."
And with respect to the three month Outlook:
"THE TEMPERATURE OUTLOOK FOR OCTOBER-NOVEMBER-DECEMBER (OND) 2014 INDICATES ELEVATED PROBABILITIES OF ABOVE-NORMAL MEAN TEMPERATURES WEST OF THE ROCKY MOUNTAINS, ACROSS THE NORTHERN U.S. FROM THE NORTHERN ROCKIES TO THE NORTHEAST, IN MOST AREAS EAST OF THE MISSISSIPPI, AND FOR ALL OF ALASKA. BELOW-NORMAL MEAN TEMPERATURES ARE MORE LIKELY OVER AREAS OF THE SOUTHWEST INCLUDING EASTERN ARIZONA, NEW MEXICO AND WESTERN TEXAS.

THE OND 2014 PRECIPITATION OUTLOOK INDICATES ENHANCED PROBABILITIES OF BELOW-MEDIAN PRECIPITATION OVER THE PACIFIC NORTHWEST INCLUDING PARTS OF NORTHERN CALIFORNIA AND NEVADA AND OVER THE NORTHERN ROCKIES. INCREASED PROBABILITIES FOR ABOVE-MEDIAN PRECIPITATION AMOUNTS ARE FORECAST FROM SOUTHERN CALIFORNIA EASTWARD ACROSS THE SOUTHERN ROCKIES AND THE SOUTHERN PLAINS, AND ALONG THE GULF AND SOUTHERN ATLANTIC COASTS UP TO NORTH CAROLINA. THE PROBABILITIES FOR ABOVE-MEDIAN PRECIPITATION ARE ALSO ENHANCED OVER SOUTHERN ALASKA. "

Let's step back from the intermediate term and take a close look at the 6 – 14 day outlook issued today September 22 for the U.S.
I am only showing the "second week" namely the day 8 -14 outlook. The first week can be found in Part II of my report but 8 – 14 days covers most of the 6 – 14 day period.

8 – 14 Day Outlook
Temperature Forecast: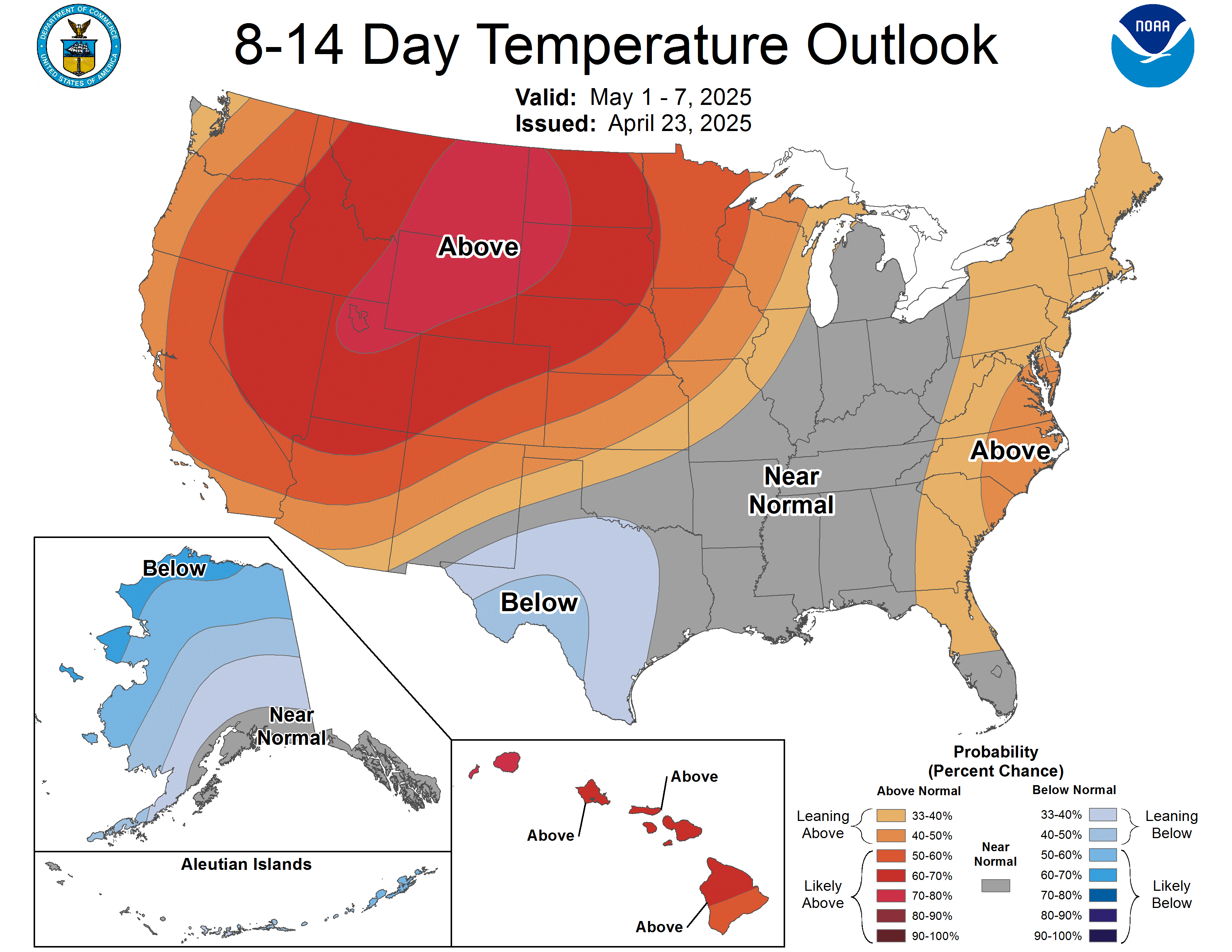 Precipitation Forecast: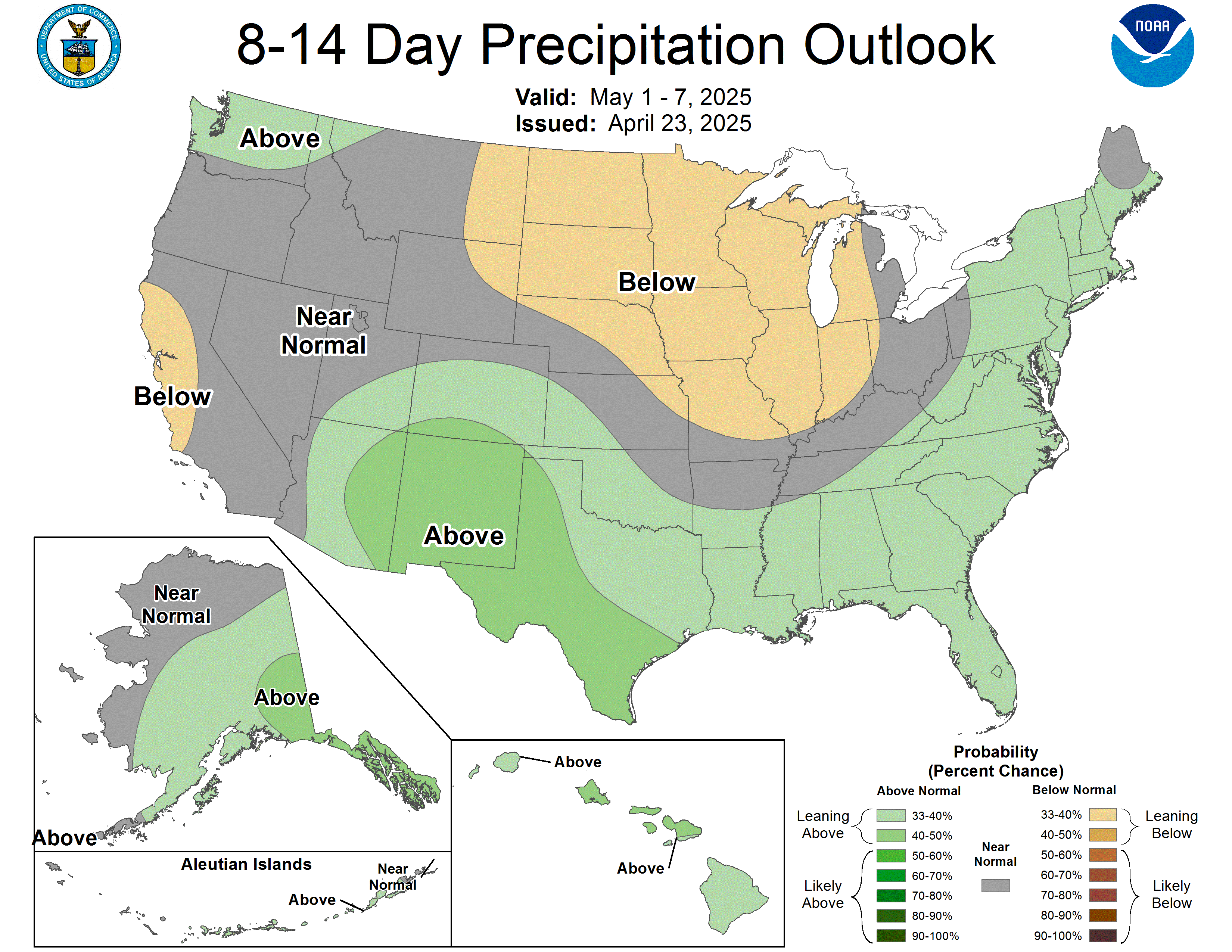 Notice that with respect to temperature, the warmer than climatology area has general progressed eastward. Except for the extreme Northeast and an area centered around Nevada, the Lower 48 are projected to either be wetter than climatology or be in the normal range relative to what is expected for this time of the year. In these shorter term outlooks, "Normal" is pretty much the same thing as the Equal Chances (EC) that is used when projecting further into the future. 

Now let us take a more detailed look at the "Analogs" which NOAA provides related to the 5 day period centered on 3 days ago and the 7 day period centered on 4 days ago. "Analog" means that the weather pattern then resembles the recent weather pattern and was used in some way to predict the 6 – 14 day Outlook.
What are they telling us today?
Analog

Centered

Day

ENSO

Phase

PDO
AMO
Other Comments
1963 September 6
El Nino
–
–
Modoki Type I
1965 October 2
El Nino
–
–
1969 September 9
El Nino
–
–
Modoki Type II
1969 September 10
El Nino
–
–
Modoki Type II
1979 September 15
Neutral
+
–
Modoki Type II
1984 September 16
Neutral
+
–
1987 September 30
El Nino
+
–
Modoki Type I
Finally! The analogs are showing El Nino but of the Modoki variety. Also the analogs are consistent with AMO Negative. Overall, there has been a big change in the characteristics of the analogs over the past couple of weeks.
A couple of sentences from the NOAA discussion were of interest to me.
"SOME ADJUSTMENTS WERE MADE TO REIGN IN EXCESSIVELY HIGH PROBABILITIES ACROSS THE FIRST GUESS AUTOMATED FORECAST."
One way of look at the above is that it relates to the auto-updated version of the above maps used during the weekend since they are computer generated and not modified by human meteorologists. I happen to find the computer generated maps of great interest and they may show more detail than the adjusted maps. Also there is no guarantee that subsequent guesses are better than the first guess.
"AS IN THE PRECEDING PERIOD, TELECONNECTIONS UPON THE LARGEST ANOMALY CENTERS OVER NORTHERN EUROPE AND NORTHEASTERN ASIA TEND TO SUPPORT THE ECWMF, THOUGH NOT OVERWHELMINGLY."
The only reason for including this quote is to remind everyone that weather in one place is connected to weather elsewhere. There is no iron law that the hemispheres can't interact and they do, but mostly these teleconnections are strongest within each hemisphere.

El Nino Update.
Let us look at the latest NOAA Hovmollers.
First Sea Surface Temperatures
Over at 160E right at the bottom you can see where the hint last week that there might be some warming surface water is now more easily visibly this week. It is still not very impressive.
And here is a graphic I do not usually use which expands on the above.
Notice that the SST anomalies are less now than a month ago. This graphic is not organized by time for one latitude namely the Equator but instead shows the situation now as compared to four weeks ago for all the oceans in the World and all latitudes.
Notice the blue off of Baja California and Ecuador and Peru south of the Equator and also in the North Atlantic (suggestive of AMO change to negative?) but also the warming off of Southern Alaska and west of the Alaskan Panhandle (suggestive of Modoki Type II?).
To me, NOAA is barking up the wrong tree re understanding what is going on here. There may or may not be an El Nino in progress but there is something much larger going on and it may or may not include a canonical El Nino this winter.

And now the low-level wind anomalies.
I notice the westerly anomaly but to the right of it I also notice an easterly anomaly. So that is the dynamic right now. Which will prevail?
And then the third (there are more than three but I focus on three) part of the equation. Kelvin Waves.
And here we do have a strong and increasing signal of warm water moving east and getting warmer as it goes. Actually that is at least partially a result of the way this graphic is produced as it is showing deviations from normal. The water in the Eastern Pacific is normally cooler than the average for the Equator so if the Kelvin Wave does not dissipate, it records as a larger anomaly as it moves East. Notice looking up at earlier dates that some Kelvin Waves fizzle out but this one does not seem to be fizzling out.
I believe that this Kelvin Wave is the only reason for continued optimism that we will have an El Nino this year but it will be late arriving. At some point (probably fairly soon) we will see the upwelling phase showing on this graphic which indicates the reversal of the surface warming and probably the termination of this El Nino or its transformation into a Modoki i.e. a Central Pacific El Nino which behaves very differently in terms of weather impacts than a traditional/canonical El Nino. 

A late arrival does not guarantee that this El Nino will be weak. The 1982/1983 El Nino arrived as a weak El Nino but later turned into one of the most powerful El Ninos. So far, all the pieces are not in place for this to be a powerful El Nino but that can change quickly.
On the other hand, every El Nino is its own worst enemy and as it blossoms it creates the seeds of its own destruction. That is what is meant by the ENSO Cycle. No one phase can exist indefinitely since time is not on the side of either an El Nino or a La Nina.  But sometimes they do last longer than anticipated or perhaps there is a full cycle but the opposite phase is so short that it does not record in the record and we may have what looks like a two or three year event.
What we have learned from the recent Seasonal Outlook?
I have taken liberties to extract individual sentences from the multiple places in the NOAA discussion where the Current ATMOSPHERIC AND OCEANIC CONDITIONS are discussed. So this should be viewed as an honest attempt to extract the most useful information from the NOAA discussion. I have not intentionally changed anything they said, but I have consolidated the information from two different NOAA discussions (the 30 day and the long-term) and reorganized it a bit and eliminated redundancy so it is no longer purely a NOAA work product.

"THROUGH THE EARLY PORTION OF SEPTEMBER, RECENT ATMOSPHERIC AND OCEANIC CONDITIONS CONTINUE TO INDICATE ENSO NEUTRAL CONDITIONS. AFTER A SLIGHT PAUSE DURING LATE JULY AND EARLY AUGUST, SEA SURFACE TEMPERATURES (SST) ACROSS THE EQUATORIAL CENTRAL PACIFIC OCEAN ARE AGAIN SHOWING AN UPWARD TREND. OBSERVATIONS FOR THE SECOND WEEK OF SEPTEMBER SHOW SST ANOMALIES OF +0.5C IN THE NINO 3.4 REGION, +0.7C IN NINO 4, +0.4C IN NINO 3, AND +0.7C IN NINO 1+2. EQUATORIAL OCEAN TEMPERATURES FROM THE SURFACE TO 300 M DEPTH ALSO INDICATE A RESERVOIR OF ABOVE AVERAGE OCEAN TEMPERATURES OVER MUCH OF THE CENTRAL PACIFIC OCEAN WITH THE GREATEST DEPARTURES CENTERED NEAR 100 M DEPTH FROM 170W TO 110W. STATISTICAL AND DYNAMICAL MODEL FORECASTS FOR NINO3.4 SST CONTINUE TO INDICATE PRIMARILY A WEAK EL NINO EVENT PEAKING IN LATE AUTUMN OR EARLY WINTER. THE OCTOBER OUTLOOK DID TAKE INTO CONSIDERATION POTENTIAL EL NINO CONDITIONS, MAINLY FOR ADDITIONAL SUPPORT TO OTHER FORECAST GUIDANCE.

AN AREA OF SUPPRESSED CONVECTION REPRESENTED BY POSITIVE OLR ANOMALIES WAS OBSERVED NEAR THE DATE LINE MOSTLY NORTH OF THE EQUATOR, AND ENHANCED CONVECTION AND NEGATIVE OLR ANOMALIES WERE OBSERVED OVER THE MARITIME CONTINENT. LOW-LEVEL (850-HPA) WINDS WERE NEAR-AVERAGE ACROSS MOST OF THE EQUATORIAL PACIFIC DURING THE LAST MONTH, AND UPPER-LEVEL (200-HPA) EASTERLY ANOMALIES WERE OBSERVED OVER THE EAST-CENTRAL PACIFIC.

MOST STATISTICAL AND DYNAMICAL MODELS CONTINUE TO PREDICT THAT AN EL NINO EVENT WILL DEVELOP WITHIN AUTUMN. NINO 3.4 ANOMALIES ARE PREDICTED TO PEAK AS A WEAK EL NINO IN EARLY WINTER IN MANY FORECASTS, WITH SOME MODEL FORECASTS INDICATING A MODERATE OR A STRONG EVENT AND SOME ENSEMBLE MEMBERS REMAINING BELOW +0.5C. THE CFS NINO 3.4 ENSEMBLE MEMBERS ARE SIMILAR TO THE MULTI-MODEL ENSEMBLE FORECASTS OF THE NMME, CURRENTLY INDICATING A PEAK ANOMALY OF ABOUT +0.8C IN WINTER OF 2014/2015. VERY FEW ENSEMBLE MEMBERS PREDICT A STRONG EL NINO EVENT. WHILE FEW ENSO EVENTS HAVE DEVELOPED AT THIS TIME OF YEAR, IT IS NOT UNPRECEDENTED, AND CONSIDERED TOGETHER, MODEL FORECASTS AND CURRENT OBSERVATIONS CONTINUE TO SUPPORT THE CONSENSUS ENSO FORECAST INDICATING A 60-65% CHANCE OF EL NINO DEVELOPMENT IN AUTUMN OR WINTER.

PERSISTENT, STRONGLY POSITIVE SST ANOMALIES WERE OBSERVED OVER THE NORTH PACIFIC, ALONG THE PACIFIC COAST OF NORTH AMERICA, AND WESTWARD ACROSS THE SUBTROPICAL PACIFIC OCEAN. THIS SST PATTERN PROJECTS WEAKLY ONTO A POSITIVE PDO. POSITIVE SST ANOMALIES WERE ALSO OBSERVED ALONG THE ATLANTIC COAST AND IN THE NORTH ATLANTIC."
Southwest Monsoon.
It is really over but by convention, tropical activity that forces moisture into the U.S. Southwest is credited to the Monsoon for accounting purposes.  Eastern Pacific Tropical Cyclonic activity continues. The October Outlook indicates that more is not out of the question. This sort of activity is often associated with El Nino so again we have a strange mix being in a transition phase which may or may not evolve into a full El Nino but either has some characteristics of an El Nino or something else. The warm Pacific off the coast of North America but at high latitudes is not consistent with a traditional El Nino but may be consistent with an El Nino Modoki Type II. So it is an interesting situation. Notice that "Polo" appears to have exited stage left and is no longer shown on this graphic.



Click here for the Econintersect Weather and Climate Page Where You will Find:
NOAA and other agency graphics (including international agencies) that auto update. So this includes both short term- and seasonal "updates". It will ALWAYS be up to date even if my commentary on the graphics is not. I update my commentary when it seems necessary and certainly every Monday but some of these graphics auto update every six hours. This section of the report has been reorganized to make it easier to follow.


Economic and other Impacts of major weather events. Not sure there is any other place to obtain this information consistently other than very specialized subscription services.

Information on Climate Cycles both those which are fairly short term i.e. less than a decade in duration and multi-decadal cycles.

Economic and other Impacts of those Climate Cycles which are referred to by the IPCC as Internal Variability as opposed to secular Climate Change which is always in the same direction. Again I am not sure if there is another source for this information where it is pulled together in one place as I have.

Information on Anthropogenic Global Warming science i.e. the secular change in our climate that overlays both short term weather and historical climate cycles as well as black swan events like volcanic eruptions. I prefer to call this Global Warming as it is the warming that triggers the other changes.

Economic and other Impacts of Global Warming. The IPCC AR5 WG2 attempts to describe and quantify these and I have some excerpts from their report. Over time I will go beyond their report.
For now this is all in one article which may be a little difficult to navigate but that will soon change and the information will be accessed easily by topic.