Econintersect Climate and Weather Update, 01 September 2014

Written by Sig Silber
It is the end of the month which means the early Outlook for September has been updated.
What does it tell us about September and do we have a clearer understanding of the status of the possible El Nino? And what are "Analogs"?  Plus this week, I discuss ocean warming.
First let us talk about the September update which was issued on Sunday, 31 August.
Here is the previously issued early outlook which was issued on August 21.
Temperature Outlook
Precipitation
Here is the new update for September issued on August 31 as well as the three month outlook which was previously issued on August 21.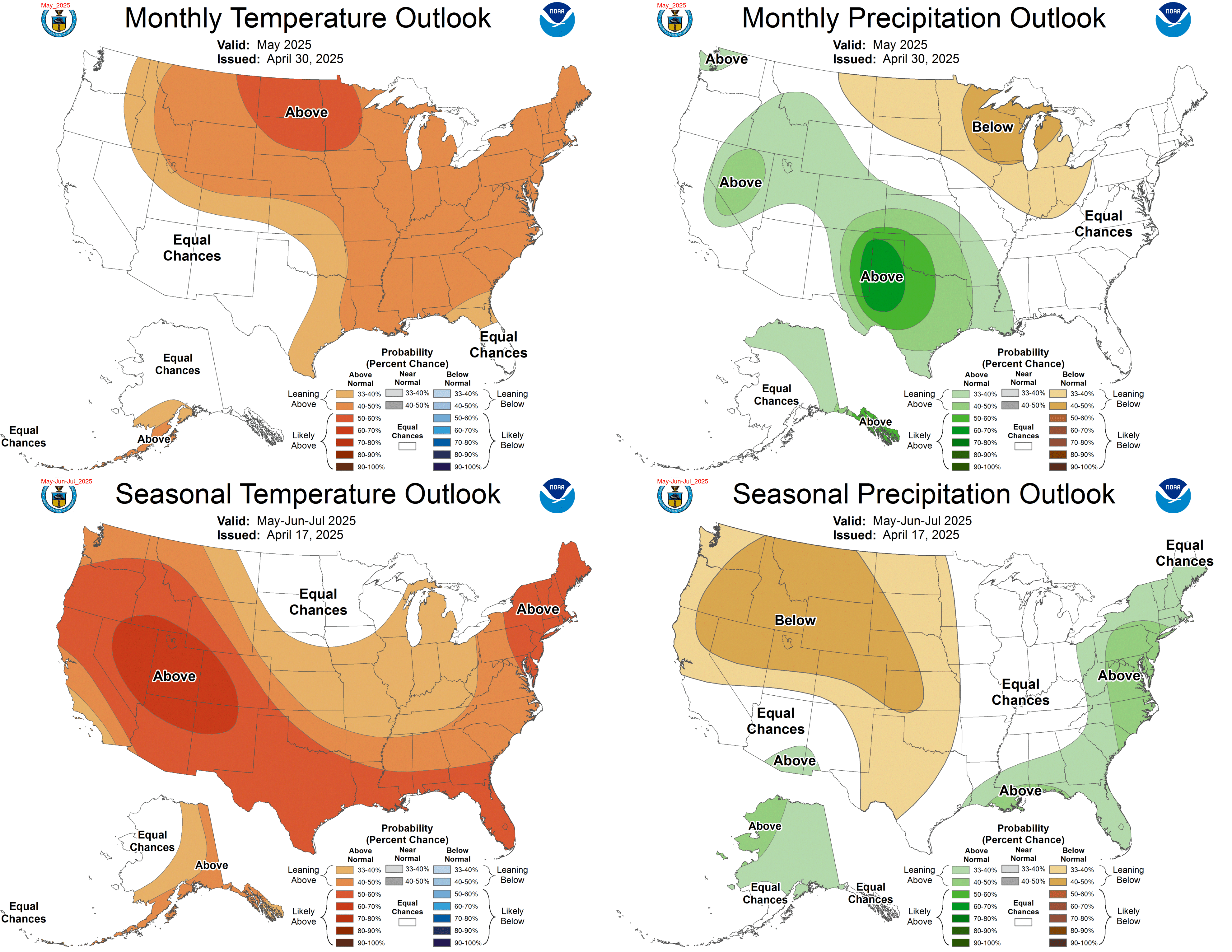 As you can see this is not a a big change when it comes to the temperature outlook but a substantial change when it comes to the precipitation outlook for September expanding the area of 'wetter than climatology' to the East and adding that small 'dryer than climatology' area in the Northwest. It had already been in the three month outlook so this is perhaps simply recognizing that it is in the three month forecast and perhaps will begin a bit earlier than they had thought when they issued the early outlook.
And here is the explanation from NOAA. I have put things that interested me in bold type. They all have to do with the PDO showing up as positive rather than the negative phase it has been in for a long time. It is difficult to separate the impact of ENSO and PDO. Both involve movement of warm water in the Pacific from being offshore of the U.S. and Ecuador to being along the North American coastline. So you can have an El Nino without PDO+ and you can have PDO+ without an El Nino since different parts of the Pacific are involved.

"AUTUMN. MOST FORECASTS INDICATE EL NINO TO PEAK AT WEAK OR MODERATE STRENGTH IN LATE AUTUMN INTO EARLY WINTER.

DURING THE PAST FEW WEEKS, POSITIVE SST ANOMALIES PERSISTED IN THE EASTERN EQUATORIAL PACIFIC AND WEST OF THE DATE LINE, WHILE ANOMALIES ARE NEAR ZERO IN THE EAST-CENTRAL PACIFIC. THE LATEST WEEKLY SST ANOMALY IN THE NINO 3.4 REGION IS +0.0C. [Editor's note this is ENSO Neutral] POSITIVE ANOMALIES IN AVERAGE OCEANIC HEAT CONTENT BASED ON SUBSURFACE TEMPERATURE ANOMALIES IN THE UPPER 300-METERS OF THE EASTERN AND CENTRAL EQUATORIAL PACIFIC (180W TO 100W) DECREASED IN THE LAST FEW MONTHS, BECOMING SLIGHTLY NEGATIVE IN RECENT WEEKS, BEFORE RETURNING TO AN AVERAGE ANOMALY NEAR ZERO. IN RECENT WEEKS A POSITIVE SUBSURFACE TEMPERATURE ANOMALY EMERGED IN THE WESTERN PACIFIC AT ABOUT 100 TO 200 METERS DEPTH, WHILE A LARGE AREA OF POSITIVE TEMPERATURE ANOMALIES AT DEPTH IN THE CENTRAL AND EASTERN EQUATORIAL PACIFIC DECREASED IN SIZE AND MAGNITUDE AND IS NOW LOCATED FROM ABOUT 145W TO 85W EXTENDING ONLY TO A DEPTH OF ABOUT 75 METERS. DURING THE PAST 30-DAYS, POSITIVE OLR ANOMALIES, INDICATING SUPPRESSED CONVECTION AND PRECIPITATION, WERE OBSERVED OVER INDONESIA AND NEAR THE DATE LINE. LOW-LEVEL 850-HPA WINDS WERE NEAR AVERAGE ACROSS THE EQUATORIAL PACIFIC, AND EASTERLY UPPER-LEVEL 200-HPA WIND ANOMALIES WERE OBSERVED OVER THE EAST-CENTRAL PACIFIC.

THE SEPTEMBER 2014 TEMPERATURE AND PRECIPITATION OUTLOOKS RELY MAINLY ON CLIMATE MODEL FORECASTS WITHOUT AN EXPECTATION OF SIGNIFICANT IMPACTS ON THE CLIMATE OF NORTH AMERICA BY NEXT MONTH FROM POTENTIAL EL NINO DEVELOPMENT.

A GREATER LIKELIHOOD OF ABOVE-NORMAL MONTHLY MEAN TEMPERATURES FOR SEPTEMBER 2014 IS PREDICTED FOR THE GULF COAST AND PARTS OF THE SOUTHEAST FROM THE TEXAS COAST TO EASTERN NORTH CAROLINA. THE LIKELIHOOD OF ABOVE-NORMAL TEMPERATURES IS GREATEST FOR SOUTHERN AND EASTERN PARTS OF THE REGION. THE LIKELIHOOD OF ABOVE-NORMAL TEMPERATURES IS ALSO ENHANCED FOR NEW ENGLAND. ABOVE-NORMAL TEMPERATURES ARE ALSO MOST LIKELY FOR ALASKA AND MUCH OF THE WEST INCLUDING THE NORTHERN ROCKIES, GREAT BASIN AND PACIFIC COASTAL STATES, WITH THE GREATEST PROBABILITIES ALONG THE WEST COAST AND THE SOUTHERN COAST OF ALASKA. THE TEMPERATURE OUTLOOK IS SUPPORTED BY RECENT CLIMATE MODEL FORECASTS FROM THE CFS, NMME AND IMME. POSITIVE SEA SURFACE TEMPERATURE ANOMALIES OVER THE NORTH PACIFIC AND ALONG THE SOUTHERN CALIFORNIA, EASTERN GULF AND NEW ENGLAND COASTS MAY INCREASE THE LIKELIHOOD OF ABOVE-NORMAL TEMPERATURES NEAR THE COAST. CLIMATE MODELS AS SHOWN IN CFSV2 FORECASTS INDICATE ABOVE-NORMAL MID-LEVEL 700-HPA HEIGHTS OVER ALASKA, THE PACIFIC COAST AND THE EAST, SUPPORTING AN ENHANCED LIKELIHOOD OF ABOVE-NORMAL TEMPERATURES. THE MONTHLY OUTLOOK FOR SEPTEMBER 2014 INDICATES A GREATER THAN NORMAL LIKELIHOOD OF ABOVE-MEDIAN PRECIPITATION FOR A LARGE AREA OF THE SOUTHWEST FROM SOUTHERN CALIFORNIA TO WESTERN TEXAS AND OKLAHOMA AND NORTHEASTWARD TO UTAH, SOUTHERN WYOMING, NEBRASKA AND KANSAS. THE PRECIPITATION OUTLOOK FOR SEPTEMBER 2014 IS SUPPORTED BY CLIMATE MODEL FORECASTS FROM THE NMME AND IMME. ABOVE-NORMAL EASTERN PACIFIC SEA SURFACE TEMPERATURES AND THE PREDICTED ATMOSPHERIC CIRCULATION INDICATE AN INCREASED FLOW OF ATMOSPHERIC MOISTURE FROM THE TROPICS INTO THE SOUTHWEST.
How does this fit with the 6 – 14 day Outlook?
I am only showing the "second week" namely the day 8 -14 outlook. The first week can be found in Part II of my report but 8 – 14 days covers most of the 6 – 14 day period.

8 – 14 Day Outlook
Temperature Forecast: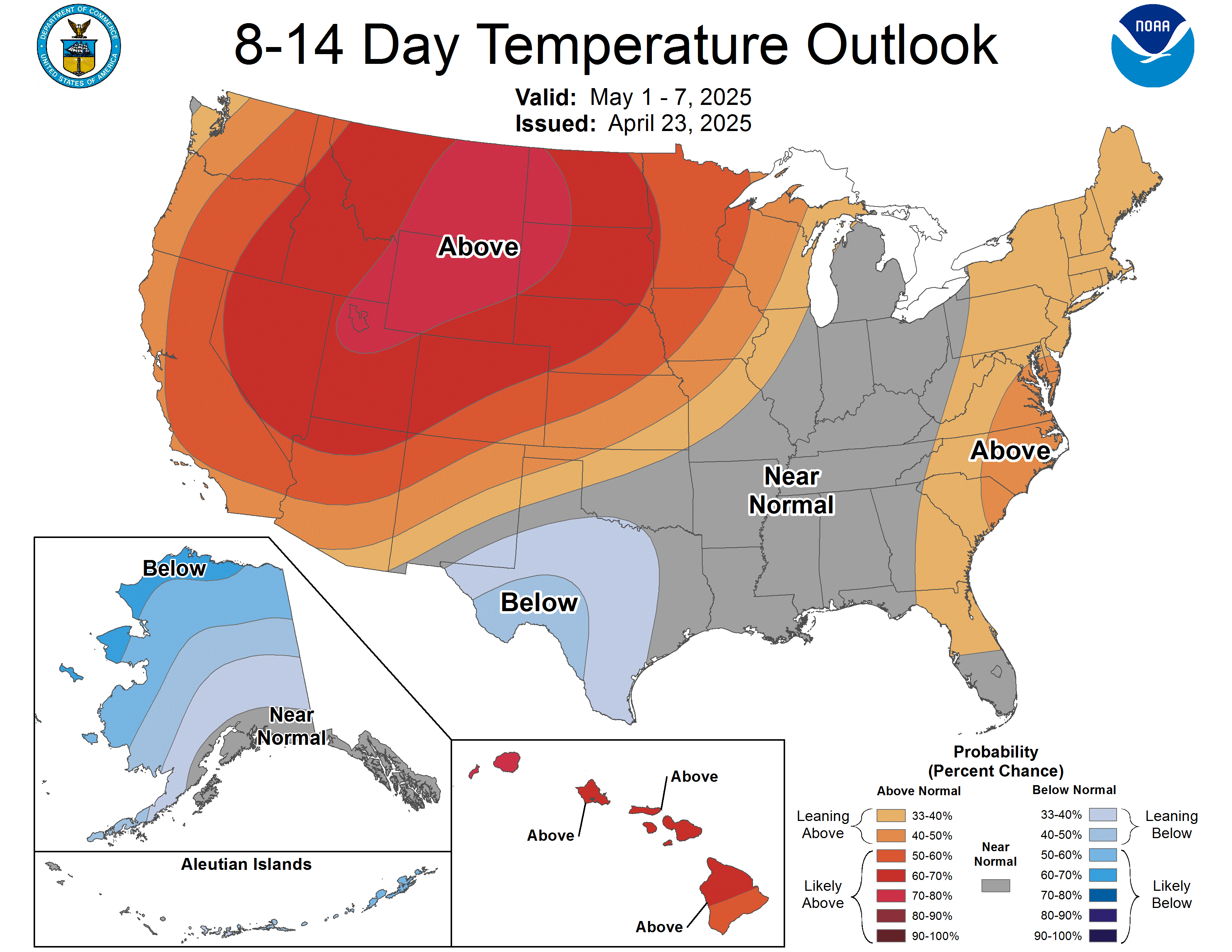 Precipitation Forecast: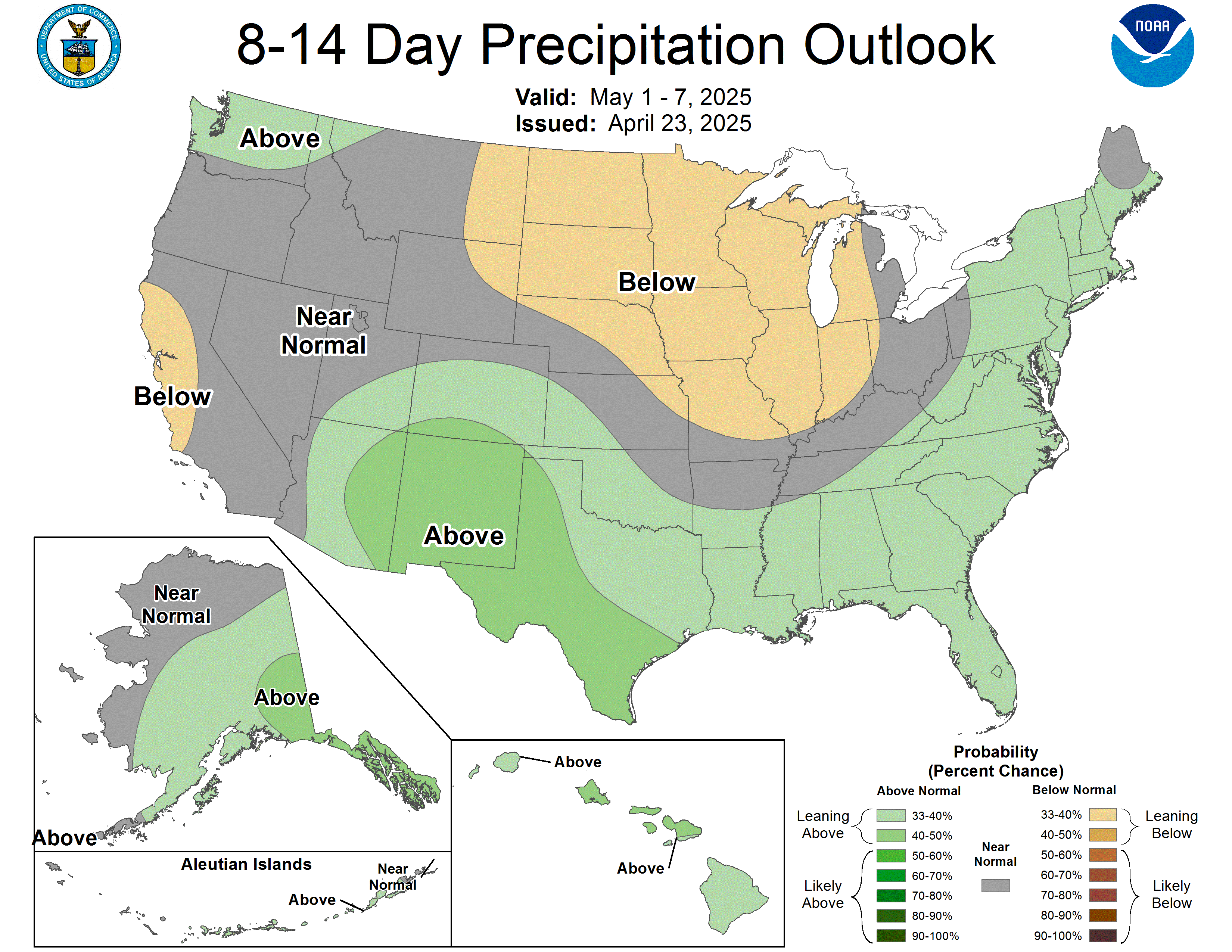 Notice that:
I have not discussed this before but the daily update of the 8 – 14 day outlook comes with a list of "Analogs".  NOAA provides analogs related to the 5 day period centered on 3 days ago and the 7 day period centered on 4 days ago. "Analog" means that the weather pattern then resembles the recent weather pattern and was used in some way to predict the 6 – 14 day Outlook.
So there may be some value in attempting to characterize these analogs and I have intermixed the 3 day with the 5 day analogs and sequenced them from the oldest to most recent. I will do that for a few Mondays to see if this provides useful information.
Analog

Centered

Day

ENSO

Phase

PDO
AMO
Other Comments
1958 Sept 1
Pre El Nino
+
+
Between two El Nino's
1980 Aug 31
Neutral
+
Neutral
1980 Sept 1
Neutral
+
Neutral
1983 Sept 4
La Nina
+
Neutral
Right after an El Nino
1983 Sept 6
La Nina
+
Neutral
Right after an El Nino
1992 Sept 8
Post El Nino
+
–
Right after an El Nino
2000 Sept 9
La Nina
–
+
A very strong La Nina
2001 Sept 5
Neutral
–
+
Right after a La Nina
One observation is that Fall is coming a bit early as these anomalies tend to be later than the last week of August.  Other than that, I don't see much of a pattern although more PDO positives than negatives and the fact that the Eastern Pacific has been warm (the Western and Central Pacific I believe has been cool) has been noted in the NOAA forecasts.  Warm tends to mean more convection thus more precipitation but this is not working out for all of the West Coast. See Monthly and 6 – 14 day outlooks.
El Nino Update.
From Australia
"Little change in the tropical Pacific Ocean

Despite tropical Pacific Ocean temperatures remaining at neutral levels, models suggest El Niño development remains possible during the coming months.

The brief weakening of the trade winds over the Pacific Ocean earlier in August produced little warming of tropical sea surface temperatures. However, waters below the surface of the Pacific have warmed during the past few weeks, and therefore above-average temperatures near the surface are likely to persist or strengthen over the coming months.

Four of the seven climate models surveyed by the Bureau suggest El Niño is likely by the Australian summer of 2014–15. These model outlooks and current observations mean the Bureau's ENSO Tracker remains at WATCH status. This indicates the chance of El Niño developing in the coming months is at least 50%, which is around double the normal likelihood of an event.

El Niño-like weather patterns can occur even if an event hasn't become fully established. In 2014, these have included below-average rainfall across parts of eastern Australia, above-average daytime temperatures and a number of significant frost events.

The Indian Ocean Dipole (IOD) remains negative. Model outlooks suggest this negative IOD event is unlikely to persist for long, with models suggesting the IOD will return to neutral in early spring. A negative IOD pattern typically brings wetter winter and spring conditions to inland and southern Australia."
From NOAA – Oops they took the day off.
No matter…it is all automated anyway. The Meteorologists are there mostly to perform their role to maintain consumer spending in the U.S. The machines do all the work. So let's look at what the machines are telling us.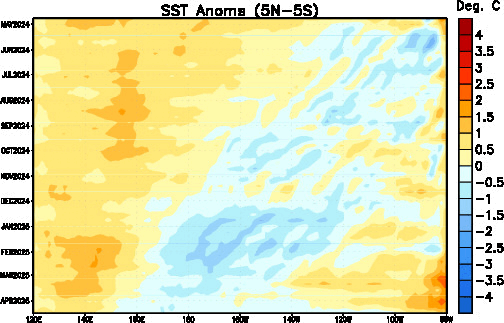 Looking at the left hand axis I can't tell exactly tell when this was last updated but I do not see any sign of an El Nino here.  Also the cold spot where Nino 3.4 is measured has seemed to be filled in by warmer water. But the Eastern Pacific is not impressive.
So let's now look at the low level Easterlies.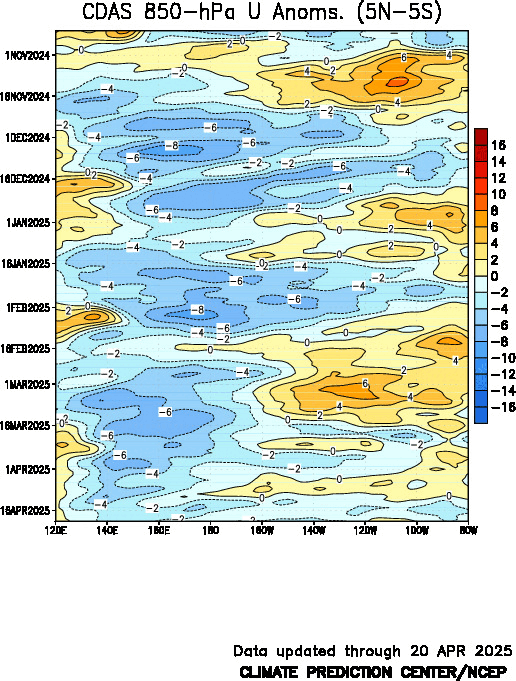 As you can see, at the time I prepared this report, our public servants had worked up until some time on Friday.  Then the call of hot dogs got too strong.  Because they did not feel it was sufficiently important to issue a report today (I do not blame them as there has been no change in this imaginary El Nino), I have not stored and posted the graphics from their report but this is an auto-update version so by the time you view it these folks will be back to work and will have updated this graphic since clearly their instruments are not directly linked to their web site.  That needs a special appropriation from Congress and some high school kid could probably do it in ten minutes but the way things work in the U.S. it probably would mean a procurement procedure and some multiple millions of dollars of expenditures. But actually I appreciated having to rummage for the auto-update version. It comes without official commentary. Notice no arrows drawn pointing out the wind bursts earlier this year.
Note:  Ocean Discussion is not in Depth, but Part of the Overall Discussion of the State of our Oceans.
There is an important issue.  Are the oceans getting warmer and at what rate?
From Japan Met Global Environment and Marine Department Report

"The annual mean annual global average sea surface temperature in 2013 was +0.13°C above the 1981-2010 average, making it the 2nd highest since 1891. The long-term trend of the global average sea surface temperature for 1891-2013 was about 0.51°C per century. Although positive anomalies above the long-term trend have frequently been observed since the late 1990s, the global average sea surface temperature has generally remained at similar levels since the early 2000s."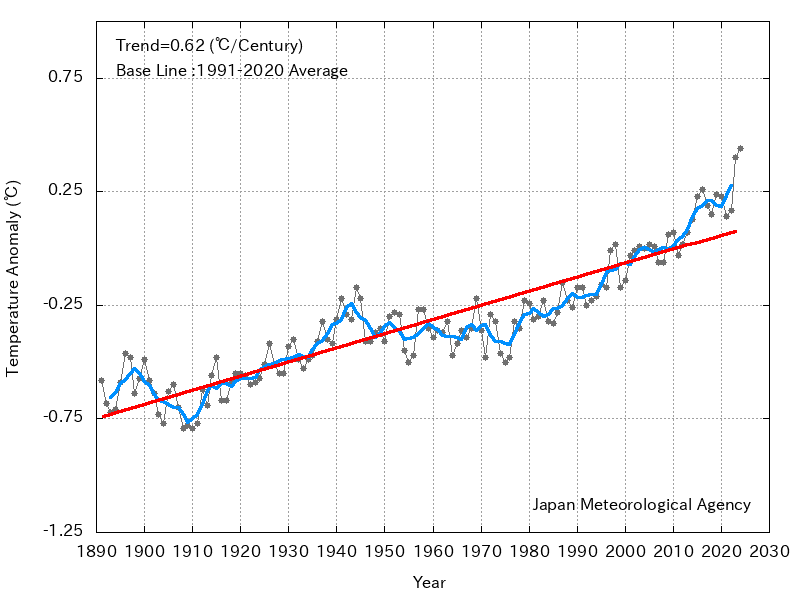 It is possible but difficult to see how a curve other than a straight line would be the best fit to this data. 0.5C is not an insignificant number (and confirms that the Planet is warming) but it raises questions in my mind about the IPCC forecasting models. Are they a bit too "alarmist"? Perhaps not as the land surface temperature has increased 65% faster. These two sets of facts does make one wonder about the claims that Global Warming is hiding in the oceans.
Arctic Ice Cap
One is always cautious about reporting anything about the Arctic Ice Cap as to some extent one sees what they want to see. But one can not ignore David Rose who started the Hiatus controversy which I wrote about immediately when the Rose article was published. My response to his 2012 article can be found here.
His latest can be found here. The chart of most interest is this.
Obviously this article is going to trigger a barrage of responses. So it is part of the Hiatus debate and possibly part of the question of what is happening to the Atlantic which impacts the exit of Arctic Ice through the Fram Straits.
Here is the Danish view of the situation.
I think a clear message here is that people have to pay more attention to ocean cycles and other manifestations of Internal Variability. Those who do not, will not figure things out correctly. That statement applies to all government agencies who are involved with trying to wrap their arms around Global Warming. From what I see, the U.S. agencies are having perhaps the hardest time with this. One possible explanation for this is the U.S. is impacted by two and possibly three oceans. Japan is impacted by only one. Europe is mainly impacted by the Atlantic. India is mainly impacted by the Indian Ocean and Australia is impacted by both the Pacific and the Indian Ocean but they seem to know which ocean impacts which part of Australia.
I seriously doubt the US EPA understands how oceans impact the situation they face on the ground in the U.S. and I am absolutely certain that the U.S. Bureau of Reclamation does not have a clue. They have demonstrated that to me to my satisfaction. I am not aware of another Developed Nation as oblivious to ocean cycles as the U.S.
A Few Thoughts on the North American Monsoon
The following map is the mid-atmosphere 7-Day chart rather than the surface highs and lows and weather features. In some cases it provides a clearer and less confusing picture as it shows the major pressure gradients and the 500 MB chart often is a good guide to conditions at the surface.
Notice the "Four Corner's High"as of today's forecast i.e. September 1, for a week from now (the graphic is about Day 7) appears to be AWOL. I usually draw a clockwise circle around this High to help imagine how it might impact overall circulation. But I have no mid-level high to work with but there are strong surface highs just north of the Southwest. Right now they work to suppress the North American Monsoon. But local factors including weather patterns from the north and tropical storm activity in the Pacific (See the "L" off to the left) will move moisture into the Southwest that some will label The Southwest Monsoon. But wet is wet, no matter how you label it, and I note that that our local forecasters have not taken the Labor Day Holiday off. They work 24X7 and we all owe them a debt of gratitude.

Click here for the Econintersect Weather and Climate Page Where You will Find:
NOAA and other agency graphics (including international agencies) that auto update. So this includes both short term- and seasonal "updates". It will ALWAYS be up to date even if my commentary on the graphics is not. I update my commentary when it seems necessary and certainly every Monday but some of these graphics auto update every six hours.

Economic and other Impacts of major weather events. Not sure there is any other place to obtain this information consistently other than very specialized subscription services.

Information on Climate Cycles both those which are fairly short term i.e. less than a decade in duration and multi-decadal cycles.

Economic and other Impacts of those Climate Cycles which are referred to by the IPCC as Internal Variability as opposed to secular Climate Change which is always in the same direction. Again I am not sure if there is another source for this information where it is pulled together in one place as I have.

Information on Anthropogenic Global Warming science i.e. the secular change in our climate that overlays both short term weather and historical climate cycles as well as black swan events like volcanic eruptions. I prefer to call this Global Warming as it is the warming that triggers the other changes.

Economic and other Impacts of Global Warming. The IPCC AR5 WG2 attempts to describe and quantify these and I have some excerpts from their report. Over time I will go beyond their report.
For now this is all in one article which may be a little difficult to navigate but that will soon change and the information will be accessed easily by topic.