Econintersect Climate and Weather Update, 25 August 2014
Written by Sig Silber
The U.S. Seasonal Updates have been issued by NOAA on August 21. The "Outlook" maps are almost unchanged but the level of unease expressed in the discussion of the maps is palpable.
You can now see the confusion in the 6 – 14 day outlook which bears little resemblance to the monthly outlook for September issued just last Thursday. It appears however that the situation may get clarified within one more month. We shall see.
The new Seasonal Outlook (a fancy word for forecast) for the U.S. was issued by NOAA on August 21. What is it telling us and how does it compare to the outlook issued last month?
Here is the prior set of maps for the three month period Aug-Sept-Oct.
And here is the new forecast (oops, I keep on forgetting to say "Outlook") for Sept and the three-month period Sept – Oct – Nov.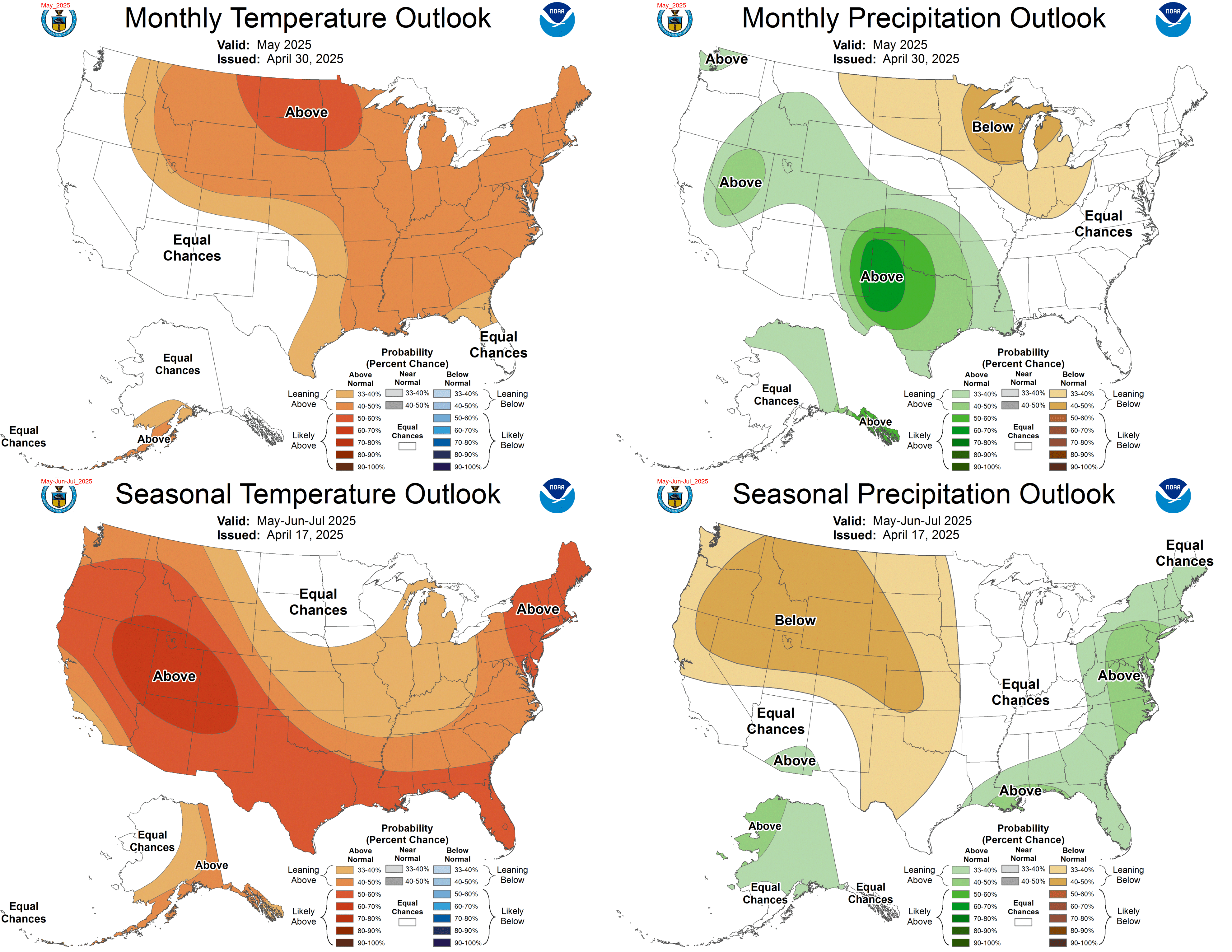 Notice there is not much change but also notice that this is a different three month period because August drops out and November is added so it is a bit like comparing apples to oranges but not quite that bad. But clearly  Sept-Oct-Nov has a bit more of a Fall characteristic than Aug-Sept-Oct which shows up mainly as an area of colder than climatology in the north central part of CONUS in the prior outlook showing up now a bit further south and perhaps a bit further west.

The remaining maps through Sept-Oct-Nov 2015 can be found in part II of this report or here. There is not much change except for the lower than climatology precipitation next year in June through Sept for an area that seems to be centered on Reno Nevada. It is covered in the discussion. I had a great deal of difficulty in deciding what to excerpt from the NOAA discussion as it is riddled with expressions of uncertainty about El Nino, the PDO and even the AMO which is usually not relied on heavily by NOAA.  I highlighted some of the more important statements in bold type. They could have perhaps issued a set of scenarios based on what ends up happening with or without this "possible" El Nino but they have chosen to pretty much assume a weak El Nino and scale back ever so slightly the geography impacted by this El Nino from the set of outlooks issued last month. By assuming an El Nino they have elected to ignore or downplay all their other forecasting tools beyond the September Outlook which does not depend on the El Nino assumption. The plus side is that they believe the situation will be clarified within six weeks. So that means there is a good chance that next month's Seasonal Outlook scheduled to be issued on September 18 should be a more reliable outlook. We shall see.
Here are the excerpts from the discussion that was released with the maps that I think are most useful. The full discussion can be found here and here. There is a lot of overlap between the 30 day and long-term discussions and I have attempted to be selective in my excerpts to provide a good summary of the detailed discussion much of which revolves around which tools where used i.e. the inner workings of how the outlook was prepared.

"CURRENT ATMOSPHERIC AND OCEANIC CONDITIONS

ATMOSPHERIC AND OCEANIC CONDITIONS IN THE PACIFIC BASIN INDICATE THAT A TRANSITION TO AN EL NINO CONTINUES, THOUGH THERE ARE CONFLICTING INDICATIONS AND CONSIDERABLE UNCERTAINTY REGARDING THE PEAK STRENGTH OF THIS PREDICTED WARM EVENT. THE LATEST WEEKLY OBSERVATIONS SHOW SST ANOMALIES OF +0.0 DEGREES C IN THE NINO 3.4 REGION, [Editorial note this is ENSO Neutral] +0.4C IN NINO 4, +0.5C IN NINO 3, AND +1.2C IN NINO 1+2. SUB-SEASONAL VARIABILITY ACROSS THE TROPICS HAS SLOWED THE TRANSITION TO EL NINO IN RECENT WEEKS. THE SPATIAL DISTRIBUTION OF TROPICAL CONVECTION DURING THE PAST 30-DAYS IN THE WESTERN AND CENTRAL PACIFIC IS NOT CONSISTENT WITH AN EL NINO. ALTHOUGH THERE HAVE BEEN SOME AREAS OF SUPPRESSED CONVECTION OVER THE MARITIME CONTINENT REGION, IT HAS NOT BEEN A MORE COHERENT AND STABLE PATTERN OF SUPPRESSED CONVECTION. IN ADDITION, SUPPRESSED CONVECTION IS ALSO ALONG (BUT MOSTLY SOUTH OF) THE EQUATOR IN THE VICINITY OF THE DATE LINE, WHICH IS NOT CONSISTENT WITH A DEVELOPING WARM EVENT. LOW-LEVEL (850-HPA) WINDS WERE NEAR-AVERAGE ACROSS MOST OF THE EQUATORIAL PACIFIC DURING THIS SAME PERIOD.

THE EXTRATROPICAL PACIFIC (POLEWARD OF 20N) CURRENTLY PROJECTS ONTO A POSITIVE PDO PATTERN, THOUGH SIGNIFICANTLY LESS THAN LAST MONTH, WITH THE CURRENT PDO INDEX VALUE AT +0.70. THE STATE OF THE NORTHERN ATLANTIC OCEAN IS ALSO A BIT DIFFERENT THAN IN RECENT YEARS, WITH THE MOST RECENT INDEX VALUE OF THE AMO BEING SLIGHTLY MORE POSITIVE THAN THAT FROM LAST MONTH.
Editor's Note: For many years we have been in a PDO-/AMO+ regime. Recently the PDO has been positive and the AMO has flirted with going negative. The change in just one of these ocean states would suggest a climate shift lasting more than a decade.
PROGNOSTIC DISCUSSION OF SST FORECASTS

MOST STATISTICAL AND DYNAMICAL MODELS CONTINUE TO SUGGEST THAT AN EL NINO WILL EMERGE WITHIN THE NEXT 3-6 WEEKS. A GENERAL CONSENSUS FAVORS A WEAK WARM EVENT (ONI RANGING BETWEEN +0.5C AND +0.9C), PEAKING DURING THE LATE AUTUMN AND EARLY WINTER, WHILE A FEW SOLUTIONS FAVOR A MODERATE EVENT."
And here is what they say for September:
"THE SEPTEMBER 2014 TEMPERATURE AND PRECIPITATION OUTLOOKS RELY MAINLY ON CLIMATE MODEL FORECASTS WITHOUT AN EXPECTATION OF SIGNIFICANT IMPACTS ON THE CLIMATE OF NORTH AMERICA BY NEXT MONTH FROM POTENTIAL EL NINO DEVELOPMENT.
Now for the three month period:  Sept-Oct-Nov

THE TEMPERATURE OUTLOOK FOR SEPTEMBER-OCTOBER-NOVEMBER (SON) 2014 INDICATES ELEVATED ODDS OF ABOVE-NORMAL MEAN TEMPERATURES ACROSS THE WESTERN CONUS, THE ATLANTIC COAST STATES AS FAR SOUTH AS NORTHERN FLORIDA, AND MOST OF ALASKA. BELOW-NORMAL MEAN TEMPERATURES ARE FAVORED FROM CENTRAL PORTIONS OF THE GREAT PLAINS SOUTHWEST INTO CENTRAL NEW MEXICO.

THE SON 2014 PRECIPITATION OUTLOOK CALLS FOR SLIGHTLY ENHANCED PROBABILITIES OF BELOW-MEDIAN PRECIPITATION ACROSS PORTIONS OF THE PACIFIC NORTHWEST. ELEVATED CHANCES FOR ABOVE-MEDIAN PRECIPITATION AMOUNTS ARE FORECAST FROM SOUTHERN CALIFORNIA AND EASTERN NEVADA EASTWARD ACROSS THE CENTRAL AND SOUTHERN ROCKIES, THE CENTRAL AND SOUTHERN GREAT PLAINS, AND WESTERN PORTIONS OF THE MIDDLE AND LOWER MISSISSIPPI VALLEY. THE ODDS FOR ABOVE-MEDIAN PRECIPITATION ARE ALSO ENHANCED OVER SOUTHERN FLORIDA AND MOST OF SOUTHERN ALASKA.

And here is what they say looking out a full year:
"GIVEN THE EXPECTATION OF A WEAK EL NINO DURING THE WINTER, AND AREAS OF COVERAGE AND PROBABILITIES WERE REDUCED ACCORDINGLY FROM THE PREVIOUS MONTH'S SET OF OUTLOOKS VALID FROM DJF TO FMA. FROM MAM TO SON 2015, THE TEMPERATURE OUTLOOKS ARE BASED PRIMARILY ON THE CONSOLIDATION (CON) TOOL WHICH INCORPORATES HISTORICAL TEMPERATURE TRENDS, WHILE FOR PRECIPITATION, MOST INDICATIONS WERE EITHER WEAK OR CONFLICTING, FAVORING A FORECAST OF EC. THE EXCEPTIONS FOR PRECIPITATION INCLUDED JJA AND JAS 2015, WHERE DRIER TRENDS ARE FAVORED IN THE CENTRAL INTERMOUNTAIN REGION.

TEMPERATURE

THE SON THROUGH NDJ 2014-15 TEMPERATURE OUTLOOKS INDICATE ELEVATED PROBABILITIES OF ABOVE-NORMAL SEASONAL MEAN TEMPERATURES FOR NEARLY ALL OF ALASKA. ELEVATED PROBABILITIES OF ABOVE-NORMAL SEASONAL MEAN TEMPERATURES ARE ALSO FORECAST FOR MUCH OF THE WEST, AND ATLANTIC COAST STATES AS FAR SOUTH AS NORTHERN FLORIDA (SON), WITH THE PREDICTED TRANSITION TO ABOVE-NORMAL TEMPERATURES ACROSS THE NORTHERN HALF OF THE CONUS BY NDJ. BELOW-NORMAL SEASONAL MEAN TEMPERATURES ARE FAVORED FROM CENTRAL PORTIONS OF THE GREAT PLAINS SOUTHWEST INTO CENTRAL NEW MEXICO. THESE EARLY LEAD OUTLOOKS ARE BASED PRIMARILY ON THE CFS, NMME, IMME, CON, IRI, AND ENSO COMPOSITES. THE AREA OF PREDICTED BELOW-NORMAL TEMPERATURES IS BASED ON COMPOSITES OF THE CURRENT PHASE OF THE PDO AND DEVELOPING WARM EVENTS, AND THE SMLR. FROM DJF 2014/15 THROUGH FMA 2015, THE SAME TOOLS NOTED ABOVE WERE CONSIDERED, WITH A GREATER EMPHASIS ON ENSO COMPOSITES (THOUGH WITH DIMINISHED COVERAGE AND PROBABILITIES DEEMED MORE APPROPRIATE FOR AN EXPECTED WEAK WARM EVENT). THESE OUTLOOKS INDICATE THE ANTICIPATED EXPANSION OF BELOW-NORMAL TEMPERATURES ACROSS FLORIDA AND THE GULF COAST, CONSISTENT WITH AN ENHANCED SUBTROPICAL JET STREAM. THE MAM 2015 OUTLOOK FAVORS THE WINDING DOWN OF THE PREDICTED EL NINO, WHILE ALL SUBSEQUENT LEADS ARE BASED ALMOST ENTIRELY ON THE CON AND LONG-TERM TEMPERATURE TRENDS.

PRECIPITATION

THROUGH AUTUMN 2014, THERE ARE FAIRLY STRONG AND CONSISTENT INDICATIONS FROM THE CFS, NMME, AND IMME FOR ABOVE-MEDIAN PRECIPITATION AMOUNTS VARYING THROUGHOUT PORTIONS OF SOUTHERN CALIFORNIA, THE SOUTHWEST, CENTRAL AND SOUTHERN PORTIONS OF BOTH THE ROCKIES AND GREAT PLAINS, AND CENTRAL AND SOUTHERN PORTIONS OF THE MISSISSIPPI VALLEY. ABOVE-MEDIAN PRECIPITATION AMOUNTS ARE ALSO ENHANCED OVER FLORIDA AND SOUTHERN ALASKA. THIS IS ALSO CONSISTENT WITH THE EARLY STAGES OF AN EL NINO. ENHANCED ODDS OF BELOW-MEDIAN PRECIPITATION ARE INDICATED OVER THE NORTHWEST.  BOTH THE SPATIAL COVERAGE AND PROBABILITIES HAVE BEEN DIMINISHED SOMEWHAT FROM THE PREVIOUS SET OF OUTLOOKS VALID FOR THESE SAME TARGET SEASONS. AS NOTED ABOVE, THESE ADJUSTMENTS WERE MADE TO BETTER ACCOUNT FOR AN EXPECTED WEAK EL NINO. THE PRECIPITATION OUTLOOK FOR MAM 2015 AND BEYOND SHOW EQUAL CHANCES FOR BELOW-, NEAR- AND ABOVE-MEDIAN SEASONAL ACCUMULATED PRECIPITATION THROUGHOUT THE CONUS AND ALASKA, WITH ONE EXCEPTION. FOR THE SEASONS OF JJA AND JAS 2015, HISTORICAL PRECIPITATION TRENDS FAVOR DRYNESS ACROSS PORTIONS OF THE CENTRAL INTERMOUNTAIN REGION."
Wild Card
This discussion is about the potential for significant volcanic eruptions in Iceland introducing a lot of ash into the atmosphere increasing the albedo or reflective characteristic of the atmosphere thus reducing the solar energy passing through the atmosphere. This would change things towards a much cooler winter or even two years, but it looks like the threat level of such an eruption has been reduced. And is it anthropogenic if the impact depends on how much ice is in place? It certainly would provide an excuse for all weather forecasters if they get this winter wrong.
This discussion about the Global Warming "Hiatus" also is very interesting since it relates to the potential of the North Atlantic transitioning from the warm state it has been in to its cold state which is captured by the AMO index which an be viewed here.
8 – 14 Day Outlook
Temperature Forecast: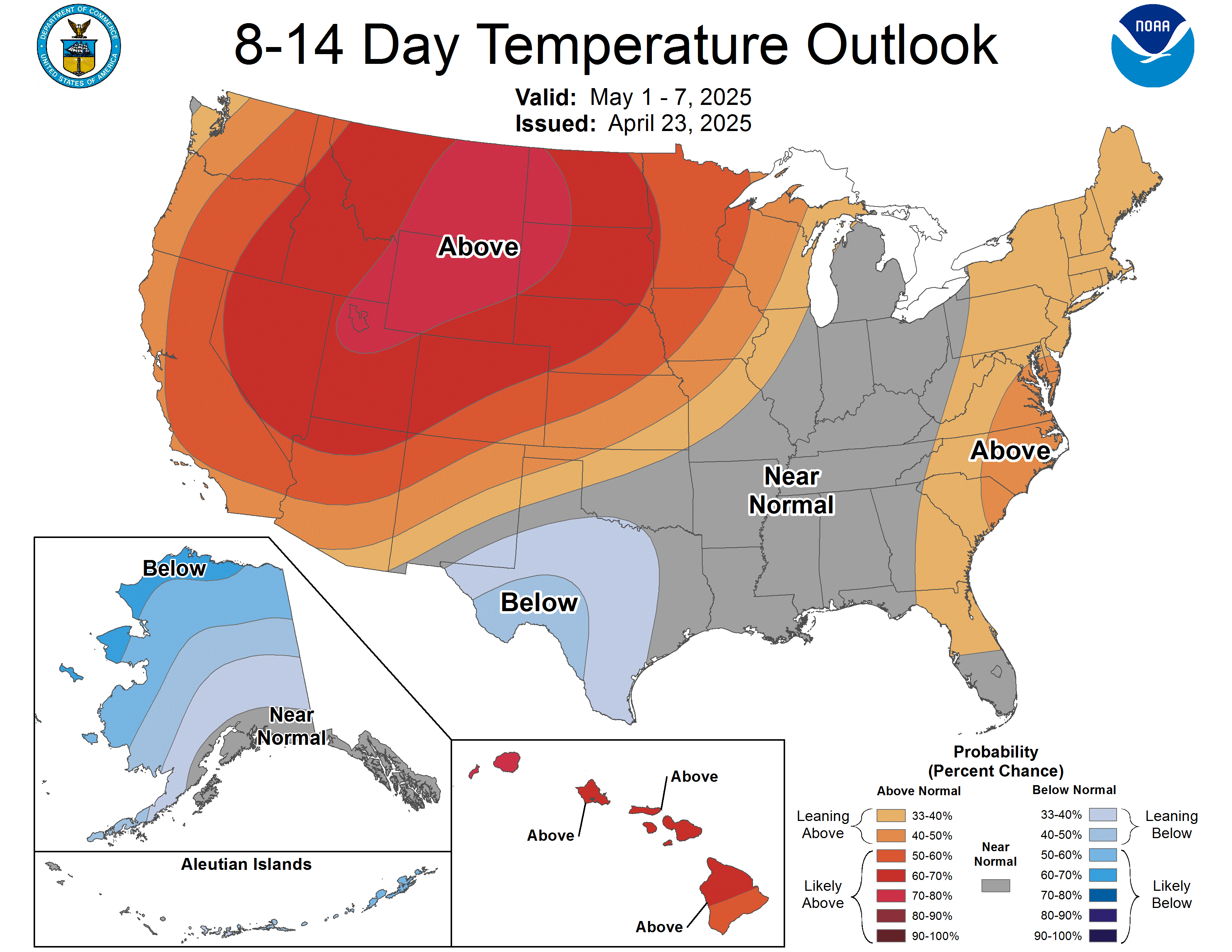 Precipitation Forecast: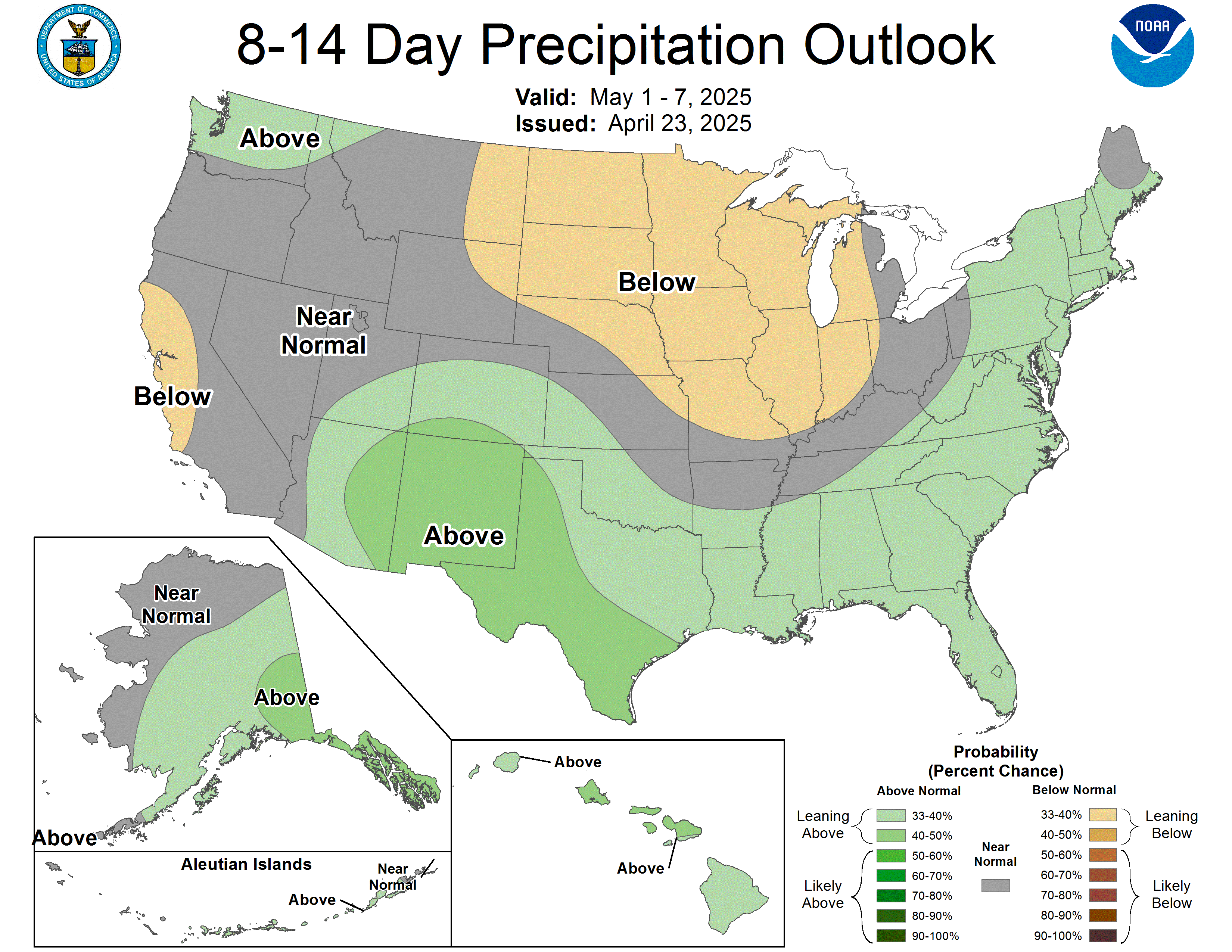 The September Outlook is shown earlier in this report. As you can see, this first week of September Temperature Outlook (Days 8 – 14 of the 6 – 14 Day Outlook issued today) is in line with the Monthly Outlook but the Precipitation Outlook is very different. It makes me wonder why that is the case i.e. the temperature outlook seems to be fairly stable but the precipitation outlook issued by NOAA is literally changing every day. We need to keep in mind that the first week of September is not the full month.  Nevertheless I anticipate that the September Precipitation Outlook, which will be updated on Sunday, will look a bit different at that time.
A Few Thoughts on the North American Monsoon
The following map is the mid-atmosphere 7-Day chart rather than the surface highs and lows and weather features.  In some cases it provides a clearer and less confusing picture as it shows the major pressure gradients and the 500 MB chart often is a good guide to conditions at the surface.
Notice the "Four Corner's High"as of today's forecast i.e. August 25, for a week from now (the graphic is about Day 7)  really does not show up on the middle atmosphere map although it shows up on the surface maps. This suggests to me that it is not a very dominant feature. The 6 – 14 day forecast calls for the Southwest Monsoon to be suppressed during the nine day period covered by the 6 – 14 day forecast. In the shorter term a hurricane off the coast of Mexico may introduce some moisture that will stimulate the Monsoon for the first few days of this current week. 

El Nino Discussion
I have saved this for the end of this week's report because I wanted to focus on the seasonal forecast that was released last week and the difficulty that NOAA is having with even short-term forecasts right now probably because of the transition from Summer to Fall.

Here is what I have gleaned from the weekly NOAA ENSO Report.
The Sea Surface Anomalies are perhaps the most significant piece of information and here is the latest Hovmöller displaying this information.
There is no real change here other than NOAA now officially labeling that warm area at the bottom of the diagram a Kelvin Wave which appeared obvious last week. As you can see it is not nearly as warm as the one that occurred in the first quarter but it is a downwelling warm Kelvin Wave and you can figure out pretty much when it might arrive which is later than the normal time for the development of an El Nino but capable of strengthening an existing El Nino hence the confusion. What are we dealing with? We are not yet in El Nino conditions but there could be some warm water coming that might trigger a late in the season weak El Nino.
The SOI Index which basically describes the pattern of convection along the Equator in the Pacific can be found here has not supported the presence of an El Nino. The last four or five days of the preliminary readings have been readings which might appear to be favorable for El Nino development but this is probably nothing more than a result of the tropical storm activity in the Central Pacific and today's reading rose. A monthly average of -8 is usually considered an El Nino condition. But things can change quickly. But right now El Nino conditions are not present although there are hints. An El Nino may be coming but it is clear that it has not yet arrived.

It is important to keep in mind that El Nino's come in all flavors so the real question is what sort of winter are we going to have. I suspect that by September 18, NOAA will have a much better feel for this.
Click here for the Econintersect Weather and Climate Page Where You will Find:
NOAA and other agency graphics (including international agencies) that auto update. So this includes both short term- and seasonal "updates". It will ALWAYS be up to date even if my commentary on the graphics is not. I update my commentary when it seems necessary and certainly every Monday but some of these graphics auto update every six hours.

Economic and other Impacts of major weather events. Not sure there is any other place to obtain this information consistently other than very specialized subscription services.

Information on Climate Cycles both those which are fairly short term i.e. less than a decade in duration and multi-decadal cycles.

Economic and other Impacts of those Climate Cycles which are referred to by the IPCC as Internal Variability as opposed to secular Climate Change which is always in the same direction. Again I am not sure if there is another source for this information where it is pulled together in one place as I have.

Information on Anthropogenic Global Warming science i.e. the secular change in our climate that overlays both short term weather and historical climate cycles as well as black swan events like volcanic eruptions. I prefer to call this Global Warming as it is the warming that triggers the other changes.

Economic and other Impacts of Global Warming. The IPCC AR5 WG2 attempts to describe and quantify these and I have some excerpts from their report.  Over time I will go beyond their report.
For now this is all in one article which may be a little difficult to navigate but that will soon change and the information will be accessed easily by topic.