Econintersect Climate and Weather Update, 11 August 2014
Written by Sig Silber
Back to normal sort of. The East Coast would appear to be a lot wetter than the updated August Outlook.  But the confusion is gone or so it seems.
Perhaps it is better to say the confusion has now turned into more or less a lack of conviction. This includes a decline in conviction re the widely heralded El Nino that is supposed to appear and which normally begins to make its presence known this time of the year.  There also does not appear to be much conviction about the Atlantic Hurricane Season this year.

Pacific storms have been in the news most recently at least as reported in the U.S. about Hawaii.
So where are these storms they are talking about?  Here is a way to track them.
And since we are discussing tropical storms, what does the summer and fall look like for the Atlantic?  Just out:
Atlantic Hurricane Outlook.
You can find the full press release here. The summary is as follows:
"2014 Atlantic hurricane outlook Update. (Credit:NOAA) August 7, 2014
Forecasters with NOAA's Climate Prediction Center raised the likelihood for a below-normal season in today's update to the Atlantic Hurricane Season Outlook. The update predicts a 70 percent chance of a below-normal season, a 25 percent chance of a near-normal season and only a five percent chance of an above-normal season."
This forecast is based on three factors.
"The primary factors influencing the increased chance of a below-normal season are:


Overall atmospheric conditions are not favorable for storm development. This includes strong vertical wind shear, a weaker West African monsoon, and the combination of increased atmospheric stability and sinking motion. These conditions mean fewer tropical systems are spawned off the African coast, and those that do form are less likely to become hurricanes. These conditions are stronger than originally predicted in May and are expected to last mid-August through October, the peak months of the hurricane season;



Overall oceanic conditions are not favorable for storm development. This includes below-average temperatures across the Tropical Atlantic, which are exceptionally cool relative to the remainder of the global Tropics. This cooling is even stronger than models predicted in May and is expected to persist through the hurricane season; and



El Niño is still likely to develop and to suppress storm development by increasing vertical wind shear, stability and sinking motion in the atmosphere."

Editors's Note: The comments in the above about the cool Atlantic are very significant.
Latest El Nino Information
From NOAA today as predicted.
"Chance of El Niño has decreased to about 65% during the Northern Winter Hemisphere and early Winter."
I expect further reductions in probabilities in coming weeks.  Other than reading the reports from Australia Met perhaps the more cautious approach by NOAA relates to the below hovmoller graphic.
Notice the blue where El Nino is measured. It is ENSO neutral.
The hope for an El Nino remains with this graphic.
Notice the brown area in the Central Pacific. I have problems with the way NOAA describes the anomaly coding but either way there is less resistance to water from that area moving east but it is not warm water as you can see from the prior hovmoller.  So how does moving cold water east make an El Nino?
I do not see it.
8 to 14 Day Outlook Forecasts.
I am just showing what is called the second week of the 6 – 14 day outlook  but it covers most of the 6 – 14 day period  but it is of course less reliable in general than the 6 – 10 portion of the outlook because it is looking further out into the future.

Temperature Forecast: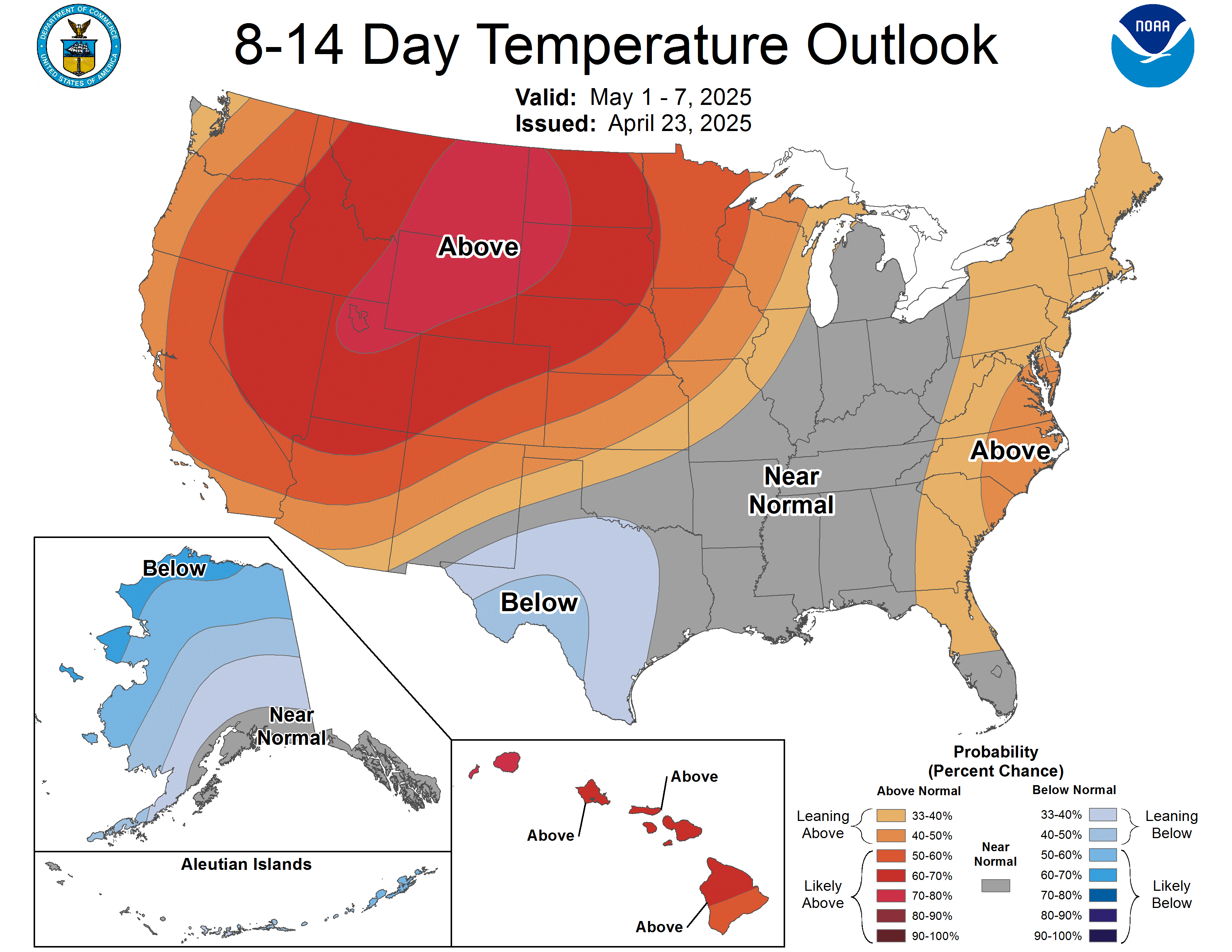 Precipitation Forecast: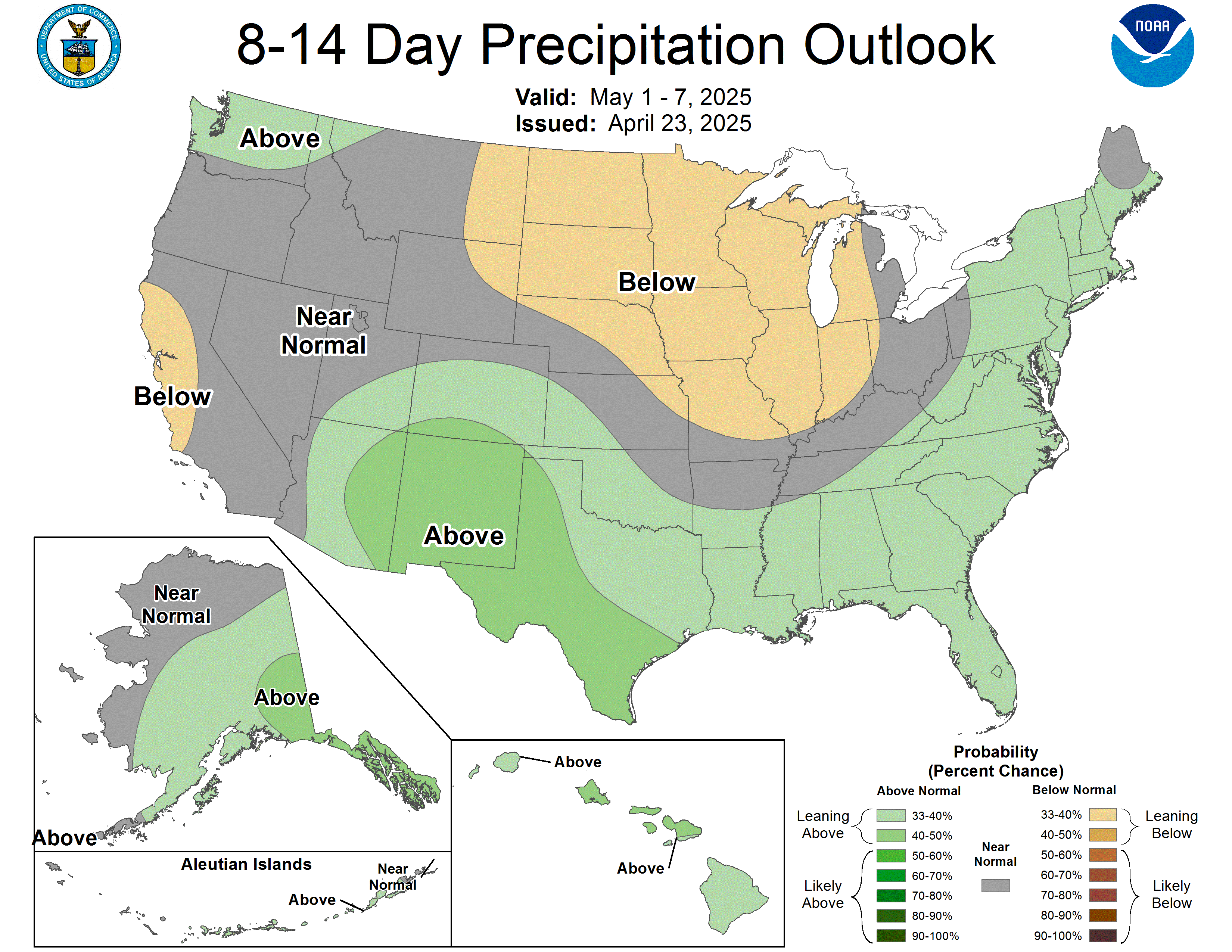 I think the maps are fairly self-explanatory.  The West is forecast to be mostly consistent with seasonal climatology with respect to precipitation except for South Texas and the upper Northwest while the Eastern half of CONUS is anticipated to be wetter than climatology. Except for South Texas, this is not consistent with the recently updated August precipitation forecast shown below: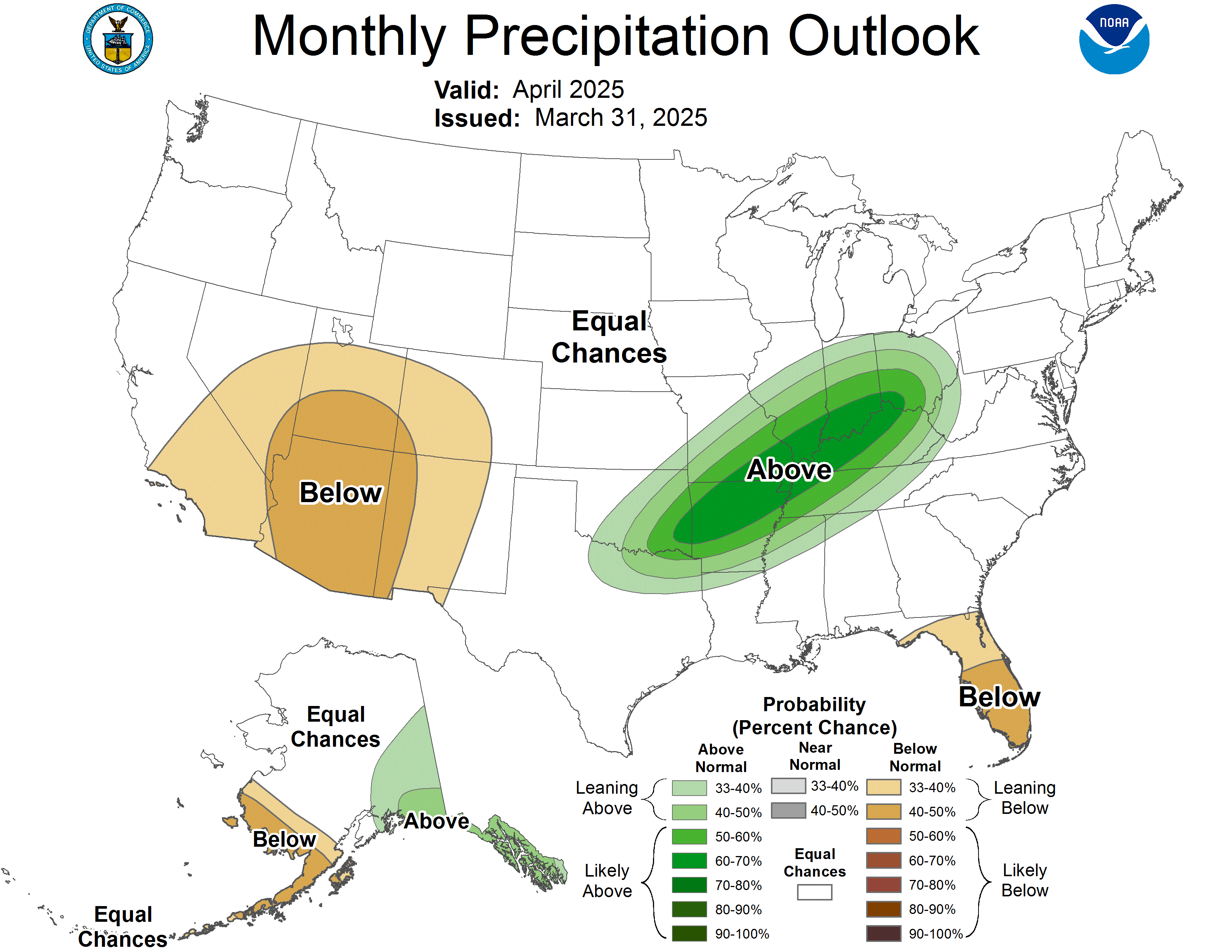 I do not feel like trying to explain it other than this is summer and the ability to make predictions during the summer is fairly low. The 6 – 10 day outlook including the discussion for the full 6 – 14 day outlook can always be found here.
This is more interesting to me.  Cold Droughts can be Problematical  – Most Folks Focus only on Warm Droughts.
Global Economic Intersection (GEI) ran this very interesting article last week prepared by three economists from the research arm (Liberty Street Economics) of  the New York Fed.
Among other things this article discusses the storms that are claimed to have reduced first quarter GDP substantially.

"Some estimates put the impact of the winter weather at about 1.5 percent of the 2.9 percent contraction."
And in the same article a weather impact is discussed from an earlier period of time.
"Hamburg Booms and Busts
The occupation of Holland by France in 1795 triggered a sudden shift in the continental trade from Amsterdam to Hamburg. So as commodities flowed from the Americas and West Indies, Hamburg served as the new gateway to Europe. But the sudden shift of activity to Hamburg was accompanied by speculation, a rise in prices, and an expansion of credit. Cheap housing was replaced with warehouses, rents increased, and merchants reaped the profits from a war-torn Europe. But the summer of 1798 was dry, and the autumn wheat harvest was poor. And the winter of 1798-99 was one of harshest on record, setting in early, immobilizing ships, and hampering the transfer of goods from ship to shore.

As speculation further drove up prices, consumption decreased, and by spring, supply greatly outstripped demand and prices fell. Bills of exchange, which had previously expanded, now contracted, sales fell, and prices plummeted. By August 1799, the crisis had begun in earnest with Hamburg in the grips of a violent commercial contraction."
Conclusion:
Warm and Wet which is the Hallmark of Global Warming may or may not be more economically destructive than Cold or Cold and Dry.  I do not wish to address the broader issue this evening but I have presented some of the results of the IPCC AR5 WGII in the section of this report that you can get to by clicking at the end of the article that displays on your screen. I was totally underwhelmed by the argument presented by the IPCC that Global Warming will be an economic disaster. Of course that is what my book will be about and I have not written it yet.  Perhaps the IPCC is correct but just does not know how to assess climate impacts.
We do know probably of more incidents historically where cold was an economic disruption and it is clear that cold droughts happen not just warm ones. So perhaps our thinking needs to be broader on this subject.  Some believe that cold is what finally wiped out the Neanderthals.
A Few Thoughts on the North American Monsoon
The following map is the mid-atmosphere 7-Day chart rather than the surface highs and lows and weather features.  In some cases it provides a clearer and less confusing picture as it shows the major pressure gradients and the 500 MB chart often is a good guide to conditions at the surface.
Notice the "Four Corner's High"as of today's forecast i.e. August 11, for a week from now (the graphic is about Day 7)  appears to be located in a good position to draw in moisture from the Gulf of California. This moisture will be available mainly early this week and should not significantly impact the area beyond this week although moisture has a tendency to recirculate. The surface highs and the 500 MB high are not aligned so that means that there is not a real strong driver of the Southwest Monsoon so local factors may have more opportunity to have an impact.  In my mind, I draw a clockwise circle around this High to help imagine how it might impact overall circulation. There is a disturbance off shore in the Pacific right now but it will just be around for a matter of days but its effects will be around for a somewhat longer period of time and may drift over the High and have some impact on states to the East of the Southwest.
Click here for the Econintersect Weather and Climate Page Where You will Find:
NOAA and other agency graphics (including international agencies) that auto update. So this includes both short term- and seasonal "updates". It will ALWAYS be up to date even if my commentary on the graphics is not. I update my commentary when it seems necessary and certainly every Monday but some of these graphics auto update every six hours.

Economic and other Impacts of major weather events. Not sure there is any other place to obtain this information consistently other than very specialized subscription services.

Information on Climate Cycles both those which are fairly short term i.e. less than a decade in duration and multi-decadal cycles.

Economic and other Impacts of those Climate Cycles which are referred to by the IPCC as Internal Variability as opposed to secular Climate Change which is always in the same direction. Again I am not sure if there is another source for this information where it is pulled together in one place as I have.

Information on Anthropogenic Global Warming science i.e. the secular change in our climate that overlays both short term weather and historical climate cycles as well as black swan events like volcanic eruptions. I prefer to call this Global Warming as it is the warming that triggers the other changes.

Economic and other Impacts of Global Warming. The IPCC AR5 WG2 attempts to describe and quantify these and I have some excerpts from their report.  Over time I will go beyond their report.
For now this is all in one article which may be a little difficult to navigate but that will soon change and the information will be accessed easily by topic.