Focusing on the Australian El Nino Update and NOAA Seasonal Outlook Updates.

Written by Sig Silber
This is an advanced look at the report that I normally issue on Mondays.
However Australia has issued an interesting update on El Nino and NOAA has issued their updated seasonal outlook so I thought an advanced look at those two items of information was in order.
First lets talk about El Nino. Australia earlier this week released the following statement.
"El Niño remains on hold

Issued on Tuesday 15 July 2014

Warming of the tropical Pacific Ocean over the past several months primed the climate system for an El Niño in 2014. However, a general lack of atmospheric response over the last month has resulted in some cooling of the tropical Pacific Ocean.

While the majority of climate models suggest El Niño remains likely for the spring of 2014, most have eased their predicted strength. If an El Niño were to occur, it is increasingly unlikely to be a strong event.

Changes are also occurring in the Indian Ocean. The Indian Ocean Dipole (IOD) index has been below −0.4 °C (the negative IOD threshold) since mid-June, but it would need to remain negative into August to be considered as an event. Negative values are rare when the central Pacific is warmer than average. Model outlooks suggest the IOD is likely to return to neutral by spring. Conditions in the Indian Ocean may have contributed to the above-average rainfall experienced in southeast Australia during June.

El Niño is often associated with below-average rainfall over southern and eastern inland areas of Australia and above-average daytime temperatures over southern Australia. Conversely, a negative IOD pattern typically brings wetter winter and spring conditions to inland and southern Australia.

The ENSO Tracker is updated at the end of each month. It is currently at El Niño ALERT stage."
There are three things of particular note:
A.  The air pressure differential between Tahiti and Darwin Australia seems to have fallen in line with what should be expected and the  "SOI" index has at least temporarily fallen into El Nino territory;
B. But temperature anomalies in the areas monitored along the Equator have declined a bit; and (most importantly I think)
C. The Easterlies along the Tropics have not declined (as required to ramp up an El Nino) but have actually strengthened. This could easily be a temporary situation but it stands out like a sore thumb in what is called the Hovmöller graphic shown below. It can be intimidating but consider it to be a tape record of winds with the oldest information on top and the most recent information along the bottom: notice the dates on the Y Axis. Then you have the wind anomalies shown from left to right along the Equator in the Pacific starting from the Indian Ocean which BTW is not behaving consistently with an El Nino.
The important information is the blue area right at the bottom which NOAA commented on but did not highlight with arrows (the three red arrows at the top of the chart are provided by NOAA but others who have looked at this chart since it was issued on Monday have highlighted  the most recent week in that diagram at the bottom – that blue area- in the versions they have sent out but I elected to just send out the official version witout marking it up).
Seasonal Forecast Update.
Now let us turn our attention to the Seasonal Forecast just issued by NOAA.
Temperature Outlook
Here is the previously issued three month temperature outlook:

And here is what was issued today July 17: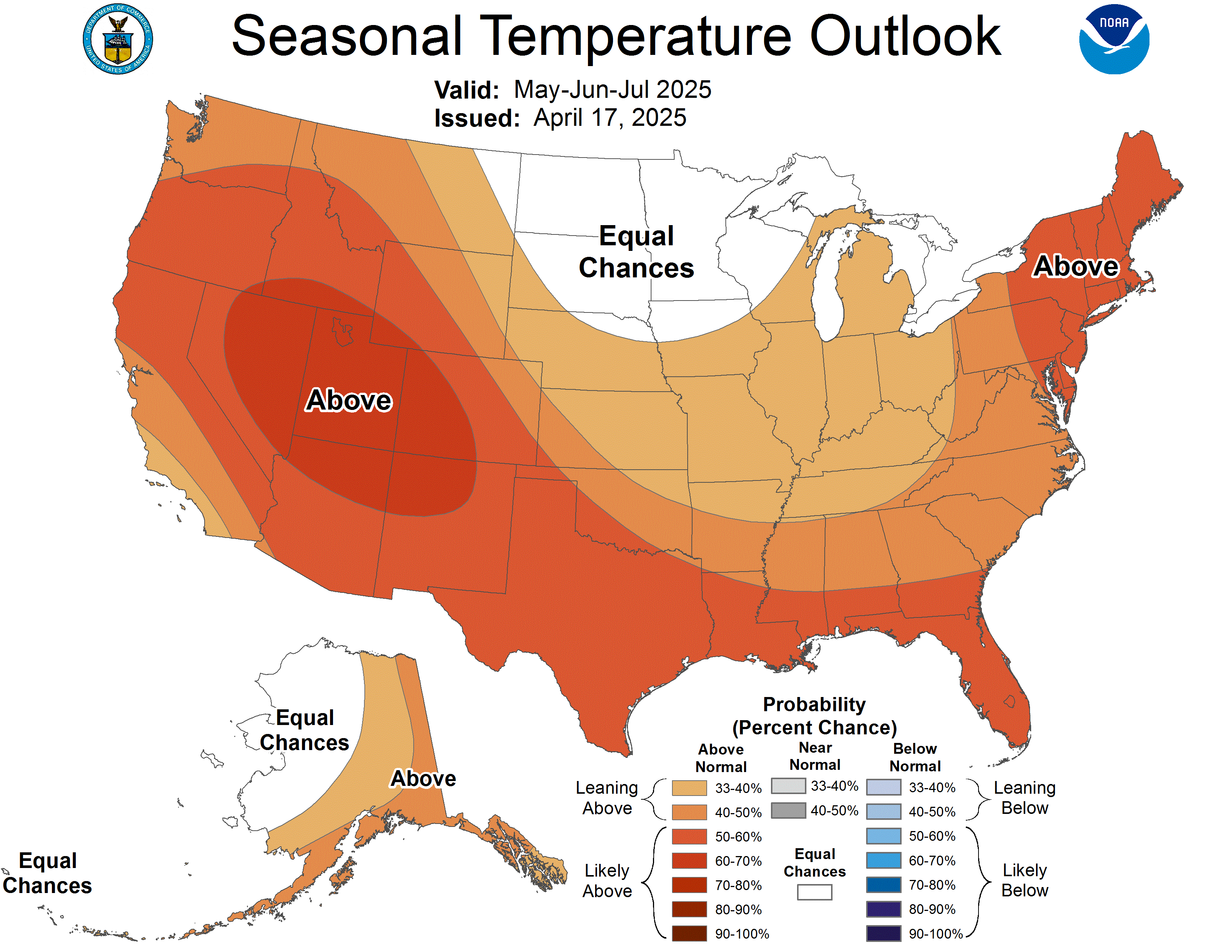 Precipitation Outlook
And here is the previously issued Precipitation Outlook:
And here is what was issued today July 17: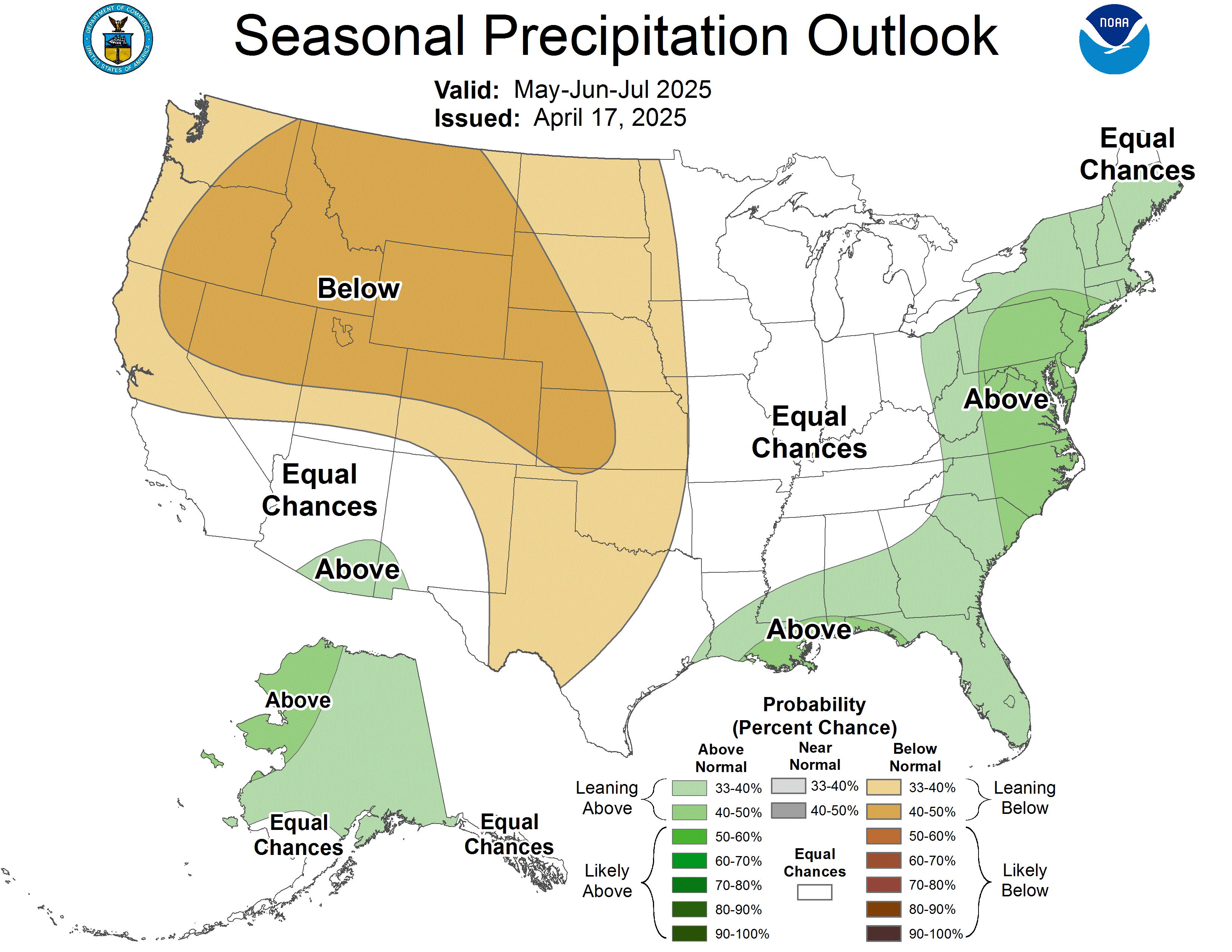 As you can see there is almost no change (other than they are now officially describing the wet Southwest as a Monsoon) but keep in mind that the three months are a bit different. The prior forecast was for July – Sept and this is for August – Oct.
Click here for the latest data from NOAA (National Oceanic and Atmospheric Administration) and other sources on the Econintersect Weather and Climate page.  This includes the full set of tri-month Outlooks through Aug-Oct 2015 just updated.