Econintersect Weather and Climate Forecast Special Update 15 May 2014

Written by Sig Silber
New Seasonal Outlooks are out today.

They reflect the projected El Nino and seem to show a relatively wet summer for parts of the U.S.
"EL NINO CONDITIONS ARE EXPECTED TO BE IN PLACE BY LATE SUMMER OR EARLY FALL, HOWEVER, THERE IS STILL CONSIDERABLE DISAGREEMENT AMONG PREDICTIONS OF THE STRENGTH AND DURATION OF THE EVENT."
I have not gone into it in great detail but current conditions are highly unusual but it is too early to interpret the implications.
Big changes are happening and rapidly. As you can see the temperature rankings  in April differ greatly from the prior month.
In April,  temperatures returned to pretty much normal.
We now have the just released early look at June which was was issued today (Thursday May 15 and will be updated on May 31) as well as the outlook for June, July and August which will not be updated until June 19. The big change is a wet summer for the Rocky Mountains but as drawn does not appear to be related to a prediction of a strong  Southwest Monsoon but something else which will bring wetter than climatology conditions from the  Rocky Mountains towards the Southest all the way to Florida.  The North-Central part of the U.S. will be cooler than climatology and the western part of the Gulf of Mexico will be cool in June but then warm and dry in July and August suggesting a lack of hurricane activity in that area which is consistent with El Nino conditions.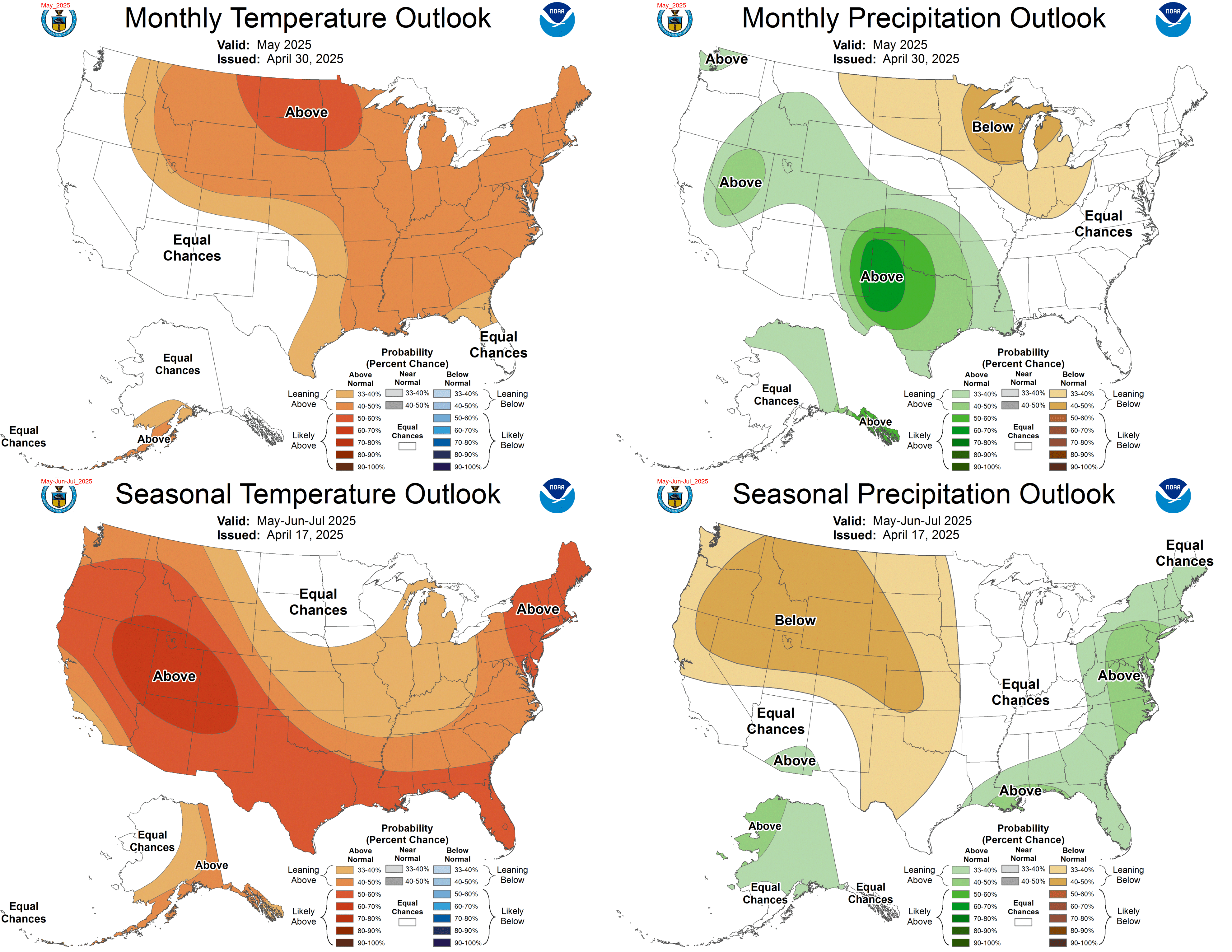 Longer-term outlook.
The other maps in the Seasonal Outlook were also updated  on May 15 which is the third Thursday of  the month. In general it reflects a weak El Nino with wet conditions in the south during the winter and a warm northern tier of the U.S. through about March of 2015 and that seems to about as far as NOAA is really willing to be definitive in its outlook at this point in time.  In fact one can read in some significant skepticism about the duration of this El Nino which is consistent with PDO-/AMO+ conditions. However the condition of the Atlantic is reported as being very unusual perhaps influenced by the North Atlantic Oscillation (NAO). The next update of the longer-term outlook is scheduled for June 19, 2014
Here are the maps for the longer-term temperature outlook: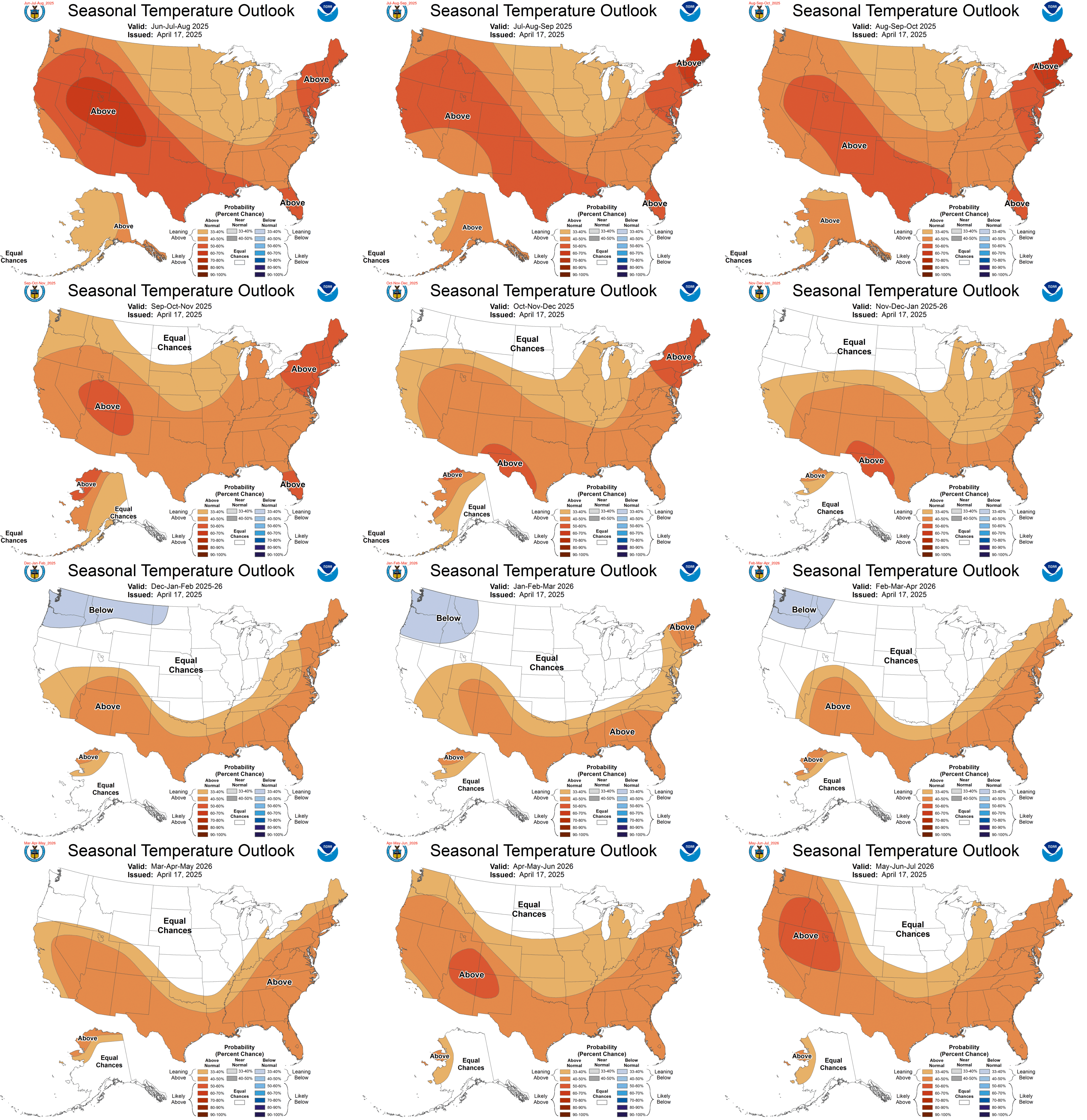 and the new longer-term precipitation outlook.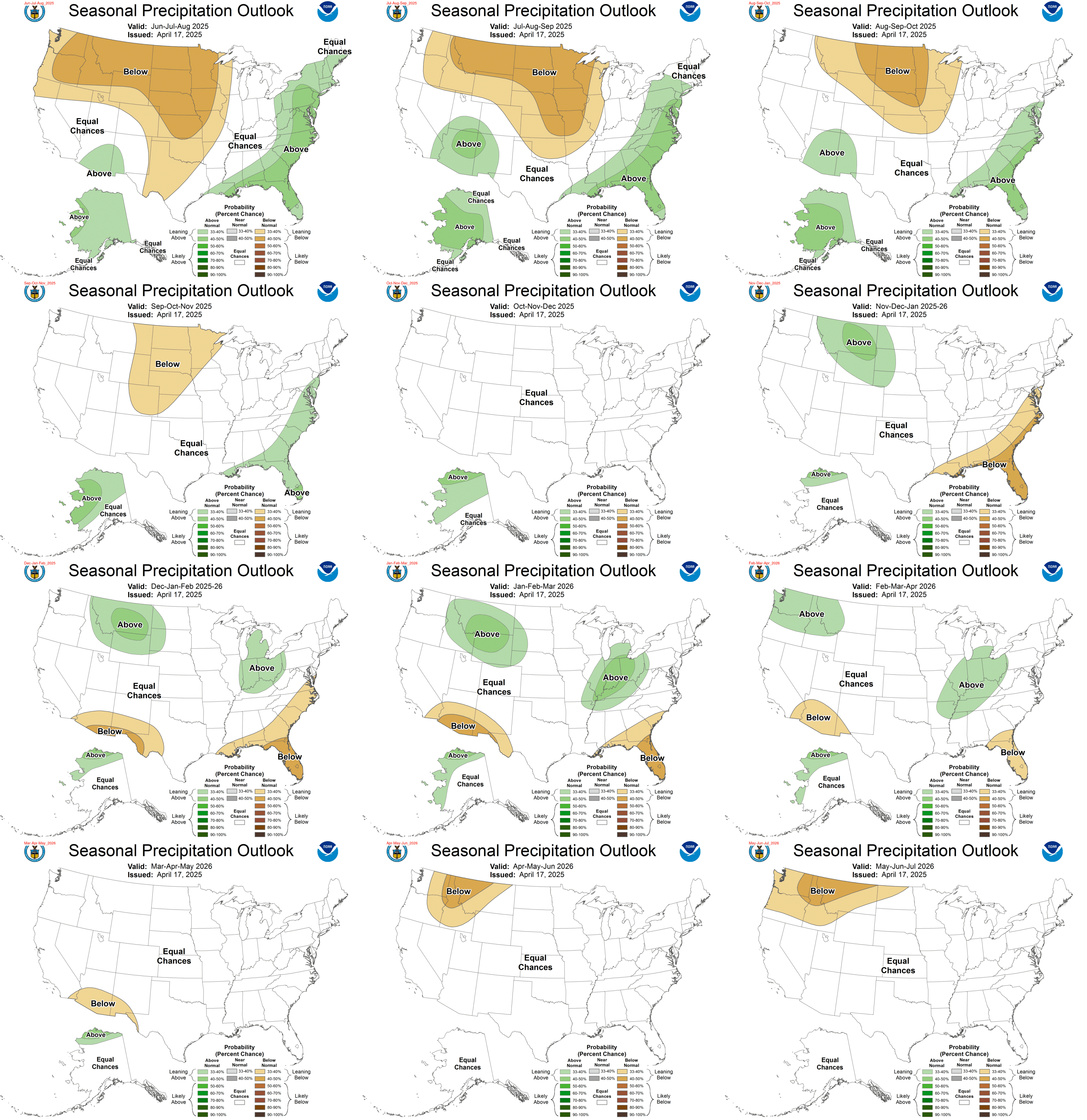 Click here for the latest data from NOAA (National Oceanic and Atmospheric Administration) and other sources on the Econintersect Weather and Climate page.