from Challenger, Gray & Christmas, Inc.
Despite ongoing improvement in the economy and the job market, summer employment among the nation's teenagers may stagnate this year, as the percentage of teens participating in the labor force continues a steady decline that began in the late 1970s.
In its annual teen summer employment outlook, global outplacement consultancy Challenger, Gray & Christmas, Inc. expects little change from last summer, when employment among 16- to 19-year-olds grew by 1,355,000 between May and July. Last year's summer job gain was down 3.0 percent from the 1,397,000 teenagers added to summer payrolls in 2012. Said John A. Challenger, chief executive officer of Challenger, Gray & Christmas:
We saw a rebound in summer employment among teens in the wake of the recession, but the number of young people finding summer jobs is still well short of where it was prior to the recession, when an average of 1.7 million 16- to 19-year-olds were joining the ranks of the employed from May through July.

The fact that teen employment gains were slightly lower last year indicates that the job market for the nation's youth is still a ways from full recovery. A number of factors may contribute to flat teen employment gains, including weakness in the retail job market, where large portions of teenagers often find summer employment. We also must consider the simple fact that fewer teenagers are entering the labor force.
The participation rate for 16- to -19-year-olds, which tends to peak during the summer recess from school, reached a record high of 71.8 percent in July 1978. It has basically been falling ever since. Even during the high-flyingdot.com boom of the late 1990s, when the national unemployment rate hovered around 4 percent, the participation rate among teens had slipped to around 62 percent.
While teenagers have experienced the precipitous drop in labor force participation, the decline is not entirely due to economic factors, as evidenced by the fact that participation continued to decline, even during periods of strong expansion.
One need only to look at the latest 20.7 percent unemployment rate for teens to see that it certainly is not easy for the youngest job seekers to find employment in today's market. They are competing for jobs with recent college graduates, seniors supplementing their retirement income, and those re-entering the workforce after raising a family.
However, the near-record low 31.7 percent participation rate in March is not due entirely to a lack of jobs. While, some teens have dropped out of the labor force due to discouragement, this group represents a tiny portion of the rising number of 16- to 19-year-olds abandoning the labor force by choice.
According to BLS data, there were nearly 11.4 million 16- to -19-year-olds who were not in the labor force. Of those, only 951,000 or about 8.3 percent said they want a job. Of those, only 48,000 indicated that they were discouraged. That is roughly 5 percent of those who want a job and less than 1 percent of the total 11.4 million teens not in the labor force.
The rising number of teenagers not wanting to work is not a post-recession trend. While the number of 16- to 19-year-olds not in the labor force who want a job has remained relatively flat since the mid-1990s, the number not wanting a job has steadily increased.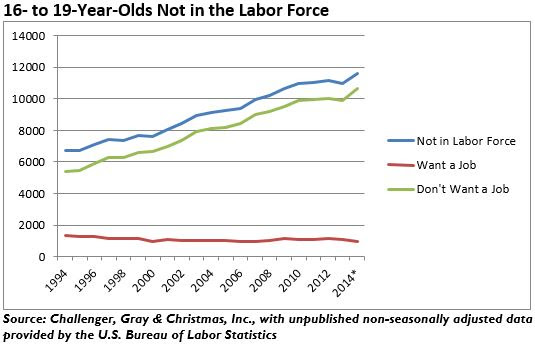 It is not that these teens are lazy. In fact, it is quite the opposite. They are spending more time on homework. More of them are involved in more extracurricular activities, to the extent that some parents are worried that their children are over-scheduled. About 4.6 million teens spend time volunteering, with nearly 40 percent averaging an hour or longer per week on these activities throughout the year. Additionally, more teens than ever are attending summer school. All of these factors take away from time that used to be spent in a traditional job.
A Bureau of Labor Statistics study shows that more teens are indeed attending summer school. In the summer of 2009, more than half (53.0 percent) of teens aged 16 to 19 years were enrolled in school sometime, a percentage close to 3 times higher than it was in 1989 (19.4 percent). While 2009 represents the latest available year for which data is available, the upward trend over the 20-year period suggests that summer school enrollment may be even higher now. Said Challenger.
For teens who want jobs this summer, there will be plenty of opportunities at many of the traditional settings: amusement parks, beaches, pools, summer camps, etc. However, some of the establishments that used to be heavy employers of teens on summer vacation are simply not hiring as many as workers these days. Brick and mortar retailers continue to lose ground to online stores. As a result, many are closing locations and/or cutting sales floor staff in order to keep costs down.

Meanwhile, fast food joints, restaurants, movie theaters, and other service establishments are also cutting their workforces. Moreover, the workforce for these establishments has gotten older over the years, as workers who might have found employment in factories 20 and 30 years ago are now relegated to lower-skilled, lower-paying jobs.
Indeed, the median age among fast food workers is now 29, according to the Bureau of Labor Statistics. Currently, teens make up about 16 percent of the fast food workforce, compared to 25 percent a decade ago. In retail, the average age of workers is 37 years old.
Even as the number of teens seeking jobs shrinks, competition for jobs among those who remain in the job market is still intense. Right now, there are more than one million unemployed 16- to 19-year-olds who are looking for work. By June, that number is likely to exceed 1.8 million. There are probably an additional 1.1 to 1.2 million who have stopped actively looking for work, but still want a job.

It is critical that teenagers not wait until the school year ends to start their job search. It is equally important that they take an active approach as opposed to a passive one that relies mostly on internet job boards. By getting out from behind the computer, young job seekers are likely to uncover opportunities that don't exist in the digital realm. Many mom-and-pop stores do not advertise job openings on the Internet. Nor do most families looking for babysitters, lawnmowers or housecleaners.

Use your parents, teachers, friends and friends' parents as sources for job leads. Try to meet with hiring managers face-to-face, as opposed to simply dropping off a completed application form. Most importantly, do not get frustrated by failure. Many teens give up after applying for a few jobs, concluding that 'no one is hiring teens this summer.' It may be necessary to cast a wider net. There are many summer job opportunities outside the confines of the local mall.