Econintersect:  Janet Yellin (pictured) is Vice Chairman of the Federal Reserve.  Unlike other voting members of the Federal Reserve who can speak their mind, Vice Chairs must talk the party line.  In a speach at the San Francisco Fed, Yellen stated:
The Federal Reserve continues to provide highly accommodative monetary conditions to foster a stronger economic recovery in a context of price stability. Moreover, the scope remains to provide additional accommodation through enhanced guidance on the path of the federal funds rate or through additional purchases of longer-term financial assets.

Seems like code-speak for Quantitative Easing (QE) where the Federal Reserve intends to buy debt.

For people looking for signs of QE, woven into this speach was the reason for more QE – the public holding of Federal debt. Money used in buying government debt can not used for purposes of economic expansion – as the money becomes parked.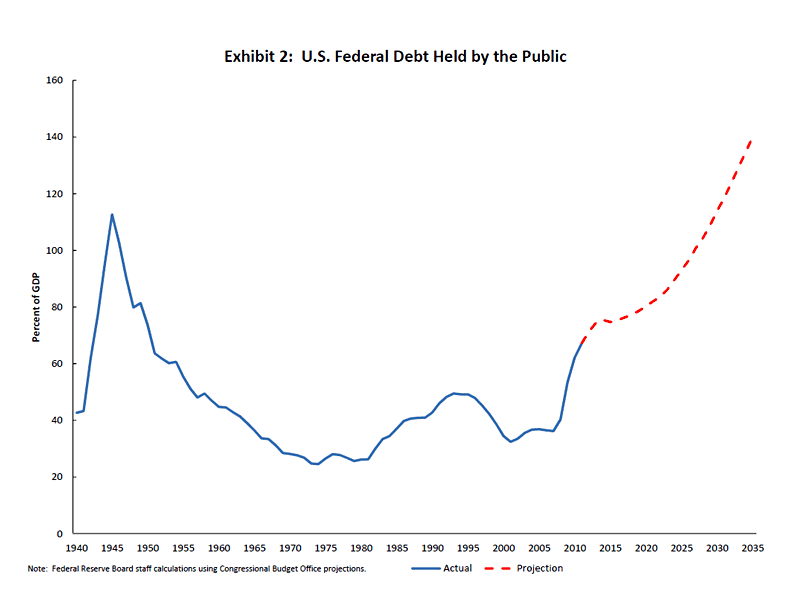 Yellen listed the current elements constraining growth in the USA:
Households are still deleveraging, corporations are reluctant to invest, and fiscal consolidation is needed over time to place public finances on a sustainable course.

The outlook is for unemployment to diminish only slowly, remaining painfully high for many years to come.

There are now clear signs of slowing growth in emerging market economies.

Downside risks to global growth have increased significantly because of rising financial market pressures, reflecting an intensification of stress in European banking and sovereign debt markets as well as broader concerns about the outlook.
Her conclusion (and likely the position of the Federal Reserve):
These circumstances call for concerted domestic policy actions to boost growth and create jobs. Indeed, as I already noted, we at the Federal Reserve are moving vigorously to promote a stronger economic recovery. However, monetary policy is not a panacea, and it is essential for other policymakers to also do their part. In particular, there is a strong case for additional measures to address the dysfunctional housing market. Stronger housing demand has the potential to boost recovery. The Congress and the Administration also can support the recovery in the near term while simultaneously putting fiscal policy on a sustainable trajectory in the long term.
As I have emphasized in this talk, there is also an urgent need for policy action from a number of countries. In Europe, forceful action is essential to address the region's fiscal and financial stresses, which pose a threat not only to growth but also to global financial stability. In addition, many emerging market economies, particularly in Asia, have the scope to bolster domestic demand. Such policies would support stronger, more balanced, and more sustainable global economic growth; they would enhance social welfare at home as well. The most profound effect of the Asian miracle of the past several decades has been to lift hundreds of millions of people out of poverty. Further actions to boost aggregate demand in Asia will ensure that this miracle is sustained.
source: Federal Reserve