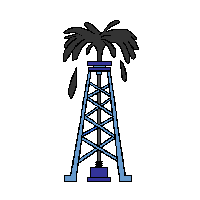 Econintersect: Most Americans don't realize that there is a boom going on in this country. Where is it? It's in North Dakota. The unemployment rate is only 3.5%, according to the BLS (Bureau of Labor Statistics). Where are all the jobs coming from? Oil! That's right, North Dakota is in the midst of an oil boom drilling in the Bakken oil field. And, if the most optimistic reports are realized, the oil reserves recoverable from the Great Plains and the Rocky Mountains could be several times larger than the record reserves of Saudi Arabia.  That brings us to Stephen Moore's headline in yesterday's Wall Street Journal: "How North Dakota Became Saudi Arabia." Before getting into Moore's article, Snopes has an article that quotes some estimates of potential recoverable reserves as large as 1 trillion barrels and more, but the Snopes research backs the most believable estimates that can be obtained as of March, 2011 at more like 3.65 billion barrels (USGS – U.S. Geological Survey 2008 estimate) for the Bakken oil field. That is more like one year of imported oil and would not significantly reduce U.S. oil imports.  The USGS can make big changes in estimates though.  The 2008 figure replaced the last previous estimate of 151 million barrels made in 1995.
But the stories about huge oil reserves aren't going away quietly. The Moore article in The Wall Street Journal quotes oilman Harold Hamm, discoverer of the Bakken oilfield:
Harold Hamm, the Oklahoma-based founder and CEO of Continental Resources, the 14th-largest oil company in America, is a man who thinks big. He came to Washington last month to spread a needed message of economic optimism: With the right set of national energy policies, the United States could be "completely energy independent by the end of the decade. We can be the Saudi Arabia of oil and natural gas in the 21st century."
Hamm says the USGS is way off on the Bakken reserves. He says they are at least 24 billion barrels. He says that his company's proven reserves have increased by more than 3.5x in the past five years and expects them to triple in the next three. Current proven reserves for Continental Resources stand at 421 million barrels.
The U.S. is importing close to 4 billion barrels a day, but 40% of that is from Mexico and Canada. Mexican oil production has been tailing off so that source may be diminishing in the future. Canadian production is expected to be maintained for some time.  So if Hamm is correct, the Bakken might contain 10 years (and very possibly less) of "replacement oil" for that coming from outside North America today.
More is needed than even Hamm's estimate for the Bakken field to achieve oil independence. Some of the many other large estimates of oil reserves in the west will have to become proven for the U.S. to divorce the Saudis.  Careful examination of the facts finds Stephen Moore's headline misleading. He wrote: "How North Dakota Became Saudi Arabia."  Even using Hamm's 24 billion barrel estimate, Moore is still more than 90% short of Saudi Arabia's claimed reserves.
---
Note: The unemployment rate in North Dakota may actually be too low to be economically healthy. Many economists think that effective full employment is somewhere around 5% since there are always some people between jobs. This concept was developed by Nobel Laureates Milton Friedman and Edmund Phelps in the 1960s and the term most often used by economists is "structural unemployment rate" although "natural unemployment rate" is also used. (See Wikipedia.)  Hamm stated in the Moore article that there a presently 18,000 unfilled jobs paying $60-$80k per year in North Dakota.

---
Sources: BLS, Snopes and The Wall Street Journal
Sanjeev Kulkarni contributed to this article.