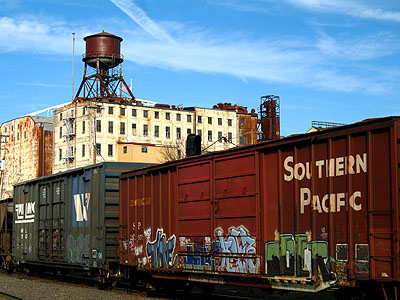 Econintersect:  Rail traffic improved this week but continues to remain in danger of contracting year-over-year in week 31 of 2011 ending 06 August 2011 according to rail data provided by Railfax.
Rail performance year to date for 2011 has been in an overall downtrend.  The four week trendline until the last weeks in June was holding steady between 3% to 4% year-over-year improvement – has improved slightly this week to 0.7% from last week's 0.0%.  Econintersect believes this is a warning signal of economic weakness as material movement in the USA is in danger of falling below 2010 levels.
The major weakness comes from coal transport which the 4 week average is now off an improved 4.3% year-over-year currently (up from over -0.6% last week – but is a major portion of rail car loadings.  Coal is a commodity which can be substituted for other sources of energy – and the lower counts are not necessarily indicative of a contracting economy.  However, intermodal transport is a good economic indicator – and the 4 week average improved to 1.9% from last weeks 1.3% year-over-year gain.
Year-to-date gains have fallen from 4.3% to 4.1%.
| | | | | | | | | | |
| --- | --- | --- | --- | --- | --- | --- | --- | --- | --- |
| Major Commodity Groups | Total | Grain | Chemicals | Food | Forest | Metals | Coal | Autos | Intermodal |
| Current Week | | | | | | | | | |
| Vs. 2010 | 1.1% | (21.1%) | 1.2% | (5.9%) | 3.1% | 5.8% | 1.5% | 13.3% | 1.9% |
| Vs. 2009 | 11.3% | (12.0%) | 6.6% | 0.3% | 5.5% | 36.9% | (1.9%) | 25.1% | 20.8% |
| 4 Week Rolling Avg. | | | | | | | | | |
| Vs. 2010 | 0.7% | (8.4%) | 3.7% | (2.9%) | 2.8% | 10.7% | (4.3%) | 11.1% | 1.8% |
| Vs. 2009 | 12.3% | (1.5%) | 11.8% | (1.0%) | 6.5% | 41.7% | (4.0%) | 27.4% | 21.6% |
| Quarter to Date | | | | | | | | | |
| Vs. 2010 | 0.2% | (8.7%) | 4.3% | (2.8%) | 3.5% | 10.8% | (5.5%) | 8.5% | 1.4% |
| Vs. 2009 | 10.0% | (3.3%) | 9.9% | (3.2%) | 5.2% | 40.9% | (6.4%) | 23.9% | 19.3% |
| Year to Date | | | | | | | | | |
| Vs. 2010 | 4.1% | 5.4% | 5.2% | (3.0%) | 3.7% | 8.5% | (0.4%) | 7.3% | 6.7% |
| Vs. 2009 | 14.4% | 19.7% | 16.5% | 0.2% | 7.1% | 58.0% | (1.6%) | 44.3% | 21.3% |
Source: Railfax