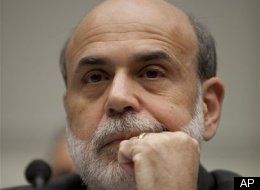 Econintersect:  Fed Chairman Ben Bernanke warned that not raising the debt limit even for short periods would:
cause severe disruptions in financial markets and the payments system,
induce ratings downgrades of U.S. government debt,
create fundamental doubts about the creditworthiness of the United States, and
damage the special role of the dollar and Treasury securities in global markets in the longer term.
Chairman Bernanke went on to say that the impact of not raising the debt ceiling in a timely manner means:
……interest rates would likely rise, slowing the recovery and, perversely, worsening the deficit problem by increasing required interest payments on the debt for what might well be a protracted period.
Bernanke offered no new magic formula for bringing the budget under control, but seemed to indicate that the ten year plan of the National Commission on Fiscal Responsibility and Reform was the way to go.  In conclusion:
The task of developing and implementing sustainable fiscal policies is daunting, and it will involve many agonizing decisions and difficult tradeoffs. But meeting this challenge in a timely manner is crucial for our nation. History makes clear that failure to put our fiscal house in order will erode the vitality of our economy, reduce the standard of living in the United States, and increase the risk of economic and financial instability.
source: Federal Reserve