Econintersect:  BBC Mobile News reports on archeological research in southern China which has recovered ancient remains of modern humans.  Partial remains unearthed in 2007 have been analyzed and appear to place modern humans in eastern Asia 100,000 years ago, more than twice as old as settlement was previously believed to have occurred.  The remains were spotted by scientist Chang-Zhu Ji, part of a team led by Wu Liu from the Chinese Academy of Sciences, during excavations at Zhirendong (Zhiren Cave), a site in Southern China.
Scientists say the jaw is distinctly modern human in form.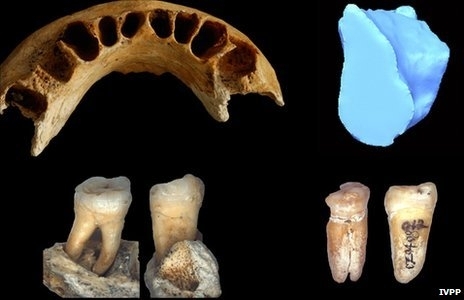 From the BBC article:

Dr Trinkaus explained to BBC News that the ancient remains mean modern humans co–existed with our closest relatives – Neanderthals and Neanderthal–like people – across Asia.
"There are some archaic features in the specimen and that suggests to us that these are not just simply modern humans coming out of Eastern Africa, but somewhere along the way they probably intermixed with regional groups of archaic humans," Professor Trinkaus told BBC News.
Dr. Erik Trinkaus, who took part in the study, is from Washington University in St. Louis and R Lawrence Edwards from the University of Minnesota in Minneapolis.
The archeological evidence in South China predates evidence further north in Europe and Asia by 60,000 years.  Trinkaus also said:

"It means that there was something that allowed these modern humans to spread across southern Asia, but at the same time they weren't able to spread further north across Asia or into Europe – they did not [have] this overwhelming superiority that is sometimes attributed to modern humans since they clearly didn't spread across all of the old world at this time period."
It will be interesting to see how this new discovery may relate to the report that a fourth kind of humanoid species may have existed in ancient times and cross–bred with homo sapiens in the early history of the Australian aboriginal people.
It will also be interesting to see how thinking will evolve about the impact on modern humans of cross–breeding between homo sapiens, Neanderthals and other archaic humanoids.  If this latest discovery is upheld with further research, the "mongrelization" of modern humans may be much greater than originally thought.  It was recently discovered through genetic research that all humans, except for sub–equatorial Africans, have 1-4% Neanderthal DNA.  The coexistence of homo sapiens with Neanderthals across a wide geographic region for 80,000 years or more make it surprising that there is not a greater residual DNA.  Perhaps there was essentially a segregated social structure with only occasional intimate contact?
It is now believed that early hominids (pre-homo sapiens) may have migrated out of Africa into Asia 1-2  million years ago.  The subsequent emergence of Neanderthals may have derived from these early migrations.  Alternatively, Neanderthals may have developed from a later dispersion of hominids from Africa.  And even later, Cro-Magnons were likely early migrations of homo sapiens.  See the 1996 paper by Roy Larick and Russell L. Ciochon for extensive discussion of the deep history of modern man and his precursors.
Sources: BBC Mobile News, GEI News, American Scientist and Seeking Alpha