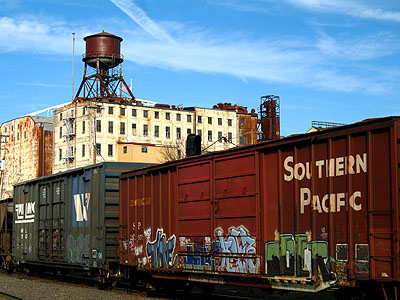 Econintersect:  Rail traffic YoY growth narrowed in week 8 of 2011 ending 26 February according to Railfax.
The big growth in rail traffic occurred in the 1st quarter of 2010 – and year-over-year comparisons will shortly be compared to larger base data.  2011 performance to date has been very strong.
Rail traffic in the current week slumped from 11.9% year-over-year last week over 2010 levels to 4.4% in this eighth week of the New Year.  Year-to-date gains fell from 7.7% last week to 7.3% this week.
| | | | | | | | | | |
| --- | --- | --- | --- | --- | --- | --- | --- | --- | --- |
| Major Commodity Groups | Total | Grain | Chemicals | Food | Forest | Metals | Coal | Autos | Intermodal |
| Current Week | | | | | | | | | |
| Vs. 2010 | 4.4% | 2.3% | 1.4% | (10.4%) | 2.5% | 5.6% | 2.3% | 0.9% | 7.2% |
| Vs. 2009 | 13.0% | 18.0% | 12.3% | 0.9% | 9.4% | 36.2% | (4.2%) | 20.1% | 25.9% |
| 4 Week Rolling Avg. | | | | | | | | | |
| Vs. 2010 | 6.8% | 1.1% | 3.9% | (8.1%) | 5.7% | 11.0% | 4.0% | 11.2% | 10.3% |
| Vs. 2009 | 10.1% | 9.9% | 13.6% | 0.2% | 3.9% | 34.9% | (6.2%) | 34.7% | 21.4% |
| Quarter to Date | | | | | | | | | |
| Vs. 2010 | 7.3% | 5.5% | 5.2% | (5.6%) | 5.6% | 13.8% | 6.4% | 7.1% | 8.9% |
| Vs. 2009 | 9.3% | 18.9% | 15.6% | 2.0% | 3.6% | 38.5% | (5.2%) | 48.8% | 15.6% |
| Year to Date | | | | | | | | | |
| Vs. 2010 | 7.3% | 5.5% | 5.2% | (5.6%) | 5.6% | 13.8% | 6.4% | 7.1% | 8.9% |
| Vs. 2009 | 9.3% | 18.9% | 15.6% | 2.0% | 3.6% | 38.5% | (5.2%) | 48.8% | 15.6% |