Money Morning Article of the Week
by Kent Moor, Money Morning
Whenever oil prices drop, everyone always wonders how it will affect wind and solar power.
It follows from the traditional assumption that renewables like these are only competitive when oil and natural gas prices are high.
After all, the early stages of wind and solar power came with a hefty front-loaded price tag, requiring massive government subsidies to both producers and end users to get off the ground.
Some states even introduced legal measures that required that utilities buy a certain percentage of their energy needs only from renewables.
All of this only added to the wider perception that renewables couldn't truly contend, especially if oil and natural gas prices fell.
But those days are now rapidly coming to an end…
The Key to All the Controversy Is Grid Parity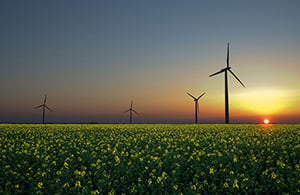 The larger truth is that the wind and solar landscape has changed significantly. Most of the subsidies have been phased out, and mandatory renewable energy purchases are now facing significant political opposition.
As utilities have argued for years, both the subsidies and the obligated energy buys have translated into higher costs to the consumer.
There is also the common problem built into renewable electricity production: Since the power cannot be stored, it's not always available when needed.
After all, the sun doesn't always shine and the wind can suddenly go calm. That has required energy producers to duplicate sourcing in a legal no man's land, adding to the effective expense.
Of course, environmentalists have long maintained that even some additional cost is worth the major advantage gained on the pollution side. Needless to say, solar and wind remain far less damaging to the environment, even though wind towers create dangerous impediments for birds, especially migrating fowl.
Yet it is ultimately price that will put an end to all of these controversies.
And in this case there's always one overriding consideration, often looked upon as the Holy Grail for renewables.
It's something called grid parity.
Grid parity refers to different sources of energy being able to deliver electricity at the same cost. Subsidies aside, everything from the family budget to broader economic recoveries hinges on the reliability and expense of electricity.
What's new and not that well-known is that solar power has reached grid parity in several regions of the West and Southwest, while wind is reaching that point in Texas – where more power is generated from wind than anywhere else in the country.
So if grid parity is practically here, how is the situation different now that oil prices are lower?
Well, that depends on where you are in the world.
A Place Where Ebola and Insurgents Aren't the Only Problem
Oil products are no longer the main source of electricity in North America or Western Europe. In these areas, the primary battleground for market position will be with natural gas.
Yet, in other parts of the world, the use of oil to generate power is significant. These also happen to be areas where the demand for power is growing at the highest rate. West Africa in general – and Nigeria in particular – is a prime example. The combination of Ebola and radical insurgency may be capturing the headlines there these days, but the electricity situation in this area is a major story as well.
Now, that may seem odd on the face of it. Nigeria is a major producer of light sweet crude, the most desirable of oils. However, its refinery sector is in shambles, which means most of the crude is shipped out of the country as raw material.
That's critical, since they can only generate about 25% of the electricity needed on a daily basis. The gap is filled with diesel and other oil products, making oil the primary energy source.
Because the diesel cannot be produced locally in sufficient volume, it must be imported. So the following irony ensues: One of the world's leading oil producers has to import oil products to provide three-fourths of its daily power requirements.
So in places like this, the price of oil does indeed make a fundamental difference in the availability of electricity. And while there are moves to introduce renewables in these areas, there's neither the political will nor sufficient working capital to accomplish it. A vicious cycle has taken root.
It's All About the Price

A Crash Bigger than 2008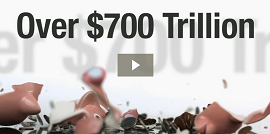 Watch the full presentation.
Meanwhile, the low cost of both coal and oil has virtually scuttled a national campaign for renewable energy in Australia. This was also accompanied by some very poor national planning and equally faulty economic assumptions at the outset.
In the U.K., the battle is over onshore wind power. Offshore power is already part of the grid. However, the industry is now looking suspiciously at the Conservative Party agenda should they retain 10 Downing Street (independently or in coalition) after the next Parliamentary election.
In fact, The RenewableUK 2014 conference began on Nov. 11 in Manchester, and the kickoff speech by the trade body's chairman, Julian Brown, left little doubt where the industry thinks the lines are being drawn.
Brown addressed the price issue first, emphasizing that wind power (generated mainly offshore in the North Sea at this point) is approaching grid parity. It is still subsidized, and that has been an increasing political issue. The current conservative leadership is pushing for new nuclear plants (owned by foreigners, no less) and an expansion of fracking to exploit available shale gas.
Aside from providing a general barometer for energy prices, the decline in oil is less a major threat to wind power in the U.K. than the availability of alternative substitutes for both oil and coal. Wind has the strong support of environmental groups, but they hardly sway either side of the aisle in the House of Commons.
The simple fact of the matter is this: Wind power will not achieve parity there unless it can be expanded onshore. That is where the next political fight is looming. It has already become a partisan issue and is likely to divide the country. Despite opting not to become independent, Scotland is already ground zero in this developing donnybrook.
In the United States, the rise of shale and tight oil as a major energy ingredient doesn't directly translate into a threat for renewables, since there is so little electricity generation coming from oil now or in the future. Once again, this becomes a pricing issue, with oil serving as a surrogate standard.
Achieving grid parity is more a perceptual matter than anything else, and (rightly or wrongly) consumers view this rather straightforwardly as what translates into their monthly bill.
It's not surprising, therefore, that a renewable offensive has already begun. The American Wind Energy Association has just come out with an analysis concluding that wind power in Texas adds at least $3.3 billion annually to the state economy, with $1.2 billion in savings yearly to consumers.
As in the U.K., the push is coming from an industry lobbying group with an obvious vested interest in the outcome.
Nonetheless, the arguments in defense of renewables are moving into the category that used to be the primary argument used against them by their opponents.
Price.
This is going to get really interesting.