by Lee Adler, Wall Street Examiner
Editor's note:  Written a month ago this is still a timely "long-view" of initial unemployment claims trends.
The headline, fictional, seasonally adjusted number for initial unemployment claims came in at 278,000, slightly less than the Wall Street conomist crowd consensus guess of 285,000. That was a non event.
The actual, not seasonally finagled numbers, shows claims continuing at all time record levels. The condition has now persisted for 13 months. Extremes like this have always led to severe market and economic contractions. But this time is different, I suppose. Even though the Fed has put its printing presses back in mothballs, the world's other major central banks continue to print, or try to, and a large measure of the excess capital created continues to flow into the US. The question is how long this artificial inflating of the US economy can continue.
According to the Department of Labor the actual, unmanipulated numbers were as follows. "The advance number of actual initial claims under state programs, unadjusted, totaled 266,155 in the week ending November 1, a decrease of 5,170 (or -1.9 percent) from the previous week. The seasonal factors had expected an increase of 4,604 (or 1.7 percent) from the previous week. There were 331,867 initial claims in the comparable week in 2013."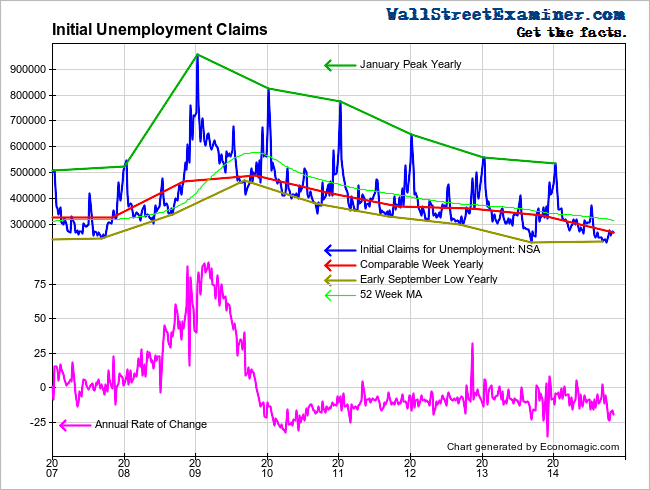 Initial Claims and Annual Rate of Change – Click to enlarge
The actual week to week change last week was a decrease of around 5,000, which is a stronger than usual performance for this week. The average of the prior 10 years for that week was an increase of approximately 6,500. In both 2012 and 2013, that week had increases.
Actual first time claims were 19.8% lower than the same week a year ago. The normal range of the annual rate of change the past 3.5 years has mostly fluctuated between approximately -5% and -15%. The past 5 weeks have had a series of extreme readings that are outside the normal range. There are no signs of weakening yet.
New claims were 1,904 per million workers counted in September nonfarm payrolls. This number is far lower than the ratio in the comparable week at the top of both the housing bubble in 2006 and the internet bubble in 1999.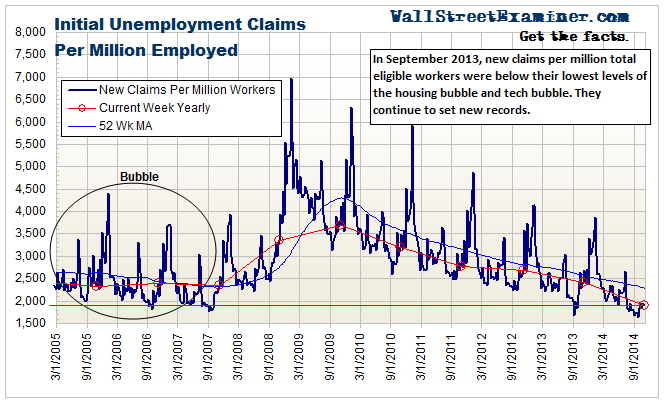 Initial Claims Per Million Workers – Click to enlarge
These numbers persisted at extreme levels at the tops of the last two bubbles for a year before the collapses got rolling. The foundations were already beginning to crumble by the time the first anniversary of record readings rolled around. The current condition has persisted for 13 months. Is this time different, or just more extreme? Massive central bank money printing did not exist on the prior occasions. This time the bungee cord is being stretched more than at any time in history. There's always an adjustment. This time will be no exception. Only the timing is at issue.