by Lee Adler, Wall Street Examiner
I'm way behind the tax ball this week, but I wanted to get this even busier and more important chart out to you. It tells a story about the success of QE in making stock market speculators rich, but as for everyone else, not so much. While nominal retail sales have increased, there has been virtually no growth in US real retail spending per person since 2012 after a tepid 2009-2012 recovery. Lately even nominal sales have slowed.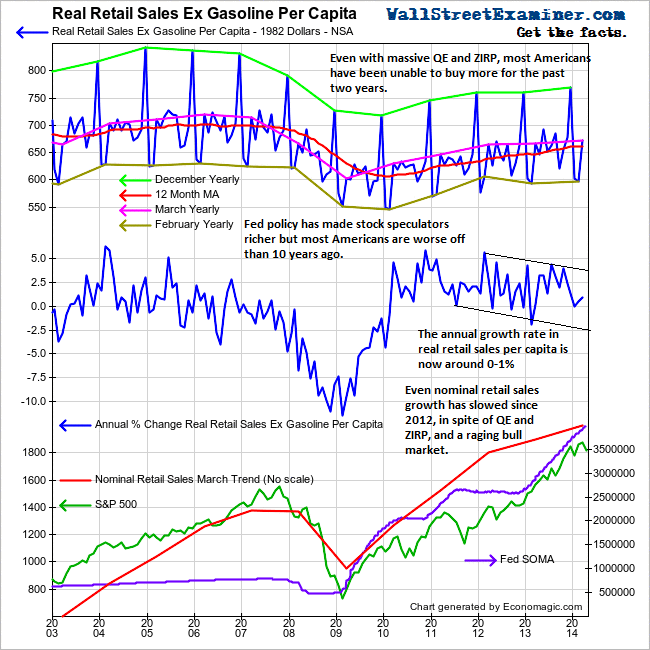 Real Retail Sales Dead In the Water at 2003 Level – Click to enlarge
In 2010, Ben Bernanke said that QE would boost stock prices, and that people would spend more, benefiting the economy. Apparently he was wrong about that too.
Meanwhile, the reality is probably even worse than this chart reveals. Retail sales per capita are boosted by growing foreign buying as each year millions of tourists, not to mention border dwelling Canadians, swarm into US retail stores to shop. If these gains were to be removed from this data, the picture would be both clearer and darker. The US economy is a disaster for most Americans. It explains why, even after 5 years of "recovery" consumer sentiment has barely reached its long term downtrend line. Most Americans are doing worse.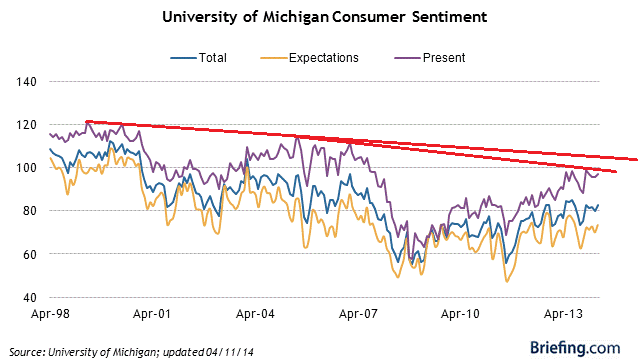 Sentiment Remains In Long Term Decline
Under the circumstances no bubble can be sustained, regardless of central bankers willing it to. Fictitious capital must eventually be replaced by real sales gains, and that is not happening.