by Lee Adler, Wall Street Examiner
Conomists think that just because they saw something happen once, it's universal truth. News flash. The only constant is change. In every era we must connect the dots to figure out what makes sense now, not what made sense in the last cycle or, worse, 80 years ago.
The strong, and widely ignored, growth of bank lending is an example.
Bank loans excluding loans on securities collateral grew by 7.3% year over year in the week ended January 21, as those loans fell slightly that week after reaching a new all time high in late December. These are non-financial loans to businesses and individuals. The year long parabolic rise suggests a bubble that may be blowing off.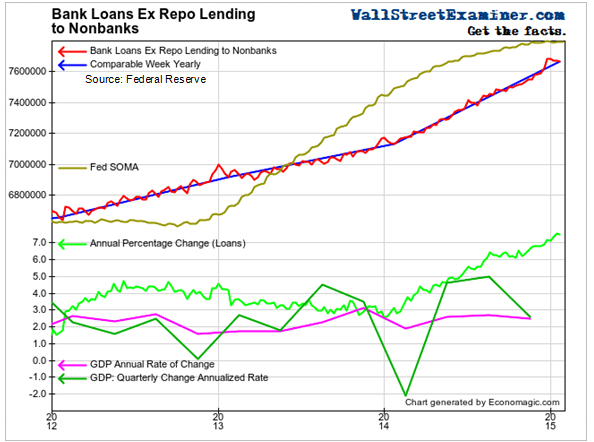 As Bank Loans Accelerate, Growth Stalls – Click to enlarge
Conomists and assorted Wall Street media pundits have been bleating that US growth has been slow due to tight credit, when the data show and common sense tells us that credit has been anything but tight. So where's the economic growth. The new GDP data shows that the increase in bank lending has not seen a corresponding uptick in US growth. The annual growth rate in GDP was actually higher a year ago when loan growth was less than half of today's growth rate. So much for the theory that tight credit was holding back growth.
There's no support for that conomic theory, just as with all of the other widely believed doctrines of the religion of Conomics. The high priests of the cult develop their doctrines based on delusional misinterpretation of one-off events or trends. Those occurrences had never happened in quite the same way before and will never happen in quite the same way again. But the priests of Conomics like to extrapolate that one time as a universality, a permanent truth, even though they usually misinterpret what happened in the first place. Sadly, that's the case with Ben Bernanke, Janet Yellin, Mario Dragass, and Harikari Kuroda, people whose delusions are so powerful and who are so manipulative that they manage to amass great power while being devoid of insight. It's a deadly mix.
In that regard, here are a few data points from the Fed's balance sheet and banking data that show clearly
"What's happenin' now."
Click here to download complete report in pdf format (Professional Edition Subscribers) including illustrative charts and clear, cutting edge analysis that you can use to gain an edge in the market. Try the Professional Edition risk free for thirty days. If, within that time, you don't find the information useful, I will give you a full refund. It's that simple. 30 day risk free trial for new subscribers. Click here for more information.