New Video
by Lee Adler, Wall Street Examiner
Janet Yellen's favorite indicator, the Job Openings and Labor Turnover Survey (JOLTS) jolted investors on Tuesday, as job openings hit their highest levels since 2007. The Wall Street captured media was ebullient, with Marketwatch headlines screaming "Hiring hits fastest pace in almost 6 years,"
While Bloomberg bellowed:

in a font that was bigger than would fit in this column.
Naturally the spin in these stories was that this was unequivocally good news, signaling an improving labor market. But is it really good news?
I don't think so. I think it's a manifestation of an overheated bubble economy. I may be the only person in the world of Wall Street punditry who thinks that, but hey, I'm used to being out there all by myself. Observing and reporting facts is a dark and lonely job, but somebody has to do it.
The actual, not seasonally adjusted data looked like this. The year to year growth rate was a smashing 17%, the highest since November 2012, and a breakout from the recent growth range. What could be wrong with that? The answer is clear on this chart.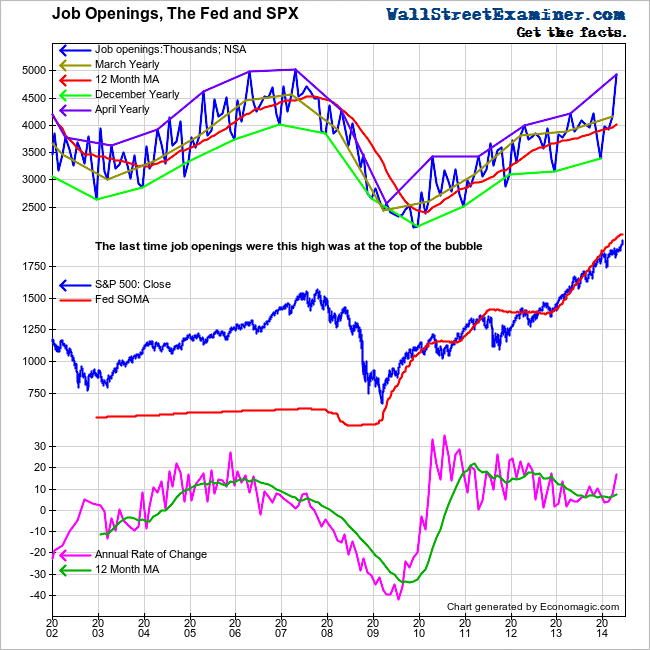 Fed Printing JOLTS Market – Click to enlarge
The last time there were this many job openings was at the top of the housing/credit bubble. The end was nigh. This data suggests that the current, central bank driven, financial engineering credit bubble is also blowing its top. Instead of real estate agents and construction workers, this bubble is generating jobs for rocket scientists turned financial alchemists and for the legions of people who clip their hair, finger and toenails and their arborvitae hedges.
Furthermore, this data is for April. We have to wonder where this line is now as it follows the stock market blowoff into the stratosphere. The end of this asset crackup boom is probably not too far off.