by Lee Adler, Wall Street Examiner
The advance number of actual initial claims under state programs, unadjusted, totaled 286,916 in the week ending May 3, a decrease of 31,211 (or -9.8 percent) from the previous week. The seasonal factors had expected a decrease of 7,591 (or -2.4 percent) from the previous week. There were 301,602 initial claims in the comparable week in 2013. – Department of Labor (DOL)
Initial unemployment claims were 5.2% lower than the same week a year ago. This is within the range of the past 3.5 years which has typically fluctuated between -5% and -15% with a handful of outliers.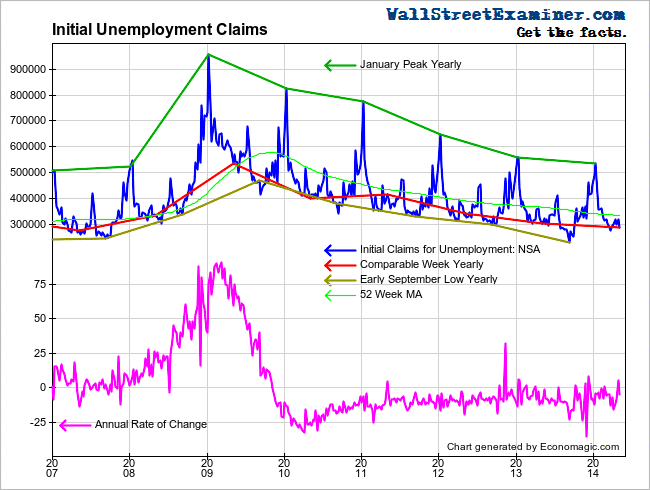 Initial Unemployment Claims – Click to enlarge
The seasonally adjusted headline number was 319,000. According to one major survey, the consensus of Wall Street economists was for a gain of 325,000. The seasonally adjusted number is a fictitious number made up to smooth the trend to account for seasonal differences. While these numbers are a representation of the trend, they sometimes give false impressions. This week the headline impression and the actual trend were consistent.
Regardless of whether the headline print accurately represents the reality or not, the market reacts to that headline print, not the actual trend. While this data is not a market trend driver, it is of interest as a potential early warning indicator that the stock market trend is not consistent with the trend of the economy. It alerts us to bubble behavior.
The actual weekly change of a decrease of 31,000 was better than the 10 year average for this week of a decline of -3,600. In the first May weekly reading last year the week to week change was an increase of -1,600. The current reading was significantly better.
The current weekly number was at the strongest level since 2007. New claims were 0.207% of total nonfarm payrolls. That is similar to the May 2007 reading of 0.204% in May 2007 as the economy was just about to collapse. At the end of the housing bubble in May 2006, the rate was just 0.235%. By this standard, the economy appears to be stretched to its limit. This is as strong as it is likely to get.
One thing seems clear. While stocks have run away in a Fed printed bubble under QE3-4 since November 2012, jobs have not seen a similar benefit. A similar divergence developed in 2007.