by Lee Adler, Wall Street Examiner
The recent report that the US housing inflation bubble has slowed is just another case of the pundits and the media running with bad data, in this case the worst housing indicator in the world, the Case Shiller Index.
Every month I'm obligated upon the release of Case Shiller to correct the record. This index reports the 3 month average price of officially recorded sale prices at county courthouses. Here at the end of June, that's data for February, March, and April, in other words the average price for the period with a time mid point of mid March. Since sales typically take about 45-60 days to close, the Case Shiller Index represents the average contract price for somewhere around mid to late February. It is now late June. Do we care today where the 3 month moving average of the Dow Jones Industrial Average was in late February? Remind me again why a 3 month average house price in February is relevant now?
Based on the Case Chiller reporting "just" a 10.8% annual gain in (ahem cough cough) "April" the Wall Street captured media concluded that house price gains had slowed. That was based on the consensus guesstimate of Wall Street conomists for a "gain" of 11.6%. They call these increases "gains." I call them "inflation." But the government doesn't count house prices in the CPI, and the standard conomic definition of inflation treats any asset prices as if they don't exist. Inflation is conventionally defined as consumer prices. So if you define inflation to exclude that which is inflating, and furthermore even refuse to count ordinary things like house prices, then yes, there is no inflation. And hey, who doesn't like "gains," especially when it comes to the "value" of your house! But I digress.
The 10.8% housing inflation rate Case Shiller reported represented the 3 month average contract price in February. Meanwhile indicators that are closer to real time tell a different story. Closed sale prices collected by Corelogic for April showed a 2.1% month to month gain. Contract prices showed a 1% gain, suggesting that May closed sale prices will be up by that amount.
Dataquick's reporting of closed sale recordings for 99 of the top 100 US metros for the 4 weeks ended June 19 (likely representing contracts from late April) showed a 1.76% month to month increase. That was after May data had shown zero increase for March-April closed sales. There was apparently a brief slowdown at that time, which Case Shiller is just now catching up with, but that has long since been reversed. The NAR's April closed sales jumped by 5.9% from March. Contract prices collected by Redfin for 19 large US markets for May showed a 3.6% month to month gain, suggesting that when those sales are finally recorded in July and reported in September, the data will show whopping "gains." Who knows where the real data will be by then?
Finally, Housingtracker.net's real time average listing price for 55 large metropolitan markets showed a monthly increase of 2.6% in May. Subsequently released lagging sales price data has consistently shown the aggregate listings price data to accurately reflect the market trend in real time, although not the actual level, because listing prices are obviously higher than sale prices. Housingtracker data for late June did show a sharp month to month slowing to a rate of about 0.7% but this is a seasonal factor. Prices normally peak in June before settling back somewhat for the rest of the year.
By current measures of house prices, housing inflation continues to rage. The brief period of slowing in late winter and early spring has reversed with a vengeance. The conclusion that house price inflation is slowing is based on ridiculously old, overly smoothed data that only now is reflecting a brief slowing in contract prices for the January to March period. Contrary to what the Case Shiller Index reported for April, prices had roared back by then, and they have continued to bubble higher since. The housing price inflation bubble is alive, and it's turning into a real monster.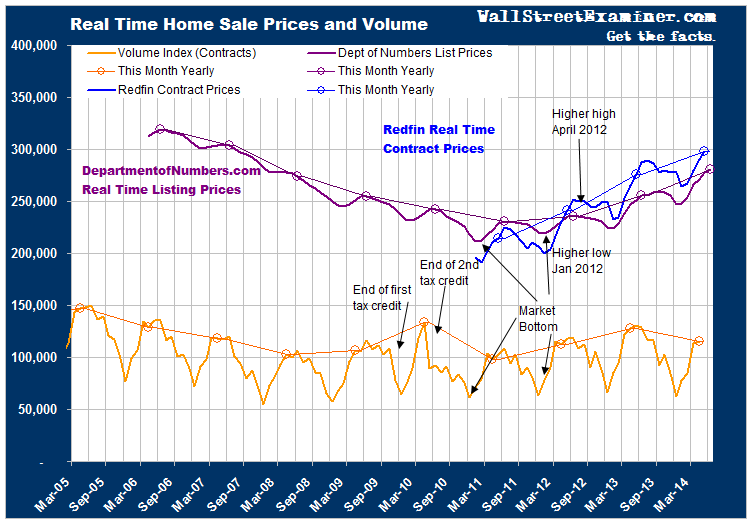 House Price Inflation Monster Lives- Click to Enlarge