by Lee Adler, Wall Street Examiner
Markets top out when the news is good. Good news gives central banks the excuse they need to pull the punchbowl. In that respect, yesterday's "bad news" on retail sales was bad news for stock market bears.
But behind the headline numbers, which were grossly misleading, the news wasn't bad at all. In fact, in economic terms, the numbers were "good." And behind the misleading top line, the number excluding collapsing gasoline sales and on the basis of real, inflation adjusted sales per capita December was an absolute blowout. Individual consumers did spend more, a lot more, in December, and did spend their "gas savings" on other goods. The actual, unseasonally manipulated data leaves absolutely no doubt about that.
This means that the January headline numbers will need to be massively adjusted upward, and the December headline seasonally adjusted number revised upward, to reflect reality. The markets will react negatively as traders speculate that the Fed will move more aggressively to raise interest rates.
December's year to year gain in real retail sales excluding gasoline per capita was +4.9%. Remember, this excludes inflation. It's akin to the real unit volume of sales. It was the strongest year to year increase in real sales since February 2012.
The month to month change from November was a gain of 17.2%. Obviously December is always an up month versus November. So to get a handle on whether this gain was strong or not we must compare to past Decembers. The 17.2% gain was just below the 10 year average of 17.6% for December. But it was significantly stronger than December 2013 and December 2012, which rose by 13.6% and 14.7% respectively. This is an indication of increasing consumer momentum this year versus the past 2 years.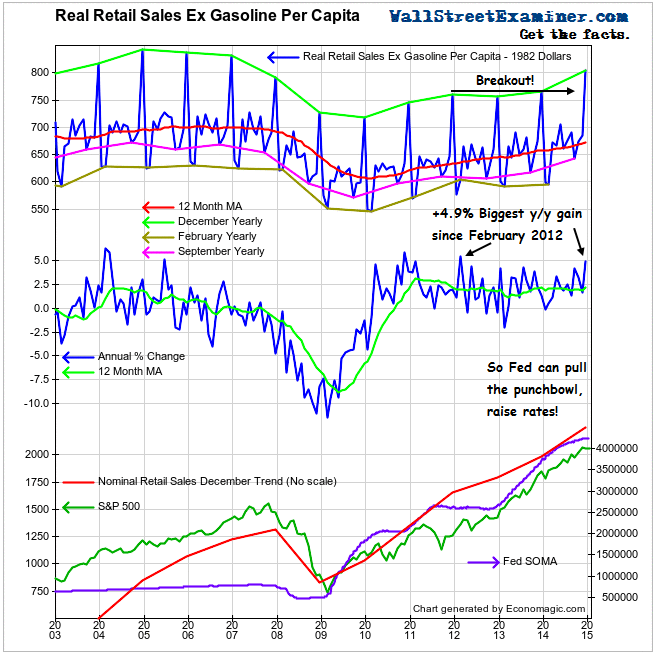 Blowout Retail Sales- Click to enlarge
Applying a little technical analysis to the chart, perhaps the most important takeaway is that per capita real sales ex-gas broke out of the flat trend of the past 3 years and rose to the highest level since 2007. Consumers suddenly began spending like there's no tomorrow.
Is this is a sign that consumers are healing or simply going on a drunken spending binge from the $50 a month they're saving in gas? As David Stockman pointed out, much of the gain was easy credit driven auto sales. I tend to agree that these gains are not indicative of "healing" but rather just more of the easy credit driven craziness that marks the end stages of all bubbles. Either that or you must believe that consumers will keep buying new cars like there's no tomorrow.
This spike in retail sales could be the end stage of the cheap credit bubble we have been in for the past 6 years. And when the media and pundits have to adjust for the massive misrepresentation of the December numbers, traders won't like it. The speculation on the next Fed rate rise will flare again, correctly this time.