by Lee Adler, Wall Street Examiner
The seasonally adjusted nonfarm payrolls headline number for jobs added in October was 214,000. The consensus guesstimate of Wall Street economists had been for a gain of 235,000. The market had virtually no reaction to the slight miss. The mainstream media focused on the upward revisions for August and September and the strong overall growth rate.
The actual, unadjusted jobs count was rose to the strongest annual growth rate since the recovery began in 2009. The problem has been that the quality and wages of the new jobs, consigns many job holders to a form of feudal serfdom in low pay, no benefit occupations that will barely cover most families' monthly living expenses. David Stockman does an in depth review of where the jobs are each month at DavidStockmansContraCorner.com. Look for that later this weekend.
The actual year to year gain in nonfarm payrolls of +2.03% continued a string of increasing annual growth that began from a low of +1.55% in February. The previous highest growth was in January 2012 at +1.92%.
While most conomists would opine that the strong jobs growth is a good thing, my position through the past year has been that the these numbers indicate a distorted economy that is overheated in the sectors that have padded the growth rate. In fact, the last time year to year growth in nonfarm payrolls was this strong was in March 2006 at 2.15%. That was at the top of the housing bubble.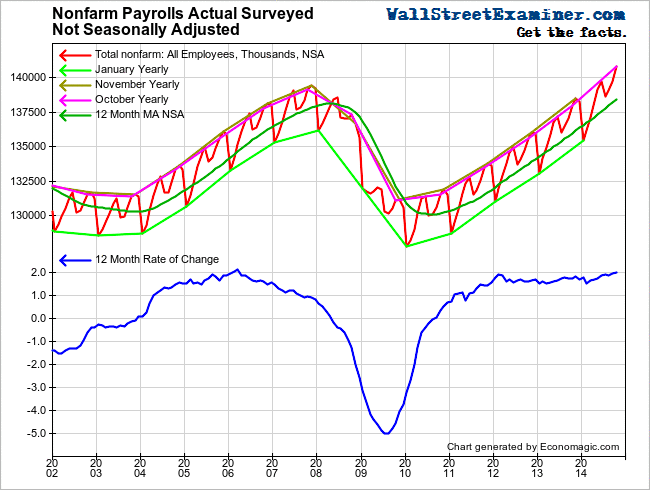 Nonfarm Payrolls Growth Rate at 2006 Bubble Level – Click to enlarge
I had predicted that the headline number would come in below Wall Street conomist consensus expectations based on somewhat weak withholding tax collections during the October 12 reference week. Those collections strengthened through the remainder of October and early November. I track the real time withholding tax collections in the weekly Treasury update. This month has started strong and another bubble level rate growth rate in low pay feudal serf jobs can be expected for November.