Or Has Wall Street Knee Jerk Media Missed The Story Again?
by Lee Adler, Wall Street Examiner
The Wall Street-Washington, self congratulatory media echo chamber press release repeaters got all excited this morning about a bump in the seasonally adjusted headline number for the BLS employment cost index. That number rose by 0.7% on a quarter to quarter basis. The Wall Street economist crowd's consensus guess was for an increase of 0.4%.
Seasonally adjusted numbers are fictional and subject to repeated after the fact revisions, so there's really no way to know whether they accurately represent reality or not. The only way to do that is to do a little technical analysis on the actual, not seasonally adjusted data. That's much easier than trying to analyze a number which does not exist in the real world and which will be changed several times as subsequent data becomes available.
The year over year gain in actual employment costs for all civilian workers was, are you ready for this–2%! That, indeed, is the highest it has been since 2011, when it spent the 2nd through 4th quarters rising at rates of 2-2.25%. Last year it never got above 1.9%. It's a breakout! Or maybe not quite. This number is still within the same range of growth rates that it has been since the second quarter of 2010.

The gain, such as it was, was driven by gains of more than 2% in 6 major employment sectors. On the other hand, 4 broad sectors rose by less than 2%, and they can't seem to get out of their own way. 3 of them have been wallowing below 2% since early 2011 and all 4 have been since early 2012. Here's a breakdown of the actual, not seasonally adjusted annual rate of gain by major sector.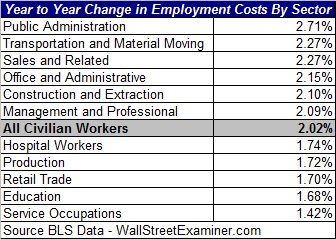 Employment Cost Increases By Sector
Here's how it looks on a graph.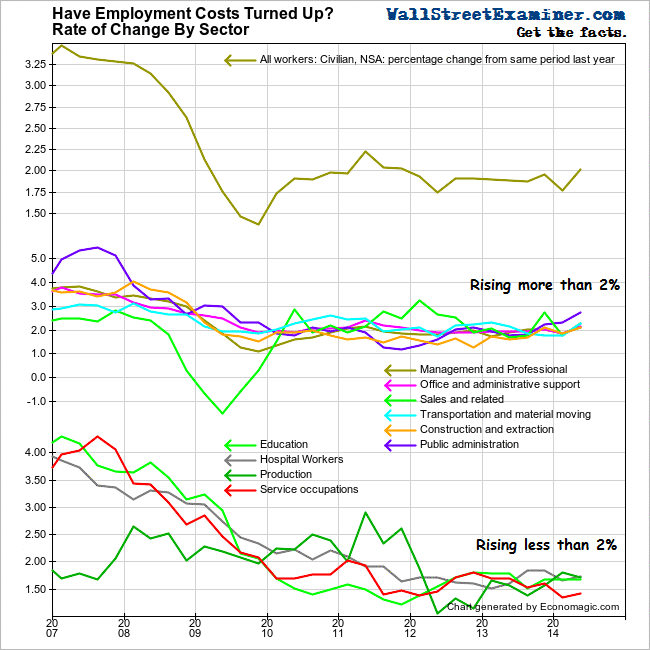 Employment Costs By Sector- Click to enlarge
Before you get all outraged about government workers leading the increases, note that they got screwed in 2011 and 2012, falling below private sector workers for more than a year. The current surge looks like catch-up for that time when they were not getting raises. At about 16% of the workforce the government sector may be big enough that had it not been for this apparently compensatory increase, the total aggregate number for all employees may not have made it to a new 2 year high.
Another notable factor is that the 5 sectors that rose less than 1.75% comprise more than half of all US workers. The majority of US workers are experiencing compensation increases that do not even keep up with CPI, which we know, in addition, to be understated. The standard of living of most Americans continues to decline. Just as a house divided against itself cannot stand, neither can an economy where nearly half of its actors are losing purchasing power. It steadily becomes a house more divided. It's bad economically and bad for society.
Among the stronger sectors, Construction AND Extraction showed a gain of 2.1%. The problem there is that all of the gain is due to Extraction. Extraction means mining, and oil and gas production. Extraction is booming, while construction–not so much. In June, the BLS reported a year to year to year increase of 4.64% in average weekly earnings for mining and oil and gas extraction workers. But construction workers got virtually nothing, showing a gain of 0.24%. According to BLS data, there are approximately 850,000 employees in mining and oil and gas extraction. There are more than 6 million construction employees. How the BLS averaged those two together to come up with a 2.1% overall increase is beyond my ability to comprehend. I am the simple one.
So when you break these numbers down, recognizing the catching up of government workers which is probably temporary, and the likely overweighting of gains in mining and oil and gas extraction, that leaves just 4 sectors barely above a 2% increase.
One is Transport workers. They account for less than 3% of the US workforce. Their year to year increase is still below the peak levels of the past two years. The current uptick does not yet indicate that they've turned the corner.
Likewise those in another sector gaining more than 2%, Sales, saw an increase that remains well below the peaks of the past 2 years. Finally, managers and professionals and office and administrative workers have been flatlining at a 2% rate of increase for 2 years. There's no breakout there either.
Looking at the 4 weaker sectors comprising the majority of US workers, the idea of a turn there is ludicrous.
Overall, private sector workers and those in education are not keeping pace with inflation, and the recent gains for non-education government workers could prove transitory. Considering the trends of the actual data in all of these major sectors, there's no breakout here. The corner has not been turned. Overall employee compensation is probably still rising at a rate of less than 2%. That's insufficient to keep up with inflation. It's insufficient to prevent the majority of Americans from continuing to lose purchasing power. Eventually these trends will slow the US economy to a stall, followed by contraction. Recent data suggests that the time until that happens is growing short. It may only be a few months, perhaps coinciding with the end of the QE intravenous drip into the patient's veins.