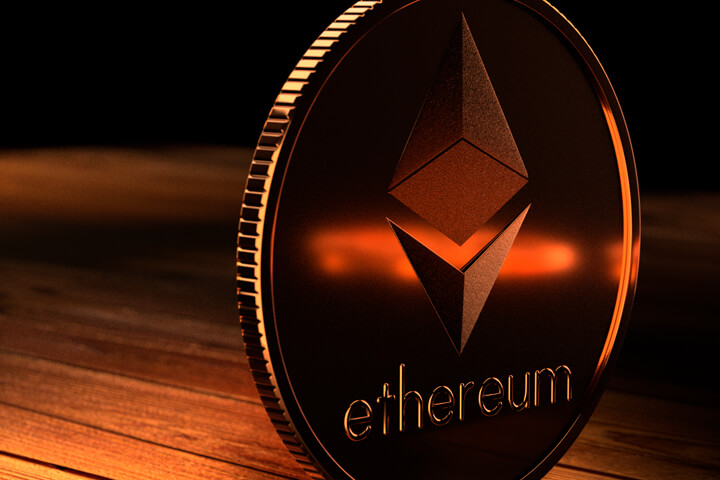 Ethereum remains the second-largest cryptocurrency in market cap – only after Bitcoin. It is also one of the most consistent digital assets in the industry. It was launched in 2015 at less than $3, and by November 2021, it was selling at a record high of $4,891. Ethereum is currently trading slightly below its highest point.
The digital asset remains one of the most coveted coins in the cryptocurrency market. Many crypto enthusiasts in the UK are looking to buy the popular token. However, before you use any broker to buy Ethereum, you must ensure that it is trustworthy, safe, cost-effective, and convenient in terms of payment method.
This guide will provide answers on how to buy Ethereum in the UK in an easy, safe, and cost-effective manner.
Choosing a Broker
Most cryptocurrency purchases happen through broker platforms. Different platforms offer a varying number of cryptocurrencies. Ethereum, being one of the famous cryptocurrencies, is listed by many brokers, which may give you a hard time choosing the one to use. Here are the top five leading brokers with their strengths:
eToro – the overall leading broker.
Coinbase – an easy-to-use broker that best suits beginners.
OKEx – offers the best competitive prices for cryptocurrency.
Binance – has the best asset diversity.
Coinjar – best suits investors in a budget.
These are the brokers and crypto exchanges that offer Ethereum trading in the UK in 2022. Continue reading for a detailed review of Ethereum brokers.
A Quick Guide to Buy Ethereum in the UK
Here is a quick step-by-step guide on buying Ethereum in the UK in 2022. We will use eToro as the broker for this guide since it is the most popular platform.
Opening an eToro Account
You need an account with eToro to begin using the platform. Opening an account is a simple process that only requires choosing your username, supplying your email, and setting your password.
Account verification
Upload a copy of your ID documents such as your passport, national ID card, or driver's license, and proof address such as a recent utility bill or bank statement to verify your identity.
Depositing Funds
You need funds in your account to begin buying Ethereum. You can fund the account debit/credit card, bank transfer, or e-wallet.
Buy Ethereum
With funds in your verified account, you can now go ahead and buy your first Ethereum tokens. Ensure you are logged in to your account. Browse through the platform to find Ethereum. Alternatively, you can directly search for the token by entering 'Ethereum' into the search box. Click on 'Trade' and enter the amount you wish to use to buy the token (in USD). Click the 'Open trade' button to complete the purchase process. Your purchased tokens will remain in your account until you cash them out.
Where to Buy Ethereum in the UK
With cryptocurrency getting more popular, the number of brokers allowing people to trade crypto is also increasing. Currently, hundreds of platforms offer the purchase of cryptocurrencies and choosing the right one can make a very big difference. Some of the key factors to consider include regulation, payment method, fees, customer support, ease-of-use, and minimum deposit.
Below are some of the leading Ethereum brokers in the UK and their reviews.
eToro – the Overall leading broker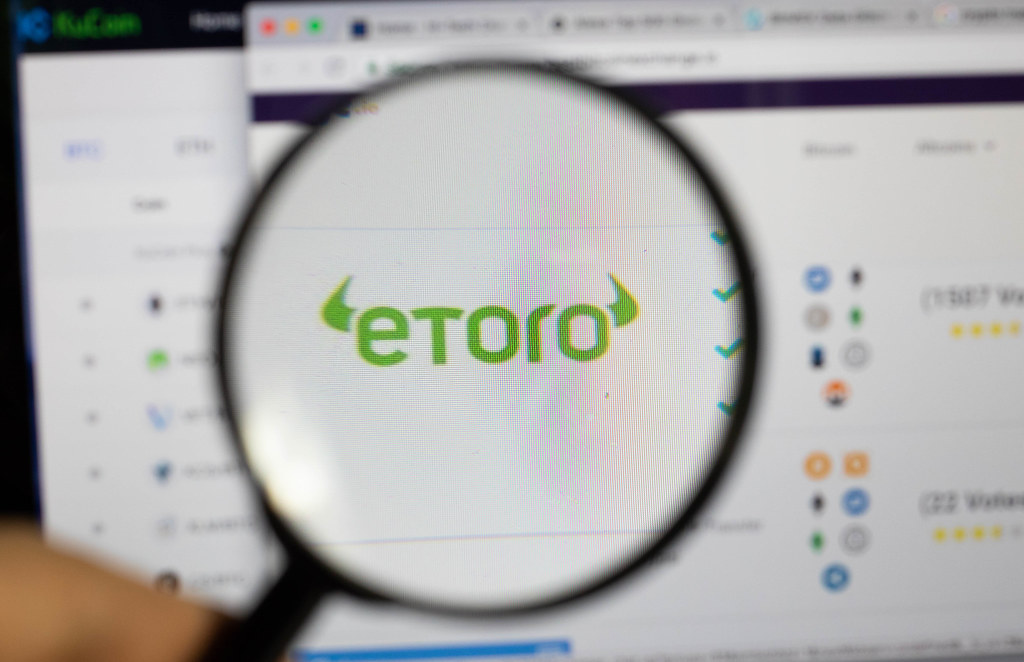 With an easy-to-use interface, high security, and competitive prices, eToro is the overall best broker for buying Ethereum and any other supported tokens. The intuitive user interface is suitable for users of all levels of experience. The platform also supports multiple payment methods including bank cards (credit and debit cards), e-wallets including PayPal, Skrill, and Neteller, and bank transfer. The platform accepts a minimum deposit of $200 (approximately €140).
Once your account is funded, you can proceed by ETH. Even though the price of one ETH is more than $2200 (approximately over €1990) you can buy the asset for as low as $25 (€18) since the token is highly divisible. Therefore, you do not need to spend a lot of money to buy ETH. This feature is advantageous, especially to beginners who do not want to risk a lot of money.
eToro also offers a wide variety of digital tokens, which enables you to diversify your portfolio with ease.
Additionally, eToro does not charge a commission for the trade. The platform has listed more than 30 digital assets including Bitcoin, Ethereum, Uniswap, Litecoin, Dogecoin, Ripple, Filecoin, Polkadot, TRON, EOS, and DASH. With eToro, you will only pay the 'spread' when buying Ethereum.
eToro offers a copy trading feature, which allows copying of portfolios amongst traders. If you are a novice trader or just a busy trader, copy trading can be of great help. You do not need to spend much time analyzing the market. You can select a successful trader and copy their trades effortlessly.
The platform also offers other trading tools that enable traders to communicate with other eToro investors in a public setting. The feature allows learning and socializing amongst the users.
eToro also offers traditional asset classes such as commission-free shares and exchange-traded funds (ETFs) from both UK and international exchanges. Users can also buy other CFD trading facilities on indices, precious metals, forex, and energies. With such an asset, eToro has attracted a huge user base, which makes the company trustworthy.
eToro is also regulated hence a safe broker. The platform is authorized and licensed by reputable bodies including the FCA in the UK, CySEC in Cyprus, and ASIC in Australia. Therefore, users can trust the platform as a safe place to buy Ethereum and other assets.
Finally, eToro offers a comprehensive trading app for both Android and iOS users. The easy-to-use applications enable traders to buy and sell assets quickly, and with more convenience.
Advantages and disadvantages
Pros
Allows buying of a variety of assets at no commission
Enables investing in crypto on a spread-only basis
Supports multiple payment methods including credit/debit cards, e-wallets, and bank transfers.
Regulated by reputable bodies and authorities including FCA, CySEC, and ASIC
Easy to use hence perfect for beginners
Enables social and copy trading
Cons
Does not support Metatrader 4 (MT4) and Metatrader 5 (MT5).
Coinbase
Coinbase is one of the most popular cryptocurrency brokers across the world. The reputable and user-friendly platform has around 73 million verified users. With such a huge user base, one can easily trust the platform.
The platform is designed with an easy-peasy user interface that is suitable for both beginners and experienced traders. After opening and verifying your account with eToro, you can go ahead and buy Ethereum and other tokens. The platform also allows you to buy Ethereum directly using your debit card.
Just like eToro, Coinbase offers a good selection of digital assets including large-cap tokens such as Bitcoin, Ethereum, Ripple, and Dogecoin. It also lists upcoming crypto projects. Coinbase also has stand-out features such as cryptocurrency debit cards issued by Visa and leading cryptocurrency wallet. The wallet is freely available for download by both Android and iOS devices. Coinbase wallet allows users to store, buy, and sell cryptocurrencies.
Coinbase also offers various security features, including cold storage, two-factor authentication (2FA), and white-listing of device and IP.
Using the instant feature of Coinbase attracts a 3.99% commission. However, using the UK bank transfer does not attract any fee. It also attracts a smaller trading commission of 1.49% when you buy crypto like Ethereum.
The broker also offers Coinbase Pro, which is suited for experienced traders. The platform has enhanced features and additional types of trade. Coinbase Pro enables users to have full control of their trading experience.
Advantages and Disadvantages
Pros
Highly reputable platform
Large user base, which creates trust
Supports instant debit card purchases
Supports a variety of digital assets, hence encouraging diversification
High security through institutional-grade security practices.
Cons
High commission of 3.99% when using an instant debit card
Charges a standard trading commission of 1.40%
OKEx
OKEx is a cryptocurrency exchange popular for its competitive fees. The platform has a huge user base of over 20 million active clients. The platform is often used by crypto traders, however, it also supports buying digital assets. You can buy your Ethereum assets with ease, either using fiat currency or other digital currencies.
Buying Ethereum using other cryptocurrencies is a fast and direct process. You only need to deposit your digital tokens and initiate the process of swapping the tokens. You do not need to provide the platform with any personal information such as contact details. Additionally, the platform will not require you to perform the KYC process. You can easily buy Ethereum while remaining anonymous. OKEx offers many Ethereum based pairs including ETH/BTC, ETH/USDT, ETH/DAI, and ETH/USDC. Apart from Ethereum, the platform supports hundreds of other digital assets.
However, you must prove your identity when buying cryptocurrency on the platform using fiat currency. Therefore, you have to perform a KYC process and supply the platform with some other personal details. However, the entire process takes less than 10 minutes. Once you complete the identity verification process, you will be able to purchase Ethereum with a debit/credit card instantly or deposit funds through a bank account transfer. OKEx offers highly competitive fees. It charges a variable commission of 0.10% per slide.
Besides offering crypto trading and brokerage services, OKEx offers users the chance to earn passive income through their mining pool feature. Users can deposit their funds into the pools and earn decent interest.
The platform also scores high in learning materials. It provides useful guides and explainers that help users navigate through the platform, and become better investors.
Advantages and Disadvantages
Pros
Popular and reputable crypto platform, trusted by more than 20 million users.
Supports instant bank card (debit and credit card) purchases.
Large community – over 73 million verified users.
Offers a wide variety of crypto assets – more than 400 cryptocurrency pairs.
Highly secure.
Comprehensive mobile app for both Android and iOS.
Cons
Debit/credit card fees are relatively high.
Its derivative products are not beginner-friendly
Binance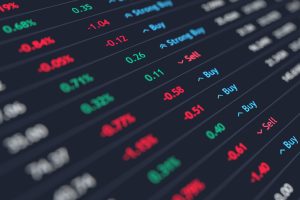 Binance is another popular and highly reputable crypto exchange and broker that makes it easier and inexpensive to purchase Ethereum in the United Kingdom. The company charges a low fee of 1.8% for debit/credit card transactions, which is significantly cheaper than those of major competitors such as Coinbase. You only need to upload your passport or driver's license for approval of transactions.
The direct transfer of money from the bank to the platform is also accepted. This payment method is much more advantageous compared to debit/credit transfer since it does not charge the 1.8% fee. It is also much faster, meaning your new balance will reflect on your account in about a couple of minutes after making the payment. Uses pay 0.10% commission when buying Ethereum using GBP on Binance.
To promote and enhance the safety of the transactions, users are required to verify their identities. Once verified, the members are allowed to withdraw up to 100 Bitcoins daily.
Binance also supports a wide range of digital assets including popular crypto-assets and other ERC-20 tokens. You can also incorporate the Binance interest-bearing savings account in your financial planner, which lets you earn interest on your preferred cryptocurrency assets. The interest is paid daily. Flexible accounts allow you to withdraw your digital assets at any moment.
Pros
The large daily trading volume of billions of dollars
Supports a large number of coins enabling investors to diversify their portfolios.
Low trading commissions starting at 0.1% per slide
Crypto savings account available
Quick deposits through debit/credit cards as well as local banks
Intuitive user interface suitable for beginners
Cons
Does not support e-wallet deposits and withdrawals
CoinJar
CoinJar is a cryptocurrency broker that requires a low barrier to entry in terms of the minimum deposit. The platform allows you to purchase Ethereum with just a £5 deposit. A low minimum deposit is a suitable feature for traders, especially beginners who want to invest in cryptocurrency without risking much money.
CoinJar also allows free and faster deposit and withdrawal services. Once you have made the payment and the money reflected on your account, you can buy Ethereum at a low commission of 1%.
The platform also allows credit/debit card payment methods. However, you will pay a relatively higher commission of 2% when using bank cards.
CoinJar is also a secure platform that is regulated in different countries by reputable regulatory bodies. For example, it is registered with the Transaction Reports and Analysis Center in Australia, where it has been in operation since 2013. The broker also stores the majority of the users' assets in cold storage which secures funds from hackers.
The platform also has an intuitive user interface hence suitable for users of all levels of experience. It is available on both the main online platform and on a mobile app, which is compatible with both iOS and Android.
CoinJar also has a cryptocurrency exchange service that enables users to buy and sell a range of fiat-to-crypto and crypto-to-crypto asset pairs.
Pros
Has been active in the cryptocurrency brokerage market since 2013
Highly user-friendly platform that is suitable for beginners
Low minimum deposit of $5
Supports many payment methods including credit and debit cards
Deposits are free
Comprehensive mobile app
Cons
No demo accounts
Few communication channels – communication only through the site using the ticket system.
Crypto.com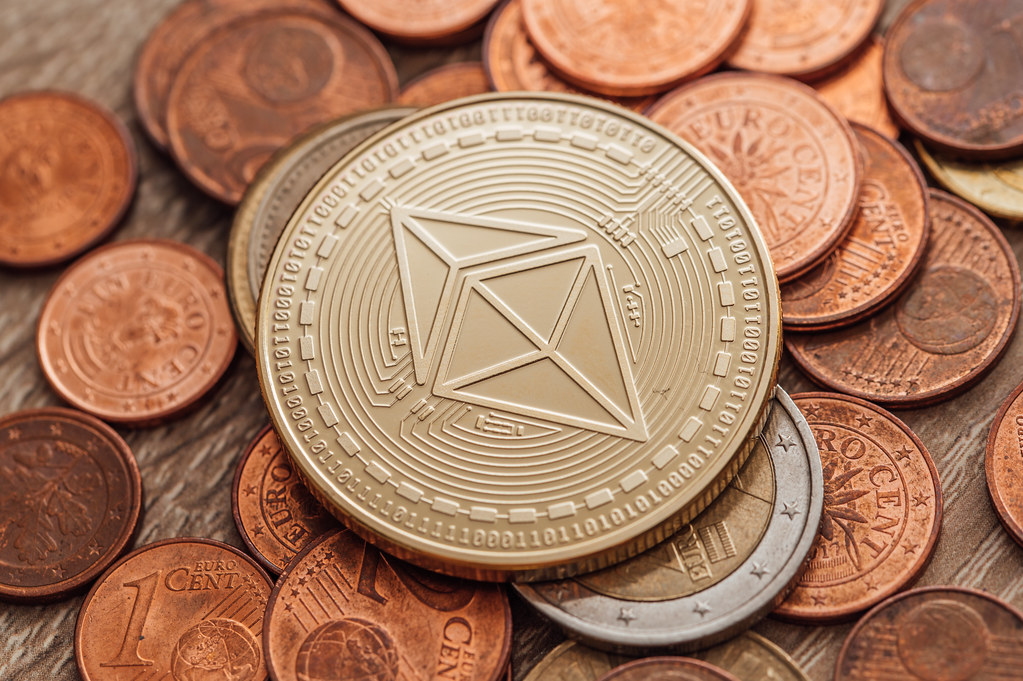 Crypto.com is a popular cryptocurrency broker that makes buying, selling, and storing cryptos simple and safe. The platform has many features that make trading easy even for new users.
It offers real-time update updates on the market trends and coin prices, as well as charts and other essential information that enables users to make informed trade decisions. You can rapidly estimate the worth of your portfolio with Crypto.com. The platform allows users to stake CRO for a premium metal Crypto.com Visa debit card, as well as a higher APR on Crypto Earn and Crypto Credit.
Crypto.com's user-friendly solutions make it simple for anybody to profit from the advantages of digital currency. The platform provides everything you need to ensure your future, from their rewarding premium metal Visa debit cards to their Defi wallet.
The platform offers as low as 0.40% trading costs for new users with a monthly trading volume of up to $25,000. Storage of a large CRO currency may yield benefits such as cheaper costs.
Crypto.com also offers staking of tokens to earn interest. You can deposit your Ethereum coins to the platform's Crypto Earn Service and earn decent passive income.
Pros
Supports a wide variety of cryptocurrencies for trade
Low fees
Provides cashback rewards and other numerous loyalty privileges
Safe and secure transactions
Provides interest on cryptocurrency holdings
Easy-to-use interface
Cons
High fees unless using CRO
Inadequate customer service
Insufficient educational resources
Gemini
Gemini is a crypto trading platform and custodian that enable users to buy, sell, and store their digital tokens. The platform poses as a safe place to buy digital assets such as Ethereum, Bitcoin, and Litecoin at a competitive rate. The exchange operates 24/7 hence suitable for traders despite their schedules. Full-time traders can also capture all the market moments.
The platform is popular for its quality customer service as well as low fees for both deposits and withdrawals. It does not charge deposit fees ACH or wire transfer. Deposits through debit cards attract low charges of only 3.49%. The exchange includes the convenience costs in the quoted price of the cryptocurrency that a user is buying, and is increased by 0.5% for buy orders. The transaction fee varies based on the cryptocurrency and the volume of transactions.
Gemini offers an intuitive user interface that is suitable for armature traders. The Gemini Active Trader offers advanced features for experienced traders looking for advanced features. The feature is also suitable for day traders looking for a better way to trade since it offers an easy and quick way to place market and limit orders. The platform enables quick trade settlements without compromising on quality.
Gemini has strong security features that protect the users' funds as well as their personal data. It stores most of the users' tokens in cold storage to protect them from online attacks. The platform also has a $200 million insurance cover for the available assets.
Pros
Supports a wide range of cryptocurrencies hence enabling more portfolio diversity
Comprehensive trading platform with intuitive features
Offers interest for cryptocurrency holdings
High security in assets
Highly reputable exchange
Cons
Relatively expensive fees compared to that of other competitors
Kraken
Kraken is one of the most reputable cryptocurrency exchanges in the world. It is the best platform to profit from price changes through margin and futures trading thanks to its wide variety of assets.
The platform offers security features, including two-factor authentication (2FA) and withdrawal email confirmations. For optimal protection, Kraken keeps 95% of all assets in geographically distributed cold storage deposits.
The platform also offers low fees, which makes trading more affordable than ever. It charges an instant purchase cost of 1.5% for the majority of the listed coins and 0.9% for stablecoins. Additional charges may apply depending on the payment method. For example, paying through a bank account attracts 0.5% while debit/credit cards and digital wallets may attract more than 3.75%.
Pros
Easy-to-use interface
Low fees
Highly secure
Earn reward on staked assets
Cons
High fees compared to other crypto exchanges
Bitstamp
Bitstamp trading platform offers traders a unique experience when it comes to trading cryptocurrency from the comfort of their own homes.
The platform offers many advantages, such as the ability to easily implement arbitrage schemes. This trading terminal provides a multipurpose interface for automated trading, as well as trading, spot trading, and portfolio management capabilities.
Bitstamp provides affordable fees that depend on a 30-day trading volume. The fees start at 0.50% and decrease as your trading volume increases according to the 17 tiers available. Each card purchase at Bitstamp incurs an immediate service charge of 5% of the purchase value. The traders in the US can fund their accounts free through ACH. The platform also supports the Faster Payments options for deposits and withdrawals.
Depositing funds via Faster Payments is free while withdrawing funds through the same method attracts a small fee of £2.
Bitstamp Earn allows users to grow their funds by depositing their digital assets to earn decent interest.
Pros
Simple and easy-to-use platform
Allows trading of fiat for cryptocurrencies
Supports debit/credit cards and bank transfer deposits
Cons
Do not support margin trading
High fees on credit/debit card transactions – up to 5%
Coinmama
Coinmama allows users to buy and trade several of the most popular cryptocurrencies, including Ethereum. The platform has a straightforward user interface that is suitable even for the armature.
The crypto platform offers many payment methods including credit cards, debit cards, and bank transfers. The company struck a deal with Apple in September 2020 to enable purchasing of cryptocurrency using Apple Pay.
Coinmama users pay fees that depend on the method of payment that they use. For example, the platform will automatically charge 5% for purchases made via credit card, debit card, or Apple pay. It also charges a 3.81% commission for cryptocurrency purchases. Bitcoin traders pay an additional fee of 0.9% when they sell bitcoins.
Coinmama also rewards the users who save their digital coins with the platform through its loyalty program. The platform has three levels of saving on commission fees, which enables users to get the best price when trading cryptocurrencies. Users who spend $5,000 over 90 days get a 12.5% discount on their sales fee. Traders who spend $18,000 over 90 days or make a lifetime purchase of $50,000 or more get a 25% discount on their sales fee.
Coinmama also employs strong security features to protect the users' funds as well as their personal data. For example, the platform does not hold customers' cryptocurrency funds, nor stores their payment information; hence such data cannot leak into the wrong hands.
Pros
No deposit or withdrawal fees
Supports many payment methods
Supports many digital assets
Cons
Higher fees
No iOS mobile app
How to Buy Ethereum in the UK – Step-by-Step Guide
Many brokers list Ethereum for trade in the UK. However, eToro scores the highest among the brokers. Here is a detailed procedure on how to buy Ethereum in the UK.
Creating an account with eToro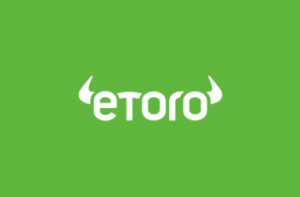 The first step involves signing up with the broker. Follow the procedure below to create an account.
a. Go to the official website and click the "Start Trading" button
b. Fill the electronic form with the relevant details, that is, user name, email ID, password, telephone number (with the country code)
c. Accept terms and conditions, agree to acknowledgment disclaimer, and then click "Sign Up".
d. Log in to your email and click the link received to become a registered user of eToro.
Account Verification
eToro requires users to verify their accounts before they make any transaction involving more than $2,250 (about £1,600) on the platform. eToro is fully compliant with the regulatory bodies that are fighting money laundering and terrorism financing.
To verify your account, upload a copy of your identity document – driver's license or passport – as well as proof of address such as utility bills or bank statements.
Transfer funds into your account
You can use a debit/credit card, PayPal, or Skrill to transfer funds into your account. These payment methods are instant, and the fee is low, only 0.5%. You can also use the Neteller payment method.
Buy Ethereum
Once you have funded your account, you are ready to buy your Ethereum token. Follow the procedure below to complete the process.
e. Navigate to the member area
f. Go to the market
g. Select XRP and enter the amount to buy XRP
h. Select the payment method you wish to use
i. Enter the relevant details of your payment source and tap on "proceed" to make the payment
j. You will receive XRP in your wallet.
Where can you buy Ethereum?
There are different ways to purchase Ethereum in the UK. Below are the main places you can use to buy Ethereum. You should identify the method that best suits you.
Regulated Brokers
A regulated online broker is one of the best ways to buy Ethereum in the UK. These platforms operate much like the traditional stockbrokers as they are authorized and regulated by the FCA. Regulated brokers have many advantages including high security, supporting debit and credit card purchases. Other regulated brokers such as eToro also support e-wallet payments such as PayPal. eToro also offers insurance cover for the users' assets on the platform. However, you will have to verify your identity and location since the platform complies with KYC rules. However, the procedure is fast when using platforms such as eToro.
Cryptocurrency Exchange Platforms
Cryptocurrency exchanges are still some of the most popular places for buying cryptocurrencies. These platforms match buyers and sellers; therefore, you can trade Ethereum with other market participants. Exchanges offer a competitive fee. However, most of such platforms are unregulated, which makes them relatively less secure compared to regulated brokers. You should do good research and identify trustworthy and reputable exchanges before deciding to deposit your money to any of them. Look for a regulated exchange with good security features.
Ethereum ATMs
Cryptocurrency ATM is a relatively new way to buy Ethereum in the UK. The ATMs work in a similar way as traditional ATMs. However, it involves depositing fiat to receive Ethereum in your wallet. Once you have set the amount you want to spend, the machine automatically calculates for you the amount of Ethereum tokens you will receive, depending on the exchange rate. Once you have completed the transaction, the machine prints for you the receipt with the instructions on how to claim the digital assets.
crypto ATM is an efficient way of buying digital assets due to its self-service nature. However, it still has some challenges. First, the number of crypto ATMs is few, which makes finding one hard. Second, it requires users to claim the tokens in a private crypto wallet, which may be a challenge to beginners. Finally, these ATMs are relatively expensive compared to exchanges and regulated brokers, with some charging as high as 20% of the transaction fee.
Ways to Buy Ethereum in the UK
There are many payment methods you can use when buying Ethereum in the UK. Below are the common deposit methods that you can use.
Debit Card
Debit card transactions are usually instant hence making the entire process of buying Ethereum simple and fast. However, the broker has to be licensed to accept this method of payment. You will also be asked to upload your ID before you complete the transaction. eToro offers the cheapest option to buy Ethereum using debit cards – 0.5%.
Credit Card
Bankcard transactions are faster, nearly instant. However, the broker must be licensed to take debit card payments. You may also be required to verify your account when using a debit card. You should also consider cash advance fees, which are charged by the card issuer.
PayPal
Some platforms such as eToro allow you to use e-wallets such as PayPal, Neteller, and Skrill to deposit and withdraw funds. The platform also charges a low fee of 0.5% when you use PayPal.
Bank Account
You may also buy Ethereum in the UK by bank transfer. However, this method is usually slow and may take a couple of days for the transaction to complete. However, it is cost-effective since many brokers will allow free deposits when using this method. However, top-rated brokers such as Binance support the UK Faster Payments, which can greatly improve the transaction time.
Bitcoin
You can also swap other cryptocurrencies, including Bitcoin, with Ethereum. Cryptocurrency exchanges such as OKEx and Binance allow you to swap tokens. These two leading exchanges allow you to exchange tokens without needing to provide personal information or perform the KYC process. They also charge a low commission of 0.1%, which makes it one of the cheapest ways to buy Ethereum.
Reasons you Should Buy Ethereum in the UK
The cryptocurrency industry has been growing tremendously over the past few years. Ethereum is one of the coins that have proven to be trustworthy, due to its consistency and the increasing number of users. Here are some of the reasons you would want to invest in Ethereum.
Ethereum is the second-largest cryptocurrency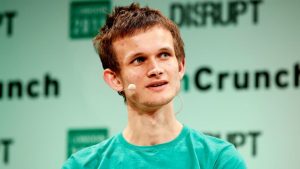 Out of more than 8,000 cryptocurrencies, Ethereum has maintained the top two largest cryptocurrencies, second only to Bitcoin. Digital currency has a market cap of $289.14 billion. If you are an investor, you would want to invest in a consistent and renowned digital asset. Popular cryptocurrencies with large market caps are less risky compared to the less known digital assets. You can easily buy and sell Ethereum since it is actively traded by many users. Additionally, Ethereum has consistently remained the second most valuable token in the industry.
A history of significant gains
Ethereum had a debut in 2015 in the cryptocurrency market. During its launching year, the digital asset was selling at $0.75. Six years later, in November 2021, the digital asset hit a record high with one Ethereum selling at $4,859.50, which are more than 600,000 gains. In other words, if you invested £1,000 into Ethereum in 2015, you would be having more than £6 million in November 2021.
Such huge gains may not be frequent, especially now that the digital asset matures and experiences price stability. However, Ethereum still has the potential to continue growing in value, and make attractive profits to investors. Over the past 12 months alone, the digital token has gained by more than 78%.
Ethereum 2.0 Upgrade
Ethereum is targeting to launch its Ethereum 2.0 sometime in the midyear. This upgrade will improve the speed and scalability of the Ethereum blockchain. The network will shift from proof-of-work (PoW) to proof-of-stake (PoS). This shift will also drastically reduce the amount of energy that the blockchain consumes since it does not rely on the use of heavy machinery to verify transactions. The shift will cut the energy use by more than 95%.
By eliminating some of the major challenges facing the Ethereum blockchain, the upgrade will make the protocol more attractive to more users. An increase in the demand for cryptocurrency will drive its prices up.
The Ethereum blockchain has unlimited capability
Unlike Bitcoin and many other blockchains, Ethereum has a smart contract facility that makes the network capable of doing more. The smart contract facilitates trustless transactions between two or more users. The contract has pre-set terms of the agreement that has to be fulfilled before it authorizes the transaction. This allows users to develop decentralized applications (dAApps). Smart contracts are applied in many areas including banking, payments, insurance, brokerage services, employment, and rental agreements.
Low-Cost Entry and Fractional Ownership
Ethereum's price is currently above $2,400, which translates to over £1800. This may sound like a lot of money that is hard to part with, especially if you are a beginner. However, Ethereum is highly divisible, and many platforms will allow you to buy a fraction of Ethereum at a small amount of money. For example, eToro allows you to buy Ethereum for as low as $25 – or about £18. Coinjar offers an even lower barrier to entry with a minimum deposit of £5.
The Cost of Buying Ethereum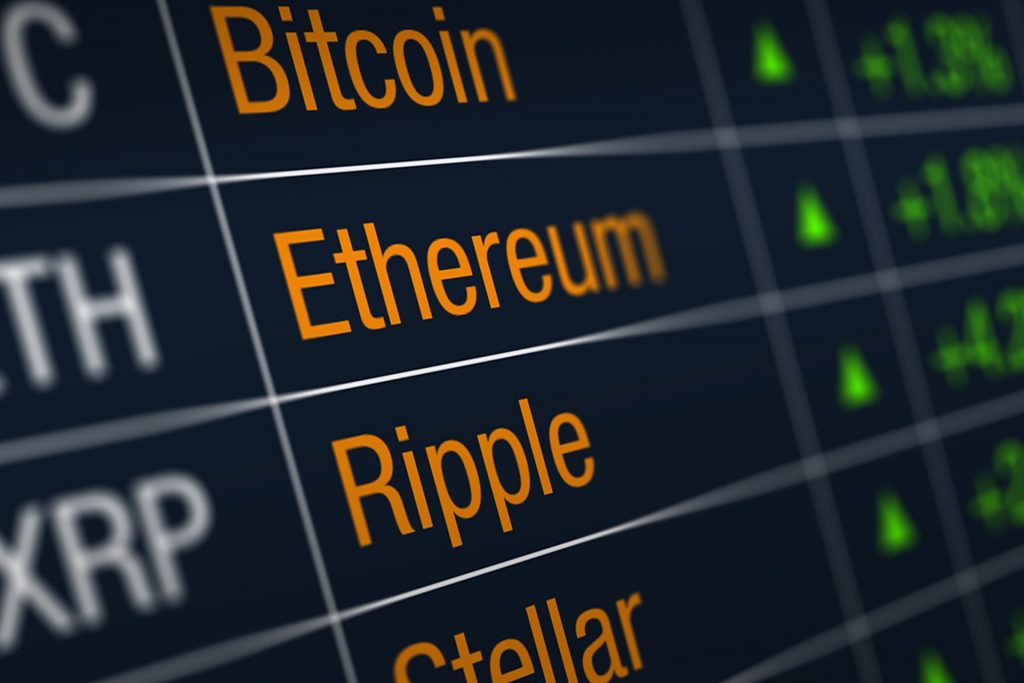 Buying or trading Ethereum attracts some fees that you need to be aware of as an investor. Such fees may differ slightly depending on the broker. The two main types of fees that are common with the brokers are deposit fees and trading fees.
The deposit fee varies with the broker and the payment type that you are using. For example, Using debit card payment to buy tokens on Coinbase attracts 3.99%, while using bank transfer within the UK does not attract any charges. Binance, on the other hand, charges favorable fees of 1.8% for debit/credit card users. eToro offers even smaller charges of 0.5% for all the deposit methods including debit/credit cards and e-wallets such as Skrill and PayPal.
Trading fees apply mostly to the users who are not using the Instant Buy feature, but rather deposit their funds into their brokerage accounts. They are likely to pay a commission to buy Ethereum. Coinbase, for example, charges a 1.40% commission while OKEx and Binance charge 0.1%. eToro, on the other hand, charges the spread, which is the gap between the bid and asks the price.
Risks Associated with Buying Ethereum in the UK
Just like any other investment, buying Ethereum in the UK has its risks that you should know about. Having awareness about such risks may help you strategize on how to curb them.
Volatility
Ethereum is a large-cap cryptocurrency hence less volatile compared to lower-cap digital assets. However, it still has the volatility trait of cryptocurrency. For example, on November 8, Ethereum traded at an all-time high of more than $4800. Less than three months later, at the time of writing, Ethereum is selling at about $2400, which is a 50% drop. Such drop also followed a bull run in May 2021 that picked at $4,168 per Ethereum.
Regulations
Some regulatory bodies and governments are hesitant to remove policies that restrict the wide growth and adoption of digital currencies. In the UK, for example, the FCA has stepped in several times with regulations banning the country's retail investors from trading crypto derivatives such as CFDs.
Competition
Many blockchain technologies have come up, each claiming to solve some of the challenges facing Bitcoin and Ethereum. Ethereum became unique when it first introduced the smart contract. However, currently, many blockchains projects have come up offering smart contracts and additional features that Ethereum might not have. The platform includes Polkadot, Cardano, and NEO. These blockchains offer stiff competition to Ethereum.
Selling Ethereum – A quick Guide
The process of selling Ethereum is usually straightforward. The procedure may depend on how you made the purchases and where you are storing your digital assets. For example, if you bought the token through FCA-regulated brokers such as eToro, and kept the token in your portfolio, you can easily cash out your funds by clicking the 'sell' button. The fund will be withdrawn to your bank account, debit/credit card, or e-wallet.
If you bought the tokens from an exchange and stored them in a private wallet, the withdrawal process may need extra steps. You must deposit the token back to the exchange and then sell it back to fiat money.
Conclusion – Buying Ethereum in the UK
Ethereum is one of the most reputable and reliable tokens in the cryptocurrency world. Many investors would want to buy the digital toke anticipating that its prices will continue rising. Many brokers and exchanges offer a good opportunity for investors to buy the token. eToro is one of the best crypto platforms that you can use to acquire Ethereum, especially if you are in the United Kingdom. The platform is safe, affordable, and highly reputable with a large fan base of over 20 million and fan base.
FAQs
How can I buy Ethereum in the UK?
The safest way to buy Ethereum is through regulated brokers such as eToro. eToro supports multiple payment methods including debit/credit card, bank account transfer, and e-wallets. You only need to open an account and deposit funds to facilitate the transaction.
Where can I buy Ethereum in the UK?
You have multiple options, including regulated brokers, exchanges, and cryptocurrency ATMs. Regulated brokers are usually safer. eToro is the leading regulated broker for buying cryptocurrency in the UK. The platform is FCA-licensed hence more secure and trustworthy. It also has a user-friendly interface and charges low fees.
Is Ethereum a good investment?
Ethereum is the second-largest cryptocurrency in terms of market cap. The token has recorded massive gain the previous few years, and analysts still believe it will continue gaining. The token, however, is more suitable for HODLing than for day trading since its price is relatively stable compared to other altcoins.
Is Ethereum safe to invest in?
As long as you are using a regulated broker, your funds are safe if you have invested in Ethereum in the UK.