Early during the prior week we witnessed a series of daily upward movements in our Weighted Composite Index — only to see the index subsequently retrace most of its gains. Although swings in the daily numbers can keep things interesting, we always look to our "Contraction Watch" as the way to maintain the proper perspective: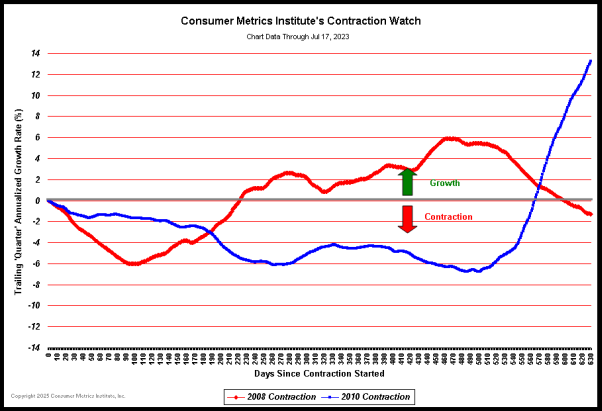 (Click on chart for fuller resolution)
The above chart follows the course of our Daily Growth Index (actually just a 91-day moving average of the Weighted Composite Index, converted from the base 100 index to a +/- percentage) since that index first went into contraction (on January 15, 2010 — over 515 days ago). The chart also shows what the Daily Growth Index was doing during the consumer contraction that occurred within the formally defined "Great Recession" of 2008-2009. The progress of each event is recorded as a track of Daily Growth Index values commencing on the left margin on the date that the index first went into contraction.
The chart clearly shows both the scale and the duration of the current contraction in on-line consumer demand for discretionary durable goods. The "bottom bouncing" observed in the blue line doesn't begin to meet any reasonable definition of a "recovery." We understand that our data contains some demographic biases (towards younger, higher educated, tech-savvy and English speaking consumers), but we continue to feel that the persistent decline reflects a broader slice of "Main Street" America than our demographics alone might imply.
While we focus on the 91 day (quarterly) Daily Growth Index, we also chart longer term moving averages covering 183 days (six months) and 365 days. Although all three indexes have recently been at historically low levels, the longer term averages are far more sensitive to the extreme duration of the current event: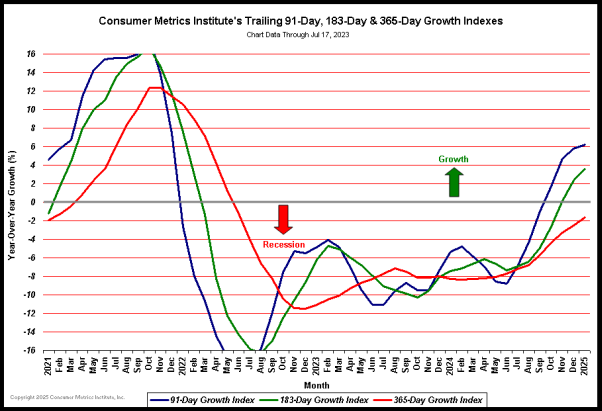 (Click on chart for fuller resolution)
The above chart clearly shows that the six month and full year moving averages continue to set new record lows day after day. For consumers the "Great Recession" has not ended, and we can't help but wonder how the full GDP will react once the Federal stimuli have fully worn off: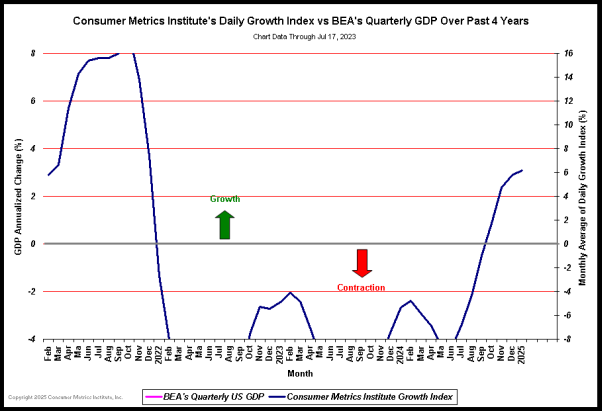 (Click on chart for fuller resolution)
Related Articles
Bottom Bouncing Consumers by Rick Davis
CMI: Consumer Expenditure Bottom Better Defined by Rick Davis
Personal Income and Expenditures Growth Frozen in April 2011 by Steven Hansen and Doug Short
Weak Consumer Prevented 1Q2011 Improvement by Rick Davis
March 2011 Personal Income & Consumption Expenditures Good Until Cost Increases Considered by Doug Short and Steven Hansen
Is Ignorance Bliss? A Look at U.S. Income Inequality by ElliottMorss