Our measurements of on-line consumer demand for discretionary durable goods continue to show an overall economic weakness that is still not reflected in reports coming from the U.S. Bureau of Economic Analysis (BEA) and the Bureau of Labor Statistics (BLS):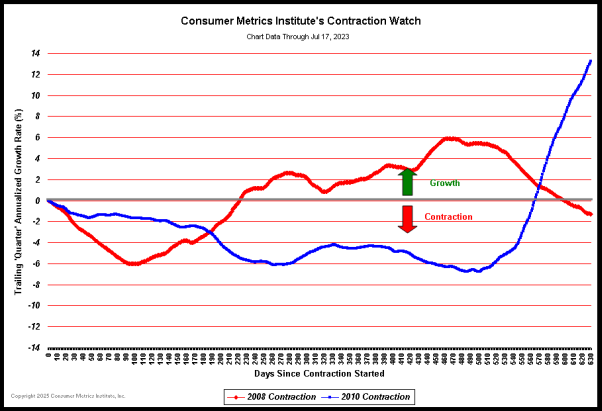 (Click on chart for fuller resolution)
(If a chart is not visible above, please click here to see this commentary as a Web Page.)
In the above chart the day-by-day courses of the 2008 and 2010 contractions in our Daily Growth Index are plotted in a superimposed manner with the plots aligned at the left margin on the first day during each event when our Daily Growth Index went negative. The plots then progress day-by-day to the right, tracing out the changes in the daily rate of contraction in consumer demand for the two events. The 2010 contraction event is now more than 13 months old, dating back to January 15, 2010.
It is important to remember a few things about our data when comparing it to data from either the BEA or the BLS:
— Our data is intrinsically inflation neutral (or arguably "real" as opposed to "nominal"). This avoids the kinds of problems present in recent retail sales gains that completely disappear when adjusted for price movements.
— Our data is largely free from aberrant seasonal adjustments, since it reflects daily year-over-year changes (using a 364 day "year", with only minor timing adjustments to reflect calendar shifts in the Easter and Thanksgiving holidays). It is also impervious to those dreaded storms that are handy explanations for unfavorable surprises.
— We only track on-line demand for discretionary consumer durable goods. As a consequence the dynamics in our data may be amplified relative to the entire consumer economy.
— The consumers that we track are demographically different from the aggregate profile of the "U.S. Consumer." Our consumers are (generally) younger, better educated and less culturally diverse than the entire U.S. population. Those same characteristics may have caused our consumers to be effected by the recent recession in ways that diverge from the population as a whole.
— We have chosen to use as a baseline year for our weightings the same year (2005) that the BEA uses for its NIPA tables. One of the consequences is that our weightings still assume that residential real estate and healthy employment levels are relevant to the economy.
But even with those caveats in mind, the above chart is clearly signaling that something is amiss with the consumer economy — something that neither the BEA nor the BLS has yet reported. Our data suggests that their aggregate measures of the economy fail to capture share changes among the different socio-economic, age, gender, racial or cultural demographics. In effect, this may not be a rising tide — but rather a selectively benevolent crane operator who is lifting favored boats back to sea.
Some external evidence of demographic divergences was observed within the February University of Michigan consumer sentiment data by Dave Rosenberg. Although the headline number of 75.1 beat expectations (and was the highest level since June), Dave noted that:
"all the gains in consumer confidence in the past month were concentrated in the high income segment ― soaring to 88.2 in February from 80.7, which is the best reading since December 2007. That is a sure sign of how the equity wealth effect has taken over, at least among the folks that own stocks. But sentiment among the lowest income group actually tumbled from 72.1 to 67.7, a three-month low, and that may reflect the unintended consequence of QE2, which was to send the prices of food and fuel sharply higher."
Related Articles
A Significant Reason Retail Sales do not Indicate Recovery  by Doug Short
Retail Sales Growth Do Not Point to Economic Growth  by Steven Hansen
Advance GDP Estimate for 4/Q/2010 Has Disturbing Undercurrents  by Rick Davis
Wholesale Sector Continues Record Breaking Sales by Steven Hansen