by Lee Adler, Wall Street Examiner
The headline number for seasonally finagled initial unemployment claims for the week ended February 1 were about where Wall Street economists expected. The actual numbers were also in line with the average performance for the last week of January. The Department of Labor reports the actual, NSA data, but the mainstream media ignores it. Here's what the DOL had to say about it. "The advance number of actual initial claims under state programs, unadjusted, totaled 355,224 in the week ending February 1, a decrease of 2,432 from the previous week. There were 388,442 initial claims in the comparable week in 2013."
The total number of initial claims is near the levels seen at the top of the credit and housing bubbles in 2005 and 2006.
The average change for the final week of January over the prior 10 years was an increase of 7,400. Last week's decline of 2,400 was a slightly better than average performance. The difference is in the normal range of random noise, in terms of the average change for that week. It was a somewhat bigger improvement over the same week in 2013, which saw a rise of 19,000 claims.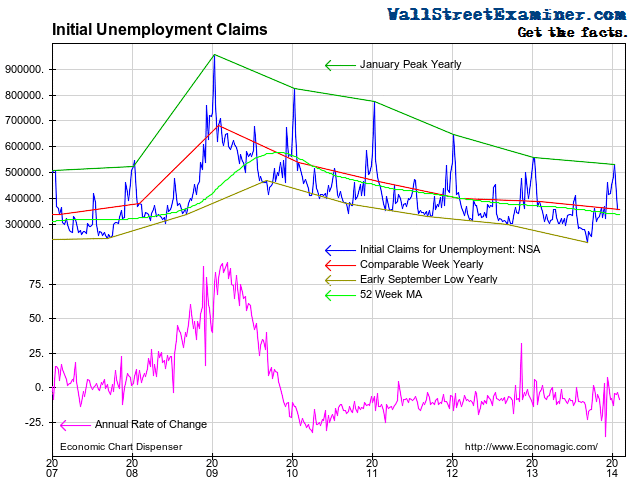 Initial Unemployment Claims – Click to enlarge
Downward Trend in Initial Unemployment Claims Continues
The current number was down 8.5% year over year.The trend of improvement in initial unemployment claims had slowed to the -3% to -5% range in recent months, so the latest number represents an increase in the downward momentum. It's too soon to tell if this is meaningful. It could be a flash in the pan. As the rate of change graph shows, other than some instability in the fourth quarter 2013, in terms of the trend, nothing has really changed since mid 2010.
Stock prices and initial unemployment claims have historically had a strong inverse correlation. That's depicted on the chart below. A negative divergence developed in the final burst of the last bubble in 2007, with the trend of claims stalling from 2006 through 2007 while stock prices entered their final blowoff. No such divergence has developed yet in the current market. The chart below uses a log scale for stock prices to better depict the percentage gain in stocks over time.
Editor's note: This analysis was written a week ago with BLS data released 06 February.  The data released today has produced a possible inflection point which will be discussed in an article to be published on the Investing Blog tomorrow.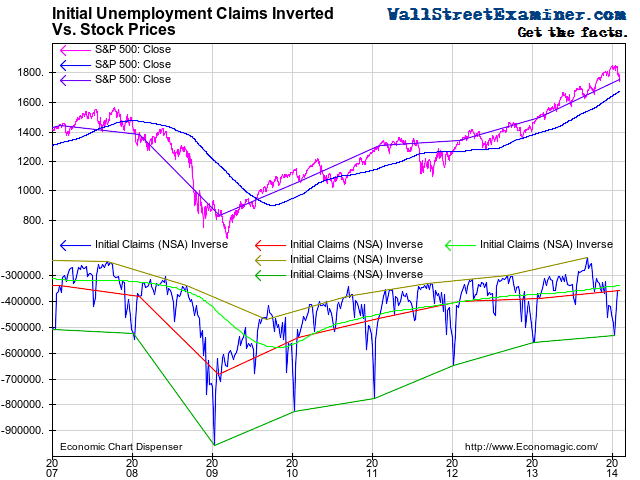 Initial Unemployment Claims and Stock Prices – Click to enlarge
[iframe width="560″ height="315″ src="//www.youtube.com/embed/PQsf3OGET3U" frameborder="0″ allowfullscreen]
Stay up to date with the machinations of the Fed, Treasury, Primary Dealers and foreign central banks in the US market, in the Fed Report in the Professional Edition, Money Liquidity, and Real Estate Package. Try it risk free for 30 days. Don't miss another day. Get the facts you need to understand these critical forces. Click this link and begin your risk free trial. [I cover the technical side of the market in the Professional Edition Daily Market Updates.]
See Rick Santelli use one of my proprietary charts on CNBC to explain how the Fed impacts the stock market directly through its trades with the Primary Dealers. This is just one example of the dozens of proprietary charts that I build that will help you to clearly see and understand the market's trend, and when that trend is beginning to change.
[iframe src="/files/ad_openx.htm" width="600″ height="300″ frameborder="0″ scrolling="no"]
[iframe src="http://econintersect.com/authors/author.htm?author=/home/aleta/public_html/authors/l_adler.htm" width="600″ height="200″ frameborder="0″ scrolling="no"]