by Lee Adler, Wall Street Examiner
"The Conference Board said its sentiment index climbed to 78.1 from 72 in November, exceeding the median forecast of economists surveyed by Bloomberg and the strongest year-end reading since 2007."
That's how Bloomberg put it in crowing about the ConCon beating the consensus guess of economists, whose median expectation was a reading of 76. The pundits then took that "beat" to make all kinds of absurd extrapolations about the wonderful future we face in 2014.

My take is a little different as usual. First we need to have a little perspective on this one month change reading.  That comes from a long term chart.  In this case, the data is proprietary to the Con Board, but Briefing.com puts up a nice chart each month.  Like any good chartist, I just add a few lines and then interpret the chart based on common standards of technical analysis, a discipline which economists, being the clown frauds that they are, do not take seriously.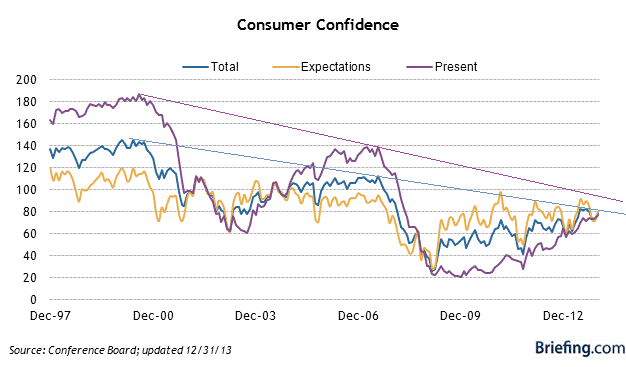 Con Con Indexes- Click to enlarge
The mainstream media conveniently ignores the fact that the Con Con has been in a 15 year downtrend. It ignores the fact that over the past 4 years the index has merely returned to the upper trendline. Technical analysts and chartists would call that "resistance." Professional traders, particularly if they work for Wall Street Primary Dealers, would probably be establishing large short positions on the Con Con right about now. In other words, sell the news.
[iframe width="560″ height="315″ src="//www.youtube.com/embed/_UKvpONl3No" frameborder="0″ allowfullscreen]
[iframe width="560″ height="315″ src="//www.youtube.com/embed/PQsf3OGET3U" frameborder="0″ allowfullscreen]
Stay up to date with the machinations of the Fed, Treasury, Primary Dealers and foreign central banks in the US market, along with regular updates of the US housing market, in the Fed Report in the Professional Edition, Money Liquidity, and Real Estate Package. Try it risk free for 30 days. Don't miss another day. Get the research and analysis you need to understand these critical forces. Be prepared. Stay ahead of the herd. Click this link and begin your risk free trial NOW! [I cover the technical side of the market in the Professional Edition Daily Market Updates.]
See Rick Santelli use one of my proprietary charts on CNBC to explain how the Fed impacts the stock market directly through its trades with the Primary Dealers. This is just one example of the dozens of proprietary charts that I build that will help you to clearly see and understand the market's trend, and when that trend is beginning to change.
[iframe src="/files/ad_openx.htm" width="600″ height="300″ frameborder="0″ scrolling="no"]
[iframe src="http://econintersect.com/authors/author.htm?author=/home/aleta/public_html/authors/l_adler.htm" width="600″ height="200″ frameborder="0″ scrolling="no"]