One of the things talking heads keep repeating is that increased health care cost is one of the reasons causing employers to avoid adding new hires.  This is reported to be especially important for smaller companies.
It certainly is true that small business is seeing much less indication of recovery.  The NFIB (National Federation of Independent Business) survey is much more pessimistic than the ISM (Institute for Supply Management) as shown in the following graph: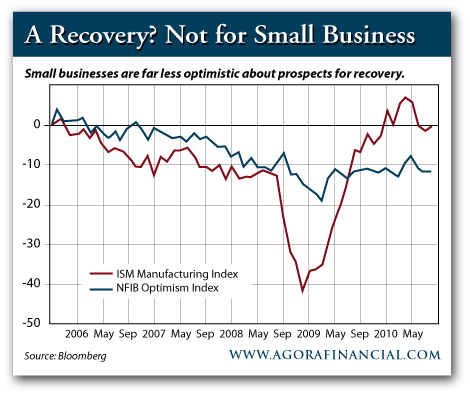 The NFIB survey covers small businesses, while the ISM surveys large companies.
A quote from the 5-Min. Forecast:
"The persistence of Index readings below 90 is unprecedented in survey history," says the NFIB. Contrast its readings over the last five years with, for instance, the big-business ISM manufacturing index, which has pointed to expansion for over a year now…Steven Hansen discusses the differences in the various business activity reports in detail in his weekly economic review posted September 3.
One of the continuing problems facing small business is the advancing cost of health care.  One report says small companies are facing a bigger acceleration in health care costs than large companies, as shown in the following graphic: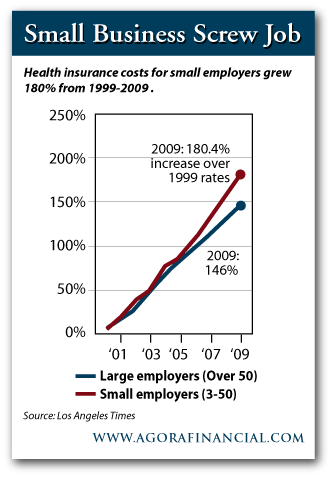 A report from the Kaiser Family Foundation and Health Research and Educational Trust found a lower growth rate for the same time period than did the Los Angeles Times (above), as shown in the following graph: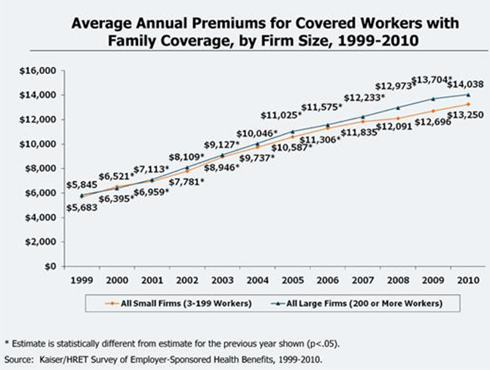 From the Kaiser data, small business health insurance costs compounded at an 8% rate 1999 through 2009, while large companies compounded at 9%.  The LA Times data produces a similar 9% compounding for large businesses, but a significantly higher 11% for small businesses.
The Kaiser report found 2010 increases in employer sponsored health care insurance premiums climbed 3% for family coverage and 5% for single coverage.  These are far less than the 9% compound growth rate for large businesses and 8% or 11% for small businesses over the 11 prior years.  The 2010 increases are more than 40% less than the health care costs increased in 2009.  Also, as we shall see later in this article, the 2010 increases were essentially completely transferred to increased employee contributions.
The percentage of workers covered by employer sponsored health care plans has not changed in a statistically significant way from year to year since 1999.  However, there does appear to be a clear trend from a high of 65% in 2001 to 59% in 2010.

The down trend in percentage coverage does not tell the whole story, however.  The 60% coverage of NFP (non-farm payrolls) of 137.9 million at the beginning of 2008 implies 5.9 million fewer employees covered in August 2010, when NFP is reported as 130.3 million.
The same report indicates that employee contibutions to health care have increased.  The systematic pattern from 2009 is shown in the following graph: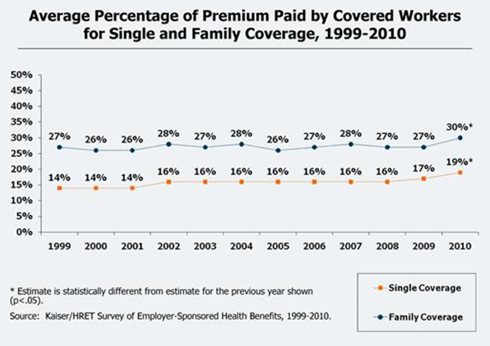 The first statistically significant change year-to-year has occurred in 2010.  I view the increasing employee contribution as a positive.  It is one step of many that need to be made to transfer cost control for medical care to the patient, which I have been arguing is necessary to achieve a bending of the health care cost curve downward.  See here, here and here.
What is significant, as regards the title question, is that health care costs for employers are actually little changed in 2010.  According to the Kaiser report, approximately half (47%) of the coverage is for single workers.  In 2010, health care coverage costs are increasing approximately $408 per family, while employee contributions have increased approximately $528 per family.  The numbers are reversed for single employees, with costs increasing by $264 per employee and employee contributions increasing by an average of $144.  Total employer costs for health care are actually slightly down because 47% of employees (single coverage) cost employers an average of $120 a year more per employee while 53% of employees cost an average of $120 a year less.
In 2010, health care costs for businesses, on average, are actually flat to down on a per employee basis. Growing health care costs are not the reason that small businesses are pessimistic.