Where have all the flowers gone?
Long time passing
Where have all the flowers gone?
Long time ago
Where have all the flowers gone?
Girls have picked them every one
When will they ever learn?
When will they ever learn?
                   Pete Seeger
Joe Leahy reports in the Financial Times that decline of skilled technical employment in the U.S. is a self-created problem.  Quoting representatives of Cognizant Technology Solutions (CTSH) and Infosys Technologies (INFY), major technology outsourcing firms, Leahy says that the U.S. is falling far short of turning out enough technology and engineering graduates from its universities.
India produces 600,000 BS engineers every year; the U.S. only 84,000.  That is about double the rate per capita for India.  About 70% of Ph.D. candidates in the U.S. are foreign students.  Many of them remain to become permanent residents and citizens, taking positions in such places as Silicon Valley and NASA.  U.S. natives are choosing not to compete for these lucrative positions.
We are doing it to ourselves.
The outsourcing firms report difficulty in hiring the technical people they need to hold positions actually located in the U.S.  Infosys says it wants to hire 1,000 people a year here, but "it is a struggle".
Cognizant has 88,000 domestic positions and has had import foreigners to fill about half of them, in spite of having 57 recruiters here scouring the country for qualified people.
We are doing it to ourselves.
Education level has a strong correlation with unemployment, as we reported a few months ago and is displayed in the following graph from http://www.chartoftheday.com/: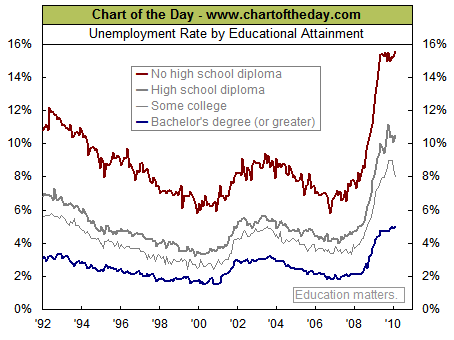 College degreed folks are 95% employed, while high school dropouts are only 85% employed.  Those with some college and high school diplomas are 89-92% employed.  Skills level as indicated by education achievement has a strong influence on unemployment.Skill level is not just a problem with outsourcing firms.  As reported in July, domestic firms are having problems finding skilled workers with basic high school knowledge competency.  From the July article:
The case described involves Ben Venue Laboratories, a Cleveland area contract drug maker for pharmaceutical companies.  The company has 100 job openings with starting pay at $13 to $15 an hour (average about $31,000 per year).  They have reviewed about 3,600 job applications so far this year and have found only 47 people to hire.
Also reported in the same article, the military is having difficulty recruiting: 
Does Ben Venue ask for too high a skill set?  It doesn't seem that way.  The requirement is competency in reading and math at the ninth grade level. 
GreenRiver recounts the experience of an Army recruiter who found that a high school valedictorian could not pass the military's basic competency exam without the use of a calculator to do simple arithmetic (addition, subtraction, multiplication and division).
When the rate of change of innovativeness was measured for 40 countries over the past decade by the Information Technology and Innovation Foundation, the U.S. came in dead last.  The result was strongly effected by education system output.
We are doing it to ourselves.
For years we have heard stories about scientists and engineers earning advanced degrees and then going to Wall Street to make mega bucks in "financial engineering".  Instead of building things of economic utility they have been developing things that expand leverage to ridiculous extremes and diversify the risk to the extent that it can bring down the whole world.  Not only have we lost the services of many people who might have invented the next microelectronic marvel or medical physics breakthrough, we have allowed them to develop Frankenstein monsters.
We are doing it to ourselves.
Where have all the flowers gone?  We have picked them, every one….and we haven't planted any more.  We are doing it to ourselves.