With the good news Friday from the BLS (Bureau of Labor Statistics) in the Employment Situation Report for January 2012, it is worthwhile to look at a few graphs that give some perspective. The first comes from Chart Of The Day and shows how far we currently are from the 50-year trend line for non-farms payroll employment.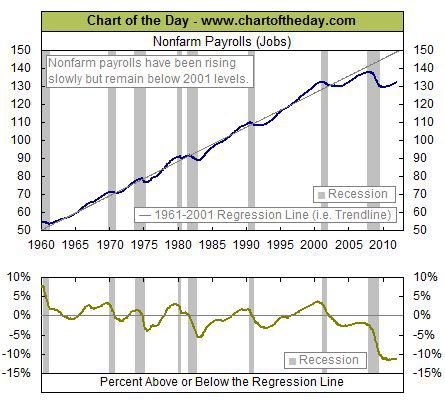 The current number is very near that from the peak in 2000. Yet we have nearly 30 million more people in the U.S. today than at the turn of the century. The following graph (data through August, 2011} shows that we are actually at employment levels last seen in the mid-1980s (click to enlarge images):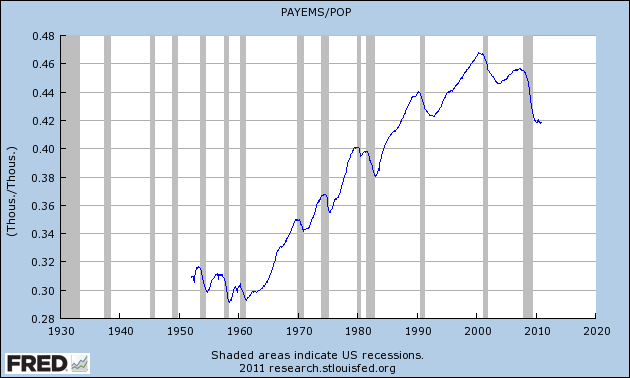 For demographic reasons (aging baby boomers) and structural problems leading to very high unemployment for youth we may not return to the levels seen from the mid-1990s through 2007 for a long time. But, unless we start moving the above graphic upward again, the recovery we are all looking for may be better called a convalescence.
There is a graph from Steve Hansen's great analysis of the employment report Friday that I have annotated to suggest a point for discussion.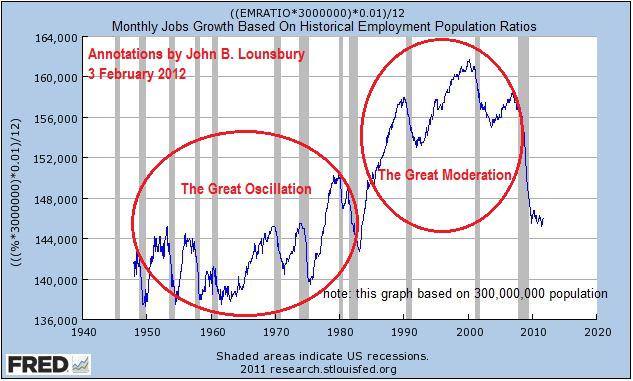 The period from the early 1980s until the financial crisis was called "The Great Moderation" by economists, who were self-congratulatory in how well the monetarism neoclassical theories of equilibrium in economic systems had proven to be correct by the moderation of the swings in the business cycle.
The Great Moderation was a period where recessions occurred on average only about once every six years compared to the previous three decades where they occurred once every four years (on average). The "free market revolution" ushered in a period of 50% improvement in the bad effects of the business cycle. For reasons that will not be discussed here, it could be argued that the revolution actually was destroying free market principles and creating a new cartel dynamic that was all about limiting competition from outside the cartel.
We have created a name for the period before the Great Moderation: The Great Oscillation, where a much higher business cycle volatility was occurring, had employment to population ratios similar to what has been reestablished by the Great Recession. In view of the collapse of the employment ratio in 2008, can the Great Moderation be viewed as a bubble, at least as far as employment is concerned?
Has the U.S. economy left an employment bubble and returned to an 'Old Normal' which I have called the Great Oscillation? In such an environment frequent business cycle oscillations could prove to be a significant damper on the stability of employment.
Following the collapse of a bubble, the 'New Normal' may simply be a return to what used to be.
Related Articles
Analysis articles about employment