Could 2012 Surprise to the Upside?
by Guest Author John Slater, Capital Matters
In January we are trained to predict the likely course of the coming year and more often than not we get it wrong. This year
virtually everyone has had the same prediction: "We'll muddle along at around 2.5% growth unless something really bad happens and then all bets are off." The outliers tend to focus on the possibility that we are heading for a recession based in part on the negative call from the Economic Cycle Research Institute (ECRI). Yet some of the economic data is not cooperating with the doomsayers and our observations in the real world are that business for many of our clients is not all that bad and is in fact improving.
What if the pessimists are wrong and 2012 turns out to be a far more positive year for the economy than many are predicting? While the jury is still out, the data continues to improve in terms of employment and consumer spending.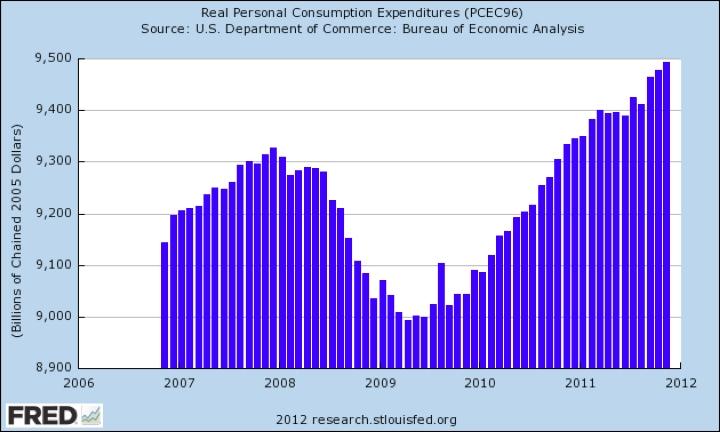 Credit to Hale Stewart who recently published this and a number of other charts supportive of a positive economic case on Seeking Alpha. What's the chance he could turn out to be right? Ignoring for the moment all the could go wrongs, what's the case for a far stronger 2012 than is currently being predicted?
1. Everyone wants things to get better. This is not trivial. After four years of depression, everyone longs for the good old days. 2012 is predicted to be the best year since 2007 for the travel industry. What happens if Americans who have been accumulating dry powder for the past four years suddenly loosen their purse strings?
2. The Fed is committed to a massive and continuing program of monetizing the massive deficits the federal government continues to run. As we wrote recently, this has created a huge overhang of reserves in the banking industry. Should the banks begin to use these reserves to support new credit creation the impact would be significant.
3. The banks may be doing exactly that. For the first time since the crash we can see positive movement in new bank credit creation.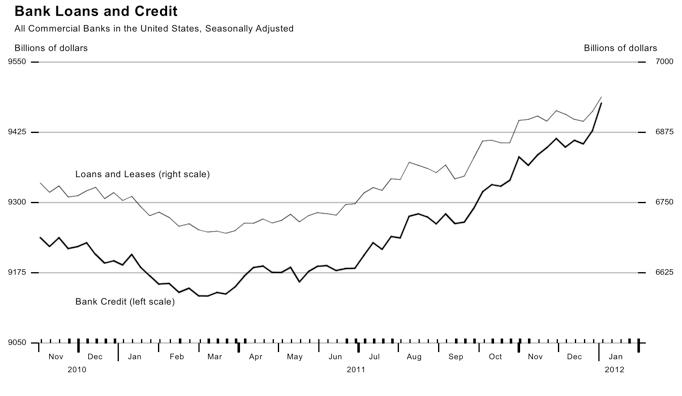 Source: St. Louis Federal Reserve
In our investment banking practice we stay close to lender who can fund our client's growth and provide the financing to make our M&A deals happen. For the first time in years, we are seeing evidence that some banks are getting serious about making commercial loans. Bank earnings were reported this week with varying results. While many banks are still suffering from the effects of the crash, a few, such as Wells Fargo, appear to be making real progress. It's not hard to imagine that somewhere in America a bank CEO pulled his troops together this week to ask what could be done to put their institution on the positive side of that comparison. In response someone on his team may have actually suggested that banks used to make money by making loans. Multiplied across the economy, the impact could be significant.
4. This is an election year. With the exception of 2008, recent election years have generally been very good for the economy.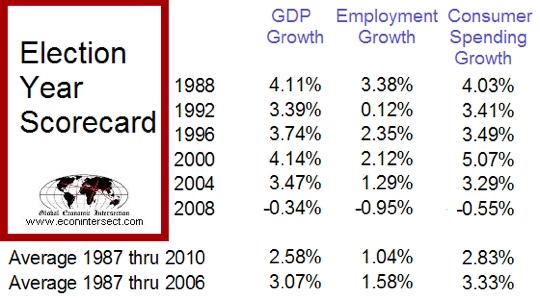 Source: www.econointersect.com; Seeking Alpha
5. Outside of the western economies, the world continues to boom. Many believe that China is at risk of a hard landing, but the likelihood that 2012 is the year for such a negative outcome is quite low. China is in the midst of a historic transfer of leadership. The Chinese government will do everything possible to assure that this transfer does not happen during a period of economic crisis. They have many tools, including trillions of dollars of currency reserves, they can use to keep the music playing and have shown a past willingness to do so. Ongoing growth is certainly not limited to China; even Africa shows promise of real economic progress. The U. S. economy will continue to benefit from this ongoing explosion of global growth.
6. Finally and closer to home we are seeing signs of a pickup in merger and acquisition activity. Our industry has been in a deep depression since 2007. While there has been plenty of money on the sidelines in private equity and strategic coffers, weak private company earnings and the dearth of bank leverage have kept the lid on the deals market. Recently our new activity pipeline has shown signs of increasing strongly and we've heard reports from a number of law firms that their securities and transaction teams were quite business in Q4 2011 with strong activity sustained into 2012.
The deals business is an important barometer of economic activity. Deals generate fee incomes to banks, law firms, accounting firms and investment bankers with a significant multiplier effect in local economies. Equally important private company exits free up a significant amount of investment capital and former owners who have liquefied their business have a relatively strong predilection to support new ventures as angel investors and to invest a meaningful portion of their new liquidity in equities.
2012 will provide us with plenty of surprises. We're just contrarian enough to suggest that one of those surprises may be a much stronger economy than the consensus expects.
About the Author
John Slater, a FOCUS Partner and Capital Financing Team Leader, has twenty eight years of M&A and capital raising experience. Prior to that time, he spent nine years as a practicing attorney, focused primarily on financial transactions, securities and tax matters. Mr. Slater has served clients in industries ranging from information technology and software based services, telecom, broadband distribution, digital media, and business services to manufacturing, health care and distribution logistics.  Complete bio is available here.