by David Zeiler, Associate Editor, Money Morning
Money Morning Article of the Week
Signs of a stock market crash are starting to pile up, increasing the likelihood of a pullback happening before the calendar flips to 2017.
Five signals in particular are flashing a warning to investors to prepare for a stock market crash.
Let's take a look…
Stock Market Crash Indicator No. 1: Markets Are Peaking
Back in August, the three major stock market indicators – the Dow Jones Industrial Average, the Standard & Poor's 500 Index, and the Nasdaq Composite – hit all-time highs on the same day for the first time since 1999.
Since then, the stock market has backed off, but only a little. The Dow is still within 3% of its all-time high, the S&P 500 within 2%, and the Nasdaq within 1%.
The current bull market started in March 2009. That makes it more than seven years old – the second-longest bull market in history. It's ripe for a stock market pullback of 20% or more.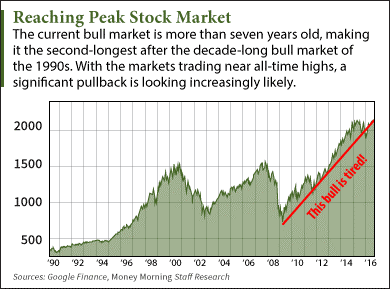 Stock Market Crash Indicator No. 2: Global Growth Is Weak
Last month the Organization for Economic Co-operation and Development (OECD) lowered its 2016 global economic growth forecast to 2.9% from 3%, with prospects for 2017 not looking much better. Slowing global growth exerts drag on the stock markets.
Even a slight uptick in global GDP next year won't change the fact that it will be the sixth consecutive year of below-average economic growth.
Last week the World Trade Organization (WTO) also chimed in. The WTO chopped its forecast for global trade growth in 2016 from 2.8% to 1.7% – the first time in 15 years trade will lag GDP. A slowdown in world trade will further weigh down the global economy.
Stock Market Crash Indicator No. 3: U.S. Growth Is Slowing
Second-quarter U.S. GDP missed its forecast for 2.5% growth by half, coming in at just 1.2%. After peaking at 3.3% in the first quarter of 2015, U.S. economic growth has dropped every quarter.
The U.S. Federal Reserve last month lowered its GDP projection for all of 2016 to 1.8% from its 2% estimate in June.
Meanwhile, the U.S. Labor Department reported that U.S. worker productivity fell at an annual rate of 0.5% in the second quarter. That's the third straight quarter of decline, a bad omen for corporate profits. And lower profits will translate to falling stock prices.
Stock Market Crash Indicator No. 4: Beware of the Fed
Most investors are aware that the Fed's easy money policies have played a major role in the advance of the stock markets over the past eight years. But Ruchir Sharma, the chief global strategist at Morgan Stanley Investment Management, has quantified the impact of years of near-zero interest rates and the bond-buying known as "quantitative easing."
Sharma's research shows that 60% of the stock market's gains have occurred on days when the Fed's Federal Open Market Committee (FOMC) has made policy announcements. It's a relationship Sharma did not find prior to 1980. From 1980 to 2007, the FOMC's effect on stock gains was about half of what it has been over the past eight years.
The problem is the Fed is planning to reverse those market-pumping policies, which will let a lot of air out of the stock price balloon. The FOMC held off on raising interest rates at its most recent meeting but meets two more times this year. Right now the odds of a December rate hike are about 56%.
Stock Market Crash Indicator No. 5: Stocks Are Overvalued
Just about every measure of valuation says the stock market is due for a reset. The price/earnings ratio for the S&P 500, for example, is about 25 now. That's 60% higher than the historic average of 15.62. (Notice how well that jibes with Sharma's number.)
Then there's the Q ratio. Developed by Nobel Laureate James Tobin, the Q ratio is the price of the entire stock market divided by how much it would cost to replace all the companies from scratch. And right now, the Q ratio is saying stocks have reached a point where a stock market crash has invariably followed.
The chart below shows the Q ratio as a percent change from its arithmetic mean with the standard deviations marked as dotted lines.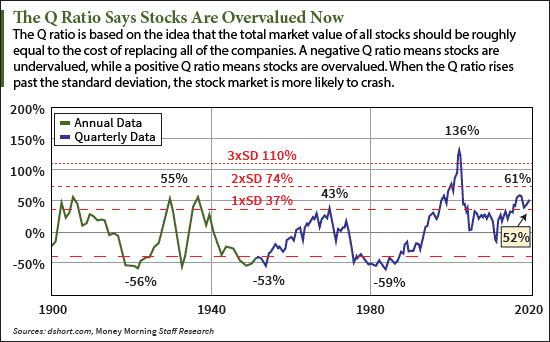 Historically the danger zone for the Q ratio percent change is when it moves north of 40%. And all but one stock market crash occurred after the number reached the mid-50s. We're at 52% now.
With so many signals for a stock market crash flashing red, here's what investors can do to protect themselves…
How to Prepare for a Stock Market Crash Now
Even with a stock market crash likely, investors shouldn't dump all their stocks and run. There are better, smarter ways to prepare that will preserve profits and even set investors up for the opportunities that a stock market pullback will present.
For the best options, we tapped a couple of Money Morning's stable of experts. Here's what they recommend:
Money Morning Global Credit Strategist Michael E. Lewitt believes in keeping a fair amount of money in "safe havens" like cash and gold. Specifically, Lewitt recommends an allocation of about 10% to 20% to gold and about the same to cash.
While Lewitt likes physical gold, he says investors can use the SPDR Gold Trust (NYSE Arca: GLD) exchange-traded fund (ETF), which trades like a stock. Another option is a gold miner like Goldcorp Inc. (NYSE: GG). In a stock market crash, these investments will rise.
Money Morning Director of Tech & Venture Capital Research Michael A. Robinson says investors anticipating a market pullback should look over their portfolio for winners and take profits. Robinson said:
"If you have a 100% gain on a stock, sell half. That way you get back your entire investment and are 'playing with house money.' This strategy also keeps you in the market should it keep rising for a while."
Robinson also recommends using stop-loss orders. That's simply a standing order to your broker to sell a stock when it falls to a pre-determined price. That limits your losses in the event of a sudden collapse.
Investors should also consider using a trailing stop to protect gains. In that case, the sell order is set for a particular percentage below the current price – Robinson recommends 20% – and "floats" upward if the price is rising. That lets winners ride higher while protecting against reversals.