Written by rjs, MarketWatch 666
The news posted last week for the coronavirus 2019-nCoV (aka SARS-CoV-2), which produces COVID-19 disease, has been surveyed and some important articles are summarized here. The articles are more or less organized with general virus news and anecdotes first, then stories from around the US, followed by an increased number of items from other countries around the globe. Economic news related to COVID-19 is found here.
---
Please share this article – Go to very top of page, right hand side, for social media buttons.
---
Summary:
The US Covid surge continued this week, and new case counts and deaths also picked up worldwide. New US Covid cases reported during the week ending July 31st were 38.2% higher than those reported during the week ending July 24th, and 595% higher than cases reported during the week ending June 26th.
US new case counts are now far greater than any other country on the planet, representing nearly 13% of all new cases reported globally this week. For most of this week, we were seeing more new cases than India and Brazil combined, but we broke that sad string with our underreporting on Saturday. Globally, this week's new cases were 9.7% higher than during the week ending July 24th, and 56.8% higher than during the week ending June 26th, which was close to this year's nadir.
US deaths attributed to the various manifestations of the coronavirus during the week ending July 31st were 18.6% greater than the prior week, and 33.7% higher than during the week ending July 10th, which was the low water mark for this year. However, they're still 90.8% lower than during the worst week in January. Globally, Covid deaths this week were 10.0% higher than last week, but just 16.8 higher than during the week ending July 3rd, when global death totals were at their lowest for 2021.
We're now approaching 100,000 new cases a day on those days when most states are reporting, and it seems certain we will top that number sometime next week. A small but not insignificant percentage of those new cases are among those who've already been fully vaccinated. The good news is those who've been vaccinated who get Covid tend to have mild cases, or are asymptomatic altogether, and few need to be hospitalized. The bad news is that they're still spreading the disease among those who aren't vaccinated and who might thus have much more severe cases. The even worse news is that by allowing Covid to spread like that among a population of Americans that is 50%+ vaccinated and around 10% half vaccinated, we are just breeding new mutant strains of the virus that will most likely have more vaccine resistance, and possibly be more contagious and/or deadly than the Delta variant that is now dominant in the US.
The chart below from WorldoMeter shows the daily number of new cases for the US, updated through 31 July. The increase over the last 4 weeks is now clear and is looking exponential with rate of growth about equal to the worst data in late October – early Noivember 2020.
The chart below shows the daily number of deaths for the US, updated through 31 July. The daily deaths have clearly stopped declining and the start of a rise is now evident but so far the rate of increase is much less than seen in previous waves.
The number of active cases still remains at an elevated level, and on July 24 moved again above 5 million, now sharply above.
The graphics presented by Johns Hopkins show global new cases, global deaths, and global cummulative vaccinations in that order.
According to Johns Hopkins (first and second graphs below), a third wave has clearly begun globally, led by the US. Meanwhile global vaccinations continue to increase (third graph below).
.
---
Steven Hansen continues to summarize and link the latest news related to the pandemic and economic recovery every day, 7 days a week, plus displays over a dozen important graphics updated at least daily. The most recent article at the time this is published: 31 July 2021 Coronavirus And Recovery News: Study Finds Vaccination Alone Is Not Enough To Stop The Spread Of COVID Variants.
This article leads the daily newsletter from Global Economic Intersection every day. Newsletter subscription is free.
---
Here are the rest of the articles for the past week reviewed and summarized:
How relaxing Covid-19 restrictions could pave the way for vaccine resistance – Relaxing Covid-19 restrictions could pave the way for new vaccine-resistant virus mutations – according to researchers at the University of East Anglia and the Earlham Institute. A new article published today warns against relaxing Covid-19 restrictions prematurely. It describes how we are in an 'arms race' with the virus and how rising cases could provide opportunities for it to evolve into even more transmissible variants. The researchers fear that any new variants could be more virulent, more vaccine resistant, and more dangerous for children and vulnerable groups such as transplant patients. Lead author and editor in chief of Virulence, Prof Kevin Tyler from UEA's Norwich Medical School, said: "Over the past 17 months, economies, education and mental well-being have suffered tremendously due to the restrictions imposed in an attempt to stem the spread of the pandemic. "Although vaccines have weakened the link between infection and mortality, they should not be used as an argument to justify a broad change in policy for countries experiencing an exponential increase in infection numbers. "This is because most of the world's population are still unvaccinated, and even in countries with efficient vaccination programmes, a significant proportion of society, particularly children, remain unprotected. "Relaxing restrictions boosts transmission and allows the virus population to expand, which enhances its adaptive evolutionary potential and increases the risk of vaccine-resistant strains emerging by a process known as antigenic drift. "Put simply, limiting the spread of Covid-19 as much as possible restricts the number of future deaths by restricting the rate with which new variants arise. "Successive SARS-CoV-2 variants such as the Alpha and Delta variants, have displaced one another since the outbreak. "Slowing down the rate of new variant emergence requires us to act fast and decisively, reducing the number of infected people including children with vaccines and in combination with other public health policies.
VA to mandate COVID-19 vaccine for its health workers –The Department of Veterans Affairs will require its front-line health care workers to be vaccinated against COVID-19, a move that comes as vaccine mandates from employers are on the rise. "I am doing this because it's the best way to keep our veterans safe, full stop," Denis McDonough, the secretary of Veterans Affairs, told The New York Times in an interview. The move will apply to 115,000 employees who have the most "patient-facing" jobs, the Times reported, and they will have eight weeks to get the shots if they have not already. The move from the sprawling federal agency is the first time any part of the federal government has mandated COVID-19 vaccines, a step that the Biden administration has generally shied away from. Calls for more mandates from employers are on the rise, though. New York City announced a mandate for its workers earlier on Monday. And more than 50 health care groups, including the American Medical Association, on Monday also called for health care employers to mandate that all workers be vaccinated. As the vaccination rate in the U.S. lags, even as the delta variant fuels new spikes, many experts say persuasion is reaching its limits and mandates from employers will play an important role. White House press secretary Jen Psaki praised the statement from
Pfizer Shot Halts Severe Illness, Allows Infection in Israel – Pfizer Inc's Covid-19 vaccine provided a strong shield against hospitalization and more severe disease in cases caused by the contagious delta variant in Israel in recent weeks, even though it was just 39% effective in preventing infections, according to the country's health ministry. The vaccine, developed with BioNTech SE, provided 88% protection against hospitalization and 91.4% against severe illness for an unspecified number of people studied between June 20 and July 17, according to a report Thursday from the health ministry. The report said that the data could be skewed because of different ways of testing vaccinated groups of people versus those who hadn't been inoculated. These results contrast with an earlier study in the New England Journal of Medicine which found that two doses of the Pfizer-BioNTech vaccine offer 88% protection against symptomatic disease caused by the delta variant, compared to 94% against the alpha variant that was first discovered in Britain. Public Health England also previously found that the Pfizer and BioNTech shot was 96% effective against hospitalization. Pfizer could not be reached for comment immediately. BioNTech is conducting an ongoing review of study data on the vaccine, a spokeswoman said. The delta variant first emerged in India and is spreading around the globe as governments race to inoculate people, sometimes infecting those already fully vaccinated against Covid. The mutation has forced some countries to delay or rethink plans to loosen curbs on businesses, activity and travel. Israel has had one of the world's most effective inoculation drives, with 57% of the population fully vaccinated, but has seen a recent surge in infections due to delta. Critical cases have also climbed, but remain a fraction of the peak earlier this year.
Latest Data Show Efficacy Of Pfizer Vaccine Falls To 84% After 6 Months –As pressure builds for the FDA to simply 'get on with it' and issue full approval of the Pfizer-BioNTech and Moderna jabs, it looks like the people responsible for deciding whether vaccines are safe and effective are finally coming around to the reality that those vaccines aren't as effective against the delta strain as they had once hoped. Despite months of insisting that the opposite was true, the FDA has found that the efficacy of the jabs has fallen to 84% over six months, according to new data released Wednesday. Conveniently, STAT News, which broke the story about the data, reported that the lower efficacy would likely bolster Pfizer's case for approval of a third dose.Per the data, which has been released to outside scientists, the ongoing study, which enrolled more than 44K volunteers, found that the vaccine's efficacy appeared to decline by an average of 6% every two months after administration. Efficacy peaked at more than 96% within two months of vaccination and slipped to 84% after six months.The overall efficacy against severe disease was a still considerable 97% (though that's still not 100%).Unsurprisingly, STAT lined up a few talking heads to plug the numbers. Paul Offit, a pediatrician and vaccine expert at Children's Hospital of Philadelphia, told STAT that the results were "very reassuring." The potential need for booster shots is tied to the number of fully vaccinated people who develop severe disease, Offit said. That number is just 3% lower after six months, suggesting two doses of Pfizer's vaccine offers adequate protection.Earlier, Pfizer boosted its fiscal year revenue forecast for its vaccine business. Perhaps these data offer some insight into that decision.Of course, there's reason to believe that number might be even lower than the 97%.Israel's Ministry of Health recently found that the Pfizer vaccine is only 39% effective at combating delta, down from 64% according to earlier Israeli data intended to measure the efficacy against the delta variant.Pfizer is already shipping jabs to Israel, which is preparing to start doling out booster shots to residents deemed vulnerable to COVID. For whatever reason, the data released Wednesday doesn't directly address the delta variant. Readers can find the data below:
No Increased Risk Of Blood Clotting After Second AstraZeneca Shot, Study Finds -The second shot of AstraZeneca's Covid-19 vaccine does not increase the risk of developing rare blood clotting, a new study published Wednesday shows, reassuring those who didn't experience issues after their first shot and following reports of numerous countries offering alternatives. The estimated rate of the rare clotting disorder – called thrombosis with thrombocytopenia syndrome, or TTS – following the second AstraZeneca shot was 2.3 per million people vaccinated, according to data published in The LancetWednesday. This is comparable to the background rates of TTS observed in the general unvaccinated population before Covid-19, indicating there is no elevated risk of developing the disorder in people receiving their second dose.The data, from AstraZeneca's global safety database, captured reported cases of TTS in the 14 days after receiving the first or second dose through the end of April 2021, covering some 5.6 million second doses and 49 million first doses.The data confirmed reports of an elevated risk of TTS in those receiving their first shot, however, which occurred at a rate of 8.1 per million people. Sir Mene Pangalos, AstraZeneca's executive vice president of biopharmaceuticals R&D, said the findings "support the administration of the two-dose schedule … unless TTS was identified after the first dose." Originally billed as a world-saver and a more practical alternative to the costly mRNA shots of Pfizer and Moderna, it is now being shunned by wealthy nations who can afford alternatives and poorer nations who don't have any vaccines at all. Mistakes in clinical trials, concerns about rare blood clots, communications fiascos and frequent trouble delivering promised doses on time all knocked the vaccine's reputation around the world. Though the risks of developing the rare blood clots are incredibly low – regulators emphasize the risk is vastly outweighed by that of contracting Covid-19 – numerous countries have restricted the vaccines to lower-risk groups.
At the F.D.A.'s urging, Pfizer-BioNTech and Moderna are expanding their trials for children 5 to 11. – At the urging of federal regulators, two coronavirus vaccine makers are expanding the size of their clinical trials for children ages 5 to 11 – a precautionary measure designed to detect rare side effects including heart inflammation problems that turned up in vaccinated people younger than 30.President Biden promised at a meeting in Ohio last week that emergency clearance for pediatric vaccines would come "soon," but the White House has not been specific on the timeline. It was unclear whether expanding the studies will affect when vaccines could be authorized for children.The Food and Drug Administration has indicated to Pfizer-BioNTech and Moderna that the size and scope of their pediatric studies, as initially envisioned, were inadequate to detect rare side effects. Those include myocarditis, an inflammation of the heart muscle, and pericarditis, inflammation of the lining around the heart, multiple people familiar with the trials said.Questions about vaccinating children – including those under 12 – are of huge interest to parents and teachers. Regulators will be required to balance potential side effects of coronavirus vaccination against the risks of Covid-19.Members of a C.D.C. advisory committee have said that the benefits of shots for people older than 12 greatly outweigh the risks, including of heart problems.The F.D.A. has asked the companies to include 3,000 children in the 5-to-11-year-old group, the group for whom results were expected first, according to people familiar with the situation. One of the people, granted anonymity to speak freely, described that figure as double the original number of study participants.A spokesman for Moderna, Ray Jordan, confirmed that the company intends to expand its trial "to enroll a larger safety database which increases the likelihood of detecting rarer events" and expects to seek emergency authorization late this year or early next year.The Moderna trial began recruiting patients in March with the aim of enrolling 6,795 participants younger than 12. The participants were to be split equally into three age brackets, including a 6 to 11 year old group, of 2,265 participants each. Mr. Jordan said the company is "actively discussing" a proposal with the F.D.A. to expand the trial.Pfizer is on a faster timetable than Moderna, and may be able to meet the F.D.A.'s expectations on a bigger trial size and still file a request to expand emergency authorization of its vaccine by the end of September. Reviewing all the safety and efficacy data will likely take regulators at least a few weeks.Pfizer has previously said it expects to have results for the 5-to-11-year-old group in September, with results for children aged 2 to 5 shortly after that. Results for the youngest children – 6 months to 2 years old – are expected in October or November. A spokeswoman said Monday that the company had no updates on its timetable.
The F.D.A. extends the Johnson & Johnson vaccine's shelf life to six months.– The Food and Drug Administration on Wednesday agreed to allow Johnson & Johnson to extend the shelf life of its coronavirus vaccine to six months.The F.D.A.'s decision came as state health officials in the United States were growing increasingly concerned that doses of thevaccine would expire and go to waste. The vaccines were previously set to expire after four and a half months.In a letter, the F.D.A. said its decision was "applicable to batches that might have expired prior to the issuance of this concurrence letter" and had been stored at the proper temperature, 2-8 degrees Celsius, or 35.6-46.4 Fahrenheit.The single-dose Johnson & Johnson vaccine can be stored in normal refrigeration, which has helped states reach more isolated communities where it may be difficult to manage a two-dose vaccine like those made by Pfizer-BioNTech and Moderna. Both of those must be stored at much lower temperatures.As of Wednesday, more than 13 million Americans had received the one-shot Johnson & Johnson vaccine, according to data from theCenters for Disease Control and Prevention. The Pfizer-BioNTech vaccine has been the most widely administered in the United States, with more than 87 million Americans fully vaccinated with it. More than 63 million people in the United States have been fully vaccinated with the Moderna formula.
Citing new data, Pfizer outlined a case for booster shots, but there's a debate over whether they're needed – Pfizer reported on Wednesday that the power of its two-dose Covid vaccine wanes slightly over time, but nonetheless offers lasting and robust protection against serious disease. The company suggested that a third shot could improve immunity, but whether boosters will be widely needed is far from settled, the subject of heated debate among scientists.So far, federal health officials have said boosters for the general population are unnecessary. And experts questioned whether vaccinated people should get more doses when so many people have yet to be immunized at all."There's not enough evidence right now to support that that is somehow the best use of resources," said Natalie Dean, a biostatistician at Emory University in Atlanta.Still, the findings raise questions about how much the Pfizer vaccine will prevent infection in the months to come. And with coronavirus cases surging again in many states, the data may influence the Biden administration's deliberations about delivering boosters for older people.If third shots are cleared for the general population, the boosters would likely represent a multi-billion-dollar business for Pfizer.In a study posted online but not yet peer-reviewed or published in a scientific journal, Pfizer and BioNTech scientists reported that the vaccine had a sky-high efficacy rate of about 96 percent against symptomatic Covid-19 for the first two months following the second dose. But the figure declined by about 6 percent every two months after that, falling to 83.7 percent after about four to six months.Against severe disease, however, the vaccine's efficacy held steady at about 97 percent."It's not a big drop, but it is noteworthy," Dr. Dean said. "Overall, they find that the vaccine is still performing very well, at very high efficacy." The study period ended before the rise of the Delta variant, the highly contagious version of the virus that now dominates in the United States and makes vaccines somewhat less effective against infection.
CDC to recommend masks for vaccinated people in some situations – The Centers for Disease Control and Prevention (CDC) plans to adjust its mask recommendations to advise people vaccinated against COVID-19 to again wear masks indoors in certain situations, White House press secretary Jen Psaki confirmed."It's obviously a decision the CDC made," she told reporters Tuesday. "The president was briefed this morning by Dr. [Anthony] Fauci but beyond that, we've been aware of their discussions with our public health officials."Psaki did not unveil the specific recommendations the CDC plans to announce later Tuesday, saying, "It is not only appropriate for them to make the decisions, it's also appropriate for them to officially announce their own guidance."The change in guidance comes after COVID-19 cases have risen nationwide, nearly tripling in the past two weeks as the delta variant sweeps the country. More reports of breakthrough cases among fully vaccinated people have streamed in as the highly transmissible variant became the dominant strain in the U.S."We're still in the midst of a once in a generation pandemic battling an ever-evolving virus," Psaki said."The reality is we are dealing with a much different strain of this virus than we were even earlier in the spring," she added.
House to resume mask mandate after new CDC guidance – Masks will once again be universally required on the House side of the Capitol amid the spread of the highly contagious delta variant, the Capitol physician announced late Tuesday night. The resumption of the House mask mandate – just over a month after it was lifted – comes after new guidance from the Centers for Disease Control and Prevention (CDC) earlier Tuesday recommending that vaccinated people should wear masks in high-risk areas. "To be clear, for meetings in an enclosed US House of Representatives controlled space, masks are REQUIRED," a memo from the Capitol physician, Brian Monahan, states. Monahan said that masks are justified given that members of Congress hail from all over the country, where some areas – primarily conservative-leaning – are seeing a surge in COVID-19 amid low vaccination rates. "For the Congress, representing a collection of individuals traveling weekly from various risk areas (both high and low rates of disease transmission), all individuals should wear a well-fitted, medical-grade filtration mask (for example an ear loop surgical mask or a KN95 mask) when they are in an interior space," Monahan wrote. Most people in the Capitol were largely forgoing masks in recent weeks after the Capitol physician announced last month that they were no longer required for people vaccinated against COVID-19. But many lawmakers and staffers began wearing masks voluntarily again last week following news that Rep. Vern Buchanan (R-Fla.), a staffer for Speaker Nancy Pelosi (D-Calif.) and a White House official all tested positive for COVID-19 despite being fully vaccinated. The return of the House mask mandate drew swift outcry from Republicans, many of whom have resisted wearing facial coverings from the start of the pandemic. "Make no mistake – The threat of bringing masks back is not a decision based on science, but a decision conjured up by liberal government officials who want to continue to live in a perpetual pandemic state," House Minority Leader Kevin McCarthy (R-Calif.) tweeted Tuesday night. Lawmakers face hefty fines if they don't comply with the House floor mask mandate. Six Republicans were issued $500 fines in May for refusing to wear masks before the Capitol physician ultimately lifted the requirement.
CDC Confirms That Viral Loads In Vaccinated People With Delta May Be Infectious, So Masks Are Necessary. — The Centers for Disease Control reversed course Monday and said it now recommends indoor masks for the vaccinated in all areas of the country where COVID infections are surging. CDC director Dr. Rochelle Walensky cited unpublished data from recent days suggesting that vaccinated people may be able to spread the Delta variant just as easily as unvaccinated people.We're back in a phase of constantly shifting information and data – and just last week we had experts casting doubton whether vaccinated and mildly symptomatic or asymptomatic cases should be counted as "breakthrough" cases, and others casting doubt on whether vaccinated people could spread the virus easily.But as was expected, the CDC changed its tune about masking on Tuesday, recommending that vaccinated people resume wearing masks in crowded indoor settings. And, it should be noted, that while outdoor gatherings are still being considered safe, some experts are also now casting doubt on what assumptions to keep with the Delta variant. Dr. Eric Feigl-Ding, one of the world's leading epidemiologists, pointed to some recent "fleeting" transmission casesin Australia, albeit indoors, that appeared to happen with barely any close contact whatsoever.** And an outbreak ofaround 1,000 attendees at an outdoor music festival in the Netherlands appears to confirm that widespread outdoor transmission of the Delta variant is possible in crowds.As the Associated Press notes, Walensky cited data from the last few days, still unpublished, taken from 100 samples from vaccinated and unvaccinated individuals with COVID infections. They found that the amount of virus in the noses and throats of vaccinated infected people was nearly "indistinguishable" from what was found in unvaccinated people, confirming what some experts have suspected. The increased viral load associated with the Delta variant appears to make vaccinated people equal spreaders of the virus. Walensky said that the data was "concerning enough that we feel like we have to act."Infections in vaccinated people are still vastly less severe than those among the unvaccinated, and the overwhelming number of hospitalizations and deaths are happening among the unvaccinated. But new evidence is enough to make the vaccinated feel less secure about what happens if they're exposed to the Delta variant.
USA Today Scrubs Passage Suggesting Vaccinated Individuals May Spread COVID With 'Higher Levels' Of Virus – "NBC News, citing unnamed officials aware of the decision, reported it comes after new data suggests vaccinated individuals could have higher levels of virus and infect others amid the surge of cases driven by the delta variant of the coronavirus," the USA Today reported in a passage that was later scrubbed from an article. A screenshot from the article and an online archive of the passage points out the surfacing evidence. The story from the USA Today drops the reference to NBC News, but nonetheless corroborates the news: "CDC says vaccinated people may transmit virus, recommends masks indoors.""CDC Director Dr. Rochelle Walensky said new data shows the delta variant, which accounts for more than 80% of the new infections in the U.S., behaves 'uniquely differently' from its predecessors and could make vaccinated people infectious," the article notes."Information on the delta variant from several states and other countries indicates that in rare occasions some vaccinated people infected with the delta variant after vaccination may be contagious and spread the virus to others," Walensky said in announcing new guidance, which reverses a CDC recommendation in May. "This new science is worrisome and unfortunately warrants an update to our recommendation."NBC News reported on the CDC guidance reversal on Monday."The Centers for Disease Control and Prevention recommended Tuesday that fully vaccinated people begin wearing masks indoors again in places with high Covid-19 transmission rates," NBC News reported. "The agency is also recommending kids wear masks in schools this fall.""Federal health officials still believe fully vaccinated individuals represent a very small amount of transmission," the report continued. "Still, some vaccinated people could be carrying higher levels of the virus than previously understood and potentially transmit it to others."Read the rest of the report here.
The C.D.C. now says fully vaccinated people should get tested after exposure even if they don't show symptoms. – In addition to revising its mask guidance on Tuesday, the Centers for Disease Control and Prevention also quietly updated its testing recommendations for people who are fully vaccinated against the coronavirus.The agency now advises that vaccinated people be tested for the virus if they come into contact with someone with Covid-19, even if they have no symptoms. Previously, the health agency had said that fully vaccinated people did not need to be tested after exposure to the virus unless they were experiencing symptoms."Our updated guidance recommends vaccinated people get tested upon exposure regardless of symptoms," Dr. Rochelle P. Walensky, the agency's director, said in an email to The New York Times. "Testing is widely available."Fully vaccinated people should wear a mask in public indoor spaces after exposure, the agency said. Three to five days later, they should be tested for the virus.If the results come back negative, they can stop wearing masks indoors. If results are positive, the infected should isolate at home for 10 days.Although people who are fully vaccinated may still get infected with the virus, these breakthrough infections tend to be mild or asymptomatic. The vaccines authorized in the United States provide strong protection against the worst outcomes, including severe disease, hospitalization and death, including from the Delta variant.The new testing recommendation came on the same day that the agency recommended that fully vaccinated people return to wearing masks indoors under some circumstances. When levels of community transmission are high, everyone, regardless of vaccination status, should wear masks indoors when they are in public, the agency now says. The agency also recommended that vaccinated people in close contact with unvaccinated people, including children under age 12, consider wearing masks in public indoor spaces whatever the transmission rates in the local community. In a shift, the agency also recommended universal masking in schools.
COVID Symptoms May Linger In Some Vaccinated People Who Get Infected, Study Finds -There's more potentially worrisome news for vaccinated people: In very rare cases, people experiencing breakthrough infections may be at risk for long-COVID symptoms.That's according to a small new study of fully vaccinated health care workers in Israel,published Wednesday in The New England Journal of Medicine.The study confirmed what's already known: That it's very rare for fully vaccinated people to get infected or sick with COVID-19. But it also found lingering COVID symptoms did develop in a handful of breakthrough cases.Researchers studied 1,497 vaccinated health care workers at the Sheba Medical Center in Israel. Among them, only 39 got infected despite their inoculations. Of those, seven – or about 19% – developed symptoms that lasted at least six weeks, including headaches, muscle pain, loss of taste and smell and fatigue."It's really disturbing," says Dr. Gili Regev-Yochay, director of the infection, prevention and control unit with the Sheba Medical Center and an author of the study."If this is what we're going to see with all of the even mildly symptomatic infections that we're seeing now, it's definitely worrisome," she says."We had hoped that when you get vaccinated and even if you did have a breakthrough infection you would have enough of an immune response that would block this protracted symptom complex now known as long COVID," says Dr. Eric Topol, a professor of molecular medicine at Scripps Research."This study is the really first to give us an indicator that there's some long-haulers among that small group of people that had breakthrough infections," Topol says.
Are Covid Shots Working? What the Real World Tells Us – With Covid-19 shots in billions of arms by now, evidence is emerging of how well they work in real-world settings. Vaccines authorized for emergency use have successfully subdued epidemics in nations where at least half of the population is fully immunized. But as more-transmissible variants spread, driving fresh outbreaks and an increase in breakthrough infections, health authorities are recommending some immunized individuals wear face-masks indoors to augment the protection of vaccines. In general, the Covid shots are extremely good, though not perfect, at protecting against hospitalization and death. Researchers in Taiwan found that a 10% increase in vaccine coverage is associated with a 7.6% reduction in the case fatality ratio. Most vaccines also provide a very good shield against developing Covid symptoms, and some are able to provide good protection from being infected with the virus that causes Covid, SARS-CoV-2. The latter ability is important because it results in the kind of sterilizing immunity that stops the virus from spreading — a feat that will bring the world closer to ending the pandemic via so-called herd immunity. In any case, vaccination is associated with a 40%-to-50% reduction in Covid cases among an infected person's household contacts, and it's anticipated that newer generation vaccines will be even better at preventing onward transmission. With Israel, the U.S. and U.K. supplying the majority of the data, which pertains mostly to vaccines made by AstraZeneca Plc and Pfizer Inc. and its partner BioNTech SE. Estimates for Sputnik V and Sinopharm vaccines are the most limited. Also, although more than 90 vaccine effectiveness studies have been made publicly available, their quality varies considerably, according to the World Health Organization. For now, the so-called mRNA vaccines made by Moderna Inc. and by Pfizer-BioNTech appear superior. Also, mixing the vaccines (most require two shots) appears to generate a robust immune response. Doctors have reiterated, however, that the best vaccine is the one that's available where you are, as any protection is better than none against this virus. Efficacy levels estimated from clinical trials aren't necessarily comparable because each vaccine study used different regimens and measurements. They also were undertaken in different groups of people and at different times, when different strains were prevalent. In some countries, like Chile, two vaccines have been administered simultaneously, allowing for a comparison of the two groups. But the individuals receiving the shots may have differed in terms of their vulnerability and likelihood of being infected, so the effectiveness of each vaccine may not be directly comparable. Still, the results show how well vaccines are preventing Covid cases, hospitalizations and deaths from real-world data. An unpublished study by Pfizer researchers that followed vaccinated individuals for up to 6 months reported a gradually declining trend in vaccine efficacy against a symptomatic infection, but found their shot remained "highly efficacious" overall. Efficacy peaked at 96.2% in the two months after a second shot, and declined gradually to 83.7% from 4 months, and then by an average of 6% every two months. Further follow-up is needed to understand the persistence of the vaccine effect as well as whether and when boosters are needed.
COVID-19 Vaccine Breakthrough Cases: Data from the States – While COVID-19 vaccines are highly effective at preventing severe disease, hospitalization, and death from COVID-19 and also reduce the likelihood of mild or asymptomatic infection, a small share of fully vaccinated individuals do become infected, and some become hospitalized or have died. These rare occurrences areknown as "breakthrough cases" which are to be expected, and historically known to occur with other vaccinesas none is 100% effective.The Centers for Disease Control and Prevention (CDC) currently monitors hospitalizations and deaths, from any cause, among fully vaccinated individuals with COVID-19, but not breakthrough infections, which itstopped monitoring as of May 1. CDC presents this data in aggregate at the national level but not by state, and there is no single, public repository for data by state or data on breakthrough infections, since the CDC stopped monitoring them.We therefore reviewed the websites and other official state sources for all 50 states and D.C. to see which are providing data on COVID-19 breakthrough cases, hospitalizations and deaths, how regularly, and what those data may tell us. We only used data from official state sources (we did not include data available only in news media reports, for example). Where a state did not provide comparable data on overall COVID-19 cases, hospitalizations, or deaths reported over the period in which it captured breakthrough events, we obtained data on cases and deaths from the Johns Hopkins University COVID-19 Dashboard and on hospitalizations from the U.S. Department of Health & Human Services for the appropriate period (see methods for more detail).Importantly, not all hospitalizations and deaths of those fully vaccinated and diagnosed with COVID-19 are due to COVID-19 or have a known cause at the time of reporting. The CDC reports that as of July 19, of 5,601 hospitalized breakthrough cases, 27% were asymptomatic or not related to COVID-19 and of 1,141 fatal cases, 26% were asymptomatic or not related to COVID-19. States differ in whether they provide this detail.DC, for example, reports that as of July 11, 50% of hospitalized breakthrough cases were due to COVID-19, 19% were not, and 31% were of unknown reason. However, few states made these distinctions. Where they did, we only included breakthrough hospitalizations and deaths due to COVID-19. In other cases, some of these breakthrough events may be due to causes other than COVID-19.Overall, we find that:
Half of states (25) report some data on COVID-19 breakthrough events (see Table 1). Twenty-four provide data on breakthrough cases, 19 on hospitalizations and on deaths.
Fifteen of these states regularly update these data, often on a weekly basis. The rest use a different frequency, have one-time reports, have stopped updating, or have an unclear reporting frequency.
The data reported from these states indicate that breakthrough cases, hospitalizations, and deaths are extremely rare events among those who are fully vaccinated against COVID-19 (see Figure 1). The rate of breakthrough cases reported among those fully vaccinated is well below 1% in all reporting states, ranging from 0.01% in Connecticut to 0.90% in Oklahoma.
U.S. Vaccine Diplomat Cajoles Producers to Support Low-Cost Off-Shore Vaccine Hubs – Jerri-Lynn Scofield -The Center for Disease Control (CDC) appears on the verge of reversing its mask guidance for the fully vaccinated, according to the New York Times, The C.D.C. will recommend that some vaccinated people wear masks indoors again. This new guidance would reverse one of the many misguided government decisions made since the start of the pandemic: dangling the shiny penny of being able to go maskless as a bribe to the vaccine hesitant to induce them to get jabbed. Look how well that worked out! The premature decision to allow people to go mask-free has undoubtedly increased the number of COVID-19 infections and deaths among both vaccinated and unvaccinated alike, since it was announced in May. That brings me to what I really want to discuss: the focus throughout the pandemic on protecting intellectual property rights – and profits – rather than hunkering down to supply effective treatments and vaccines to everyone in the world as quickly as possible. The powers that be decided to bet the farm on a vaccine strategy rather than on treatments. So, in the interest of keeping this post to a manageable length, vaccines will be the topic du jour. It's not always been the case that inventors of medical advances promoted profit over public health. Both Jonas Salk and Alfred Sabin didn't patent their respective polio vaccines. In that regard, they followed a precedent set by the inventor of insulin in 1923, Frederick Banting, who declined to put his name on the patent, as he believed it to be unethical for a doctor to profit from such a life-saving discovery. Banting's co-inventors, James Collip and Charles Best, sold the insulin patent to the University of Toronto for $1, so that anyone who needed the new miracle medication could afford it. Would that Big Pharma – and other esteemed elites – I'm looking at you, Bill Gates – were now so public spirited. Not only did they seek to profit, but they have blocked initiatives to distribute remedies widely, cheaply, and rapidly. Last year, India and South Africa proposed a patent waiver for coronavirus vaccines at the World Trade Organisation (WTO). The U.S., along with Canada, Germany, and the UK, opposed this measure , until the Biden administration reversed course in May and came out in support of waiving coronavirus patents.. But U.S. support alone hasn't led to any shift in WTO policy. Meanwhile, people continue to die. Millions, as matter of fact, since the waiver proposal was made nine months ago; 3 Million People Have Died of Covid Since Rich Nations Began Obstructing Vaccine Patent Waiver: The WTO's General Council meets in Geneva today and tomorrow and will discuss the patent waiver issue. But without a breakthrough soon, no waiver may be forthcoming until the WTO breaks for vacation in August. Meaning that the measure will be stymied until October at least. Per Common Dreams: Lori Wallach, director of Public Citizen's Global Trade Watch division, blasted the WTO for preparing to shut down for six weeks of vacation while "monopoly protections for pharmaceutical corporations remain an obstacle to scaling up the production of vaccines, tests, and treatments needed to beat Covid." "The Delta variant is burning a murderous path through a world where most people are literally dying for a vaccine but there simply is no supply," Wallach said in a statement Tuesday. Meanwhile, the U.S. is moving on another front, as reported in the FT, US vaccine diplomat urges producers to back low-cost jab hubs abroad:
Missing genetic data on the early coronavirus from China has re-emerged – A batch of early coronavirus data from China that went missing for a year – prompting questions about whether they had been purposely deleted – has emerged from hiding.Last month an American scientist discovered that more than 200 genetic sequences from Covid-19 patient samples isolated in Wuhan, China, early in the pandemic had puzzlingly been removed from an online database.A Seattle virologist, Jesse Bloom, managed to track down 13 of the sequences on Google Cloud. In an online report, he wrote that it "seems likely that the sequences were deleted to obscure their existence."But now an odd explanation has emerged, stemming from an editorial oversight by a German scientific journal called Small. And the sequences have been uploaded into a different database, overseen by the Chinese government.The story began in early 2020, when researchers at Wuhan University sequenced a short stretch of genetic material from virus samples at a Wuhan hospital.They posted their findings online in March 2020 and uploaded the sequences to an online database maintained by the National Institutes of Health. Their results were published in June 2020 in Small. But a year later, Dr. Bloom, who was researching the origin of Covid-19, could not find the sequences in the database, and the N.I.H. said the authors of the study had asked that the data be withdrawn. On July 5, more than a year after the Wuhan University researchers withdrew the sequences from the N.I.H. database and two weeks after Dr. Bloom's report was published, the sequences were quietly uploaded to a different database maintained by China National Center for Bioinformation.
San Diego Zoo snow leopard tests positive for COVID-19 –A rare male snow leopard at the San Diego Zoo has tested positive for the coronavirus, prompting the closure of the animals' habitat to zoo visitors until further notice. Zoo officials last week noticed the animal was experiencing a cough and runny nose. Two separate tests of his stool confirmed the presence of SARS-CoV-2, the zoo saidin a statement on Friday. The snow leopard has exhibited no other symptoms and appears to be doing well, according to zoo officials. A female snow leopard and two Amur leopards who share the habitat are in quarantine due to the assumed exposure. The zoo earlier this year began vaccinating animals with an experimental vaccine developed by veterinary pharmaceutical company Zoetis, which is intended strictly for nonhuman use. In January, a group of eight gorillas at the zoo's sister facility contracted the virus from a wildlife care specialist who was asymptomatic. All the gorillas have since fully recovered. It's believed to be the first known cases of COVID-19 among primates other than humans. While the zoo said it was administering the vaccine doses as quickly and responsibly as possible, the male snow leopard had yet to get the vaccine. It's unclear how the big cat got infected, but the zoo said it has security measures in place to keep animals safe, such as the use of personal protective equipment, masks and cleaning and disinfection protocols. There's an estimated 4,0000 to 6,000 snow leopards left in the wild, according to the World Wildlife Fund.
A third of white-tailed deer tested in a survey were exposed to the coronavirus. A third of the white-tailed deer tested in four states during a federal study had been exposed to the coronavirus, in yet another indication of the unpredictable nature of the disease. The percentage was highest in Michigan, where 60 percent of the animals tested positive.The presence of the virus in wild deer is not just a curiosity for scientists. The virus has shown it can jump from one species to another, and in the worse case, it could become established in a common animal species, creating a reservoir from which the virus could spill back into humans."It's not just a warning about deer," said Tony Goldberg, a veterinarian at the University of Wisconsin, Madison, who has been surveying North American bats for evidence of infections with the coronavirus.The deer could have encountered the virus through contact or proximity to other animals or humans. Exposure is not the same as infection; the blood tests detected antibodies, which could indicate that the deer fought off infection.The U.S. Department of Agriculture's Animal and Plant Health Inspection Service conducted the survey because deer have been shown to be susceptible to infection and are often in contact with people. Researchers tested blood samples from deer in Illinois, Michigan, New York and Pennsylvania in 2020 and 2021. The findings have not yet been published in a scientific journal. Researchers have experimentally infected ferrets, primates and other animals with the coronavirus in the laboratory, and dogs, domestic cats, gorillas and other animals in zoos.Farmed mink caught the virus naturally from humans. The virus mutated and spread back to humans in a few cases. Farmed mink are now being vaccinated with an experimental vaccine, as are zoo animals. Dr. Goldberg said it was difficult to know what close contact with people meant for deer. The animals are often in yards and gardens, but, he joked, not often invited to dinner parties. People could conceivably sneeze on a leaf or into the air with deer nearby, he said, scenarios that seemed "plausible but not likely." He added that if one deer became infected, however, it might well infect or expose other deer to the virus. Sewage also can contain the coronavirus.
Family says 15-year-old girl died after testing positive for Delta variant – – Kaci Loux, 15, loved spending time with her mom and younger sisters. "She was an outstanding girl. Like I said, she loved her music, she loved hanging out with me," said Kaci Loux's mother, Shilynee Loux. Her daughter was the first child COVID-19-related death in Mesa County. According to the health department, the girl tested positive for the Delta variant and was hospitalized before her age group was eligible for the vaccine. "You shouldn't have to lose your own kid over it," the mother said. Cases of the Delta variant are skyrocketing in several states, including Colorado. The variant is believed to be more transmissible, and as it spreads health experts warn about the risk to young children who are not vaccinated. Shilynee Loux said her youngest daughter got COVID-19 in April, and it spread throughout the entire family. Only Kaci Loux was hospitalized. "It progressed pretty fast. She was complaining that she couldn't breathe," Shilynee Loux explained. At one point it seemed like her daughter was improving. "I went with her and we're up there probably 3 1/2 weeks in ICU and then they're getting ready to put her into recovery. And then everything just went to hell," the mother said. Shilynee Loux said her daughter went into cardiac arrest and passed away after nearly a month in the hospital. "Don't wait, don't wait. Take them in ASAP, because if you wait it gets 10 times worse and it will shut their lungs down fast," the mother warned to other parents.
Grim months projected as delta tears through Oregon: 'I wasn't afraid 2 months ago. I'm afraid now' – The lack of statewide action by the governor, the voracious delta variant and the overwhelming pushback from a steadfast portion of Oregonians shunning masks and COVID-19 vaccinations have prompted two new forecasts to predict a deeply concerning future for the state in coming months — mirroring predictions for much of the nation.A forecast released Friday by Oregon Health & Science University anticipates that the number of patients actively hospitalized by the coronavirus at any given time will nearly double by the end of September, reaching a high of about 335.A second forecast released Thursday by the University of Washington's Institute for Health Metrics and Evaluation predicted an even more dire late summer and fall: More than 650 Oregonians hospitalized because of the virus by Nov. 1 — a level that could be comparable to last winter's peak.The latter forecast also anticipates nearly 1,600 new known cases per day — slightly higher than the depths of the pandemic reached in Oregon last winter.Ali Mokdad, an epidemiologist who worked on the grimmer forecast, called the recent rise in cases and hospitalizations starting in summer — rather than in fall or winter — "scary and alarming." That's because coronaviruses usually take hold in the colder months of fall and winter."I wasn't afraid two months ago. I'm afraid now," Mokdad said. "I'm double-masking again when I'm indoors, and I'm fully vaccinated." While it's impossible to know if those forecasts will be accurate, both anticipate statewide hospitalizations well above the threshold of 300 set in April by Gov. Kate Brown for enacting a host of restrictions to curb what was then a swift-mounting spring coronavirus wave with hospitalizations growing by more than 15% per week. But Brown has now pivoted away from the same state-issued restrictions for the summer surge, undercutting her previous assertion that implementing safeguards tied to hospitalization benchmarks "will save lives and help stop COVID-19 hospitalizations from spiking even higher."
Delta variant raises fears of worsening mutations -The rapid spread of the delta variant is raising concerns among scientists that the coronavirus could mutate into more transmissible or deadlier strains.The fresh fears come as the U.S. vaccination rate has largely plateaued and with much of the world still unvaccinated. Such a large number of people without even one vaccine dose gives the virus more chances to spread, replicate and potentially develop mutations.Experts say that while mutations are not a certainty, the odds will remain high unless more vaccines are administered. And they warn that the highly transmissible delta variant, which came from mutations, could seem tame in comparison to future strains.In announcing the new mask guidance this week, Centers for Disease Control and Prevention (CDC) Director Rochelle Walenskyaddressed the anxiety among public health experts over whether potential mutations might be able to bypass existing COVID-19 vaccines."Right now, fortunately, we are not there," Walensky said. "These vaccines operate really well in protecting us from severe disease and death." "But the big concern is that the next variant that might emerge, just a few mutations potentially away, could potentially evade our vaccines," she added.When COVID-19 spreads, the virus replicates its genetic material to infect more cells. In the process, that material sometimes mutates from the original strain.Andrew Pekosz, a professor of molecular microbiology and immunology at the Johns Hopkins Bloomberg School of Public Health, said the virus mutates randomly but at a steady rate.Most changes do not help or inhibit the virus's ability to spread, but "very, very infrequently" its genetic material alters to give it the upper hand, he said.It's "incredibly difficult to predict" when these mutations will occur, Pekosz said, adding that the opportunities for alterations increase in areas where the virus can spread easily."Until we make sure that the virus can't freely replicate in the population anywhere in the world, we're always going to have that increased likelihood of mutations occurring," he said.
Florida Leads U.S. in Covid-19 Cases as Hospitalizations Surge – WSJ – Florida is recording more Covid-19 cases than any other U.S. state, as hospitalizations in some areas increase at the fastest rate since the start of the pandemic. The state accounts for one in five new infections in the U.S. and logged 73,181 cases over the past week, according to the Centers for Disease Control and Prevention. Florida had 341 cases per 100,000 people over the past week, second only to Louisiana. The weekly total of new cases reported by Florida jumped more than fourfold between July 1 and July 22, reaching its highest point since mid-January. Deaths in Florida totaled 319 over the past week, the most among states, with a rate of 1.5 per 100,000 people, the fourth-highest, according to the CDC. Epidemiologists say various factors are at play: large numbers of unvaccinated people, a relaxation of preventive measures like mask-wearing and social distancing, the spread of thehighly contagious Delta variant of the coronavirus and the congregation of people indoors during hot summer months. The number of people hospitalized in Florida has climbed steeply over the past month, reaching 3,849 on July 17, the largest tally since late February, according to a data dashboard created by Dr. Salemi. Patients are skewing younger, with 53% under age 60, compared with 30% at the start of the year. Among people age 12 or older in Florida, 55% are fully vaccinated, compared with 57% nationally, according to the CDC. At University of Florida Health Jacksonville's two hospitals, 146 patients have been admitted with Covid-19 – a record high for the facilities, exceeding the previous peak of 125 in January, said Chad Neilsen, director of accreditation and infection prevention. Covid-19 patients take up three-quarters of the beds at the system's north campus, which draws people from more-rural areas with low vaccination rates, he said."This is a rate of admissions to our hospital that we have not seen before ever," Dr. Neilsen said. "It really has been unbelievable."In response, the medical center is shifting some patients from the north campus, which is over capacity, to a downtown campus. The facilities took measures to prepare, stocking up on personal protective equipment and testing materials. But they are contending with a staff shortage, a challenge hospitals across the U.S. are facing. Nearly 110 staff members at UF Health Jacksonville are out because they either tested positive for Covid-19 or are awaiting results,
CNN: Every county in Florida, Arkansas rated 'high transmission' for community spread –Every county in Florida and Arkansas is currently registered as having "high" levels of community transmission of COVID-19, CNN reported on Monday, citing data from the Centers for Disease Control and Prevention (CDC). The CDC labels counties as having high transmission if there have been 100 or more cases of COVID-19 per 100,00 residents, or if its test positivity rate is 10 percent or higher for the previous seven days, according to CNN. Florida, which is comprised of 67 counties, recorded an average of 10,452 new COVID-19 cases over the past week, more than triple the average daily number of infections reported two weeks ago, according to CNN, citing data from Johns Hopkins University. The case rate in Florida from the past week is outpacing the national. rate, according to CNN. The Sunshine State recorded roughly 49 new cases per 100,000 people per day, while the U.S. is tracking about 16 new cases per 100,000 people daily. Arkansas and Louisiana were the only two states that recorded higher case rates than Florida, according to the network. Florida, however, leads states in the number of COVID-19 deaths reported over the past week, with 282 people losing their lives. That number, according to CNN, is the sixth highest per capita rate of deaths in the U.S. The state is currently trailing the U.S. overall when it comes to vaccinations, with 48.5 percent of its residents fully inoculated. In the U.S., 49.1 percent of the population has completed its vaccination series. Circumstances are also difficult in Arkansas, which saw its positivity rate rise to 19.3 percent in the past week, CNN reported, citing the Johns Hopkins Coronavirus Resource Center. The state, which is made up of 75 counties, recorded 11,784 new cases and 56 new deaths over the past week. Roughly 36 percent of the Arkansas population is fully vaccinated, according to CNN. Arkansas Gov. Asa Hutchinson (R) on Sunday said COVID-19 cases are increasing because of the state's low vaccination rate. He said that statistic is "holding us back." He did note, however, that the state's vaccination push has been successful in recent days, with a 40 percent increase in inoculations. The state has made an effort to encourage vaccinations during Town Hall meetings.
Orlando area in 'crisis mode' as COVID-19 cases spike –The mayor of Florida's Orange County, Jerry Demings, said Monday that that county, which includes Orlando, is "now in crisis mode" as COVID-19 cases surge the area. Demings said at a press conference Monday that after a conference call with counties and hospitals within the region, "all of them were sounding their alarms," as they are seeing "alarming numbers of critically ill individuals entering their hospitals." Demings noted that the positivity rate in the county for COVID-19 tests is now at 13.96 percent, which has drastically changed from the 4.28 percent reported a month earlier. The county is reportedly seeing nearly 1,000 new COVID-19 cases per day. The mayor called the numbers "extraordinary." "Those are the numbers we saw at the highest peak last year," Demings said. "A thousand a day is extraordinary. We are now in crisis mode." Demings noted that multiple centers in the area offer COVID-19 vaccinations. "Bottom line is that the delta variant cases are on the rise and residents must do everything possible to protect themselves and their loved ones, which includes getting vaccinated and following CDC health and safety guidelines," he said. Victor Herrera, Orlando chief medical officer of AdventHealth, a non-profit healthcare system, moved its emergency status to "red," which imposes additional measures like delaying elective procedures due to rising COVID-19 patients. "Although we are in a very tight capacity situation, we stand ready to meet the demands of our community, and all the health care needs," Herrera said at the press conference. "We have the appropriate equipment, space and everything that is needed – even if cases continue to go up – to continue to care for COVID and not COVID-19 patients."
Florida virus cases soar, hospitals near last summer's peak (AP) – Hospital admissions of coronavirus patients continue to soar in Florida with at least two areas in the state surpassing the previous peaks of last summer's surge, prompting calls by local officials for the governor to declare an emergency.A large hospital system in Jacksonville said its hospitals were at maximum capacity, its emergency centers also at a critical point as the state grappled with the new and more infectious delta variant of the COVID-19 virus.In Brevard County, two hospitals began setting up treatment tents at its emergency departments. And at a Fort Lauderdale park, a long line of cars snaked around a testing site, recalling the first weeks of the pandemic last year.Florida hospitals reported more than 8,900 patients with COVID-19 on Thursday, according to data from the U.S. Department of Health and Human Services. The Florida Hospital Association said the state peaked at 10,179 cases last July.The patient number on Thursday was five times higher than a month ago, and it quickly climbed from about 5,500 in just one week."What's extraordinary is the speed at which we are currently seeing new cases," said Dr. Vincent Hsu, executive director of infection prevention and hospital epidemiologist at AdventHealth in Orlando. "The slope is pretty steep, and we haven't seen the end of it. This is still coming."AdventHealth said Thursday it had reached a new high on Thursday since the pandemic began with about 1,000 COVID-19 hospitalized patients across its system in central Florida. Twelve hospitals in the state are reporting critical staffing shortages to the federal government.The state reported to the federal Centers for Disease Control and Prevention an additional 17,500 cases – making one fifth of the national new caseload – and 56 new deaths, raising the total death toll for the state to nearly 38,900.
More than 110,400 new COVID-19 cases reported in Florida as positivity rate climbs – More than 110,400 new cases of coronavirus have been reported throughout the state in the past week and 108 deaths. The Florida Department of Health released new data showing 110,477 new cases of COVID-19 within the state over the past week. The number of new cases surpassed last week's high of 73,196 cases. For the week of June 25, the state reported only 15,998 new cases, making this month's number's a drastic spike. The state's positivity rate has also spiked, going from 15.3% to 18.1%. Despite the high number of cases throughout Florida, the state is also seeing a steady increase in vaccination numbers. This past week, 334,064 people have been vaccinated within the state. In Orange County, there were 7,913 new cases reported with an 18.2 positivity case over the past week. In Seminole County, 2,419 new cases of COVID-19 were reported with a 22.5% positivity rate.
Florida coronavirus cases jump 50 percent in one week- The number of coronavirus cases in Florida has jumped 50 percent over the past week, officials said Friday, as the state that already makes up a large chunk of the nation's total cases sees a surge in new infections.The Florida Department of Health said there were more than 110,000 new cases recorded this week, a jump from the more than 73,000 reported last week. Case numbers have returned to the level seen in January, before widespread distribution of the vaccine. Just over 50 percent of Florida's population is fully vaccinated,according to Johns Hopkins University, though vaccinations have increased recently.The number of vaccine doses administered has increased more than 15 percent in a week, from 288,870 to 334,064, according to state health department data.Federal health officials this week urged local governments to reinstitute indoor mask requirements, even for fully vaccinated individuals, in an effort to curb the spread of the contagious delta variant.Florida is second nationally in new coronavirus cases and hospitalizations, behind Louisiana and Nevada, respectively, according to a local NBC affiliate. The Sunshine State has made up about a fifth of new cases reported in the U.S. recently."COVID-19 vaccines are very effective, but no vaccine is perfect. In some instances, fully vaccinated people will get COVID-19 and may be contagious," the Centers for Disease Control and Prevention (CDC) said Friday."As the number of people who are vaccinated goes up, the number of breakthrough cases is also expected to increase, even as the vaccines remain highly effective," it added.Florida Gov. Ron DeSantis (R) has urged Florida residents to get vaccinated, but has also criticized the CDC's masking guidance and signaled he won't go along with efforts to require indoor face coverings.The governor on Friday announced he had signed an executive order directing state officials to push to "protect parents' freedom to choose whether their children wear masks" when school starts this fall."The federal government has no right to tell parents that in order for their kids to attend school in person, they must be forced to wear a mask all day, every day," he said in a statement.He added during a press conference that his own family would decline to wear masks."I have (three) young kids. My wife and I are not going to do the mask with the kids. We never have, we won't. I want to see my kids smiling. I want them having fun," he said.
California Counties See COVID Cases Rising In Most Heavily Vaccinated Counties -Some might have been surprised to see California on Dr. Anthony Fauci's map of high-risk areas where the new federal indoor mask mandates must be obeyed. The Golden State was deemed more high risk than Texas. Indeed, scientists are finding that despite its high vaccination rates, California is seeing more COVID cases than it should.California and its big coastal cities have embraced vaccines in their effort to beat back the COVID pandemic. But a Bay Area News Group analysis shows that not only are cases rising fast, they are rising in areas where there are more fully vaccinated people. Some of these counties have both among the highest vaccination rates, and the highest new-case rates.Notice that five of these counties have both a higher percentage of their eligible residents fully vaccinated and a higher average daily case rate than the statewide average. They include: LA, San Diego, Alameda, Contra Costa and San Francisco. The five counties with falling case rates are Modoc, Glenn, Lassen, Del Norte, San Benito, and they, coincidentally, have below-average vaccination rates.As to what might be causing this, experts point to two things: the extraordinary ease with which the virus' now-dominant delta strain spreads, and the fact that no vaccine offers complete protection."I am not so surprised that transmission rates are not neatly tracking immunization rates," said Dr. Stephen Luby, a medical professor specializing in infectious diseases at Stanford University."There are a number of issues that contribute to transmission," Luby said. "In high density urban settings, for example, even with a higher level of vaccine coverage, there can still be a lot of exposure to unvaccinated folks and potentially to folks who are vaccinated but are asymptomatically shedding the delta variant."
Coronavirus dashboard for July 28: you're reading the right blog, ghoulish edition In writing about the economy, I make use of long and short leading indicators to forecast coincident indicators. In writing about COVID, the template isn't much different: cases lead hospitalizations by about 2 weeks, which in turn lead deaths by about 2 weeks. Put another way, cases lead deaths by about 4 weeks.Four weeks ago I wrote:"we have to start worrying about COVID again, because the delta variant has now taken hold in up to 8 States with rising new cases. All of those States have fewer vaccinations per capita than the national average, and most of them much below the average. By the end of July, I anticipate that it will be clear there is a new 'wave' of cases in the relatively unvaccinated States."In the past 4 weeks, cases have nearly quintupled from about 11,300 to 55,000. Hospitalizations have risen about 2.5x. And here is what deaths nationwide look like, vs. cases: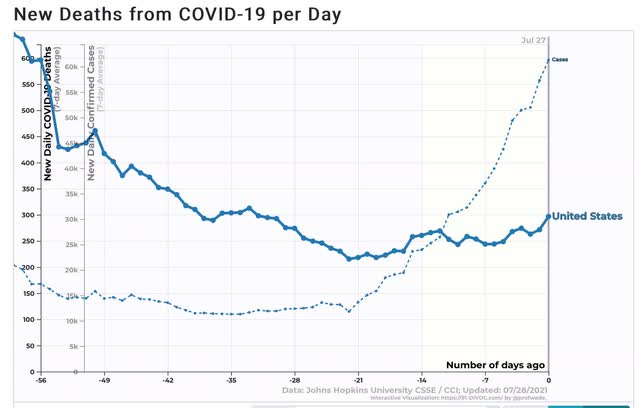 Deaths have been trending slightly higher and just made a 1 month high.And here are deaths in the bellwether States that were first hit with Delta, plus a few others: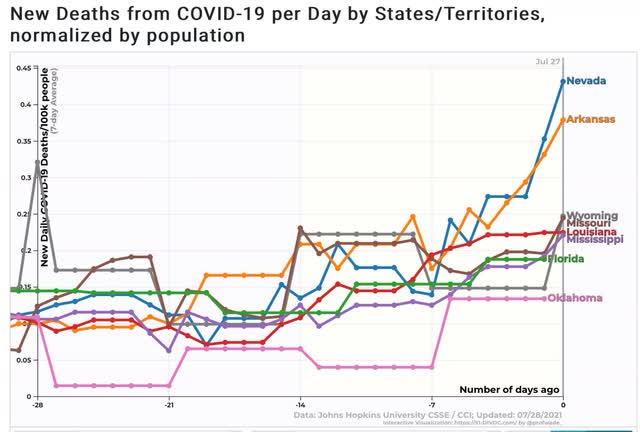 Deaths in some of those States have started to go parabolic.In the last 4 weeks, the US has gone from about 47% fully vaccinated to just under 50% fully vaccinated – i.e., not much of a change.Here is what is going to happen in the next month. Deaths are going to follow cases. Cases have nearly quintupled. Deaths are going to nearly quintuple – I.e., to a level of about 1,000/month.
Mississippi cites 'astounding' rise in Covid-19 cases as Delta variant spreads – Mississippi's top state health officials warned on Wednesday of an "astounding" rise in Covid-19 cases that threatens to overwhelm some hospitals' intensive care units. They ordered hospitals to forgo some elective surgeries and to adhere to a plan to transfer patients to other facilities with available beds when necessary. The number of Covid-19 infections in the past two weeks was well over double the number recorded for the first half of July, the officials said at a news conference. Deaths rose by 51 percent over the same period and now average between three and four a day, according to the statistics presented. Statewide, the statistics showed, more than 300 Covid-19 patients were in intensive care or on a ventilator, compared with a few dozen at the start of the month. Where intensive care units are full, some patients are being treated in emergency rooms, the officials said. Rampant misinformation about the safety and effectiveness of vaccines is undercutting the state's efforts, said Dr. Thomas Dobbs, the state health officer. "We're going to make the vaccine available, but you know, there's a mountain of opposition to us from some folks," he said. "We have gotten ourselves into this mess together, and we need to get ourselves out together." While the national outlook is also worsening quickly, Mississippi is one of a handful of states where the rate of infections is skyrocketing. Fewer than one half of adults have received at least one shot, putting the state at the bottom of the nation's vaccination rate ranks and rendering much of its population vulnerable to the highly contagious Delta variant. Dr. Dobbs said the flood of Covid-19 patients means hospitals in the state must forgo elective surgeries that require overnight stays and must be prepared to fly Covid-19 patients to other facilities if beds run short. He said that many health professionals are "absolutely worn out" from previous surges and that some hospital nurses are quitting – a trend that could make it harder to handle the ongoing spike. Dr. Paul Byers, the state epidemiologist, called the rise in the number of daily infections "astounding." He cited 72 long-term-care facilities where unvaccinated staffers have been largely spreading the virus, but he also mentioned settings like summer schools and cheerleading camps.
6 States See 400% Increase in COVID-19 Cases – Daily COVID-19 case rates across the country have risen in nearly all states since June as the highly contagious delta variant spreads, according to a new report from USAFacts. The report, which excludes Nebraska because the state no longer regularly updates COVID-19 case counts, found that every state but Iowa has increased daily new cases compared to mid-June. USAFacts' analysis also shows that six states have seen their number of positive COVID-19 cases shoot up more than 400% in recent weeks: Alabama, Arkansas, Louisiana, Mississippi, South Carolina and Tennessee. All 15 states with a seven-day average case rate higher than the U.S. average, around 18 cases per 100,000 people, also had lower vaccination rates than the U.S. as a whole, although not all states with low vaccination rates have seen case rates spike.Seven-day averages of COVID-19 cases per 100,000 people vary between Iowa's low, with a rate of 1.5, to Louisiana's high with more than 79.2 cases per 100,000 as of July 27. While cases continue to increase, the seven-day nationwide average is still down from 250,527 in its peak in January to 58,192 cases, a 77% drop.
Coronavirus in Arkansas: 2,544 new cases, 13 additional deaths – The Arkansas Department of Health coronavirus dashboardrecorded 2,544 new COVID-19 cases and 13 additional deaths due to the virus in Arkansas on Friday, July 30.There are 18,541 cases statewide considered active by the Arkansas Department of Health.A total of 1,087 people are hospitalized and 219 are on ventilators. The statewide death toll due to COVID-19 increased to 6,123. Of the state's 2,854,750 vaccine doses, 2,332,296 have been administered, according to the Arkansas Department of Health. 302,110 people have received only their first dose, while 1,056,447 people are fully vaccinated.
Number of new COVID-19 cases in Utah climbs even higher – to 1,211 – The number of new cases of COVID-19 in Utah reported on Friday surpassed Thursday's 51/2-month high – 1,211 was the most since Feb. 10. In the past two days, the Utah Department of Health has reported more than 2,300 new cases of the coronavirus. The rolling seven day average of new cases hit 755, the most since Feb. 23.
Vaccine doses administered in past day/total doses administered 7,389 / 3,016,983.
Utahns fully vaccinated 1,478,589.
Cases reported in past day 1,211.
Deaths reported in past day One – a Salt Lake County woman between the ages of 65-84.
Tests reported in past day 7,589 people were tested for the first time. A total of 12,646 people were tested.
Hospitalizations reported in the past day 351. That's two fewer than on Thursday. Of those currently hospitalized, 152 are in intensive care, four fewer than on Thursday.
Percentage of positive tests Under the state's original method, the rate is 16%. That's higher than the seven-day average of 14.7%.
The state's new method counts all test results, including repeated tests of the same individual. Friday's rate was 9.6%, lower than the seven-day average of 10.4%
Totals to date 432,467 cases; 2,451 deaths; 18,567 hospitalizations; 2,917,728 people tested.
On Friday, three doctors from University of Utah Health spent an hour on Facebook Live working to debunk misconceptions about the COVID-19 vaccines – and explaining how scientific expertise adjusts when a virus evolves. The federal Centers for Disease Control and Prevention's guideline update this week, which recommended even vaccinated people wear face masks when indoors, has prompted criticism that experts are sending mixed messages about COVID-19. Part of that problem, said Dr. Jeanmarie Mayer, hospital epidemiologist for U. of U. Health's hospitals and clinics, "is that the virus is changing." Mayer noted that "the delta variant is a much more contagious strain of the virus" – and the CDC was reacting to new data that shows even people who are vaccinated can spread it to others. The CDC, she said, "changed the recommendation based on that changing science." Mayer urged people who have already suffered from COVID-19 to get vaccinated. "Vaccination provides longer protection and broader protection" than natural infection, she said – and is more likely to fend off variants of the virus.
Coronavirus in Illinois: 11,682 New COVID Cases, 39 Deaths, 154K Vaccinations in the Past Week – Illinois health officials on Friday reported 11,682 new COVID-19 cases in the past week, along with 39 additional deaths and more than 154,000 new vaccine doses administered. COVID cases statewide have increased 46% over the last week, with hospitalizations up 35%, according to the Illinois Department of Public Health. Intensive care unit admissions also increased by 24% and there was a 41% increase of COVID patients on ventilators. In all, 1,419,611 cases of coronavirus have been reported in the state since the pandemic began. The additional deaths reported this week bring the state to 23,440 confirmed COVID fatalities. The state has administered 289,433 tests since last Friday, officials said, bringing the total to more than 26 million tests conducted during the pandemic. The state's seven-day positivity rate on all tests rose to 4% from 3.3% the week before and 1.9% two weeks prior. The rolling average seven-day positivity rate on individuals tested rose to 4.7%, up from 3.5% last week, officials said. IDPH noted, however, that the regional seven-day positivity rate ranges from 2.8% to 9.5%. Over the past seven days, a total of 154,447 doses of the coronavirus vaccine have been administered to Illinois residents. That brings the state's average to 22,064 daily vaccination doses over the last week, down from the figures reported last Friday, per IDPH data.
In Missouri, some people are trying to get vaccinated in secret, a doctor says. – The Covid-19 vaccination effort has become so polarized in Missouri that some people are responding to the state's Delta-driven surge by trying to get shots in secret, a doctor there said. In a video circulated by her employer, Dr. Priscilla A. Frase, a hospitalist and the chief medical information officer at Ozarks Healthcare in West Plains, Mo., said this month that several people had pleaded for anonymity when they came in to be vaccinated, and that some appeared to have made an effort to disguise themselves."I work closely with our pharmacists who are leading our vaccine efforts through our organization," she said, "and one of them told me the other day that they had several people come in to get vaccinated who have tried to sort of disguise their appearance and even went so far as to say, 'Please, please please, don't let anyone know that I got this vaccine.'"It was not clear how many people had tried to alter their appearance to avoid recognition, or how they had done so. Dr. Frase, who wore a mask in the video, did not immediately respond to a request for comment.Some people, she said in the video, are "very concerned about how their people that they love, within their family and within their friendship circles and their work circles, are going to react if they found out that they got the vaccine." "Nobody should have to feel that kind of pressure to get something that they want, you know," she added. "We should all be able to be free to do what we want to do, and that includes people who don't want to get the vaccine as well as people who do want to get the vaccine. But we've got to stop ridiculing people that do or don't want to get the vaccine."
Fall could be 'very challenging' if vaccinations don't ramp up, HHS official says – The United States needs to expand its vaccination campaign going into the fall if the country is going to stem the nationwide surge of coronavirus cases driven by the delta variant, one of the federal government's top health officials said Friday."I think that the prospects for the fall could be very challenging," Rachel L. Levine, assistant secretary for health at the Department of Health and Human Services, said in a discussion hosted by The Washington Post. "However, if we are able to continue to ramp up our vaccination program, that's the most important way to protect people in the fall."Levine's remarks came as the Centers for Disease Control and Prevention on Friday published a sobering scientific analysis showing that vaccinated people can spread the highly transmissible delta variant and may be contributing to the ongoing spike in infections. The data helped convince officials this week to call on people to resume wearing masks indoors, regardless of their vaccination status. Levine emphasized the dangers of the delta variant, saying it was at least twice as contagious as previous forms of the virus, and noted that it was the main factor behind the CDC's decision to change its guidance on masking. She also warned that the virus would continue to mutate as more people got sick."Now is the time for people to get vaccinated," she said. "That's the best way to protect against the development of these variants."The pace of vaccinations has ticked up recently after bottoming out around a half million shots per day in mid-July. About 710,000 doses were administered nationwide Thursday, bringing the rolling average of daily doses to about 615,000, according to The Post's tracking.Addressing a major concern for parents as the school year approaches, Levine said data from clinical trials studying use of the vaccines in children under age 12 may be available by the end of the year."We'll be looking at the science. It's hard to put a date on when the scientific studies will be complete," she said. She added that officials don't expect "to see a different safety profile for what we saw in teens." …
Long COVID cases among children and pediatric death toll rise globally –In the wake of the reopening of economies and public institutions the world over, the COVID- 19 pandemic continues to cross national borders, continually driving the spread of new and more virulent strains of the disease. With more than 194 million people having been infected worldwide, the most vulnerable populations include children and adolescents.According to the organization Long COVID Kids, over 40 children a day in the UK are being hospitalized with COVID-19, as the Delta variant has come to dominate. There has been a huge surge in the number of children becoming infected. New data shows that a growing number of children who have tested positive for the disease have gone on to develop Long COVID, with symptoms lasting beyond 12 weeks. So far, in the UK alone, 33,000 children ages 2 – 16 and 71,000 young people ages 17 – 24 are suffering from Long COVID.Dr. Deepti Gurdasani, an epidemiologist and senior lecturer for Queen Mary University of London, recently wrote an article on the Long COVID Kids site, pointing to two studies: the Office for National Statistics (ONS) data study and the REACT-1 (Real-time Assessment for Community Transmission) data study for the evidence of Long COVID in children and young adults. He states that anywhere between 10 percent and 50 percent of those infected with coronavirus suffer from Long COVID symptomsThe ONS study found that 13.7 percent of participants continued to experience symptoms past 12 weeks after initial infection. And of 400,000 who reported suffering from Long COVID, 9,000 are children. Gurdasani notes that for many children, their symptoms are not mild, but affect their lives in profound ways. Many of the children have not been able to return to some of their favorite activities.In the UK, the estimate is between one in seven or eight children have contracted COVID, or over 1 million children, and children's hospitals are beginning to fill up quickly. In addition to new cases, some children who have been living with Long COVID have been readmitted to hospitals due to relapses in their health.In Indonesia, more than 100 children a week have died from COVID 19, the majority of whom were younger than five years of age, discrediting the myth that COVID-19 is of little consequence to young children. According to theNew York Times, this represents a mortality rate for children much higher than any other country, and an infection rate for children of 12.5 percent. In southeast Asia, Thailand, Malaysia, Myanmar, and Vietnam have also seen a record number of coronavirus cases and deaths among children.
The European Union pulls ahead of the United States in vaccinations. – The 27 member states of the European Union altogether have now administered more coronavirus vaccine doses per 100 people than the United States, in another sign that inoculations across the bloc have maintained some speed throughout the summer, while they have stagnated for weeks in the United States.E.U. countries had administered 102.66 doses per 100 people as of Tuesday, while the United States had administered 102.44, according to the latest vaccination figures compiled by Our World in Data. This month, the European Union also overtook the United States in first injections; currently, 58 percent of people across the bloc have received a dose, compared with 56.5 percent in the United States.The latest figures provide a stark contrast with the early stages of the vaccination campaigns this year, when E.U. countries, facing a shortage of doses and delayed deliveries, looked in envy at the initially more successful efforts in the United States, Britain and Israel.But the European Union is now vaccinating its populations at a faster pace than most developed countries. More than 70 percent of adults in the bloc have now received at least one dose of a coronavirus vaccine.Ursula von der Leyen, president of the European Commission, said the achievement put E.U. countries "among the world leaders.""The catch-up process has been very successful," she said in a statement on Tuesday.As inoculation campaigns in many American states have been marred by widespread anti-vaccine sentiment, E.U. countries have been able to immunize their populations with less pushback.Around 75 percent of residents in the bloc agree that vaccines are the only way to end the coronavirus pandemic, according to a public survey conducted across the European Union in May.Furthermore, 79 percent said they intended to get vaccinated "sometime this year."Yet the spread of the Delta variant has added new urgency. Cases have soared in countries such as the Netherlands and Portugal, and hospitalizations have increased in France and Spain, among others, driving officials to try to speed up vaccination campaigns that have slightly slowed in recent weeks.
Why Are UK Covid Cases Declining? – Yves Smith – As many of you know, the UK declared July 19 as Freedom Day, when nearly all remaining Covid restrictions were to end. We didn't say much about it because so many in the Twitterverse and the British press declared it to be a terrible idea, given that only 56% of the population was fully vaccinated (although that does amount to 68% of adults). That's not enough to reduce R0 to below 1, given how contagious the Delta variant is. It didn't get off to a good start. From Reuters: Prime Minister Boris Johnson's 'freedom day' ending over a year of COVID-19 lockdown restrictions in England was marred on Monday by surging infections, warnings of supermarket shortages and his own forced self-isolation … . But Johnson's big day was marred by "pingdemic chaos" as a National Health Service app ordered hundreds of thousands of people to self-isolate – prompting warnings supermarket shelves could soon be emptied … . Britain has the seventh highest death toll in the world, 128,708, and is forecast to soon have more new infections each day than it did at the height of a second wave of the virus earlier this year. On Sunday there were 48,161 new cases. Yet here we are, a bit over a week later, and UK Covid cases are down, despite the announcement of what looked to be superspreader events in the making. Here are two contrasting takes, the first from the Financial Times, which takes the fall at face value, and then from Richard Murphy, who speculates that it is to a significant degree a data artifact. Of course, this could also be "Covid moves in mysterious ways" (recall the unexpected decline in the US after the year end through third week of January surge, which was anticipated to get even worse) or another example of Boris Johnson again being lucky.
In Spain, vaccinations and the virus are both surging. – After a slow start, Spain's vaccination program has accelerated to near the forefront in Europe, with just over 55 percent of its population fully vaccinated, according to figures released Tuesday by the country's health ministry. But for all its recent success with vaccines, Spain is also experiencing one of the worst surges in new Covid-19 cases on the continent, forcing several of its regions to reintroduce nighttime curfews and other restrictions. The country is now averaging more than 25,000 new cases a day, a sixfold increase from late June.The State Department warned Americans on Monday to avoid traveling to Spain because of its recent rise in Covid-19 infections, a setback for a country where tourism is an important industry. Germany took a similar step last week, classifying Spain as a high-incidence country and requiring unvaccinated travelers arriving from there to quarantine for five days.Spain started administering vaccines in late December, and took until mid-February to fully vaccinate its first million residents; since then the effort has gathered pace, and as of Tuesday, just over 26 million people had been fully vaccinated. The latest data suggests that Spain is now on track to fulfill a pledge made early this year by Prime Minister Pedro Sflnchez that 70 percent of Spaniards would be vaccinated by late August.Nearly two-thirds of new infections in recent weeks have been among people under 40, the deputy health minister, Silvia Calzon, told reporters on Friday, according to Reuters. Spain has prioritized vaccination by age.The country has been using all of the main vaccines acquired by the European Union, including the two-dose vaccines developed by Pfizer-BioNTech, Moderna and AstraZeneca-University of Oxford as well as the one-shot vaccine from Janssen, a European subsidiary of Johnson & Johnson. But the vast majority of Spaniards have received the Pfizer shot.Unlike some other European nations, which have delayed second shots in order to administer first shots sooner to more people, Spain is administering second doses of the Pfizer vaccine at the recommended time, 21 days after the initial dose. As a result, it has relatively few partly vaccinated people at any given time.
Israel will give third Covid vaccine shots to those 60 and older. – Israel will begin administering a third dose of the Pfizer-BioNTech coronavirus vaccine to those 60 and older, Prime Minister Naftali Bennett announced on Thursday, citing the rising risk of a virus surge fueled by the Delta variant.The health ministry has instructed the country's four main health care providers to begin giving on Sunday a booster shot of the Pfizer vaccine to Israelis in that age group who received a second dose more than five months ago. President Isaac Herzog, 60, will be the first to get a booster shot on Friday, Mr. Bennett said.Whether booster shots are needed by older citizens is an issue that is far from settled among scientists. Most studies indicate that immunity resulting from the vaccines made by Pfizer-BioNTech and Moderna is long-lasting, and researchers are still trying to interpret recent Israeli data suggesting a decline in efficacy of the Pfizer-BioNTech vaccine months after inoculation.Pfizer on Wednesday offered up its own study showing a marginal decline in efficacy against symptomatic infection with the coronavirus months after immunization, although the vaccine remained powerfully effective against severe disease and death. The company has begun making a case for booster shots in the United States, as well.The latest government decision in Israel, an early leader in administering vaccines, follows an analysis by the health ministry that estimated that the effectiveness of the Pfizer-BioNTech vaccine in preventing serious illness remained higher than 90 percent – but that its ability to stop infection had fallen over time.Some experts have pushed back against a rush to approve a booster in Israel. The data are too uncertain, they say, to estimate of how much efficacy has waned. For example, the Delta-driven outbreak hit parts of the country with high vaccination rates first and has been hitting other regions later.Since June, there has been a steady rise in Israel's daily rate of new virus cases, and the seven-day average is 1,670 a day. The figure exceeded 2,300 one day this week, a spike that health experts have attributed to the spread of the more contagious Delta variant.
Latin America risks other outbreaks as Covid interferes with prevention and treatment – The coronavirus pandemic is opening the way for other preventable diseases to surge across Latin America and the Caribbean, interfering with routine inoculations and medical treatment in one of the world's hardest-hit regions, World Health Organization officials warned on Wednesday.There has been a sharp decline in measles vaccinations throughout the region, and a recent survey found that the pandemic had slowed efforts to diagnose and treat viral hepatitis B and C infections throughout Latin America and the Caribbean."More than 300,000 children, mostly in Brazil and Mexico, missed out on their routine immunizations last year, leaving them vulnerable to deadly yet preventable infections," said Dr. Carissa F. Etienne, the director of the Pan American Health Organization, a part of the W.H.O."If we do not reverse these trends, we risk an avalanche of worsening health issues in the Americas," she added. "Soon, Covid-19 will not be the only health crisis demanding countries' attention."Though overall caseloads have declined in the region since the spring, Covid-19 continues to take a devastating toll, and several Latin American nations, including Argentina, Colombia, Cuba, Ecuador and Paraguay are "among the countries reporting the world's highest weekly death rates," Dr. Etienne said at a weekly briefing. She warned that "too many places have relaxed the public health and safety measures that have proven so effective against this virus."Officials voiced particular concern about Cuba, which is reporting its highest rates of new cases and deaths since the pandemic began. Hot spots have also been detected in parts of Argentina, Colombia and Mexico, and new cases have risen sharply in the United States. Though vaccines have been plentiful in the United States, Canada, Chile, Uruguay and a few other countries in the Americas, they have been scarce elsewhere. Only one-sixth of the population of Latin America and the Caribbean has been fully vaccinated.
Over 100 children died from COVID-19 in Indonesia each week in July -Indonesia is now experiencing more than 1,500 deaths from COVID-19 each day on a seven-day average and has become the epicenter of the pandemic in Asia and globally. With the Delta variant now dominant in the country and only 7 percent of the population fully vaccinated, confirmed daily cases have reached a peak of 50,000. However, because of a lack of sufficient testing, the positivity rate is hovering around 30 percent, implying a gross underestimation of the true extent of the community spread.Coinciding with this catastrophic surge of cases and deaths has been a disturbing rise in hospitalizations and deaths among children, upending previous data that found that children infected with the virus face lower rates of mortality.According to the Indonesian Pediatric Society, there have been more than 360,000 confirmed cases among children, accounting for one in eight infections. Additionally, over 700 children have died from COVID-19 in the last few weeks, at a rate of over 100 per week. Shockingly, over 150 children died during the week of July 12 alone, with half of these under the age of five.Dr. Aman Bhakti Pulungan, head of the Indonesian Pediatric Society, told the New York Times, "Our [child death rate] numbers are the highest in the world. Why are we not giving the best for our children?"Health authorities have noted that the rise in childhood deaths in Indonesia has coincided with the surge in the Delta variant of the coronavirus, underscoring the immense dangers facing children worldwide, the vast majority of whom remain unvaccinated in every country.In Brazil, COVID-19 has become the leading cause of death among children ages 10-19, cutting down at least 1,581 youth in just the first six months of 2021. Another 1,187 children under 10 years old have succumbed to the virus since the start of the pandemic.Even in more developed countries, where the Delta variant is surging, there is an attendant growth in child hospitalizations and deaths. In the UK, over 40 children are now being hospitalized with COVID-19 each day, alongside a general surge in the number of children becoming infected. Roughly 33,000 children ages 2-16 and 71,000 young people ages 17 – 24 have gone on to develop Long COVID, with symptoms lasting beyond 12 weeks.In the US, child hospitalizations are also surging. On Tuesday, Arkansas Children's Hospital reported their highest number of COVID-19 hospitalizations at any point in the pandemic, with 24 admitted with the virus that day alone. Officials noted that of the 24 children admitted, seven are in intensive care and four are on ventilators. None of the hospitalized children are fully vaccinated, despite more than half of them being eligible. Similar surges of child infections and hospitalizations are taking place wherever the Delta variant is surging in the US, including in Florida, Alabama and throughout the South, as well as Missouri and a growing number of states.
Thailand reports daily record of new coronavirus cases and new deaths (Reuters) – Thailand reported on Saturday a daily record of 18,912 new coronavirus infections, bringing the country's total accumulated cases to 597,287. The country also reported 178 new deaths, also a daily record, taking total fatalities to 4,857.
COVID-19 surge hits Asia; Tokyo, Thailand, Malaysia post record infections (Reuters) -The Olympics host city Tokyo, as well as Thailand and Malaysia, announced record COVID-19 infections on Saturday, mostly driven by the highly transmissible Delta variant of the disease. The surge in Delta variant cases is rattling parts of Asia previously relatively successful in containing COVID-19, such as Vietnam, which will from Monday impose strict curbs on movement in several cities and provinces. Cases also surged in Sydney, where police cordoned off the central business district to prevent a protest against a strict lockdown that will last until the end of August. Police in Sydney closed train stations, banned taxis from dropping passengers off downtown and deployed 1,000 officers to set up checkpoints and to disperse groups. The government of New South Wales reported 210 new infections in Sydney and surrounding areas from the Delta variant outbreak. Tokyo's metropolitan government announced a record number of 4,058 infections in the past 24 hours. Olympics organisers reported 21 new COVID-19 cases related to the Games, bringing the total to 241 since July 1. A day earlier Japan extended its state of emergency for Tokyo to the end of August and expanded it to three prefectures near the capital and to the western prefecture of Osaka. Olympics organisers said on Saturday they had revoked accreditation of a Games-related person or people for leaving the athletes' village for sightseeing, a violation of measures imposed to hold the Olympics safely amid the pandemic. The organisers did not disclose how many people were involved, if the person or people were athletes, or when the violation took place. Malaysia, one of the hotspots of the disease, reported 17,786 coronavirus cases on Saturday, a record high. More than 100 people gathered in the centre of Kuala Lumpur expressing dissatisfaction with the government's handling of the pandemic and calling on Prime Minister Muhyiddin Yassin to quit. Protesters carried black flags and held up placards that read "Kerajaan Gagal" (failed government) – a hashtag popular on social media for months. Thailand also reported a daily record high of 18,912 new coronavirus infections, bringing its total cases to 597,287. The country also reported 178 new deaths, also a daily record. The government said the Delta variant accounted for more than 60% of the cases in the country and 80% of the cases in Bangkok. The variant is not necessarily more lethal than other variants, but much more transmissible, said Supakit Sirilak, the director-general of Thailand's Department of Medical Sciences. At Thammasat University Hospital near the capital Bangkok, a morgue overwhelmed by COVID-19 deaths has begun storing bodies in refrigerated containers, resorting to a measure it last took in a 2004 tsunami, a hospital director said. China is battling an outbreak of the Delta variant in the eastern city of Nanjing which has been traced to airport workers who cleaned a plane which had arrived from Russia. Vietnam, grappling with its worst COVID-19 outbreak, announced that from Monday it will impose strict curbs on movement in its business hub Ho Chi Minh City and another 18 cities and provinces throughout its south for another two weeks. COVID-19 infections have increased by 80% over the past four weeks in most regions of the world, WHO Director-general Tedros Adhanom Ghebreyesus said on Friday. "Hard-won gains are in jeopardy or being lost, and health systems in many countries are being overwhelmed," Tedros told a news conference.
Thai hospital resorts to storing bodies in containers as COVID-19 cases soar -As the number of COVID-19 cases soars in Thailand, one hospital morgue has been forced to store bodies that have yet to be autopsied in containers. A director at the Thammasat University Hospital near Bangkok told Reuters the hospital has had to resort to tactics not seen since the 2004 tsunami that struck the area. The hospital's morgue generally performs a maximum of seven autopsies each day, but it has seen more than 10 bodies daily, overwhelming its 10-freezer capacity. "There's not enough space, so we bought two containers for bodies' storage," director Pharuhat Tor-udom told Reuters. "During the tsunami, we used containers to store bodies waiting to be autopsied for identification. But we haven't had to do that (again) until now," Tor-udom said. According to the hospital official, among bodies with an unidentifiable cause of death, 20 percent of them later tested positive for the coronavirus. The grim development follows a worrying surge of confirmed COVID-19 cases in Thailand as the country continues to post new record-highs. According to data from the World Health Organization (WHO), Thailand had 17,345 confirmed cases on Friday and the country saw its largest number of cases yet on Thursday with 17,669 cases. Overall, the country has posted over 10,000 new cases for most of the second half of July while maintaining a meager vaccination rate of 5 percent, according to data from John Hopkins University. Other cities and countries in Asia are also grappling with a worrying surge of new COVID-19 cases, including Malaysia and the Olympic's host city Tokyo.On Friday, Tokyo recorded more than 4,000 COVID-19 cases – an all-time high for the city. On Friday, four more areas were added to Japan's state of emergency following an increase in COVID-19 cases. According to data from WHO, Malaysia confirmed 17,170 new cases on Friday and and 17,405 new cases the day prior. The country has been reporting well over 14,000 new cases in recent days.
Up, down, sideways: Around the world, the pandemic defies easy description. – On a global scale, the latest wave of the pandemic appears to be cresting at a lower level than those of the winter and spring, but the pattern differs markedly from place to place, as each nation endures its own particular drama.The patchwork reflects the radically different paths the coronavirus takes from nation to nation, depending not only on vaccines, but on geographic isolation, the spread of the highly infectious Delta and other variants, social and economic restrictions, public compliance and an element of luck.Conditions have improved substantially in places like India and South America that a few months ago were among the hardest-hit in the world, according to the Center for Systems Science and Engineering at Johns Hopkins University.In May, India reached about 400,000 new infections and 4,000 Covid-19 deaths officially reported per day, though experts said the true toll was much higher. On Monday, the daily tally of new cases in India dipped below 30,000 for the first time in more than four months, and the country is now reporting fewer than 1,000 deaths a day.The most troubled countries now are a scattered assortment, not concentrated in any one region. Botswana, Kazakhstan, Malaysia and Spain have among the highest infection rates in the world, with numbers still climbing. Indonesia, which was recording more cases than any other country this month, remains badly affected, but the pace there has eased somewhat.In many countries, rates of new cases are relatively low but have risen sharply in recent days. They include countries with some of the highest inoculation rates, like Finland, France, Germany, Ireland, Israel and the United States, where restrictions have relaxed and the Delta variant has surged.Vaccination rates range from more than 80 percent of adults in some countries to less than 1 percent in others, including in many of the world's poorest nations, according to data from the Our World in Data project at the University of Oxford.Britain has become an outlier: One of the most-vaccinated parts of the world, it has a high (though declining) infection rate.Globally, more than 500,000 new cases are being recorded daily, compared with more than 800,000 three months ago. But comparisons like that are fraught, because official reporting practices vary widely from region to region. The picture is especially difficult to gauge across most of Africa, where both testing and vaccines remain scarce.
.
include("/home/aleta/public_html/files/ad_openx.htm"); ?>