from Lakshman Achuthan, Co-Founder and Chief Operations Officer of ECRI
The Japanese Manufacturing PMI has now dropped to an over-seven-year low, and its services counterpart to a nearly-six-year low, with both PMIs deep in contraction. This is part of a new Japanese recession – its fifth since 2008 – that ECRI had warned about well before last fall's sales tax hike.
The key point is that, yet again, this recession was triggered by a shock hitting the Japanese economy when it was in a recessionary window of vulnerability, as signaled by good leading indexes. In this case the shock was a legislated tax hike, but what characterizes ECRI's prescient leading indexes that identify recessionary windows of vulnerability?
A good leading index of recession and recovery should be conceptually sound, based not on back-fitting of data, but on its ability to capture the endogenous cyclical forces that determine the economy's resilience to exogenous shocks. When such a leading index enters a cyclical downturn, it signals the economy's entry into a recessionary window of vulnerability, within which any significant exogenous shock will tip the economy into recession. This is key to assessing recession risk.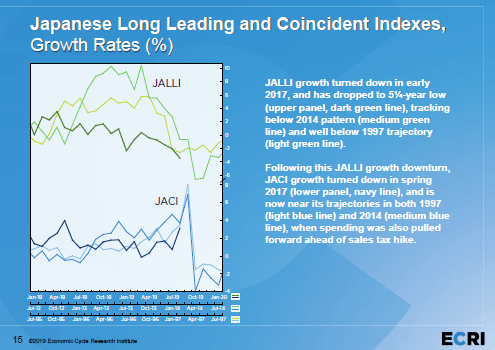 ECRI's Japanese Long Leading Index is such an index, with its growth rate actually tracking below its comparable recessionary trajectories ahead of the 1997 and 2014 tax hikes (chart), both of which triggered recessions that ECRI had also predicted.
Unlike the U.S. since the financial crisis, Japan's misfortune is that its economy has been hit by repeated shocks – including the Tohoku earthquake and sales tax hikes – when it was in recessionary windows of vulnerability that policymakers were blind to.
This is what Japanification really looks like. Despite Abenomics, Japan is now in its fifth recession since 2008.
Review ECRI's recent real-time track record.
For information on ECRI professional services please contact us.
Follow @businesscycle on Twitter and on LinkedIn.