Written by Econintersect
Early Bird Headlines 30 January 2019
Econintersect: Here are some of the headlines we found to help you start your day. For more headlines see our afternoon feature for GEI members, What We Read Today, published Monday, Wednesday and Friday, which has many more headlines and a number of article discussions to keep you abreast of what we have found interesting.
---
Please share this article – Go to very top of page, right hand side for social media buttons.
---
​Global
U.S.
EU
UK
France
Iran
Meet The Iranian Influencers Whose Livelihoods Will Be Stripped Away By A Ban On Instagram (BuzzFeed News) A looming ban on Instagram in Iran (one of the last major social networks still permitted by the country's internet censors) has Iranian influencers, entrepreneurs, and gender-equality activists worried about the future. Authorities say the anticipated move is to block immoral and obscene content, but critics say it's a naked attempt to crack down on one of the last remaining areas of online freedom for Iranians, especially for women and other marginalized groups, including ethnic minorities and the LGBT community.
India
Peter Thiel's advice helped this 25-year-old build one of India's most valuable start-ups (CNBC) In India, Ritesh Agarwal is something of a household name. Or, rather, a hotel name. The 25-year-old tech star is founder and CEO of the country's largest hospitality chain, OYO, and, as of last year, its youngest major self-made entrepreneur, worth an estimated $365 million. In just six short years, Agarwal has turned his budget accommodation bookings platform into a network of more than 13,000 properties spanning seven countries. In the process, he has also responded to a growing demand for standardized, low-cost accommodation.
As Huawei faces problems selling its 5G equipment in the West, it may be welcome in developing countries that are price-sensitive, according to analysts.
India invited Huawei to participate in its 5G field trials in December, even as the U.S., the U.K., Canada, Australia, New Zealand and Japan sought to block the Chinese company.
Washington may now pressure New Delhi to ban Huawei's 5G services after the U.S. Justice Department pressed criminal charges against the company's chief financial officer.
China
Goldman Sachs last week warned its clients about companies with big revenues from China.
Sectors such as information technology, semiconductor, industrial and consumer discretionary have a large exposure to the Greater China market, said Margaret Yang, market analyst at CMC Markets.
Even Smartphone sales have slowed.
"We see pricing headwind for stocks closely related to China," said Toby Wu, senior analyst at investment platform eToro.
China's Gloomy Companies Are Slashing Profit Forecasts (Bloomberg) Chinese executives are sounding warning bells over the world's second-largest economy. At least 20 companies, including China Life Insurance Co. and Chongqing Changan Automobile Co., told investors late Tuesday that full-year earnings would fall well short of expectations. Reasons they cited included the country's economic slowdown, as well as recent changes to accounting rules and the equity market's $2.3 trillion rout last year, the world's biggest loss of value.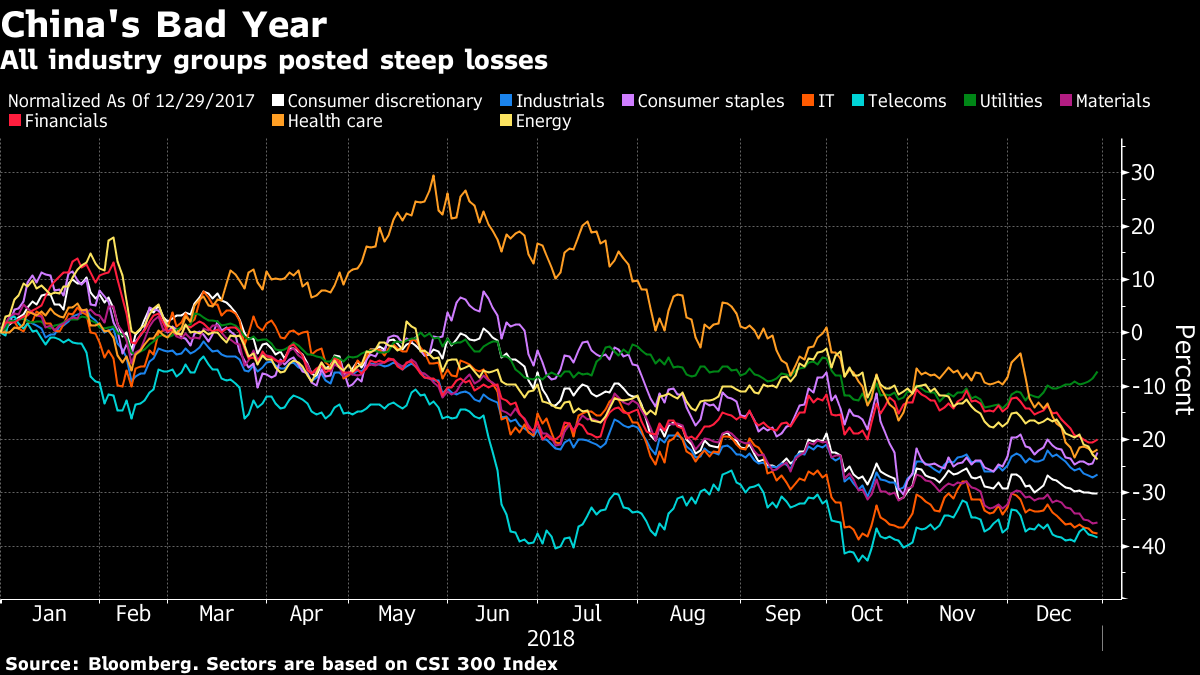 Brazil
Venezuela
Mexico
.