from The Conversation
— this post authored by Catesby Holmes, The Conversation
Jair Bolsonaro, the right-wing populist who cruised to victory in Brazil's presidential election, is notoriously outspoken about his dim view of Afro-Brazilians, women, gay people, leftists and human rights.
---
Please share this article – Go to very top of page, right hand side, for social media buttons.
---
The 63-year-old retired army captain and longtime congressman has said far less, however, about his agenda for Brazil. He skipped presidential debates and avoided policy questions on the campaign trail, making vague promises to "transform" the crisis-stricken country.
Here, five Brazil experts lay out what to expect when Bolsonaro takes office on Jan. 1.
1. Social conservatism
Bolsonaro's polarizing presidency is likely to "worsen an already acute crisis" in Brazil, a country deeply divided over major problems like crime, political corruption and economic stagnation, says Brazilian political scientist Helder Ferreira do Vale.
Bolsonaro opposes abortion – which is banned in Brazil – and gay marriage, which became legal in 2013.
Believing his country, the last Western country to abolish slavery, owes Afro-Brazilians no "debt over slavery," he has promised to roll back affirmative action at Brazilian public universities.
To tackle Brazil's record-high violence, the president-elect has said he will ease gun laws, reduce the age of criminal responsibility from 18 to 16 and legalize the death penalty in Brazil.
Bolsonaro has also lauded the law-and-order governing style of military dictatorships like the one that ran Brazil from 1964 to 1985.
"His adulation of the military raises serious doubts about the future of Brazil's 33-year-old democracy," warns Ferreira do Vale.
2. A free market economy
Bolsonaro's presidency will certainly "mark a significant shift for Brazil's economy," writes Arthur Gomes Moreira at England's University of Sussex.
Run by the left-wing Workers Party since 2003, Brazil's economic strategy centered on developing infrastructure, redistributing wealth and exporting commodities like oil and corn. Minimum wage grew almost 5 percent annually and poverty dropped by half.
But the country has been in recession since 2015, due in large part to plummeting commodity prices. And a judicial investigation has exposed bribes between high-ranking government officials and the construction companies hired to build Brazil's key infrastructure.
Fury over the Workers Party's perceived role in corrupting the Brazilian economy helped propel Bolsonaro into office.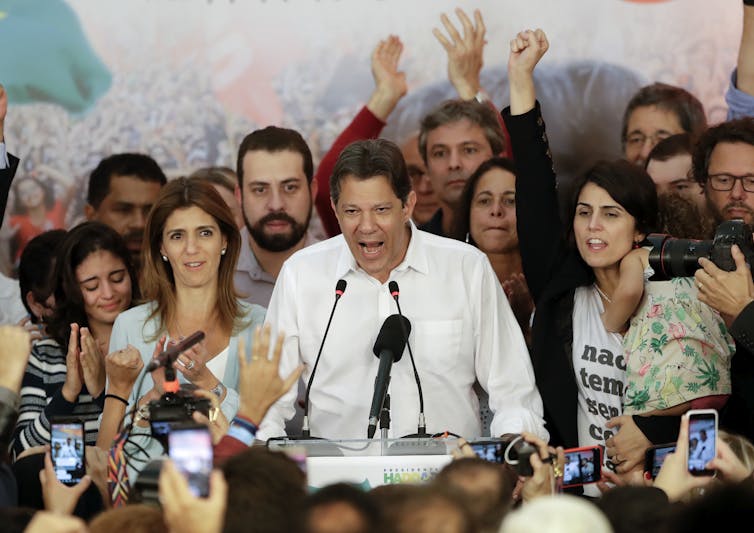 Brazilians punished leftist candidate Fernando Haddad for his party's role in crashing their once-flourishing economy. AP Photo/Andre Penner
Bolsonaro favors a "much more neoliberal approach" to Brazil's economy, writes Gomes Moreira, in which the free market drives growth – not government spending.
Bolsonaro's pick for finance minister, the University of Chicago-trained economist Paulo Guedes, favors extensive cuts in public spending and privatization of all state-owned companies. A proposed tax reform would leave all Brazilians, regardless of income, paying the same level rate of tax.
Gomes Moreira says that the combination of social conservatism and economic liberalism is too extreme even for the pro-free market Economist magazine. It has characterized Bolsonaro "as a populist menace to Latin America."
3. A fight for women's rights
Women are among those feeling nervous about Bolsonaro's presidency, says professor Selina O'Doherty, who researches activism at Swansea University.
The president-elect, who once told a fellow congressional representative that she "didn't deserve" to be raped, has said women should be paid less than men, and he opposes legalizing abortion.
Concerned about what these stances mean for their rights, hundreds of thousands of Brazilian women protested Bolsonaro's candidacy, declaring "#EleNao" – #NotHim.
Just 1 in 3 women voted for Bolsonaro in Brazil's first-round presidential election, in early October. Two in 3 men did.
More women appear to have supported Bolsonaro in Sunday's runoff. But the #EleNao protests will likely continue, O'Doherty says.
"The slogan 'not him' may need to be replaced … but the sentiment and political agency that these women have harnessed is unlikely to go anywhere," she says.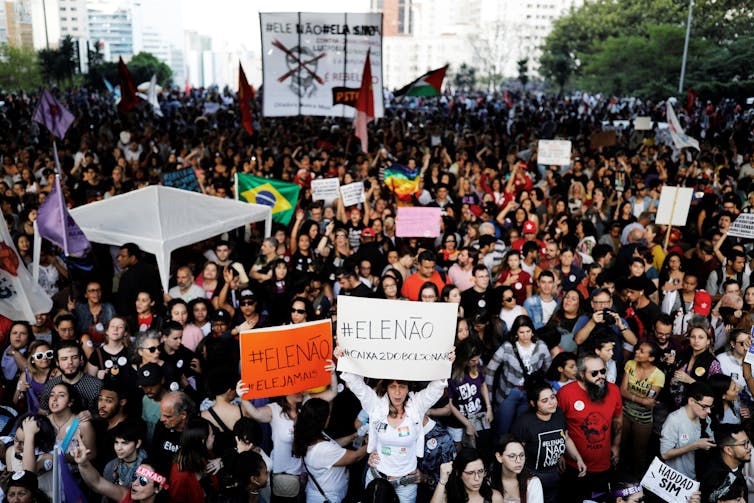 Women took to the streets and to social media to fight Bolsonaro's candidacy. Reuters/Nacho Doce
4. Environmental deregulation
Environmentalists are also preparing for a fight.
According to Ed Atkins, a University of Bristol geographer, the president-elect wants to withdraw Brazil from the 2015 Paris climate change agreement, arguing that global warming is nothing more than "greenhouse fables."
Bolsonaro has called for the closure of Brazil's environmental protection agency, which monitors deforestation and environmental degradation.
"This would eliminate any form of oversight of actions that lead to deforestation" of the Amazon, the world's largest rainforest, Atkins says.
A recent study revealed that the Brazilian Amazon is disappearing faster each year. In August 2018, 134,672 acres of forest were cleared – three times more than the previous August.
5. A starring role for evangelical conservatives
Finally, the 2018 election solidifies the political power of Brazil's conservative evangelical Christians, who backed Bolsonaro's candidacy.
The president-elect is Catholic, but he campaigned with evangelicals and shares their conservative social views.
In 1970, 90 percent of Brazilians were Roman Catholic. Today, evangelicals make up nearly 30 percent of Brazil's 208 million people.
"As their numbers have grown, so has the evangelical influence over Brazilian politics," tilting the country rightward, says the Brazil-based demographer Peter David Arnould Wood.
Evangelicals in Brazil's lower house of Congress – a 326-member bloc known as the "bullets, beef and bibles" alliance for its support of guns, agribusiness and Christianity – are "ardent opponents of abortion and LGBTQ rights," explains Arnould Wood.
Bolsonaro's presidency will empower evangelicals, who now have a majority in the highly fragmented lower house. They, in turn, are unlikely to check the power of their like-minded leader.
This article rounds up articles from The Conversation's archives.

Catesby Holmes, Global Affairs Editor, The Conversation
This article is republished from The Conversation under a Creative Commons license. Read the original article.